After Getting "Fired By The Interior Designer", This Homeowner Designed Her 5-Room Flat Herself Instead
Renovations and furniture cost $100k in total.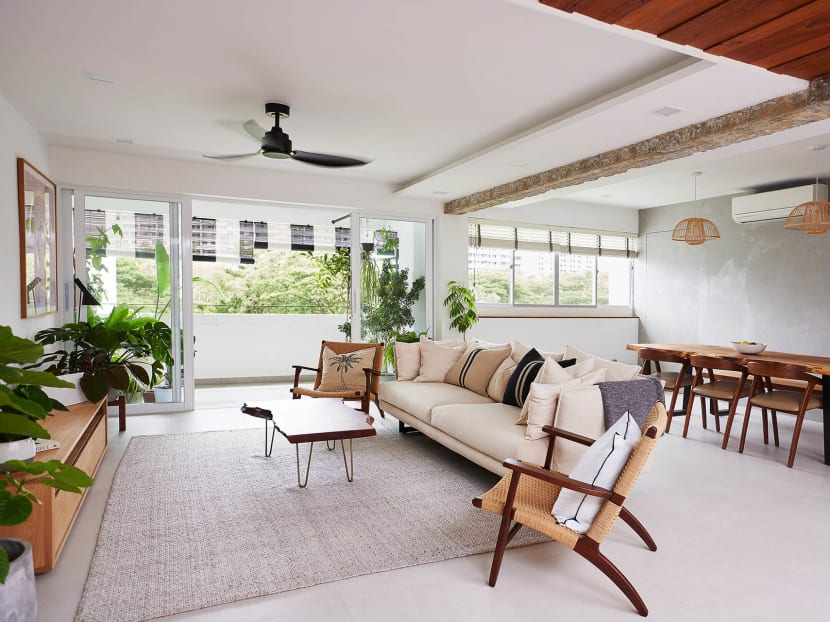 You've probably heard of homeowners firing their interior designer (ID). But what about the other way around? "I got fired by my interior designer," Fei Woon, homeowner of this five-room resale flat in Bedok Reservoir, tells 8Days. Following the fiasco, Fei decided to design the place herself and worked with a contractor instead.

The end results in these photos speak for themselves.

This self-designed 1,200 sq ft home, awash with natural light and decked out in warm wood and neutral tones, exudes all sorts of zen vibes, much like the modern minimalist Bali villas that Fei drew inspiration from.

The 38-year-old marketing director at an IT firm has been living here for almost a year, and is able to look back on the arduous one-year renovation journey lightheartedly, now that she's got the luxury of hindsight. When I tell people about it, they're like, 'Huh? How can you get fired by the ID; shouldn't it be the other way around? But I'm glad the place turned out fine in the end, she quips.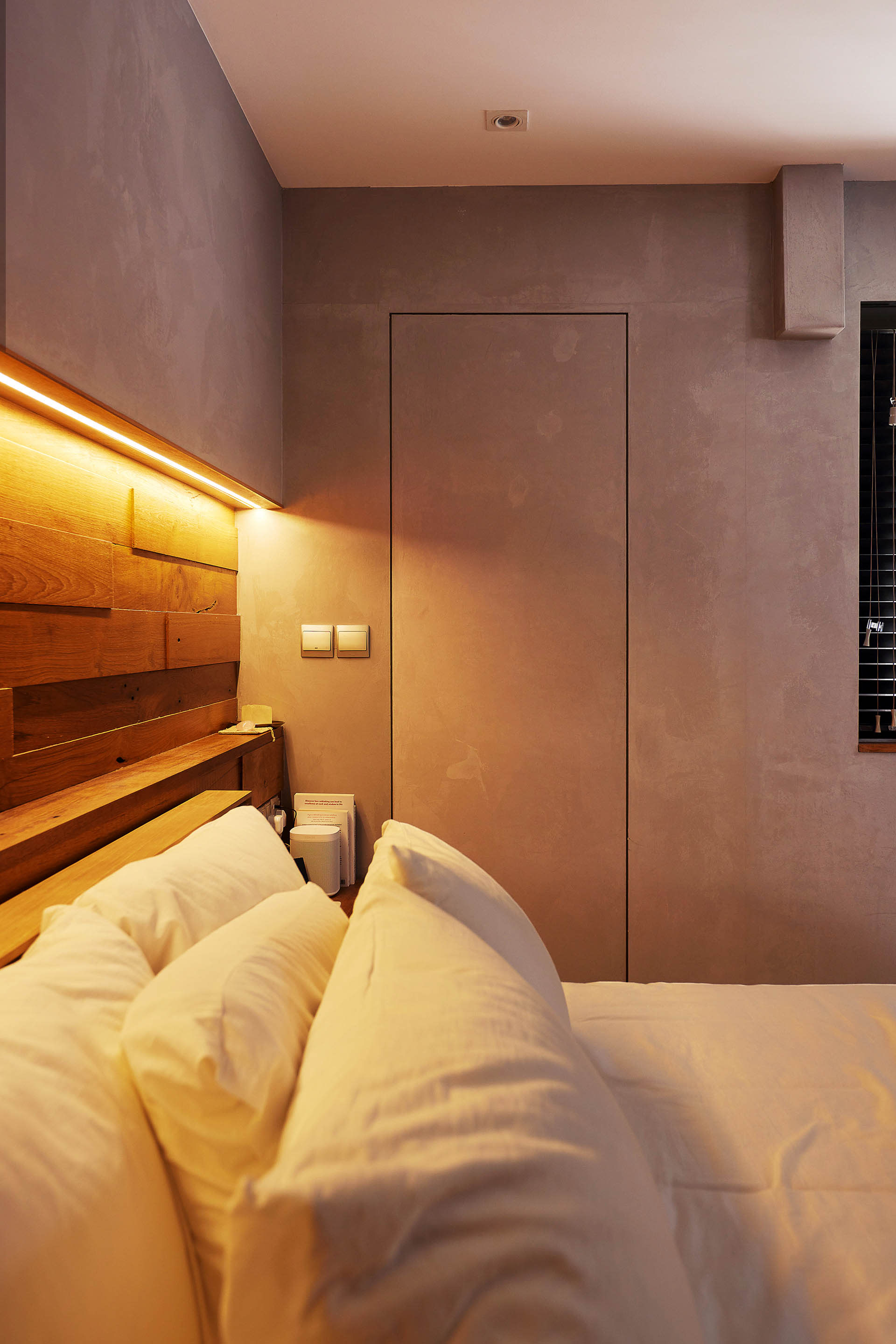 The reno journey started all the way back in July 2019 when Fei approached an interior design firm where her former interior designer had been working at that time. The company came recommended by friends who'd engaged them for their own renovations (albeit not helmed by the same designer). As it turned out, the ID that Fei was assigned was leaving the firm to fly solo, but having seen his initial designs for her home, she took a chance and hired him. But things turned awry when works began.

"Some of the first things they did was waterproofing and flooring, which are quite important [and someone had to be around to oversee things]. But he went on holiday," Fei elaborates.

"The reason why I hired an ID was because I travelled a lot for work [before Covid-19 hit] so I needed someone to oversee the project. But I had to be here every day while he was away, and things were not done properly or according to the drawings.
Finally, he fired me over text. He said, 'Our design concepts are not aligned and all that kind of stuff."

And so, six months after hiring him, Fei was dropped by her ID and left to pick up the pieces — sometimes, quite literally. The waterproofing done wasn't up to standard and there were cracks in the tiled floors, and these had to be redone later on.
When they parted ways, they came to an agreement that she would not have to pay the ID ("I didn't sign anything [before works started] 'cos he didn't give me anything to sign, since he'd just struck out on his own and was new to all this"). However, Fei had to fork out $25,000 to pay the ID's sub-contractor to cover the cost of materials, despite the defects.

"At this point I thought, do I find another ID or go with a contractor? I knew what I wanted for my home, so I didn't really need someone to design for me," Fei explains. Thankfully, a friend suggested she get in touch with a contractor that he'd just worked with. The meeting went smoothly and Fei decided to hire the contractor. "I'm really grateful 'cos even though he's a contractor, not an ID, he gave me a lot of ideas and advice," she says.

Her new contractor began works in January 2020, but a couple of months into it, the (re)makeover got upended again, this time by the circuit breaker. Works resumed after CB for one more month before Fei finally moved in last August. By this time, it'd been one year since she first hired the ID that had gone rogue.
Working directly with a contractor instead of an ID meant that Fei had to be the project manager of her own renovations. She took care of things ranging from space planning to choosing and buying materials, right down to the nitty gritty like deciding on where power sockets go or where aircon trunking should run, and coordinating deliveries and installations between various parties, all of which would normally be done by an ID.
"I'm very thankful that I didn't have to travel [for work during the pandemic] as I had to come down every day to oversee things. The contractors will be around too, but you really need a person to check on the little things," she says.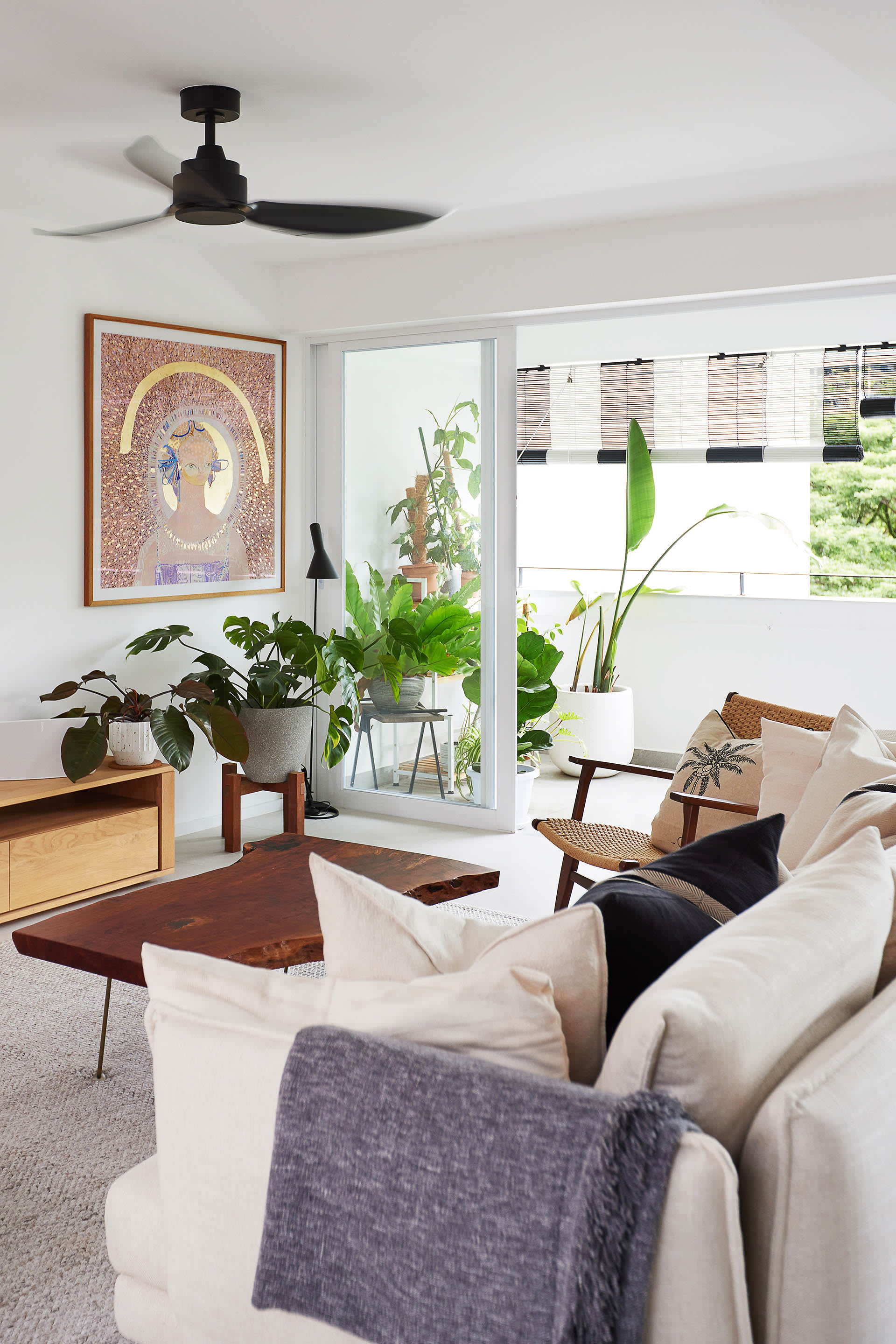 When it came to bringing her interior ideas to life, besides scrolling through Pinterest and Instagram for inspo, it helped, too, that Fei's contractor was generous with advice. "We sat down to do Autocad and 3D drawings and that really helped me visualise it better," she tells us.

Despite not having a background in interiors, Fei's eye for aesthetics is apparent the moment you step into her home. Her vision? "I wanted something simple, and I really love Bali, and wood elements and plants, she says.

Fei estimates she spent about $100k on renovations and furniture, including big-ticket items such as the couch, a TV console, bed, and a custom dining table. "I don't mind spending a bit more on pieces that will last," she says.

The first thing you'll notice as you enter the flat is the wood panelling on the ceiling that runs from the entrance and into the main area, subtly drawing you in to the space decked out in warm wood, complemented by raw textures like that on the exposed beams and neutral concrete tones.

The open-plan living space combines the living, dining and bar counter, three different zones to entertain family and friends.

You could say that the design of the living room — and perhaps the home — centres around the King Living couch that Fei purchased even before renovations began. "I saw it in an ad on an inflight magazine while I was on a work trip and knew immediately I wanted it. I came back to Singapore, went to the shop, and it was on sale, so I ordered it there and then," she recalls.

Think there's something missing here? "I didn't want to have a TV because I don't watch much TV, only Netflix on my iPad sometimes. But I may get a projector eventually for when friends and family are around," she quips.
Having a touch of nature in the home was important to Fei, who fell in love with the 35-year-old flat in the first place because of the mini park right at her doorstep. To marry indoor and outdoor living, there are some 40 potted plants peppered throughout the home. She also decided to reinstate the balcony which the previous owners had incorporated into part of the living room.

An eye-catching custom concrete island bar counter now stands in what used to be the dining room.

This uber-chic behemoth structure serves as a great landing point and drinks area when friends come over. A full-height storage cabinet stands next to it, housing a coffee counter and a home bar that can be hidden or flaunted easily.

Now you don't.
The island also acts as an extension of the kitchen. "Sometimes I have friends and family over to cook and bake together here on the counter," Fei says.

Fun fact: Because it's made of concrete, the island had to be built on-site. "It was really scary 'cos they hadn't installed the storage cabinet yet, she explains. So I had to physically measure and decide on the size, but if something went wrong, it's not like they can shift it around. In fact, after they made it, I realised I didn't measure if there'd be enough space to move my fridge into the kitchen, but luckily it fit. Just barely.

The spacious kitchen's design was kept clean and simple, punctuated with a few intelligent touches.

Fei cooks quite a bit, so she kept the kitchen semi-open-concept so that smells won't emanate to the rest of the house when heavy cooking is involved, but it can still be kept open for the occasional baking sesh with Mum.

The home came with an unusually large common bathroom in the kitchen, which meant there was enough space for Fei to carve out a separate utilities room from it. The common bathroom and utilities room share a sliding door, a quirky and space-saving feature.

Muted grey tones are accentuated by a dark walnut mirror in the common bathroom.

A few tweaks were made to the home layout — one of the bedrooms and the storeroom were hacked to form the current dining room.

A sap gum wood custom dining table anchors the space, while a suar wood console table with a framed photograph of a beach in Bali taken by a friend complete the look.
From the outset, Fei knew that she wanted the two bedroom doors to be hidden in plain sight. But even that took some research.

"I wanted a cement look to the walls, and I didn't want to use normal paint for the walls because if your hands are dirty, you'll leave marks on the doors when you open or close them. In the end, my contractor found a guy who does managed to do this cement effect on the walls which also prevents stains," she explains.

The wood and concrete-look design elements carry through to the master bedroom, which also has a roomy walk-in wardrobe.

Meanwhile, the master bathroom melds earthy and contemporary touches in the space. While it's common for resale flat owners to extend the master bathroom space by borrowing space from the bedroom, Fei kept things uncomplicated and only switched things up by adding a black-framed shower screen and changing the tiles. "Choosing tiles was quite a headache because there were so many options!" she muses.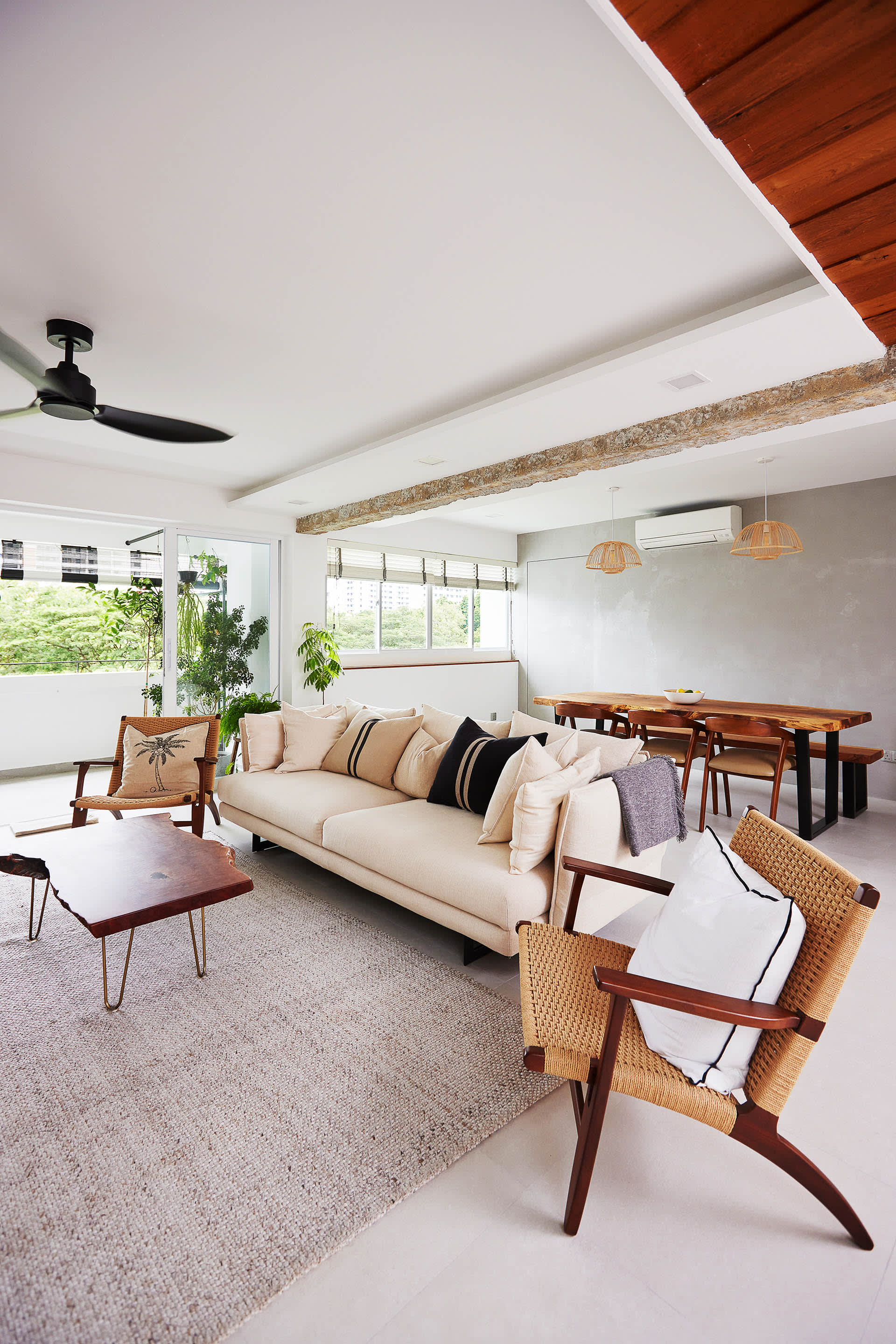 Handling her own renovations undoubtedly taught Fei a few lessons along the way. But homeowners who want to forgo an ID's services should be prepared that it can feel like you have a second job.
How did Fei juggle it with her day job? Time management is key. "I planned my time so that weekends were spent searching for stuff, while weekdays are reserved for tying everything together, calling suppliers to coordinate deliveries or pick-ups, she says.
The coordination of schedules was quite a headache. You need to purchase the things from the shop, decide when's the best time for delivery so that when the different [sub-contractors] come in, the items are there for them to install it for you."

There are the practical lessons that she picked up, like, install as many power sockets as possible because you never know when you need it. And remember to apply for gas supply and electricity ("I totally forgot about gas supply and only had it two weeks after I moved in!"). Don't underestimate the importance of a lighting plan.

Despite all the ups and downs it took to get here, Fei is unfazed by the harrowing renovation experience.
"Yes, I'd do it again if I moved house. I've learned a lot and I'll be a lot more prepared next time! I wouldn't say everything's perfect, there are things I could've done better. But my next place would definitely be better."
Photos: Kelvin Chia
All photos cannot be reproduced without permission from 8days.sg.