Chinese New Year snacks Vs Bubble Tea: Which Has More Calories?
The calories in one slice of bak kwa is equal how many cups of bubble milk tea?!?
It's the Year of the Ox, and they say work hard (like the ox), play hard and eat well, right? But maybe exercise some restraint and not eat too well when it comes to the CNY snacks, which are infamously high in calories. You don't want to be bursting out of your Chinese New Year cheongsam even before Feb 12. To put things in perspective, we help you compare the calories in popular CNY snacks, against the calories in bubble tea, since the sugary drink is still so immensely popular.

So if you wanna know how many cups of bubble tea you'd be able to drink if you didn't have that slice of bak kwa or those four pineapple tarts, look no further. In the end, it's all about balance and perspective, right? If you ate that kueh lapis, then maybe you shouldn't have Tiger Sugar today. If you die die must have your Koi with bubbles on CNY Day 2, then resist the temptation to crack open that packet of salted egg fish skin. There, calories just got a bit easier to understand, right?

Graphics by Pyron Tan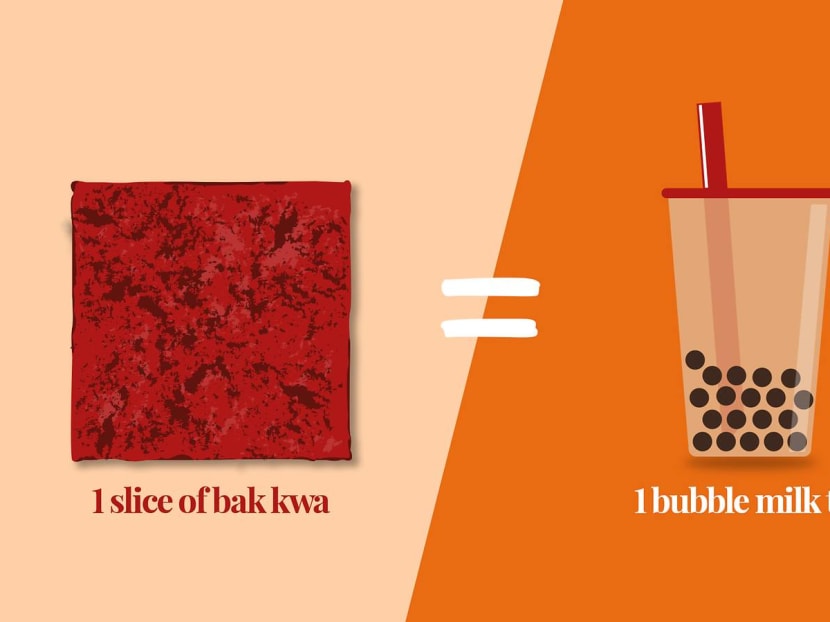 A slice of that sweet oily goodness is about 370 calories, while a cup of those delicious orbs floating in creamy milk is about 350 calories. Which would you rather have?
One pineapple tart is 82 calories, so four tarts is 328 calories, which is about 1 cup of bubble tea. We'd pick based on which would last longer. So.... the bubble tea?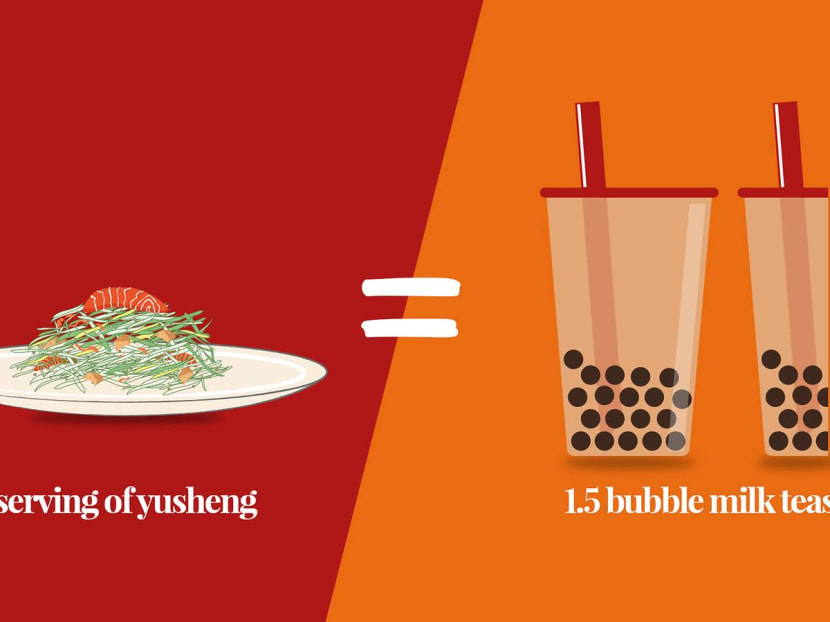 One serving of yusheng is a whopping 561 calories. It's all the sauce, really. 'Cos the rest of it is just vegetables, basically, right? Would you rather eat a plate of salmon yusheng with the works or drink one-and-a-half cups of yummy bbt? For us, it's a toss up (hur, hur).
Yes, 10 pieces of delicious, crunchy, salty-sweet fish skin crackers have roughly the same number of calories as a cup of bubble tea. We'd take the fish skin, we think. Maybe.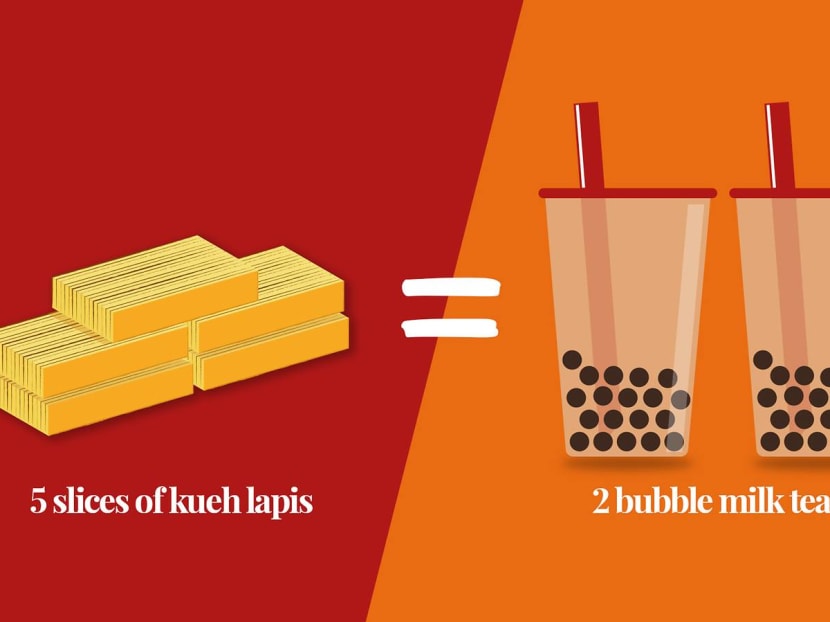 Kueh lapis, what a silent killer. 145 cals per unassuming little rectangle. Eat five of them and you're wolfing down calories equivalent to two whole cups of sweet bubble tea. Woah. We're staying away from kueh lapis! And bubble tea!