Mocca Man Reveals What He Did To Prepare For New 99.co Ad — And How He Still Looks The Same Even After 14 Years
The revival of his Internet fame wouldn't have happened had he not replied a Facebook message… three years after he received it. Better late than never.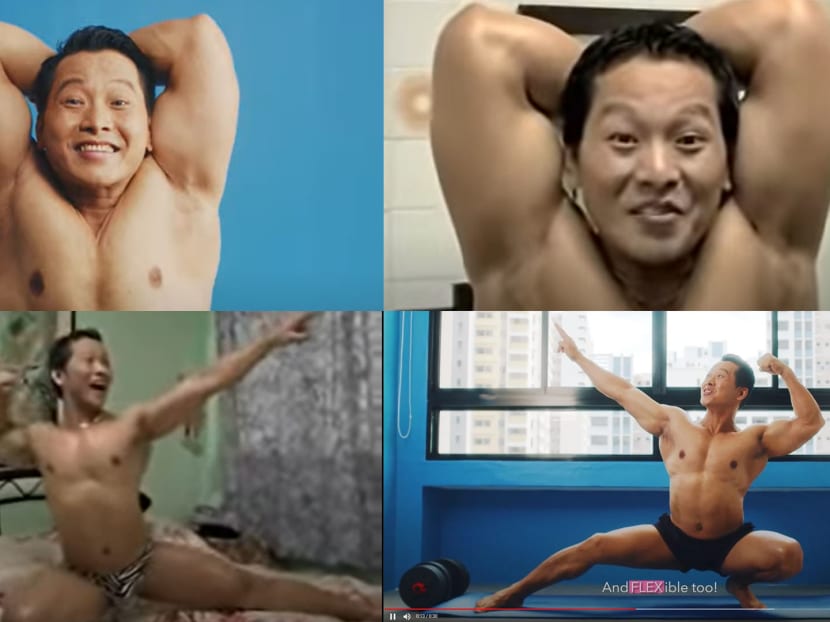 He found overnight fame in 2007 as the super buff Mocca man, back when going viral only meant that you should go see a doctor. Yet, Ben Ha became an instant Internet sensation after he starred in a TV ad for Mocca.com, Mediacorp's now-defunct online classifieds portal.

Back then, the commercial featured Ben in nothing but a pair of zebra-printed underwear flexing his muscles in a bid to sell his house. "The bedroom is over there! The kitchen is over there! This is my beautiful bathroom. Check out my matching pipes!" he chirped gleefully in the TV commercial.

Fast forward to 2021, an era when viral sensations come and go, their lasting power debatable. And yet, when property portal 99.co released an ad that paid homage to the original Mocca TVC, everyone old enough to have watched TV Mobile on a bus immediately recognised the Mocca man. In fact, 99.co's video has since gone viral and racked up 141k views on Facebook, reviving Ben's Internet fame 14 years on.

Now: 99.co ad

In the new 99.co video, Ben is now buying a house and has moved with the times and is searching on the property portal instead. But the similarities are there: he's still shirtless, still flexing his muscles, and the 46-year-old still looks just like he did at 32 when he filmed the Mocca ad. What is this sorcery?
The Vietnamese native, who's been living in Singapore for 20 years and now works as a supervisor in the public area department at Marina Bay Sands, tells 8Days.sg that there really is no secret to looking as fit and fab as he did all those years ago.

Ben was also featured in 8 Days (yes, the print magazine) back in the day. Photo: Courtesy of Ben Ha
However, the former competitive bodybuilder (he last took part in a competition in 2012) did take one month to prep for the 99.co commercial. It's a job that Ben, who is currently single, took very seriously.
"Once I accepted the 99.co commercial job, I had the responsibility of making sure that I delivered the best. With slightly more than one month [to prepare], I needed to get a six-pack and buff up," he says.

"I didn't want the audience to watch it and be disappointed and think '14 years ago he looked like that, and now he looks like that?'

To prep, he went to the gym every day for a month, which took lots of "discipline and determination". This was an increase from his usual two to three times weekly "less intense" workouts.
He also altered his diet during his month-long preparation. Ben reveals that he normally doesn't follow a special diet, though he does steer clear of alcohol and sugary drinks. But to prepare for filming this time, he increased his protein intake. "I could eat four whole roasted chickens from Cold Storage in one day. I did this on alternate days during that short period of time." Most of the time, though, he'd be eating staff meals at work in MBS, which had "excellent healthy food choices to suit my diet".
Any skincare secrets to looking like not a day has passed since 2007? Unfortunately not. "When I told a female friend in Vietnam about [filming the 99.co ad], she told me that I have to prepare and go to the spa and all that. (laughs) No, I didn't go, I've never gone before," he shares.

Now: 99.co guy

Instead, he attributes his youthfulness to happiness and his outlook on life. "My philosophy in life is to live a healthy, simple lifestyle and to help those people in need. I really believe it's about happiness. I'm a person who likes to share happy and positive energy with people around me. And it could also be that I'm still single and don't have much worries, and I chant the Buddhist mantra every day," he reveals.
Interestingly, this recent revival of Ben's Internet fame may not have happened had he not replied a Facebook message from 99.co CEO Darius Cheung — three years late.

"Three years ago, Darius found me and messaged me on Facebook, and I don't actively use Facebook. I saw the message but I didn't reply at that time," Ben recalls.

"My father passed away [during the pandemic] and I was stuck in Vietnam for six months. It was only two or three months ago when I returned from Vietnam, after settling my father's funeral, that I thought to myself, 'Why not just do it, enjoy it and take it as a memory to keep?' So I replied Darius and from there, his team followed up and made the rest of the arrangements."

"I should say sorry to him for making him wait three years!" he muses.

Watch the original Mocca ad here and the 99.co ad here.
Photos: YouTube screenshots, 99.co