Long Queues At S'pore's "1st Halal Hokkien Braised Duck Stall"; Chinese-Muslim Converts Who Haven't Tasted Dish In Decades Among Customers
Kin Men Seng Heng's culinary school grad hawker uses a recipe from his grandpa's famous braised duck noodle stall in Redhill — but he has made it halal-friendly. He's joined by his pals in this new biz venture.
Located at Amoy Food Centre, Kin Men Seng Heng is a four-month-old stall that proudly proclaims to be the first halal-certified braised Hokkien duck joint in Singapore. Despite its less-than-ideal location – the stall is tucked away in a quiet corner on the second floor of the hawker centre – Kin Men Seng Heng has been regularly drawing long queues since last month. 
The stall is owned by four young pals – including Jonathan Tan, 27, whose late maternal grandfather founded the popular Seng Heng Braised Duck hawker stall at Redhill Food Centre in 1976. The original outlet is currently run by Jonathan's uncle, Mr Koh, who's in his 60s. It still continues to draw crowds and is open for three hours daily only. Kin Men Seng Heng marks the first expansion for the 46-year-old brand – the stall uses the same recipe, with slight modifications to adhere to halal restrictions. The Amoy stall had to apply for halal certification under a different name (as Seng Heng will continue to operate as a non-halal stall), so Jonathan added "Kin Men", to the moniker as a tribute to his grandfather's birthplace in Kinmen, Taiwan. Mr Koh does not have a stake in the new stall. 
No part of this story or photos can be reproduced without permission from 
8days.sg
.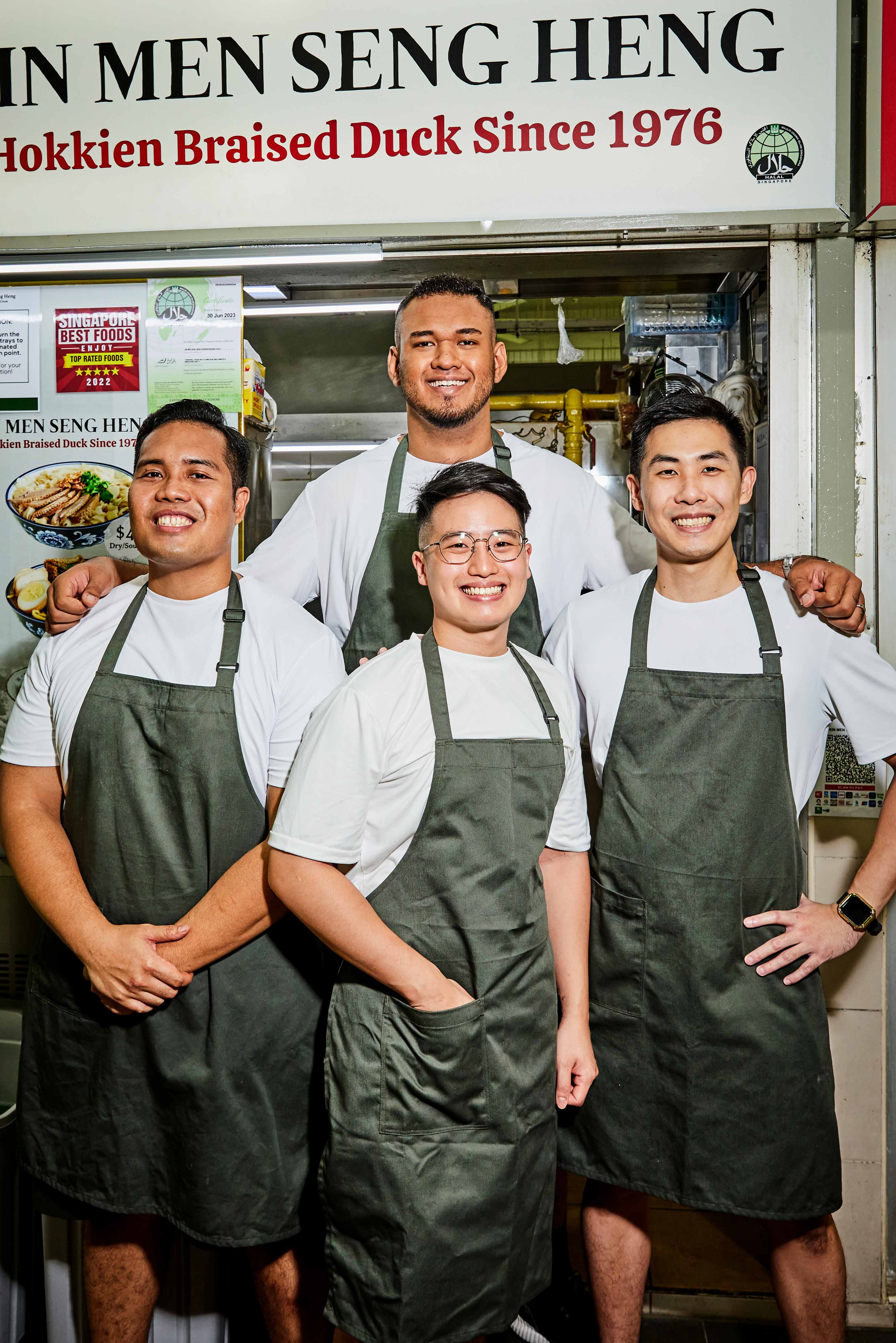 Three of the co-owners are culinary school grads
Jonathan (middle), Ernest Tan (right), 28, and Nur Muhammad Bin Ismail (left), 29, met while pursuing a culinary arts diploma at At-Sunrice GlobalChef Academy. Jonathan's best friend Habri M Din (behind), 27, completes the quartet as the only partner without formal culinary training.
Prior to opening the stall, Jonathan and Ernest spent a year helming the kitchen at casual western eatery Professor Brawn Cafe, a social enterprise opened by the former's aunt, while Nur worked at NEA as a dengue inspection officer. Habri had a concierge job at Shangri-La Singapore. He's also a singer-musician who performs live gigs at various Clarke Quay and Boat Quay venues.
Despite their culinary education and apprenticeships at well-known establishments like now-defunct Thai restaurant Long Chim at MBS and Spanish tapas bar FOC Restaurant, the three At-Sunrice grads did not wish to land a fine-dining restaurant job after graduation. "I think as culinary students, most of us have a dream of opening our own restaurant someday. Realistically we knew it was hard to do so without financial backing, even if we spent many years working at a fine-dining restaurant," shares Jonathan.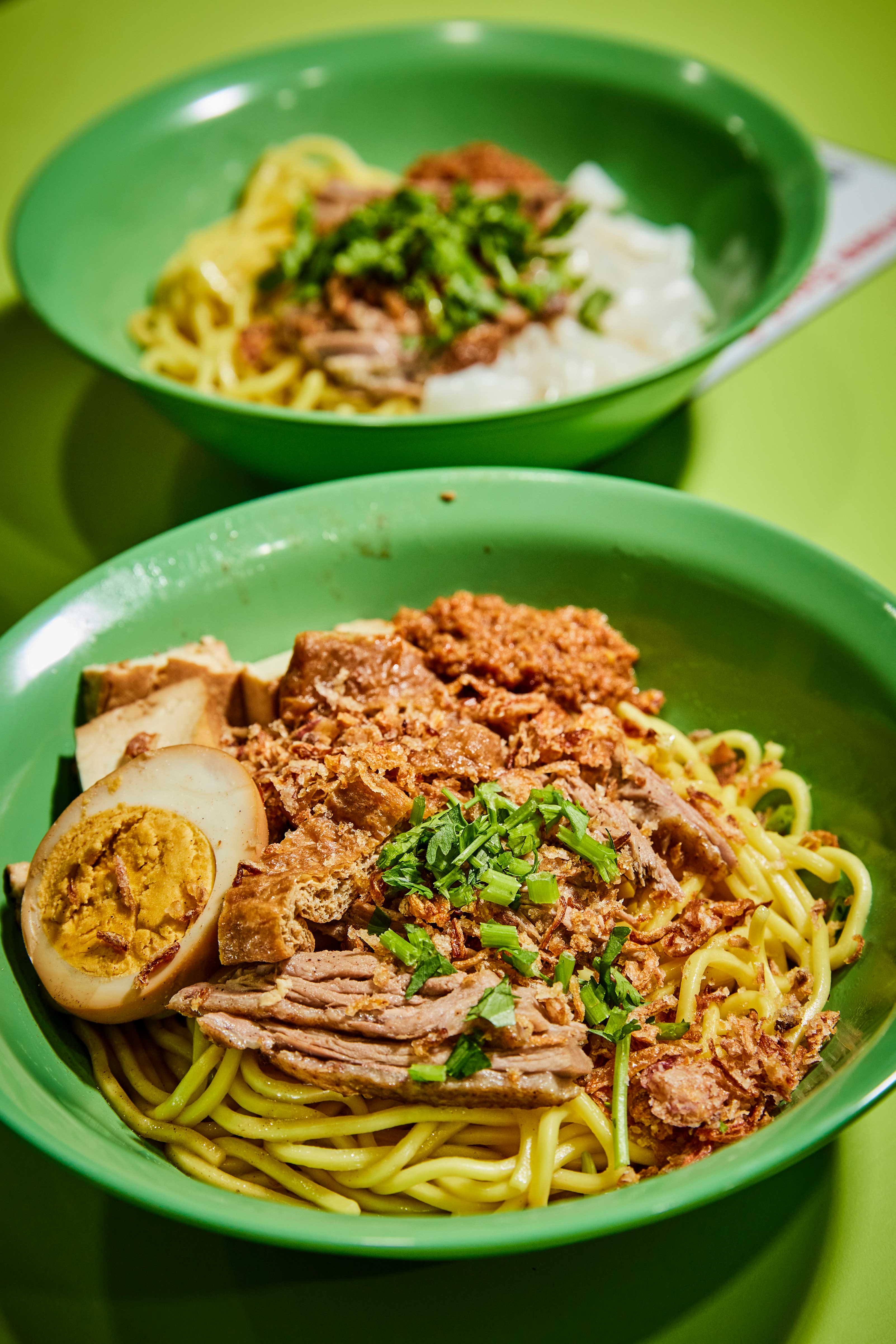 Made stall halal 'cos of a promise to best friend
"I've never thought of becoming a hawker or joining the family business until last year, when my uncle told me that he wants to retire in two to three years. Nobody wanted to take over the business and I thought it'd be such a shame if the stall closed. I also saw it as an opportunity to start something on my own. I told my uncle that I'd give it a try," says Jonathan, whose parents are not involved in the family business.
His decision to open a halal-certified stall can be traced back to a promise he made a decade ago. "I told Habri and his mother that when I open my own food biz, I'll make sure it'll be halal so they can enjoy my food."
At first, Jonathan's uncle was sceptical. "Nobody else was selling halal braised duck. He was also resistant because he didn't want me to change anything but I was very firm about it. In the end he was okay to start training us first," says Jonathan, who apprenticed at the Redhill stall with Ernest for about two months before they opened Kin Men Seng Heng in March this year.
The stamp of approval from Nur and Habri – who have never tried braised duck prior to this – gave Jonathan more confidence to proceed with his plan. "I told him that I have to try his recipe made with halal duck before I decide if I want to join [the partnership]," says Nur. "When I tasted the duck noodle soup, I was like okay, this can work."
Nur and Habri tell us the soup's slightly herbal and peppery notes remind them of mee soto, a popular Malay staple. "There aren't many dishes that use duck in Malay cuisine, so I felt that the Malay community will be curious and excited to try halal braised duck," he continues.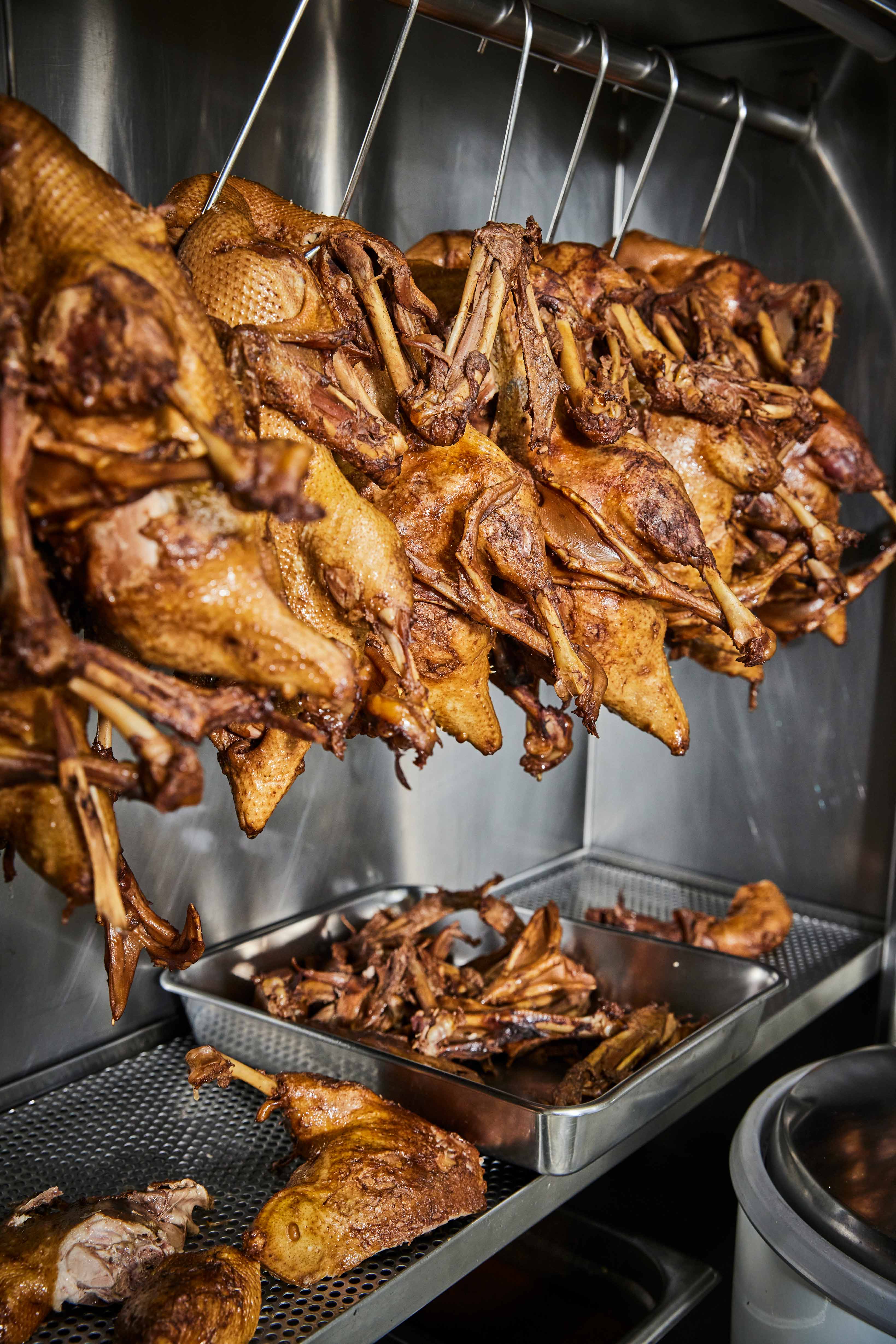 Sold only two ducks daily until "halal cert saved our stall"
It took about three months for the stall to obtain its halal certification. The hawkers tell us business was terrible at first. "We're on the second floor, so we don't get a lot of traffic to begin with. Before [the easing of safety measures], the staircase nearest to our stall was cordoned off as well, so it was even harder to catch the walk-in crowd," recalls Nur.
"It was a low point. We were selling around two ducks a day, so we were basically making a loss by even opening the stall," says Ernest. "We just kept going and took turns being the cheerleader to keep our morale up. We believed in our product and knew we had to keep our eye on the bigger picture."
Indeed, things improved once the stall received its halal cert last month. "We started posting about it on social media and got featured on halal food blogs," says Jonathan. "Things really improved right away. The halal cert saved our stall." Over the past month, the stall saw a six-fold increase in sales – it sells about 12 to 15 ducks daily now. "It's still a far cry compared to the famous stalls, but we're very encouraged and we will keep working hard."
Jonathan says their goal is to expand the stall into a chain biz. "We want to set up a central kitchen that will cater to different stalls, and all of us [the four co-owners] will move into advisory or consultant roles." He shares that they're looking at opening a second location this year.
Strong support from Muslim community, including Chinese-Muslim converts
Habri, who handles the orders, shares that the majority of their customers are Malay. "Their feedback has been very positive. We've also had a surprising group of customers – there were several Chinese-Muslim converts who specially visited our stall after seeing our posts. Some tell us it's been decades since they've had braised duck. It was touching to hear that," he says. The stall has attracted celeb fans too – actress-host Nadiah M. Din posted about the stall on her Instagram story after trying their food. 
During our weekday visit, the stall had a constant queue of about a dozen customers, mostly office workers on their lunch break. Thankfully, the line moves fast, as the young hawkers carry out their respective roles – chopping duck, cooking noodles and handling orders – pretty efficiently.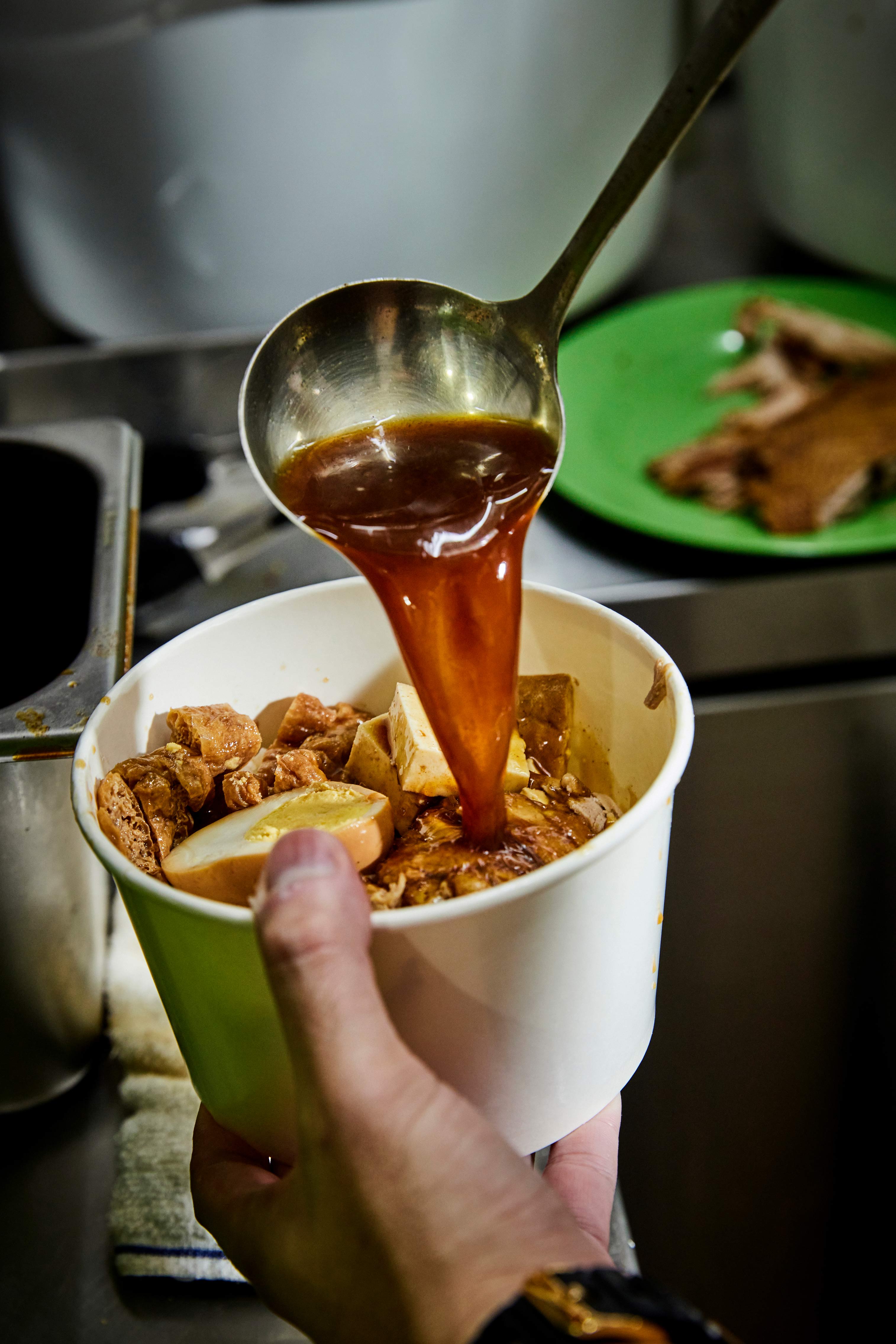 Differences from the original Redhill outlet 
"We get our ducks from a halal supplier in Malaysia. I also choose a slightly bigger duck than what my uncle uses as it has a better taste and texture," he says. Kin Men Seng Heng uses ducks that weigh around 3kg, while the original stall sells smaller birds around 2.7kg. Jonathan also has to settle for frozen duck instead of the fresher chilled duck used at the Redhill stall as his stall is currently unable to meet the minimum order required for the latter. "Hopefully, as business improves we will be able to get better quality ducks," he shares. Prices are slightly higher here, with items starting from $4 instead of $3.50 at the Redhill outlet.
The Amoy stall offers sides like tau pok (fried tofu puff) and tau kwa (firm tofu) that are not available at the original outlet. The operating hours are also much more palatable here – Kin Men Seng Heng opens from 9am to 2pm, compared to 7.30am to 10.30am at Redhill (in fact, we're told the food at the latter is often sold out by 9am).
Jonathan's uncle has also warmed up to his new venture. "Initially, he came down to check on us a lot. Now he knows that our cooking won't be exactly the same as his food, so he's accepted that we're trying to make it taste as close as possible. He's happy for us when he hears that business is better now."
Braised Duck Rice, $4 a la carte; $6 for a set
Braised for over an hour with five spice, cinnamon and other "standard braising ingredients", the duck is savoury with a hint of herbal fragrance. There's also no gaminess, though we wish the skin could be fattier to impart more flavour to the meat. Instead of the sweeter, more luscious glaze offered by some braised duck stalls, you get a thinner gravy rendered from the braising liquid. While it may not look as shiok as the former, we enjoyed being able to taste the subtle aroma of the braise here.
The set includes braised egg, tau pok and tau kwa – all neatly and appetisingly plated with the meat on plain rice. Paired on the side is their house-made savoury sambal – an unusual departure from the typical chilli-vinegar dip for braised duck. "It's created by my grandma and it's what they serve at their stall [in Redhill] so I plan to carry on the tradition here," explains Jonathan.
Braised Duck Noodle (Soup), $4 (8 DAYS Pick!)
The stall's signature dish. While we don't think it tastes like mee soto soup, we get why the hawkers made the comparison. The broth is medium-bodied, slightly herby, with bright notes of pepper and five-spice that exude a familiar warmth that you get from a comforting bowl of mee soto.
The duck is tender, delicate and well-seasoned – the savouriness of the braise is apparent when eating the meat on its own. Cooked perfectly, the springy yellow mee holds its texture well in the robust, savoury broth, while the generous sprinkle of fried shallots and coriander add aromatic flourish to the simple dish.
Interestingly, the dish is served with a spicy chilli soy dip – similar to what you get at a mee soto stall – that the team affectionately named "mamida chilli" after Habri's mum, who created the recipe for the condiment. We enjoyed the sweet yet fiery kick that it added to the duck noodle soup.
Braised Duck Kway Teow (Dry), $4
Thick, chewy kway teow makes a good base for the fragrant but slightly-too-salty house-made sambal and light, savoury gravy to cling to. Pretty good, though we still prefer the punchier flavours of the soup version.
Sides, $1 each
Parts like duck wings, neck and feet are offered as affordable sides at $1 per plate. They're clean-tasting, with no gamey funk.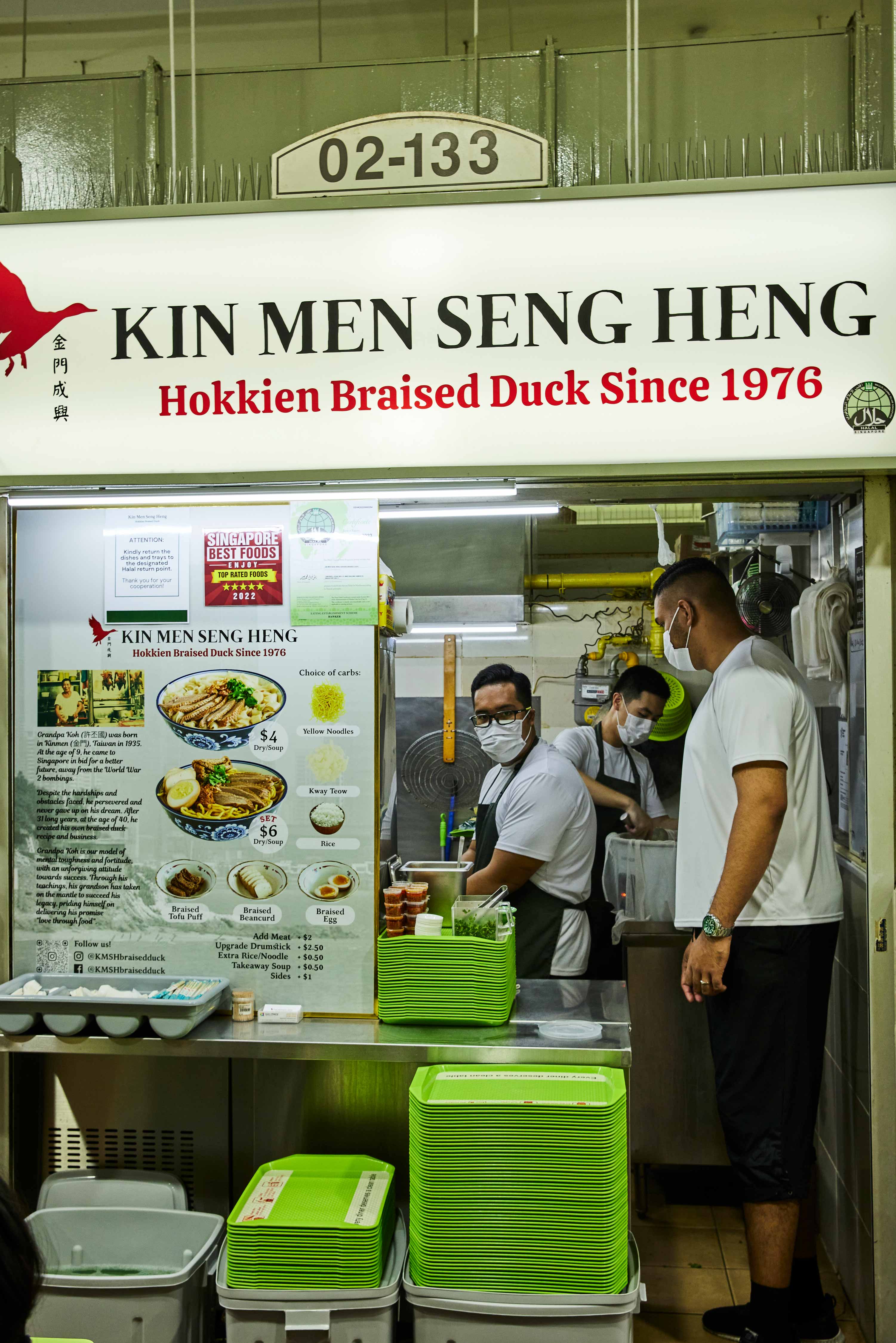 Bottom line
Good Chinese-style braised duck that tastes just like those from non-halal stalls. Though this spin-off outlet has to settle for frozen birds, we find the texture of the meat to be satisfyingly tender while boasting enough flavour from the braising liquid. We're fans of the robust soup, and would order the well-cooked noodle dishes over the plainer rice option on our next visit. Try to pop by before 11am to beat the lunch crowd.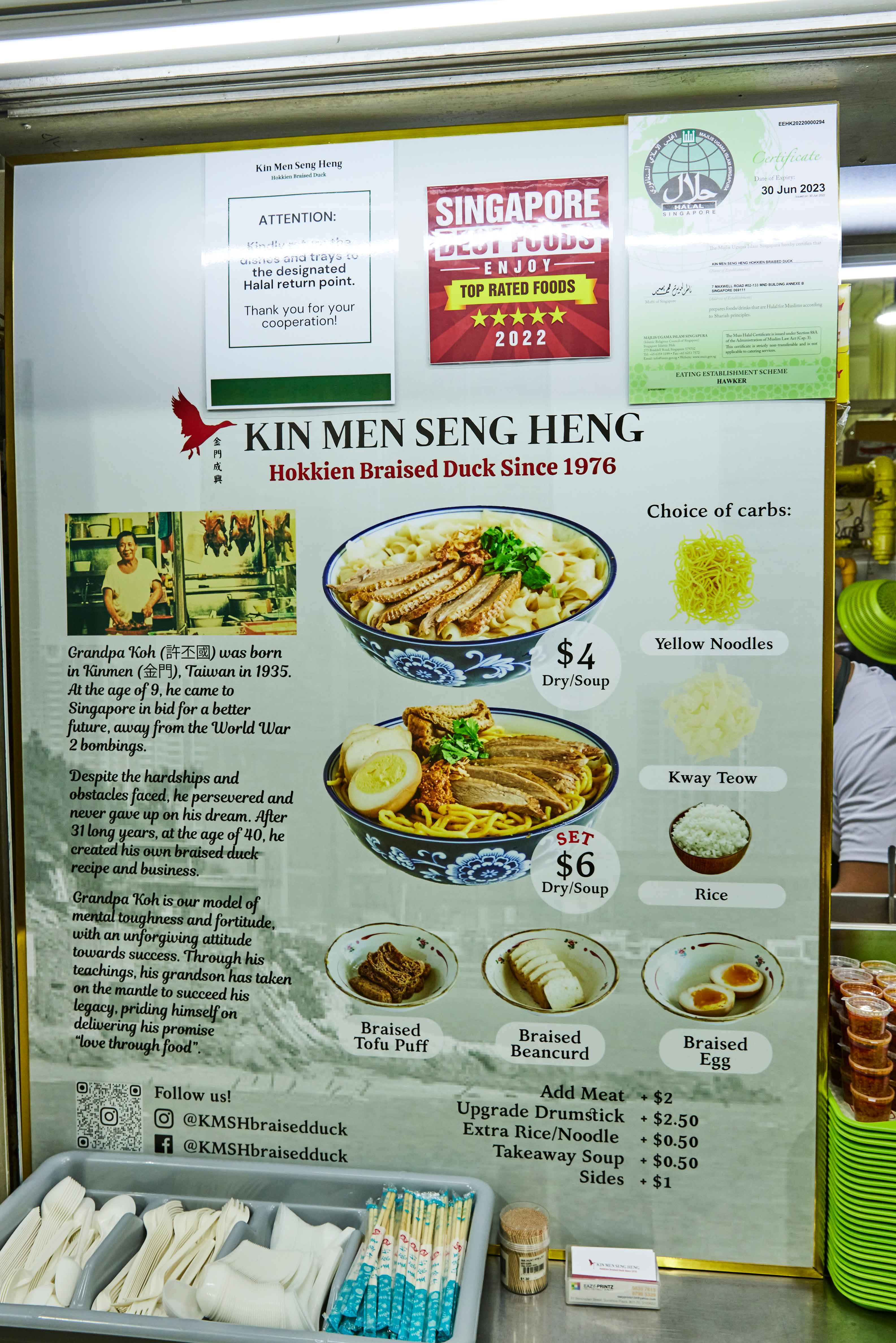 The details 
Kin Men Seng Heng is at #02-133 Amoy Street Food Centre, 7 Maxwell Rd, S069111. Open daily except Sat 9am-2pm. More info via Facebook & Instagram.
Photos: Aik Chen
No part of this story or photos can be reproduced without permission from 
8days.sg
.