Lu Han Rumoured To Be Marrying Actress Guan Xiaotong, Whose Dad Allegedly Told Friends He Received S$21mil Worth Of Betrothal Gifts
If this is true, we cannot imagine how extravagant the wedding will be.
In 2017, the internet went wild when Chinese singer and former EXO member Lu Han, 31, announced that he was dating Chinese actress Guan Xiaotong, 24.
Since then, there have been many breakup and wedding rumours surrounding the couple.
On Monday (Feb 21), a netizen shared that there will be a marriage announcement made on February 22.
According to the netizen, "it is the kind where [a couple will make] an official announcement or post their marriage license (aka the The Little Red Book) online".

Though no names were mentioned, the netizen made a random remark that Lu Han and Xiaotong cook braised food together every week.
"This kind of secret show of affection is so good! If it is true, it is really blissful," added the netizen.
Another netizen claims the couple are already engaged
Shortly after, another netizen said that the couple are already engaged and that Xiaotong's father had blurted out to his friends that the "betrothal gifts cost as much as nine figures".
Yes, nine figures, which in renminbi works out to be at least S$21.5mil. And we thought Singapore heiress Kim Lim's Guo Da Li with S$2mil worth of gifts was splashy.
Unsurprisingly, given Lu Han's popularity, the topic of his engagement and generous gifts became one of the most-searched topics on Weibo.
When asked about the rumour, a spokesperson from Lu Han's studio replied: "If it is true, we will definitely inform everyone in advance."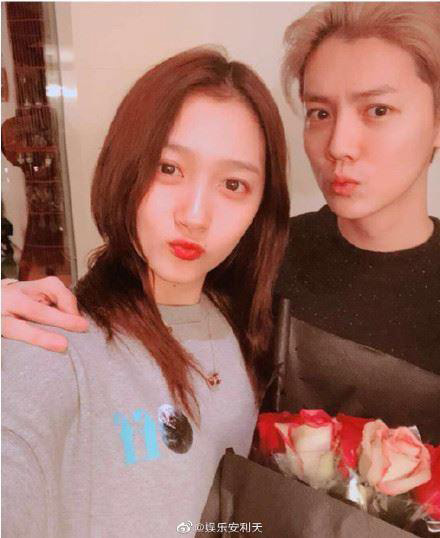 There's been talk that they are registering their marriage on Feb 22 for a while
Since last November, there have been speculations that wedding discussions have been going on between the couple's families.
Although the wedding date had not been set, Lu Han and Xiaotong were said to be getting their marriage license on Feb 22 and have already bought their marital home in Beijing.
While many fans congratulated the couple, some were skeptical and advised netizens to take what they read online with a pinch of salt.
Photos: Lu Han/Weibo