Malaysian Woman Goes Viral For Looking Just Like Squid Game's Player 212
Even Kim Joo Ryoung, the actress who plays Player 212, agrees.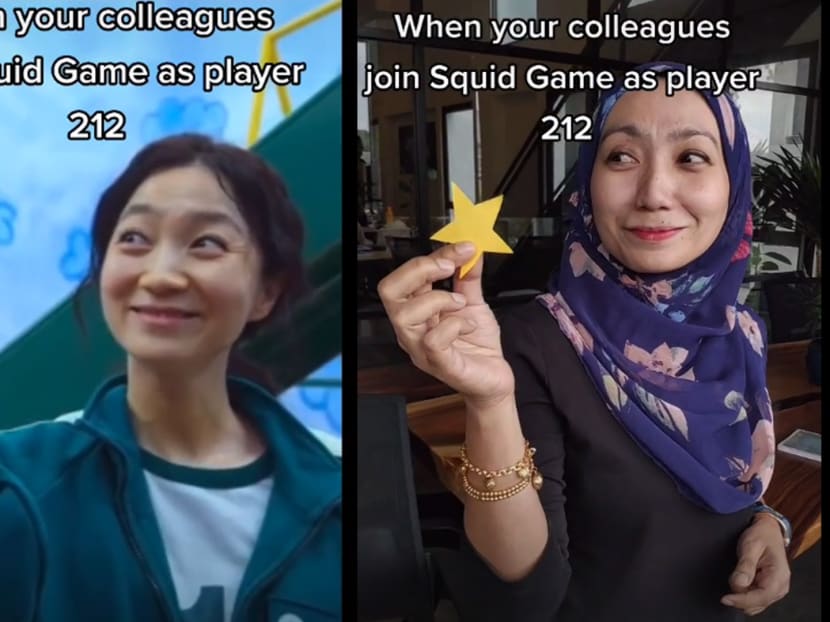 A Malaysian woman has gone viral for being a spitting image of Squid Game actress Kim Joo Ryoung, who plays the cunning Han Mi Nyeo aka Player 212.
Last week, TikTok user @amein_nur_iman posted a video of his colleague Atty Azni Abu Azal imitating Min Nyeo.
In the 11-second clip, Atty, 42, holds a star-shaped cutout with a smug look on her face a la Min Nyeo after she passed the Dalgona candy challenge in the show.
When your [colleague joined] Squid Game as Player 212, read the caption in the video.
In just four days, the video garnered more than 3.9 million views, and to date, has been shared more than 10,500 times.
So uncanny is the resemblance that it even caught the attention of Joo Ryoung, who shared the post on her Instagram Stories.
I didn't expect it at all, we made the video just for fun. I was literally shaking when I found that the actress herself reposted that video, she told Malaysian news site SAYS.
Atty also shared Joo Ryoung's post on her Instagram, saying that it "really made [her] day".
Despite the Squid Game hype, Atty revealed that she only started watching the show after her boss told her how much she looked like Player 212, not just physically, but her mannerisms too.
My friends say the way I speak is loud like her, Atty said, adding that she was shocked by the similarities too.
After the clip went viral, Atty has also had strangers approaching her to ask if she's the Malaysian woman who looks like Player 212.
Photos: Atty Azni Abu Azal,/Instagram