Before Michelin Bib Gourmand Award, Prawn Mee Hawker Had "Almost No Salary" For Three Years
The 29-year-old behind One Prawn & Co had a tough ride as a Burnt Ends chef-turned-hawker. But her perseverance paid off when her eatery recently snagged a Michelin Bib Gourmand nod.
Nestled in a shophouse along nondescript MacPherson Road, One Prawn & Co is a 60-seat modern kopitiam that focuses on Penang-style prawn noodles. Before relocating to its current larger premises, the business operated as a hawker stall at Golden Mile Food Centre from 2019 to 2021. 

Gwyneth Ang, 29, and a partner who prefers to remain anonymous, had "almost no salary for three years" while running the hawker stall. Says the bubbly restaurant chef-turned-hawker: "We were barely earning any money because we were running on 60 percent food cost". The hawkers had an average monthly salary of $500 each. The amount sometimes peaked at $1,000, "depending on situations such as volume — but we'd have to work until the middle of the night [to earn that bit more]," says Gwyneth. 

Back then, the cheapest bowl of prawn mee cost $5, versus a starting price of $14 at their fancier new joint. Generally, restaurants maintain food cost at around 30 percent to stay profitable. But the duo sacrificed that as they "wanted to quickly gain exposure and growth by offering food that has more value-for-money." The partners lived off their savings during this period. Gwyneth confesses the hawker experience was "harder than expected". She adds: "Customers quarrelled with each other while queueing, and neighbouring stalls were pissed off because the queue blocked their entrance. I was shouted at when we ran out of food and had to turn customers away. It was a low point for me emotionally and physically," she shares.

No part of this story or photos can be reproduced without permission from 8days.sg.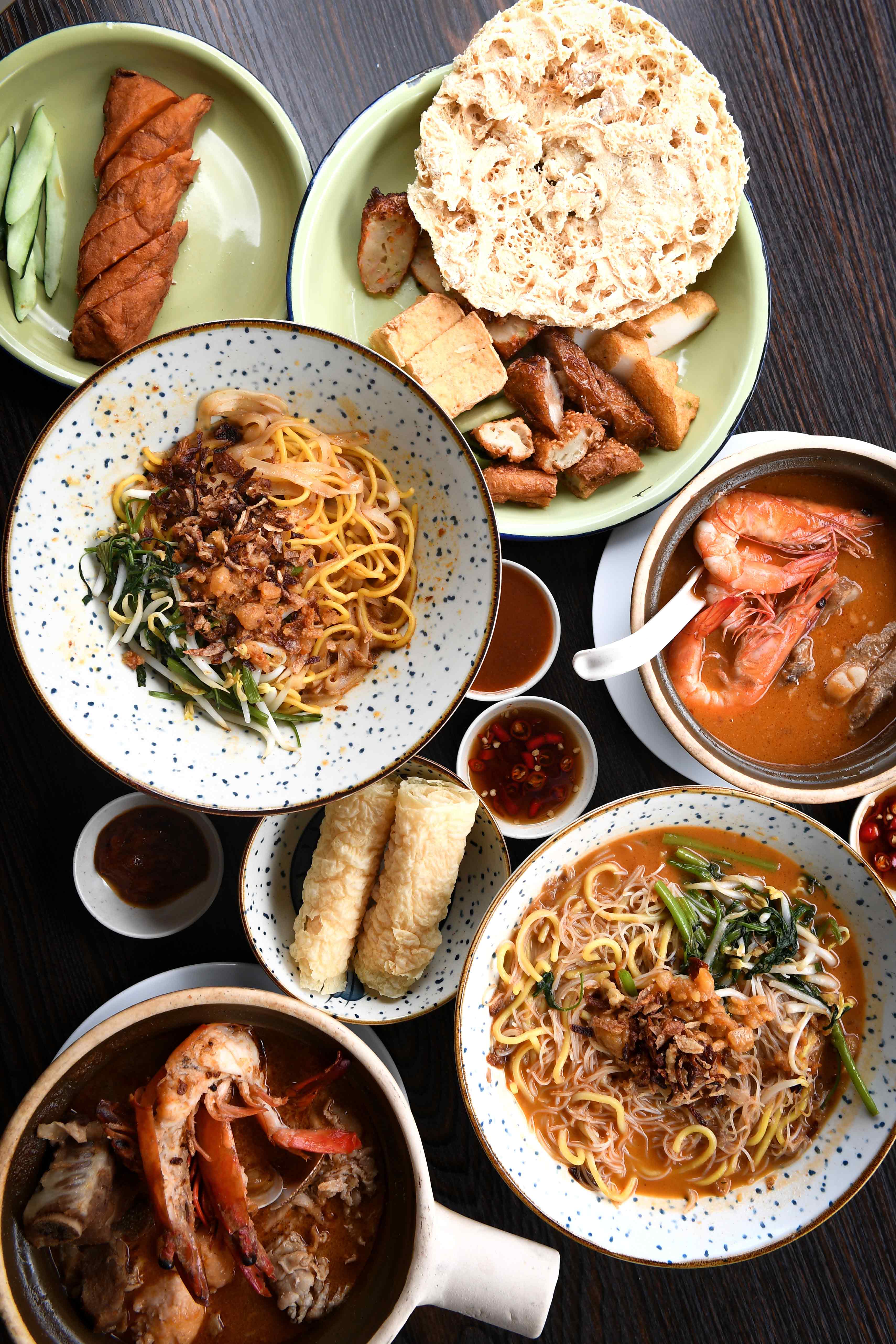 Why these millennial hawkers didn't give up
She credits having a long-term business plan and a like-minded partner as her main motivation to carry on being a hawker despite the initial hardships. "My plan was to give it ten years to give it my all. If it doesn't work, it doesn't work. I'm glad that my partner and I had a common goal. The trust in the plan kept us going." 
Luckily for them, the stall received positive reviews on various food blogs and Facebook groups, which led to more customers. In January, the partners decided it was time to expand into a full-fledged eatery after fine-tuning their recipe. "We chose this [Macpherson] outlet as it fulfilled our size requirement for the kitchen equipment we needed for a larger production of food."
She says they received a lot of support from regular customers shortly after the relocation. 
Six months later, they reached another milestone: One Prawn & Co snagged a Michelin Bib Gourmand 2022 nod, which recognises eateries that "offer diners very good value for money, with a complete and high-quality menu priced at a maximum of $45."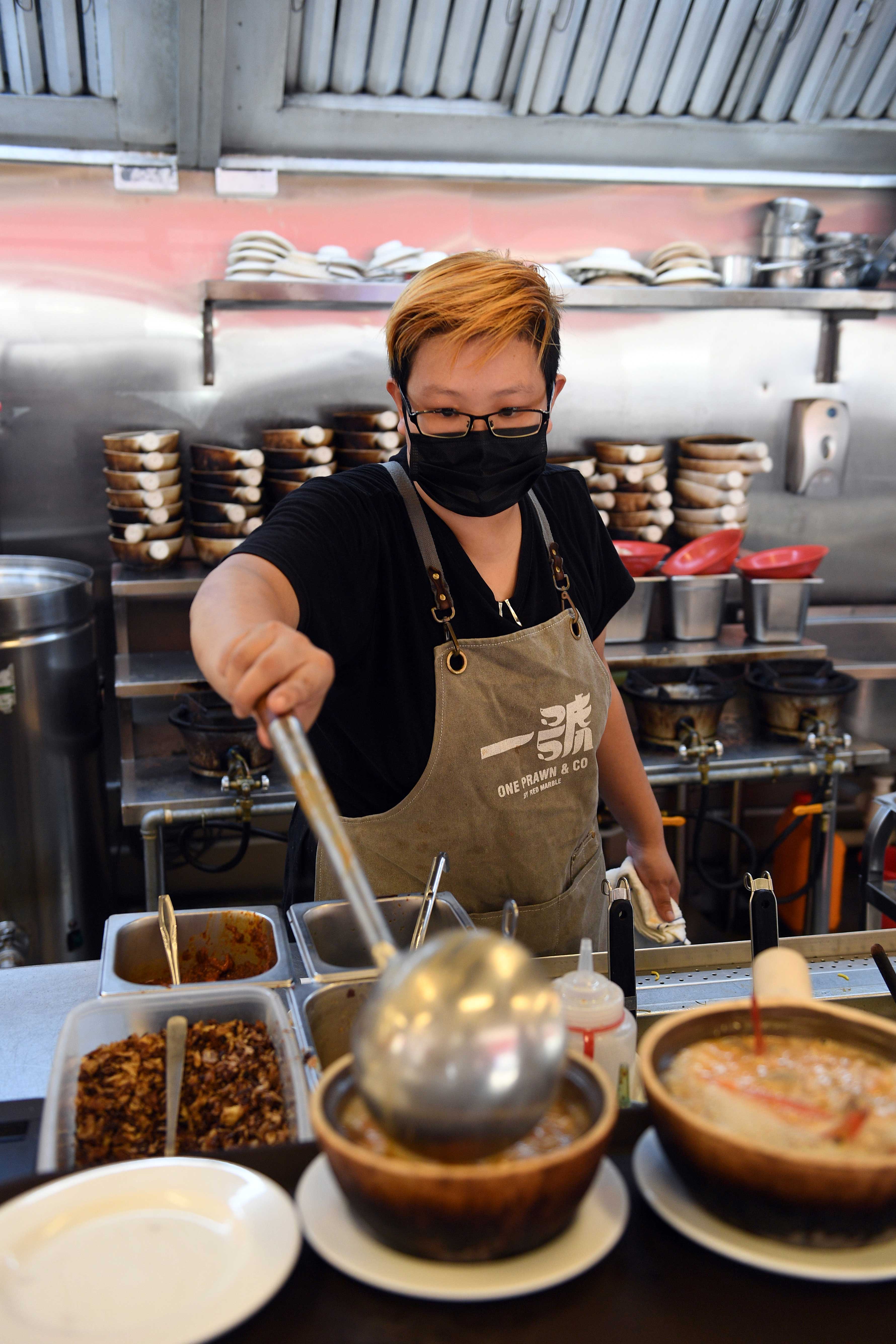 Surprised by Bib Gourmand accolade
Gwyneth shares her surprise at the announcement. "Of course, we hoped to achieve culinary recognition [for our venture]. But we were surprised that it came earlier than expected."

Asked if they are aiming for a Michelin star next year, the jovial owner quips: "Very hard to get a star here lah, we have no air-con." Next, she rattles off her next steps in a more serious tone. "Our focus now is to extend dinner service [the eatery currently operates from 11am to 5pm]. We also want to start checking out markets and franchise opportunities [for overseas expansion]. It's always been in our blueprint to expand into a chain business."

The eatery, which serves a maximum of 250 orders daily, is enjoying a boost in biz from the Michelin nod. "We were packed last weekend," she says, adding the average waiting time is 40 minutes during peak hours. "We're still trying to recover our capital. We spent about $300K from our own savings to set up this place." Gwyneth says that both towkays now earn a more comfortable salary of $2,800 each. 

We were curious about how the young biz owners managed to raise such a large sum of capital on their own, as well as survive on a low salary for three years — but Gwyneth declined to elaborate on the subject. "We are self-funded. We were willing to invest the capital because we saw the potential of our concept as a viable business," she insists.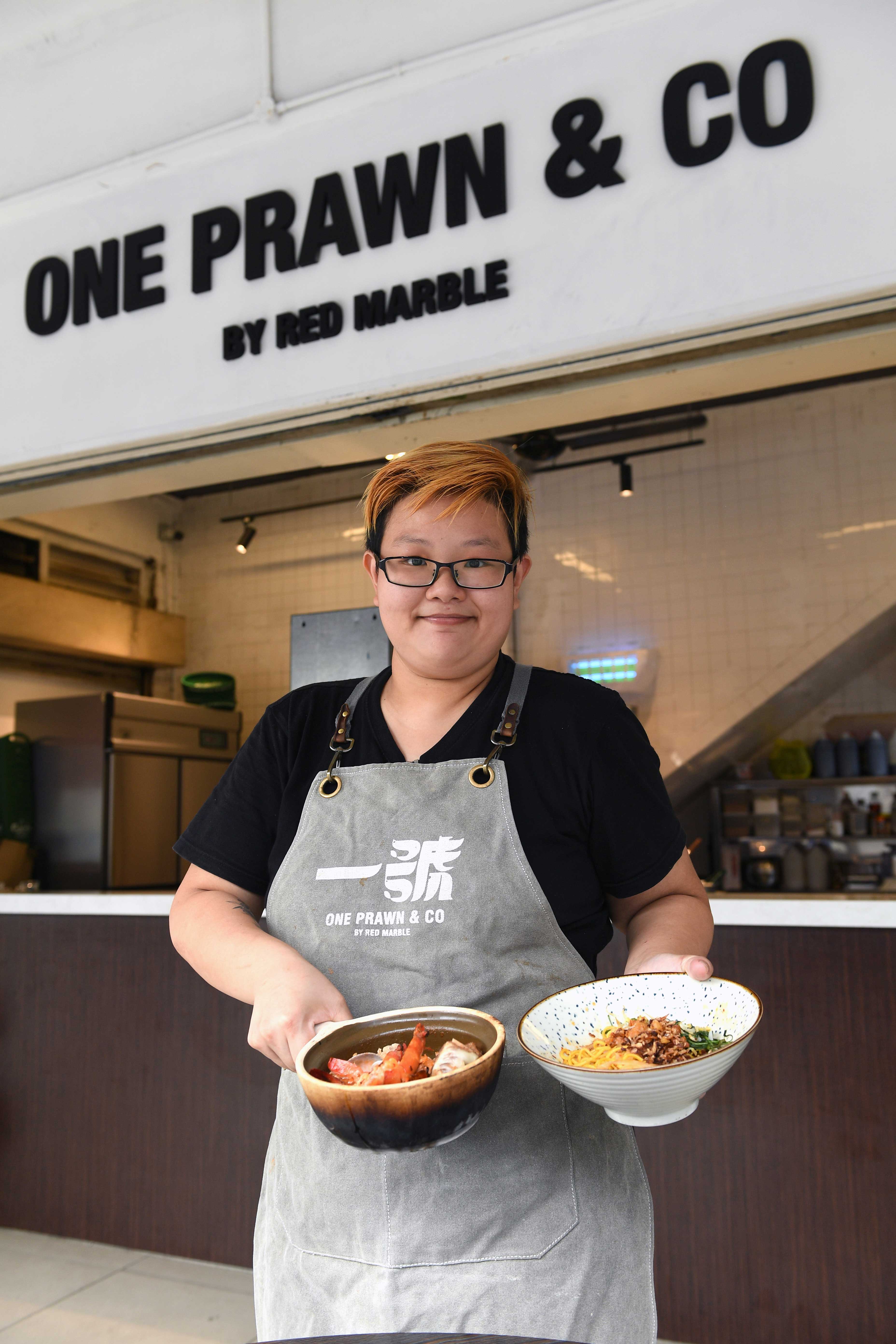 Hawkers used to cook at one Michelin-starred Burnt Ends
A graduate from The Culinary Institute of America's Singapore campus, Gwyneth's resume includes a three-year stint at one-Michelin-starred modern wood-fired restaurant Burnt Ends as chef de partie. She later became head chef at casual Western bistro-bar Level Up. At Burnt Ends, she was tasked to prepare the massive brick oven for grilling meats, which explains some of the burn marks on the former chef's arms.

She met her biz partner, a fellow CIA Singapore alum in his twenties, during the latter's apprenticeship at Burnt Ends. "We worked together for about a year and we had the same vision [of setting up our own food biz]. When I was at Level Up [in 2018], we started having serious discussions [on becoming biz partners]."

On leaving her chef career behind, she adds: "Despite my training and experience working in high-end [Western] restaurants, as a Singaporean, I really want to work towards [elevating] local food on an international level. People seem to be more accepting of a higher price point for foreign cuisine, while prices for local cuisine are heavily scrutinised. For my business, it will be a never-ending battle with [this perception], but for me it's a journey worth continuing." 

Both owners cook at the eatery daily, and are assisted by two kitchen staff.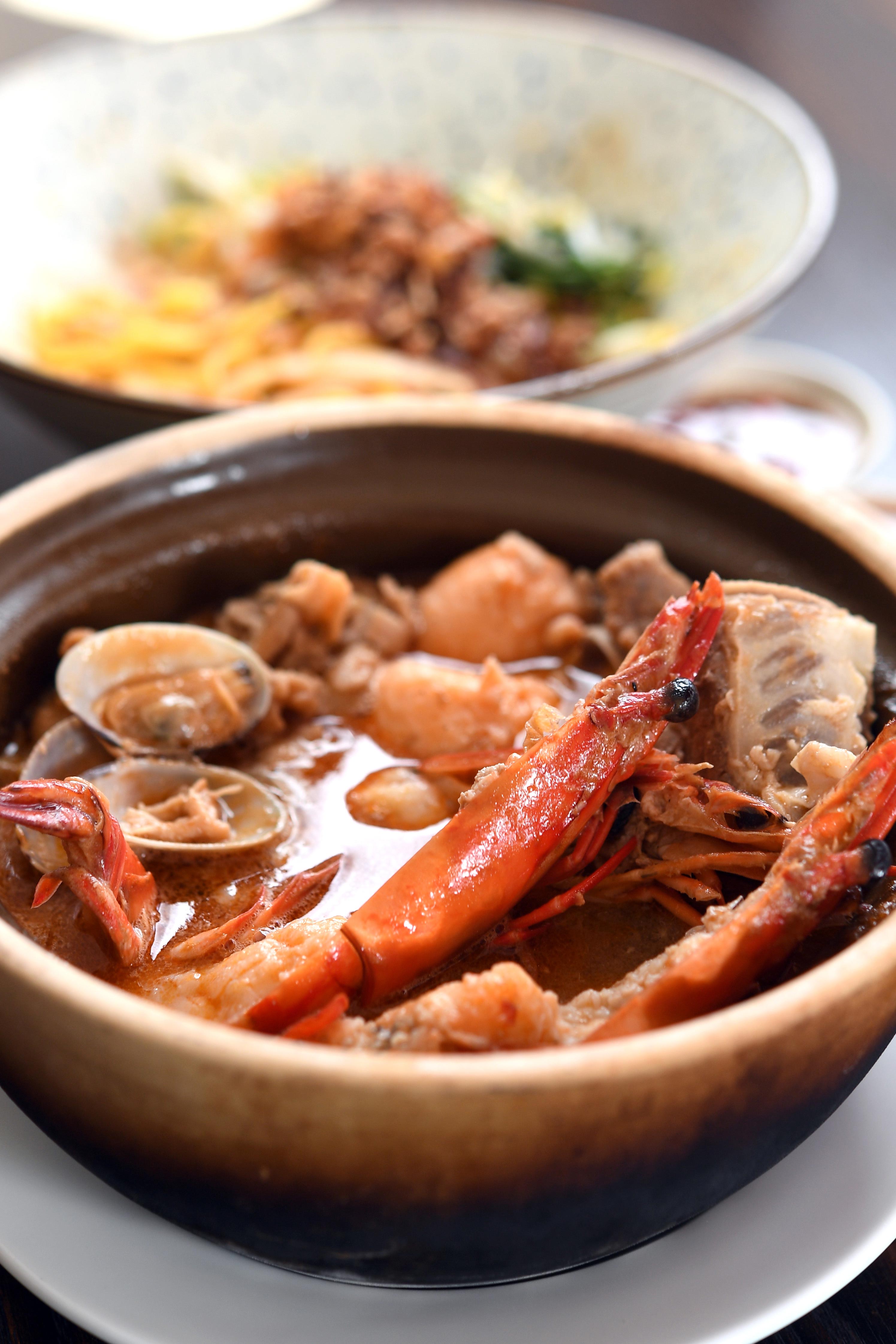 Penang-style prawn mee
According to Gwyneth, the soup for Penang-style prawn mee is "more orange" and "uses blended prawn heads for a stronger prawn flavour", as opposed to local brown-ish soup that uses pork bones and whole prawn heads. While the soup base for Penang-style prawn mee tends to be spicy (chilli paste is added into the broth), One Prawn & Co serves chilli paste on the side for easier customisation.

She first learned the recipe from her Penang-born mother, who used to work for a prawn mee stall during her school holidays. It takes at least 20 hours to prepare the broth, which uses over 48kg of prawn heads and pork bones to create a rich, full-bodied and orange-hued soup. At One Prawn & Co, the broth is served in small clay pots as they "accentuate the flavours while retaining heat throughout the meal".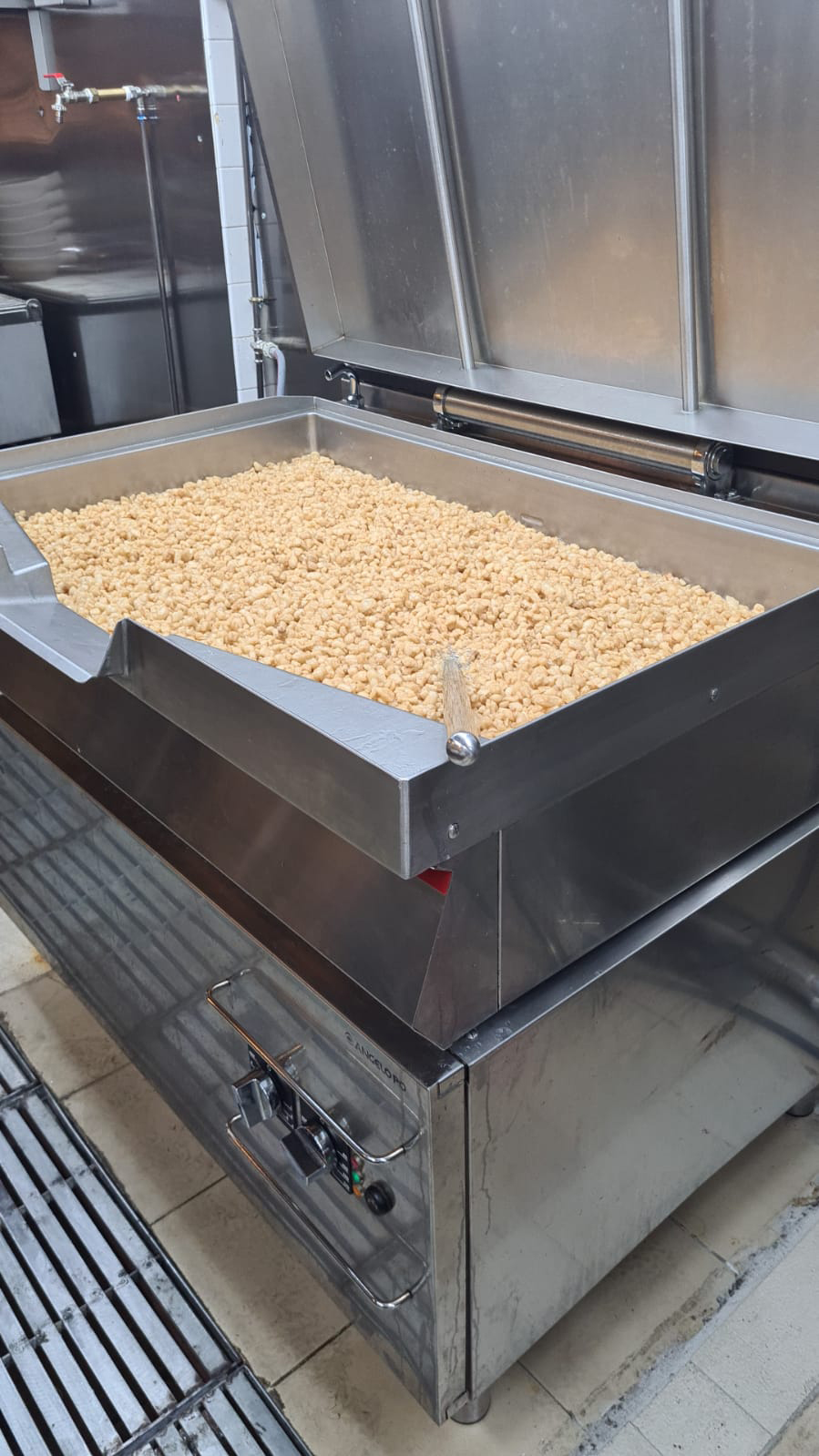 Fancy $20K cooking machine
"This is an electric tilting pan that's usually seen in central kitchens or hotels. I use it to braise pork ribs and render pork lard. At the hawker stall in Golden Mile, our biggest wok could only handle about 25kg of pork ribs at a time. With this, we can prepare 100kg at one go," shares Gwyneth. "We're renting this machine for now. It would cost us about 20K to buy one."
Spacious shophouse
While there's no air-conditioning, the ceiling fans and ample space between tables provide a rather comfortable dine-in experience at the new digs. The decor is modern and clean with white walls and dark wood fixings. There's a large, fairly open kitchen that Gwyneth intends to transform into a central kitchen as the business expands. Friendly, mostly young servers take your order at the table (there is a service charge). We also like that every table is equipped with chic tissue boxes and clean white containers for the disposal of prawn shells.
The menu
Relocating to a larger, standalone space means menu prices have increased as well. The cheapest hae mee here is $14 (compared to $5 at the hawker stall), and comes with medium grey prawns, sliced pork or pork rib. For larger, more premium tiger prawns, prices start at $22. Gwyneth tells us the prices of raw ingredients have gone up, especially prawns. 

There's also a good selection of ngoh hiang items, a typical hae mee accompaniment – which you can order per piece (from $1.50) or as a platter (from $8.50) – to enjoy with your meal. These snacks are deep-fried before serving, and are satisfyingly crispy. Beverage options include fresh lime juice, lemon tea and beer on top of your usual canned drinks.
Braised Pork Ribs & Prawns with Soup Noodles, $14 (8 DAYS Pick!)
From the first sip, we can tell why it takes almost an entire day to create the cloudy, orange-tinged broth. The rich soup has an assertive, prawn-forward flavour, which is sweet, briny and rich without being jelak. It's a perfectly balanced concoction. Compared to local pork-based versions, this broth is sweeter and has more umami depth. So delicious. After mixing in the house-made chilli paste, we found the soup to be pretty similar (though a tad less fiery) to the hae mee we've had in Penang. But the soup is pretty tasty on its own, sans chilli. 

Our basic bowl of prawn mee comes with two juicy, partially shelled whole grey prawns and two chunks of tender, slightly fatty pork ribs. Toppings are served separately from the noodles – the former brims in a small claypot filled with soup, while our chewy yellow and thin bee hoon come in a different bowl with another yummy helping of broth and crunchy kang kong. We love how deeply aromatic the sprinkling of house-fried shallots are. 
Five Fortune Big Prawns Claypot with Dry Noodles, $30 (8 DAYS Pick!)
A luxe hae mee with tiger prawns (you get three pieces of halved prawns), succulent house-made prawn tobiko balls, clams, pork ribs and sliced pork. Our squiggly thin kway teow and yellow mee are slicked with lavish lashings of crispy pork lard, fried shallots and heady house-made sambal with bold hae bee (dried shrimp) notes. The generous heap of kang kong adds a lovely crunch to the bowl – shiok. That being said, we're not sure the three halves of prawns are worth the $30, because to us, the stars of the hae mee here are the super tasty soup and tender
prawn balls made with pure prawn meat and no fillers.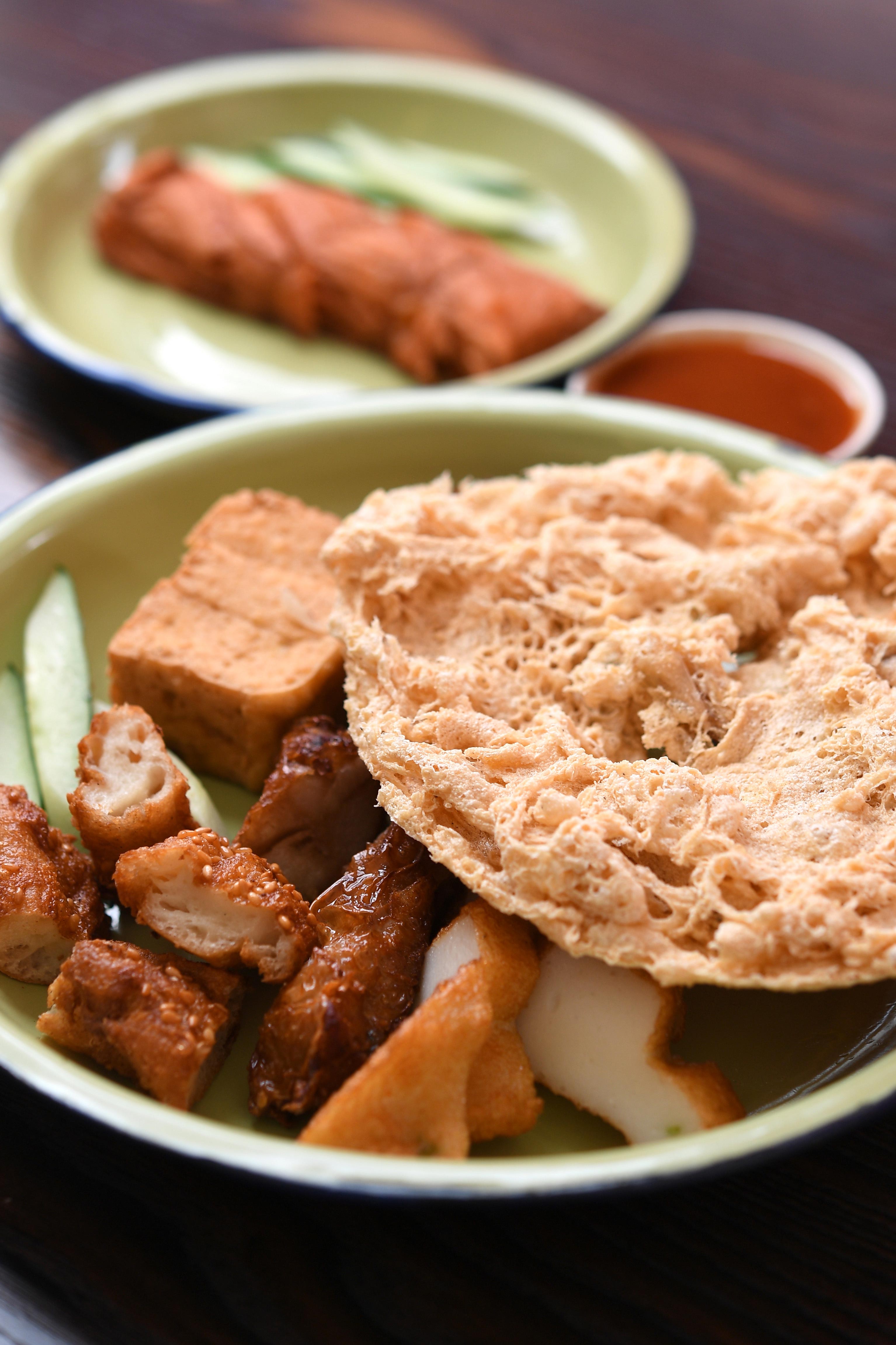 Ngoh Hiang Platter, $8.50 for one-two pax
These items aren't made in-house, but are nonetheless fun to chomp on while enjoying your noodles. The round, craggy prawn cracker, in particular, is superbly crispy and not too greasy. Also get the bouncy fishcake and tastier seafood roll over the ngoh hiang.
Cheese Otah, $2.80
The otah made from "a secret fish that's not mackerel" is pretty fragrant, though we wish the cheddar filling could be more generous for an oozier bite.
Bottom line
Unlike some Bib Gourmand recipients that had us scratching our heads in bewilderment, One Prawn & Co truly deserves the accolade. The refined chef-like flourishes in its seemingly humble hawker dish of Penang-style hae mee are subtle but apparent. For instance, the full-bodied yet perfectly balanced broth that doesn't need any chilli to taste great, and skilfully made condiments like super aromatic lard and shallots. The $14 entry-level bowl is more than satisfactory with fresh, medium-sized prawns – get the pricier options only if you really adore larger crustaceans. While some may quibble at the steeper prices at this kopitiam (albeit a modern, comfy one), we say it's worth every cent for some of the best prawn noodles in town. Our only grouse: the long queues on weekends and lack of parking options.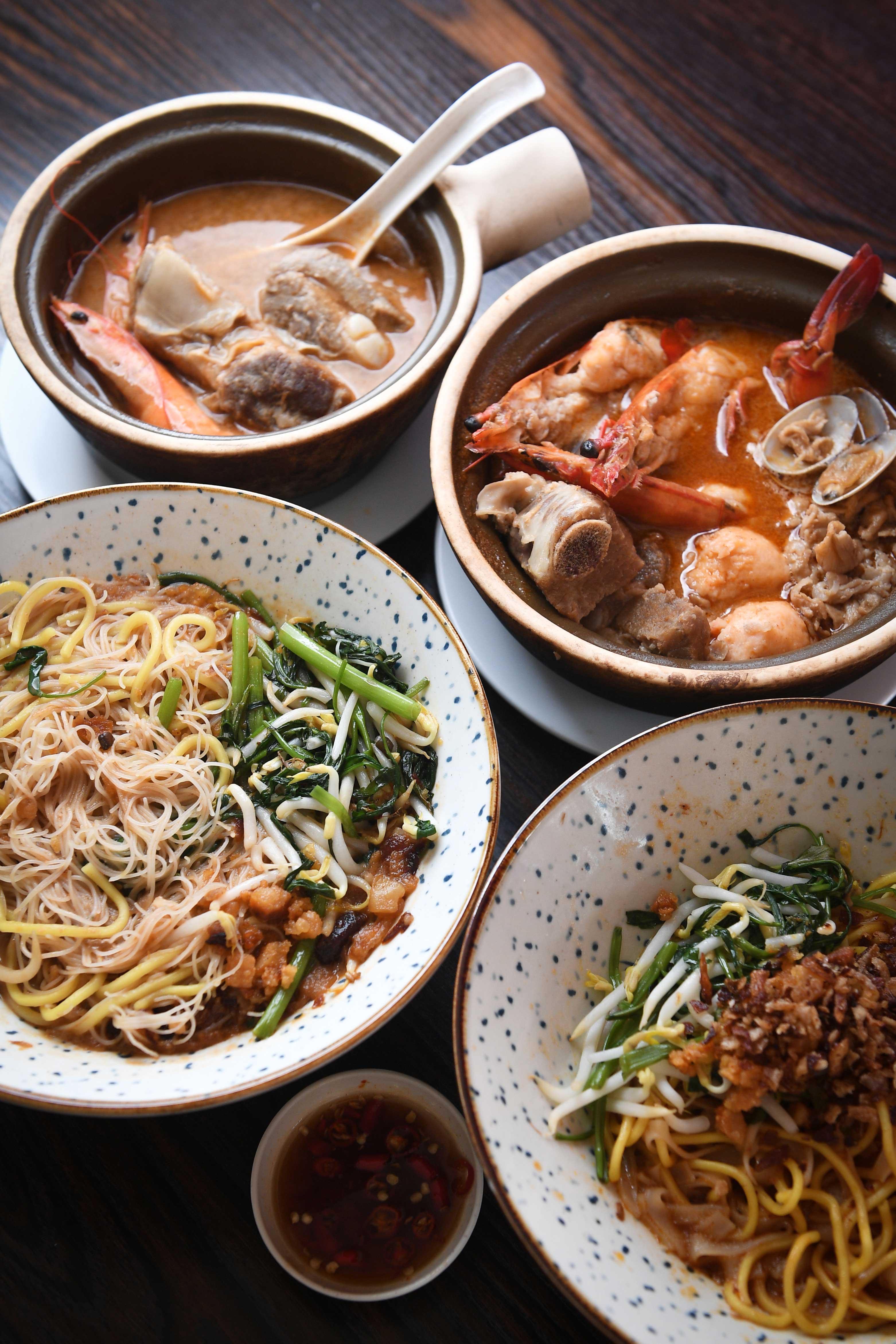 The details
One Prawn & Co is at 458 Macpherson Rd, S368176. Open daily except Mon, 11am - 5pm. More details via Facebook & Instagram.
Photos: Lionel Lai

No part of this story or photos can be reproduced without permission from 8days.sg.