"Mom's Luncheon Meat" & "Chicken" Mee Sua Served At S'pore's First Vegan Butchery-Cafe
There's also a yummy Pulled Rendang Burger at the hip Love Handle, which serves plant-based meats that you can enjoy in-house or take home to cook.
"Vegan butcher". Even oxymorons have gone hipster these days. This week, Love Handle, which touts itself as "Asia's first plant-based butcher" opened along Ann Siang Road. What's a vegan butchery? It's a store selling plant-based meats like Impossible minced pork sausage and plant-based steaks. Imagine a deli counter at the supermarket selling cold cuts, sausages and charcuterie. It's exactly the same thing, except the products are all plant-based.
Plant-based food is increasingly popular these days. We all know someone who is trying to eat less meat or avoid meat altogether. Happily, with the advent of plant-based meats, vegan converts don't have to miss out on things like a good burger.
All photos cannot be reproduced without permission from 8days.sg
The man behind this plant-based butchery
The name Addis Tan might ring a bell among plant-based food enthusiasts. The 33-year-old chef was one of the founders of the now-defunct vegan bistro HRVST at Downtown OUE before heading the now-defunct Love Handle Burgers in 2019. This week, as part of the Ebb & Flow Group (who are behind hip eateries like Tigerlily Patisserie and Dragon's Chamber), he launched Love Handle (which Addis also has a share in) within the Ann Siang Hill shophouse that used to house Love Handle Burgers.
"While running Love Handle Burgers, I received a lot of samples from suppliers," Addis says of how the idea for a plant-based butchery took root. "I had so many in my fridge that I wasn't sure what to do with it. Then I thought, why not do (a plant-based butchery), then we can introduce these products to consumers."
Addis and his team take a value-added approach to the store, purveying products that come straight from the suppliers and others that they've made. So you might find Impossible beef Wellington, plant-based steaks, and marinated cultured chicken fillets that you can take home to cook (cultured chicken, sold under the brand name Tindle, is made from the cells of chicken and don't count as meat since no animals were slaughtered to make it).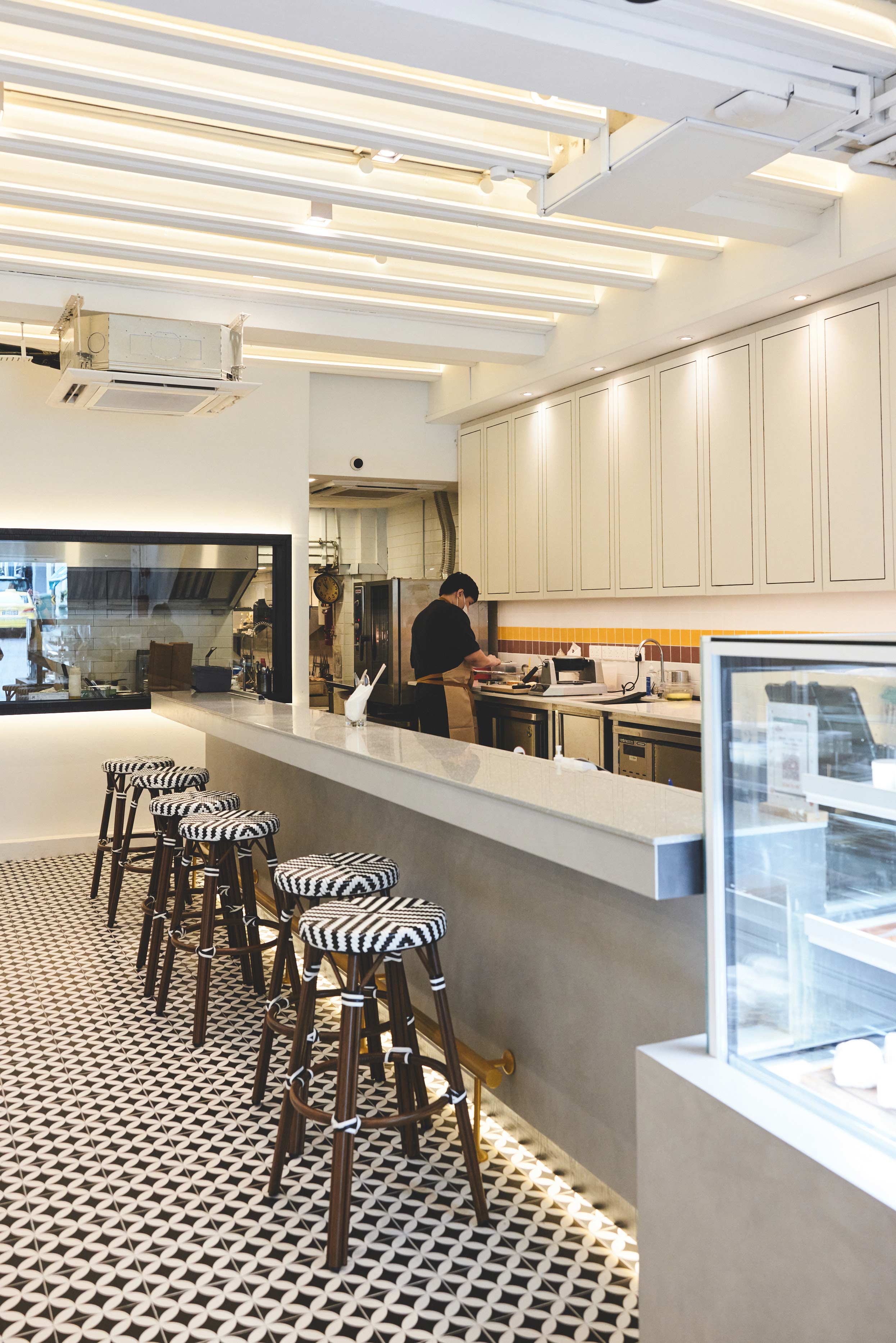 Not just for veggie munchers
But first, you might want to sit down to a meal here. Naturally, there are plant-based burgers given Love Handle's early beginnings. "Love Handle Burgers focused a lot on 'dirty' vegan burgers with the feel of real meat. So our main target market is not vegans, but meat eaters who want an alternative. We want them to eat it and go, damn bro, that's good," said Addis, who eats a vegan diet most of the time, mainly for convenience since he spends most of his time in the vegan restaurants that he works in. "So we still have burgers on the menu, but we have progressed to creating our own more interesting and experimental stuff. The idea is, if you eat here and like it, then you can buy the products and cook it for your family at home."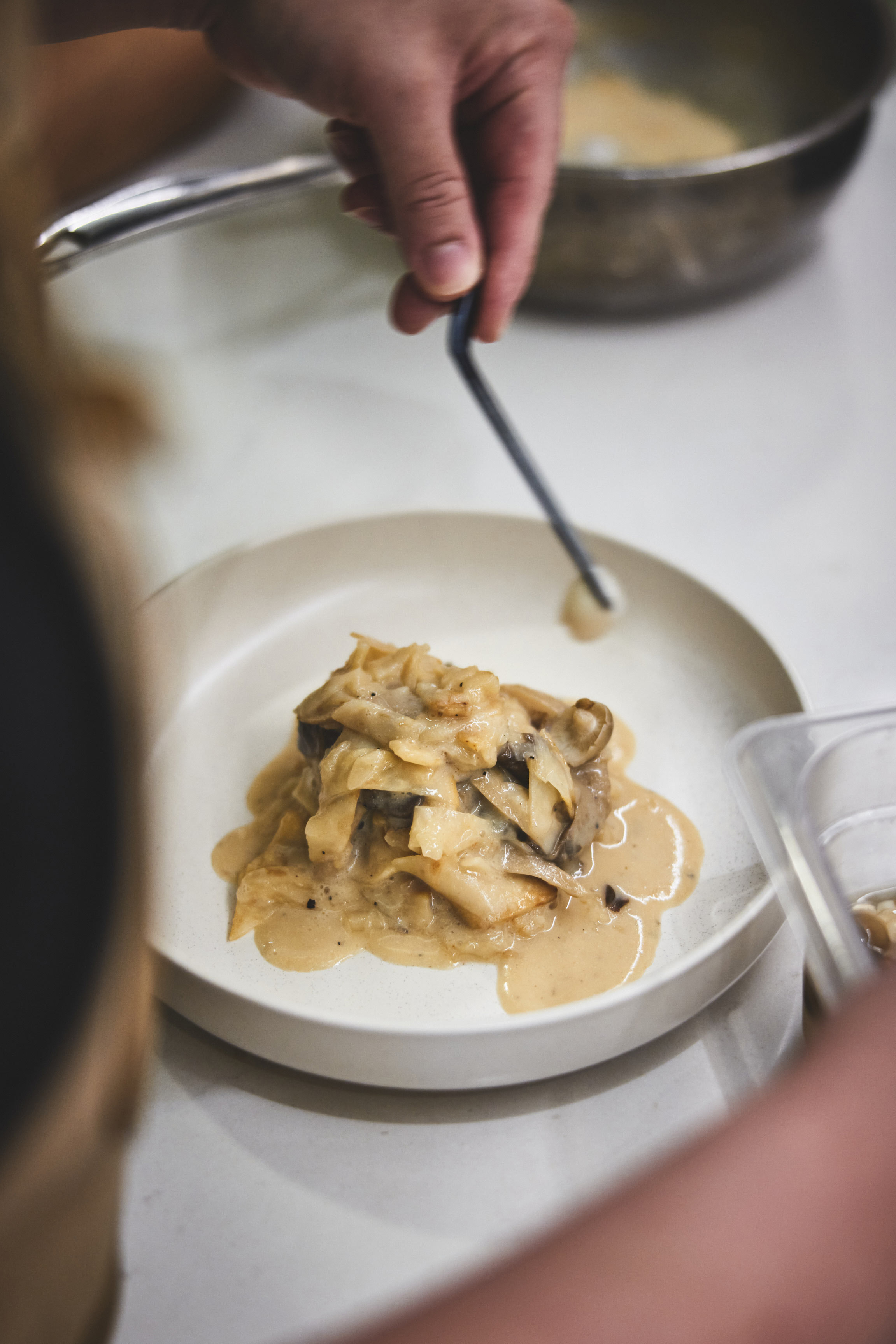 The menu
The menu features mains like Celeriac Alfredo and Mee Sua with Ginger Soy Chicken, and snacks such as Calamari Rings, Truffle Fries, Fried Enoki and Creamed Spinach Loaded Fries. Yes, this may be a plant-based establishment, but no one said anything about eating healthily. When we mention the lack of fresh greens on the menu, Love Handle's CEO Ken Kuguru laughs: "Hey, we're a butcher!"
The deli 'meats'
Besides the Impossible meatballs and Impossible minced pork, there are things like meatless steaks, Tindle chicken ham, and vegan brisket. The Tindle ham and vegan brisket are constant works in progress, admits Addis. "My goal is to make a plant-based brisket so good that no one has to eat a real brisket anymore."
The current brisket is far from that since it is made from seitan, the gluten product used to make mock meats in Chinese restaurants. While he marinates and smokes it in the oven for four to five hours, the texture is still rubbery and completely unlike real brisket.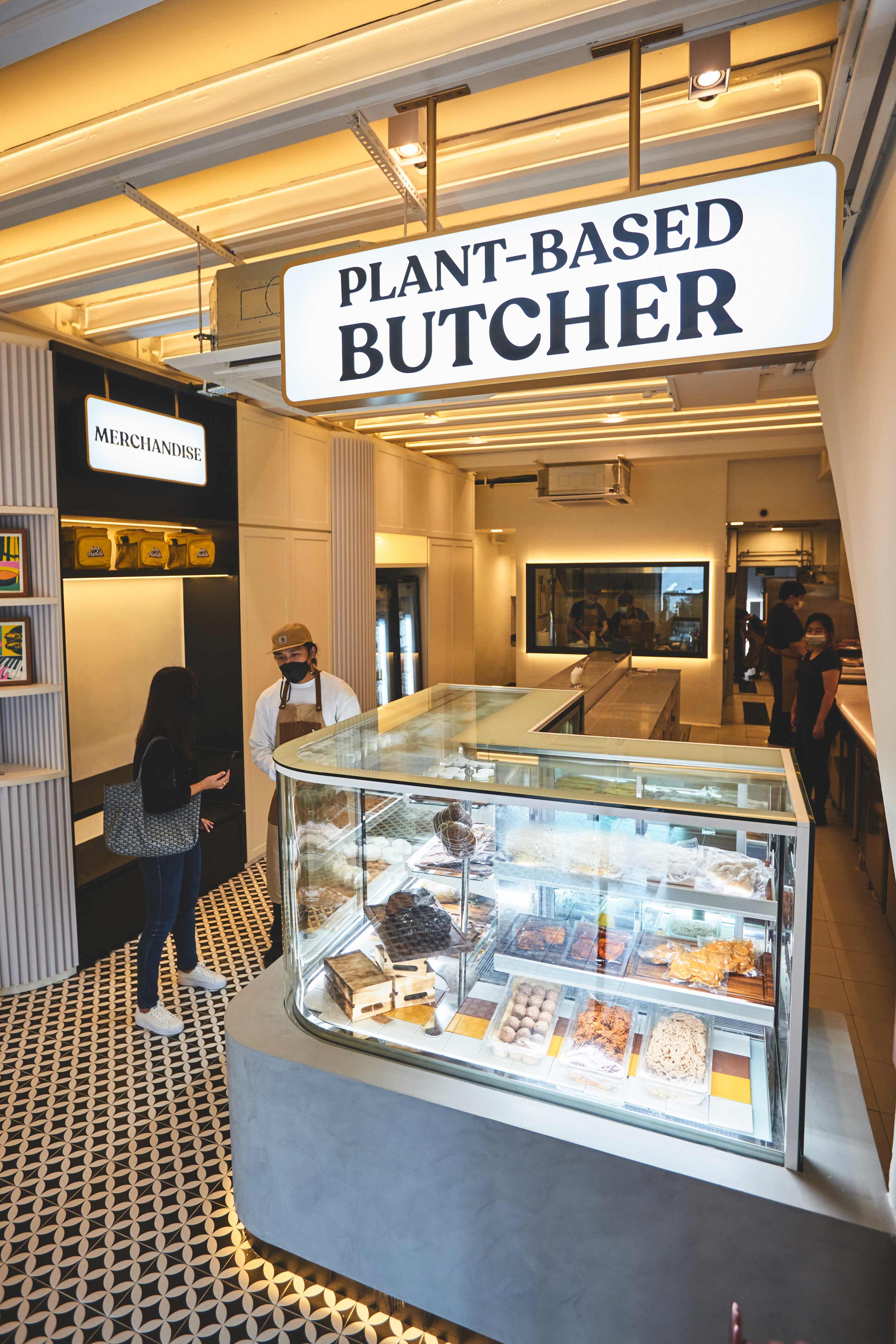 The look
The two-storey space features a dining room on the second floor and a deli on the first. The dining room isn't open yet since the furniture, all of which are made from recycled bottle caps and 21 tonnes of recycled plastic, is stuck in Bali and waiting to be shipped to Singapore. Till that happens (Addis says it'll probably arrive in early March), diners can sit by a bar on the first floor, right behind the refrigerated glass shelves of deli meats and condiments.
The clean, contemporary décor sports black-and-while tiled floors and monochromatic rattan bar stools against a grey-and-white terrazzo-topped bar. There's also a large window into the kitchen from which you can watch the team churn out the plant-based meats and dishes.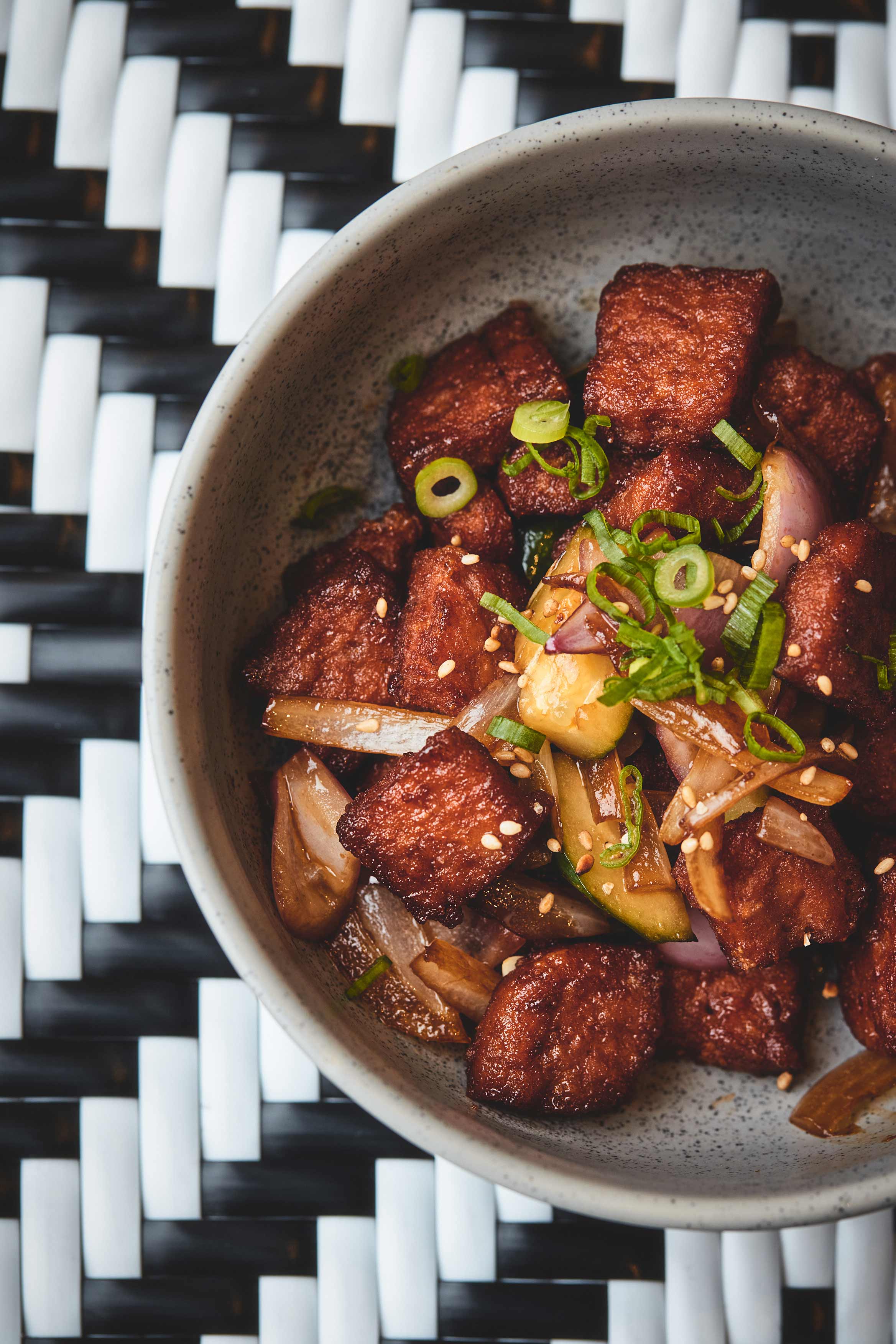 Mom's Luncheon Meat, $10 (8 DAYS Pick!)
"This is how my mum always made luncheon meat for us. She would fry it with black sauce and onions," says Addis. In this iteration, he uses Omnimeat Luncheon (made of plant protein from peas, soy, shitake mushrooms and rice), which he cubes and tosses in onions, soy, teriyaki and tomato sauces. It's an addictive snack for sure. Omnimeat Luncheon has the same texture and tastes almost like real luncheon meat, except with less fat and without that salty flavour of nitrates. The edges of each cube are burnished and crisp, and lightly slicked with the piquant sauce that tastes a lot like kung pao seasoning, sans the dried red chillies. We find ourselves stabbing morsel after morsel of the "meat" despite the countless other dishes on the table.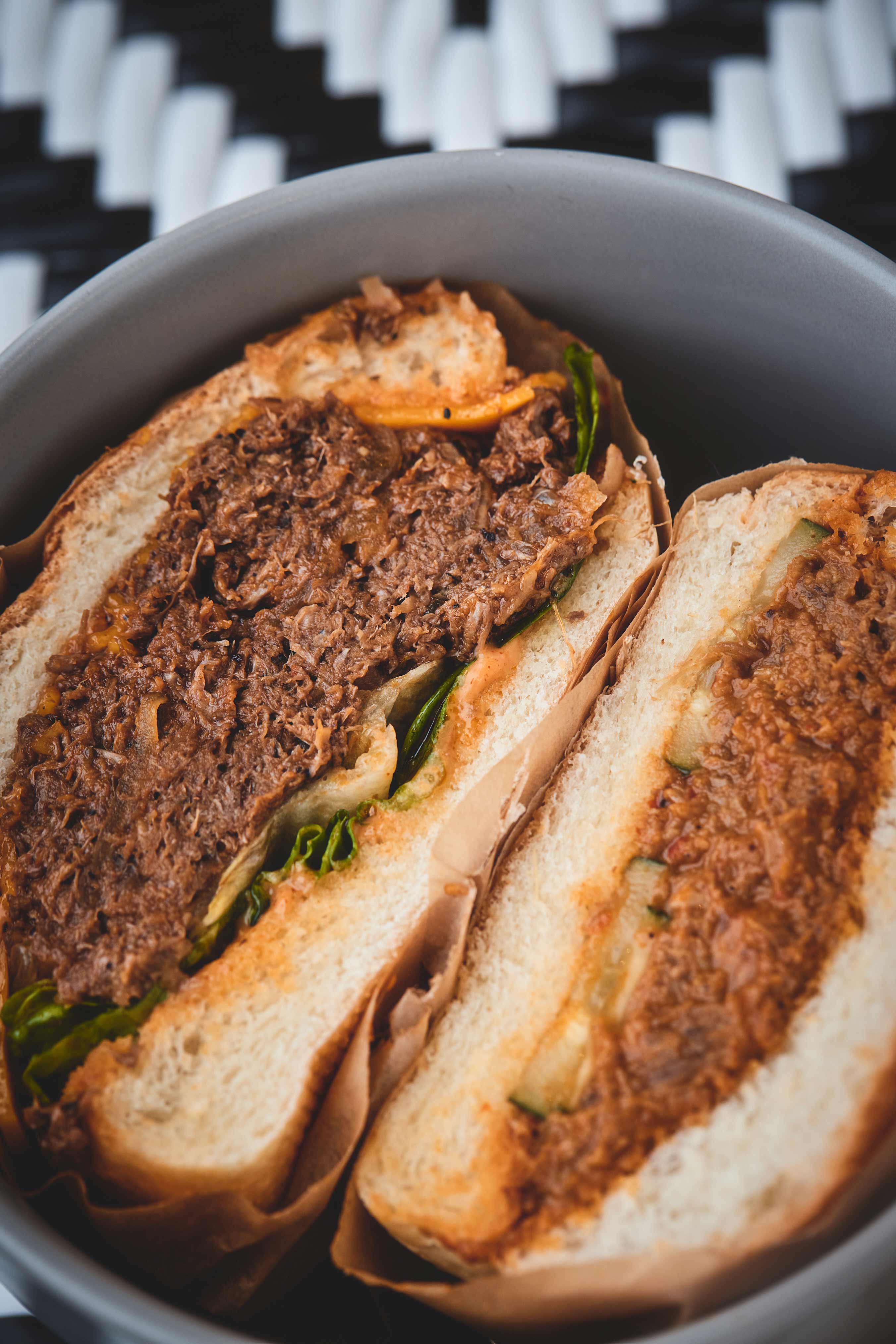 Philly Cheesesteak, $21
Part of the burger menu, this features slices of Green Rebel steak, which are made of mushrooms marinated with spices like cumin, pepper and fennel. It's not the traditional flavour of a Philly Cheesesteak since the original version is made with real beef which has its own robust, meaty flavours that need little more than salt and smoke from a hot griddle. If not for the lack of mineral-ly richness that you'd get from real beef, it's hard to tell that the meat in this burger isn't the real thing. It comes with a layer of vegan cheddar and Russian dressing between a fluffy bun. Think of this as a more cleanly flavoured Philly Cheesesteak that'll hit the spot if you're craving one but are avoiding real meat.
Pulled Rendang Burger, $16 (8 DAYS Pick!)
We like the succulent pulled Green Rebel "meat" cooked in a light rendang rempah. It's not particularly spicy, but redolent of lemongrass and lime leaves. A satisfying burger, vegan or not.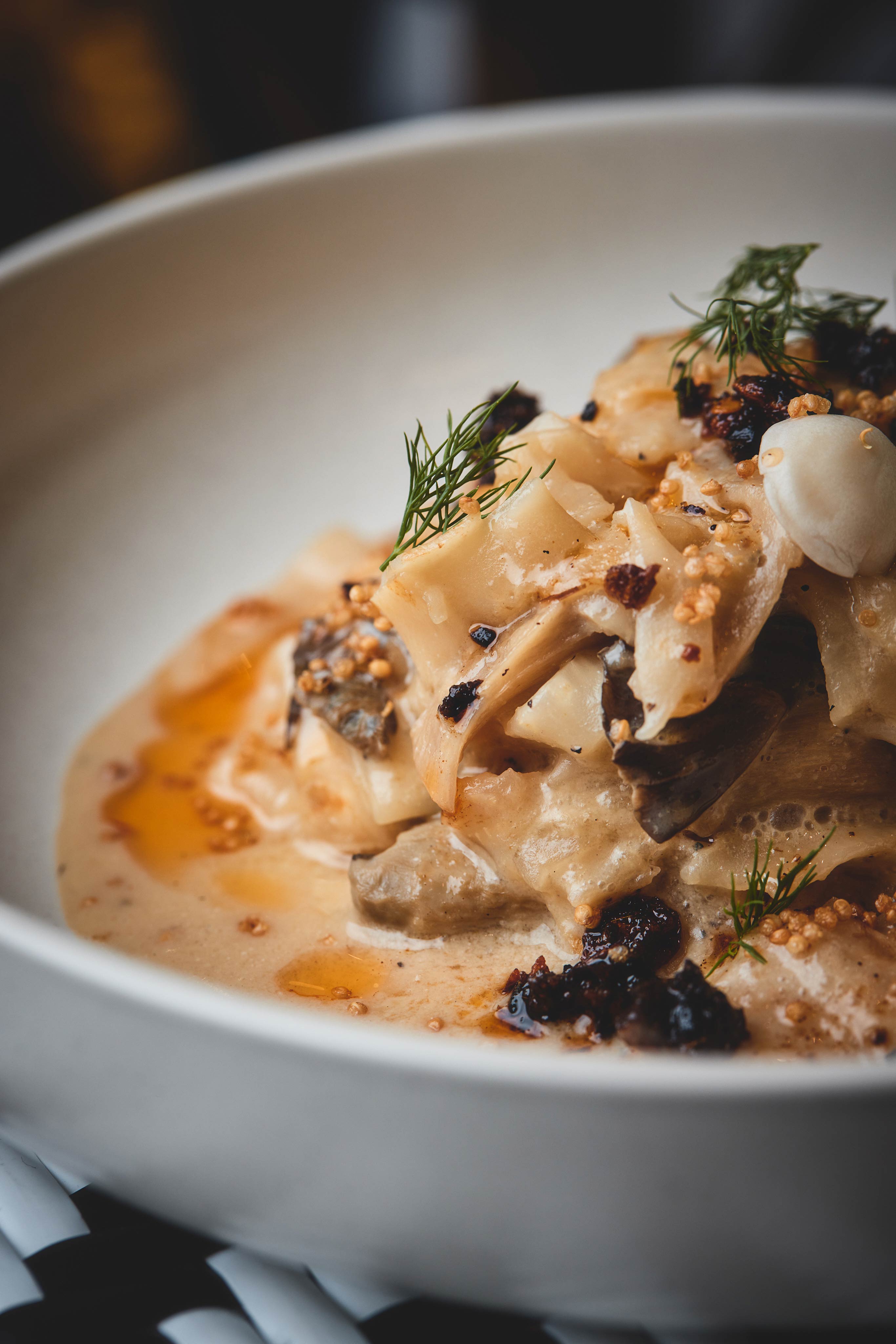 Celeriac Alfredo, $20
The faux noodles are made of shaved celeriac (celery root) cooked with oyster mushrooms and pickled shimeiji mushroom. The mix is then topped with puffed quinoa and Love Handle's Hao Gan Ma sauce (Addis' vegan answer to the popular Lao Gan Ma condiment [see below]). The earthy sweetness of the celeriac gets a nice counterpoint from the pickled shimeji mushrooms and textural contrast from the crispy quinoa and Hao Gan Ma sauce. We could use more of the latter to boost the umami flavours in this mix though.
Hao Gan Ma Sauce, $6 for a 100g jar (8 Days Pick!)
To make this umami blend of crispy goodness, Addis fries chopped shiitake mushrooms and konbu with the likes of paprika, cumin, onions and garlic in plenty of oil. The resulting condiment is addictive — salty, mildly spicy, with sweet lilts. It's good enough to toss through a bowl of hot rice or noodles.
Konbu Butter and Herb Butter, $8 for a 225g jar
We can't imagine life without butter. Thankfully, if we ever adopt a plant-based diet, we can count on vegetable oil, soy milk and soy lecithin, all of which the team here uses to make their butters. What's great about these is that they are spreadable straight out of the fridge and have a higher smoke point so they don't burn when used in cooking. Compared to real butter, they are less rich and milky, with a thinner mouthfeel. We like the konbu butter, which is full of deeply briny umami flavour.
Mee Sua with Ginger Soy 'Chicken', $12
A comforting bowl, especially if you're craving an Asian plant-based dish. The mee sua is slightly thicker and more al dente than usual, which is perfectly fine in our books. The ginger soy chicken mince is pretty sweet, kinda like how Chinese-style mock meats have a sweet edge to them. The mince, made in-house from textured vegetable protein, doesn't have much of a bite. It's like eating slightly firmer minced tofu. This would benefit from a dollop of that umami Hao Gan Ma sauce.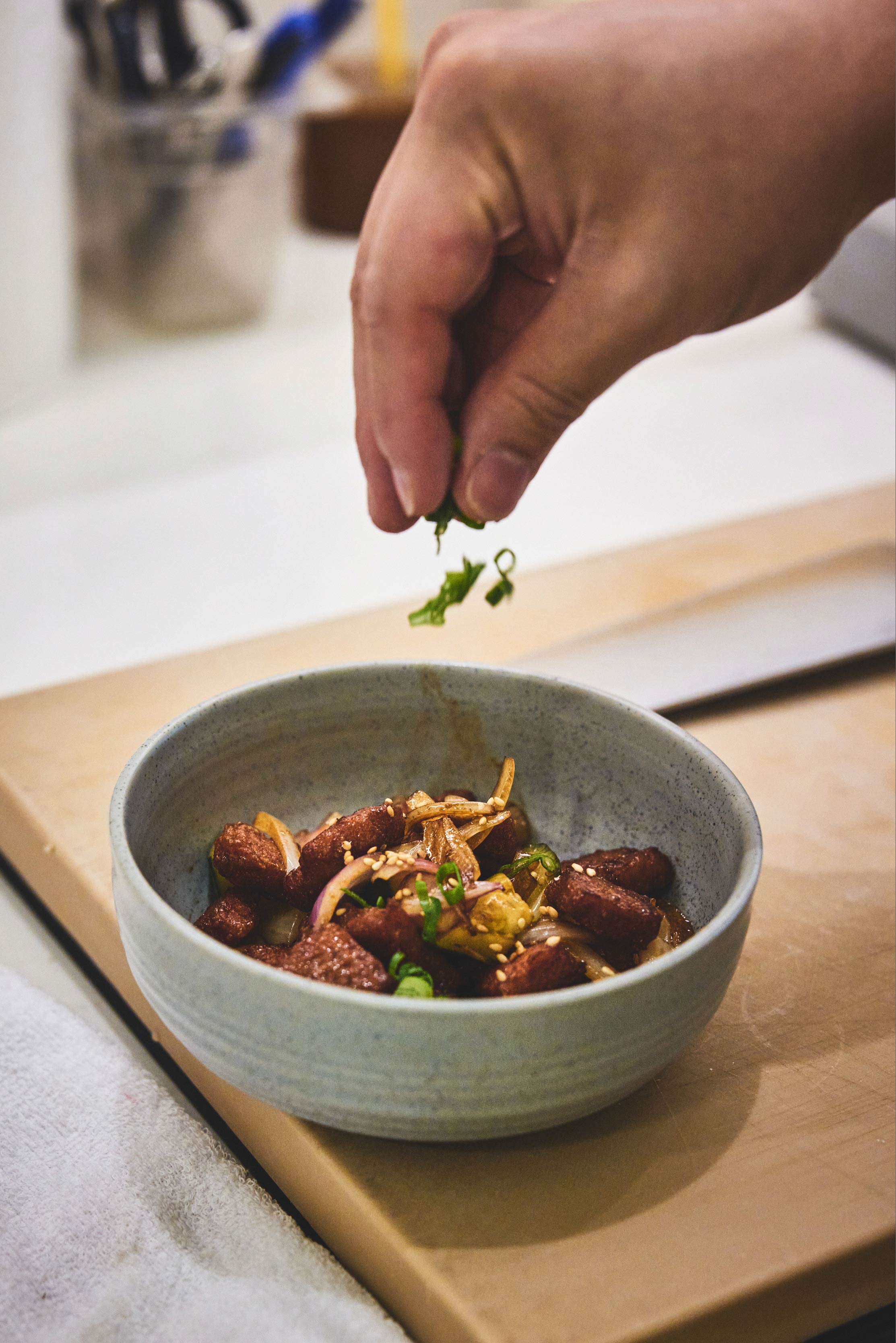 Bottom line
A fun, affordable space for an introduction to all the possibilities of plant-based meats. The offerings are definitely sweeter than your average meat protein since plant flavours are naturally cleaner and sweeter. So if you don't like the lilt of sweetness in your food, stick with the heartier, "meatier" options such as the burgers. Also, don't come expecting the options here to taste like real meat or animal by-products — most of them don't. The point is: if you're exploring a plant-based diet or are vegan for whatever reason, this cool space has plenty to offer.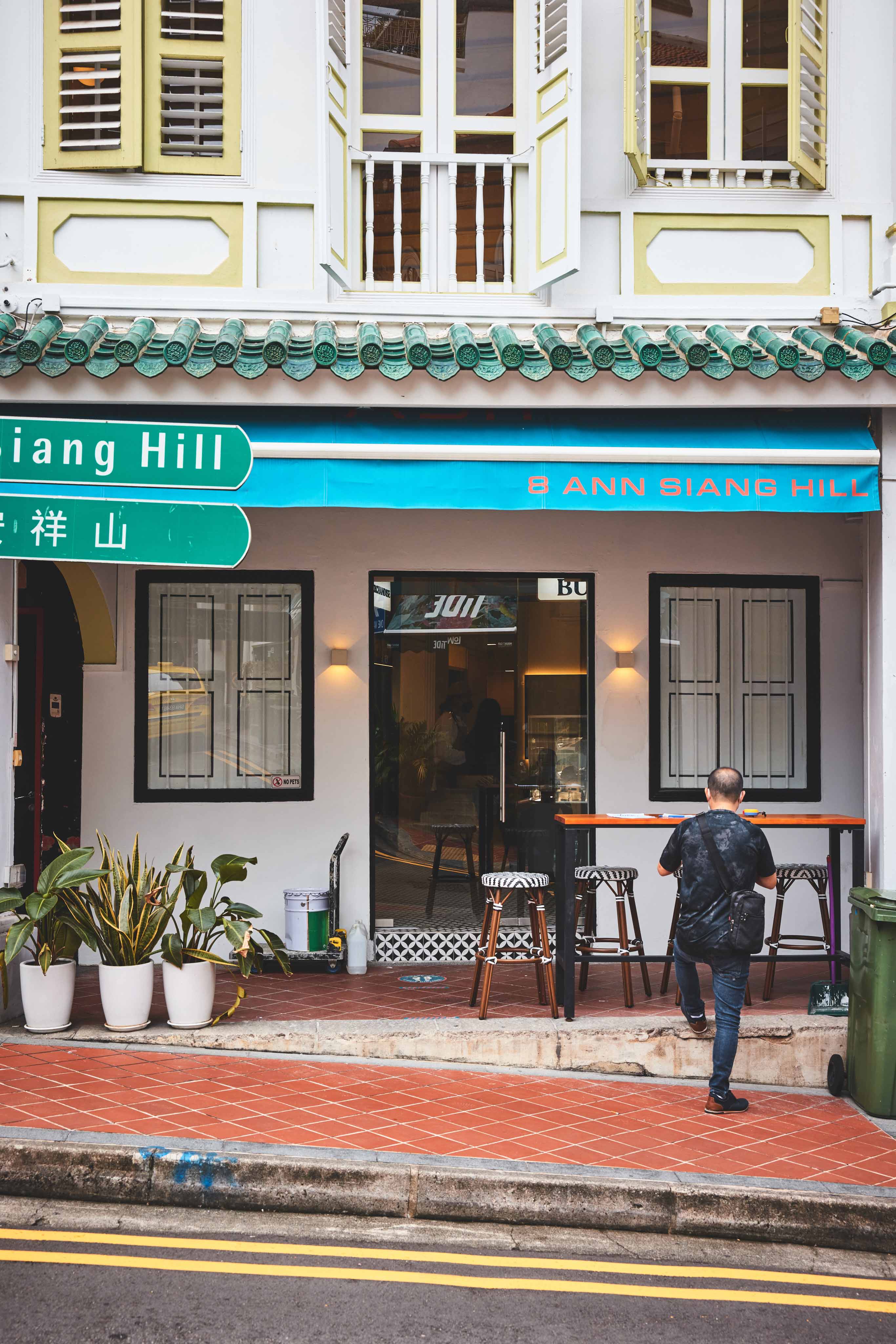 The details
Love Handle is at 8 Ann Siang Hill, Tel: 8886 7112. Open Mon-Wed 11am-10pm; Thu-Fri 11am-10.30pm; Sat 10am-10.30pm & Sun 10pm-6pm. www.lovehandle.sg
All photos cannot be reproduced without permission from 8days.sg
Photos: Alvin Lim