New Kushiyaki diner in town serves 16-course meal with charcoal-grilled abalone skewer
The restaurant, called Hanazen, is opened by the Japanese chef-owner of two-Michelin-starred restaurant La Cime in Osaka.
Getting to Japanese chef Yusuke Takada's tiny restaurant, La Cime, in Osaka requires considerable effort. The 20-seater with two Michelin stars is currently sixth on Asia's 50 Best Restaurants list, which means it is often fully booked in advance.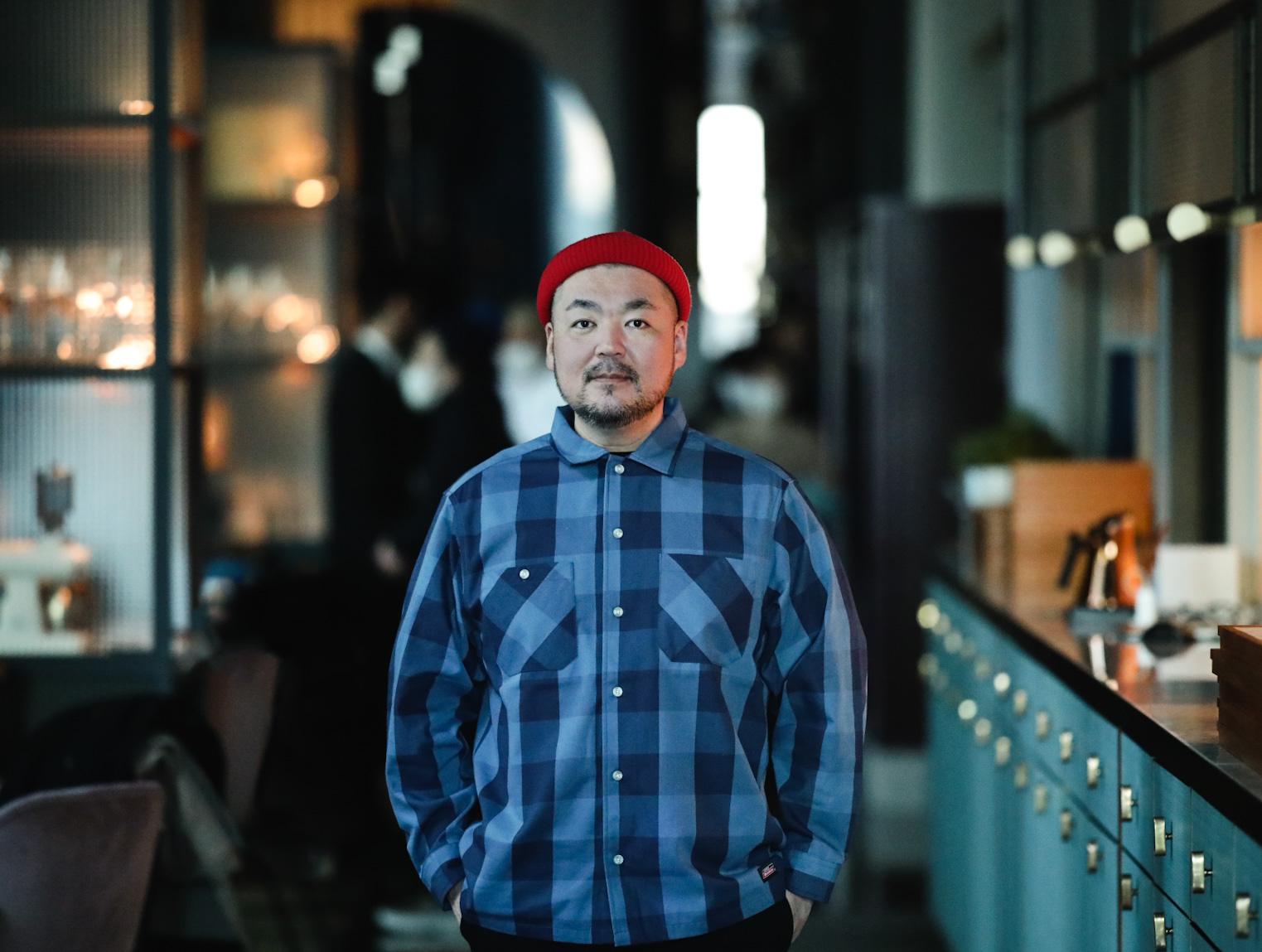 La Cime is where chef Takada (pictured), who used to work at three-Michelin-starred Restaurant Le Meurice Alain Ducasse, presents his guests with unusual morsels. Like his signature Boujin Dog, French blood sausage balls dyed black with charcoal powder.
He has brought these curious orbs to Singapore, where he recently opened
Hanazen
, a 26-seat "charcoal-grilled omakase" restaurant at CHIJMES specialising in
kushiyaki
(Japanese skewered meat and vegetables).
16-course kushiyaki meal
The 16-course omakase meal (dinner only for now; lunch will be launched later) is priced at a flat $250 per head excluding drinks. We say the best seat in the house is the 11-pax counter, which overlooks the action-packed kitchen. 8days.sg had a sneak peek of the restaurant and food ahead of Hanazen's opening on Mar 12, when chef Takada was in town.
He had already sampled our island's well-loved cuisines, from bak kut teh to Teochew-style steamed fish with rice which fascinated him. On another trip here last month, he discovered kaya, and brought it back to Osaka with him to use at La Cime (pronounced as "La Shim"). "I made bread-flavoured ice cream and put kaya jam on top so it is like a version of kaya toast," he told us.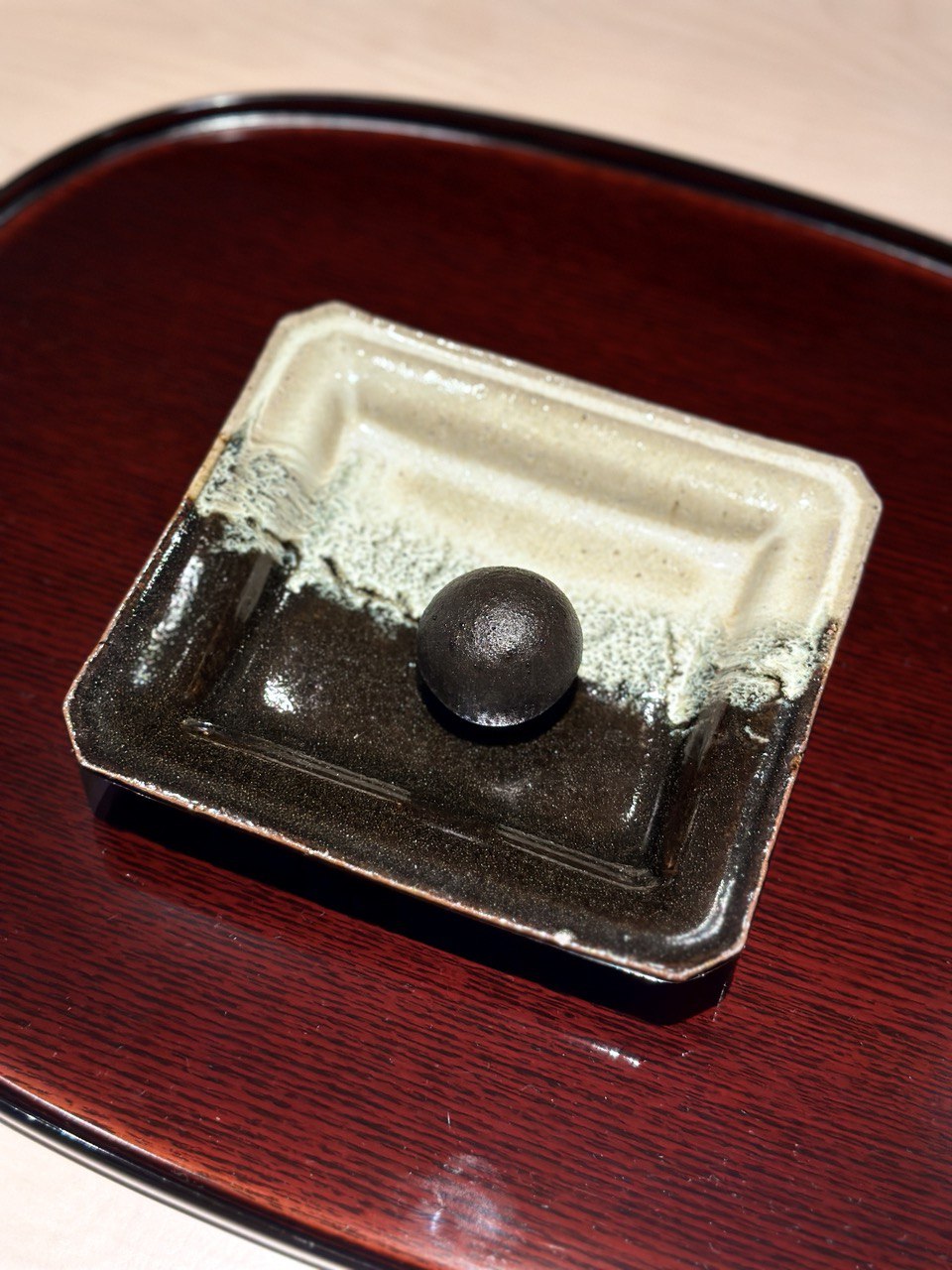 The Singa-Dog
Sporting white blond hair and a T-shirt that screamed "SHEEPLE" and "ZOMBIE" on the back, chef Takada reckoned he didn't want to be a Japanese chef opening a Japanese restaurant in Singapore. "Singaporeans can travel to Japan for that," he noted.

So his signature Boujin Dog dish applied for PR here. Instead of blood sausage, each fried ball is stuffed with chicken liver and chicken bak hoo, and painted with a buah keluak sauce.

We stretched and prepped for the 16-course meal by warming up with a cup of kombu dashi broth, boiled for six hours with chicken bones. It was ridiculously good, and we wanted to chug a litre of it, but we had to make room for the Singa-Dog coming up (it was too avant-garde for our liking, though).
Kaya toast 'panna cotta'
But what followed was plain good binchōtan-grilled skewers served stick by stick, punctuated with a few fancy boujee dishes like a savoury 'Panna Cotta' presented fussily in a wooden box.

Inspired again by kaya toast (chef Takada mulled over opening a hawker-style concept here, calling it "interesting"), we were instructed to drop a delicate piece of bread tuile topped with caviar and rapeseed buds into a glass of pandan-flavoured flan served on ice. You will be cursed out if you ask for this high SES kaya toast at Ya Kun, but this is one dish that is both tasty and entertaining.
Yakitori with the whole bird
The bulk of the 16-course omakase meal featured yakitori. Chef Takada serves all parts of the bird here, from skin to meat to innards. Chicken tail was diced, marinated in prawn broth and stuffed into a split Gambero Rosso prawn.
A stick of chicken hearts (pictured above) were lightly grilled so they remain tender, and draped with a heavy wholegrain mustard and olive leaf sauce to make you forget that you are chomping on, well, hearts. There was also moreish chicken liver, dressed in raisin sauce spiked with some tamarind.
Abalone skewer
Chicken gizzard appeared with the Japanese abalone course. Nestling in a pool of melted garlic chive butter, the gizzards cradled the prized awabi skewer, sous-vide for 12 hours with kombu, sake and radish, then grilled over binchōtan. Alas, only one stick, because we want more of this.
Grilled chicken wing
Some courses are decidedly straightforward, like the lip-smacking, no-BS deboned chicken wing grilled to a crispy finish and seasoned with a light dusting of furikake.
Grilled turnip
There are some veggies amidst all this meat to make you feel a bit healthier -- Japanese grilled turnip served with delicate blackthroat seaperch in a rich miso sauce with Japanese butterbur (a bitter-ish mountain vegetable). It arrived in between a few courses of yakitori, so we don't get bored of chomping on so much chicken.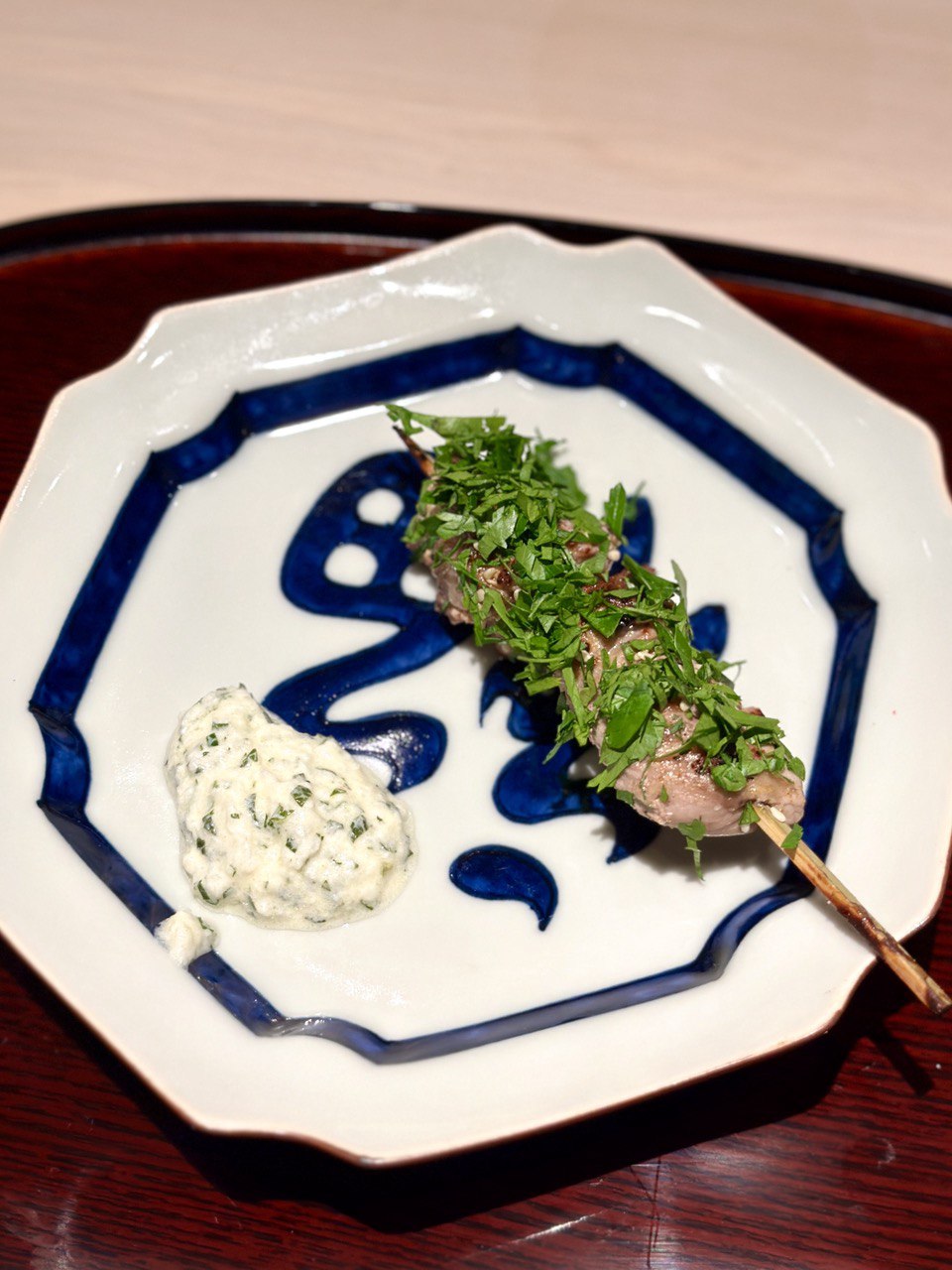 Lamb with yogurt sauce
The lamb shoulder is also great, grilled and skewered without fuss and served with a dollop of herb-infused yogurt sauce.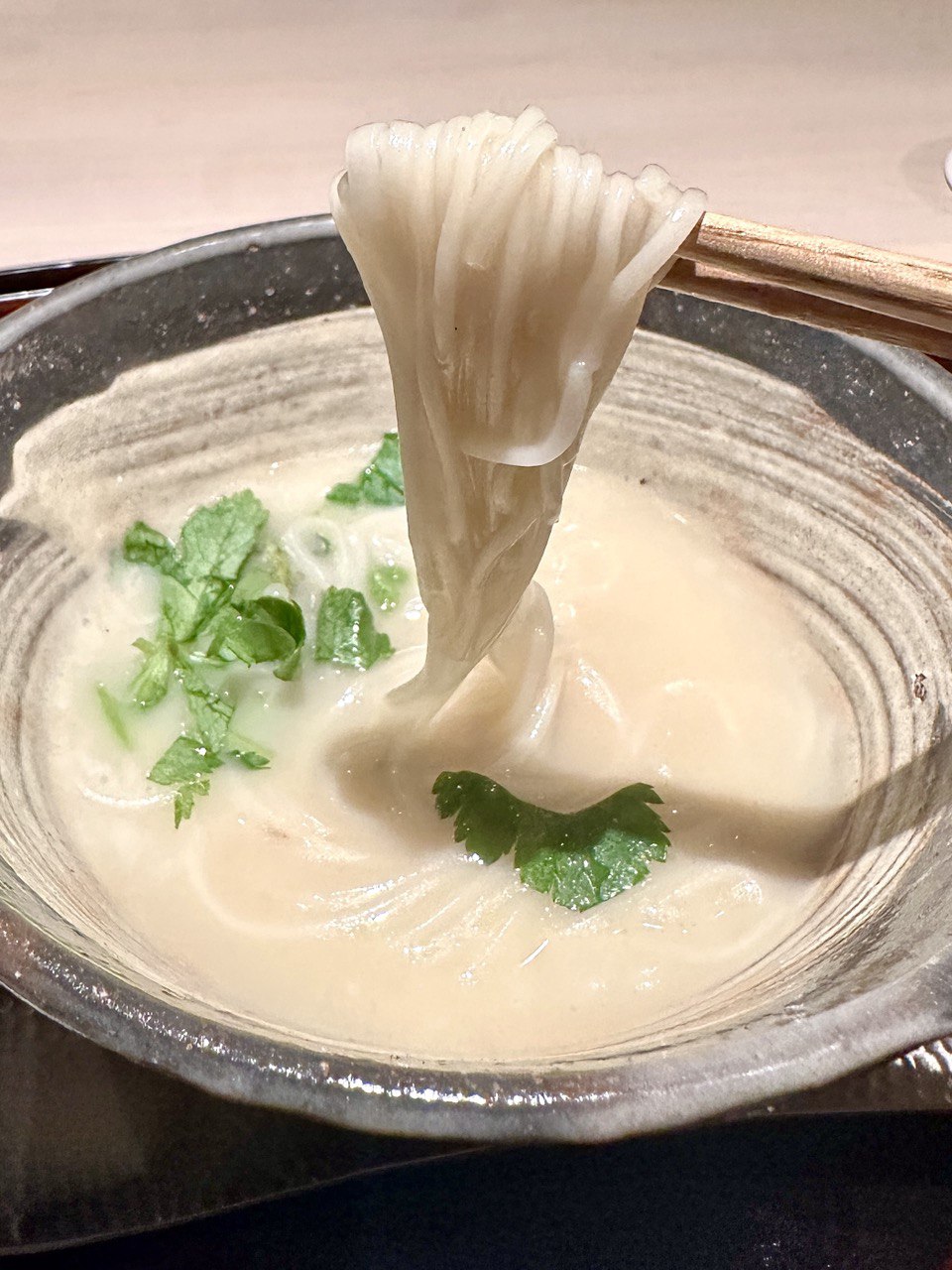 Soumen 
But our favourite part of the meal came towards the end, when we were presented with a bowl of soumen in chicken broth. The creamy hot broth warmed us up after a heavy (at this point, 14-course) meal, and we kind of want to petition chef Takada to open another restaurant just serving this soul-lifting chicken soumen.

Is $250 worth it for a yakitori-centric meal? We say yes if you are looking to splurge, because we left Hanazen with our tummy happily filled and no urge to wander into another eatery for round two. The food here is pretty atas, but (mostly) unpretentiously good with barely any duds. If omakase is not your thing, chef Takada is planning to launch an al-fresco dining spot outside Hanazen serving a la carte "French brasserie favourites".

Hanazen is at 30 Victoria St, #01-21/22 CHIJMES, S187996. Tel: 9820-2963. Open daily except Mon, 6pm-11pm (dinner service only until further notice). Facebook, Instagram

Photos: Yip Jieying, Hanazen