Orchard Towers' Korat Thai Cafe Owner Seeking $200k Asking Price To Sell Biz, Got "High Volume" Of Enquiries
The husband-and-wife owners of the popular cafe are planning to move back to Thailand for retirement.
Those who know where to find wallet-friendly food in Orchard Road would have heard of Korat Thai Cafe. The gritty eatery is tucked away on the third floor of notorious Orchard Towers, where it serves up pretty authentic, homely Thai fare like panaeng curry, pad thai, tom yum soup and pork basil rice (the fried chicken wings there are also tasty).

The longtime cafe is run by a Singaporean, Raymond Ong, 57, and his Thai-born wife Sandy Ong, 54. But in a Facebook post dated Jun 5, the couple announced that they were planning on retiring and were looking for a new owner for their eatery.
"We can't bear to leave without looking for a new owner"
The post stated: "Dear all, after 15 years of running Korat Thai Cafe, it's time that we would like to retire and move back to Thailand. But we can't [bear] to leave y'all without looking for a new owner who can carry on to serve y'all with the same yummy food. If you have no idea on how to run [an F&B] business or Thai cuisine, worry not. We will be there to teach you everything you will need to know. Full recipe [sic] will be passed down. [And] our chef [remains] unchanged, so you don't have to worry about having taste difference [sic]."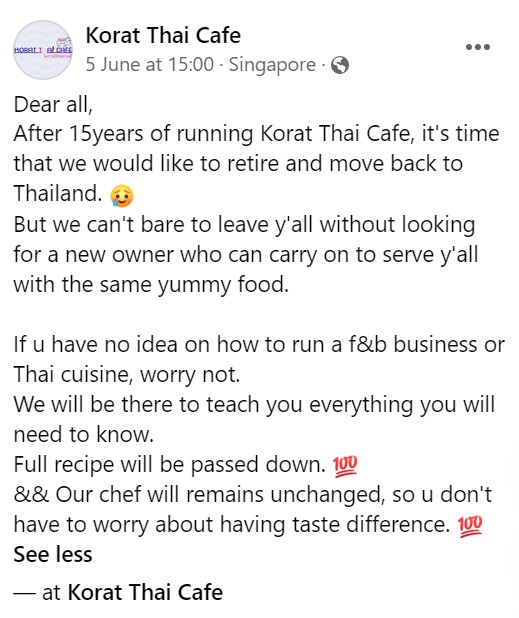 Speaking to 8days.sg, Raymond and Sandy's only daughter Rachel Ong says it's her "mum's wish" to retire in her native hometown of Phetchabun, a province in north-central Thailand that's around 330km from Bangkok. The 26-year-old, who works at her family's cafe, intends to relocate with her parents.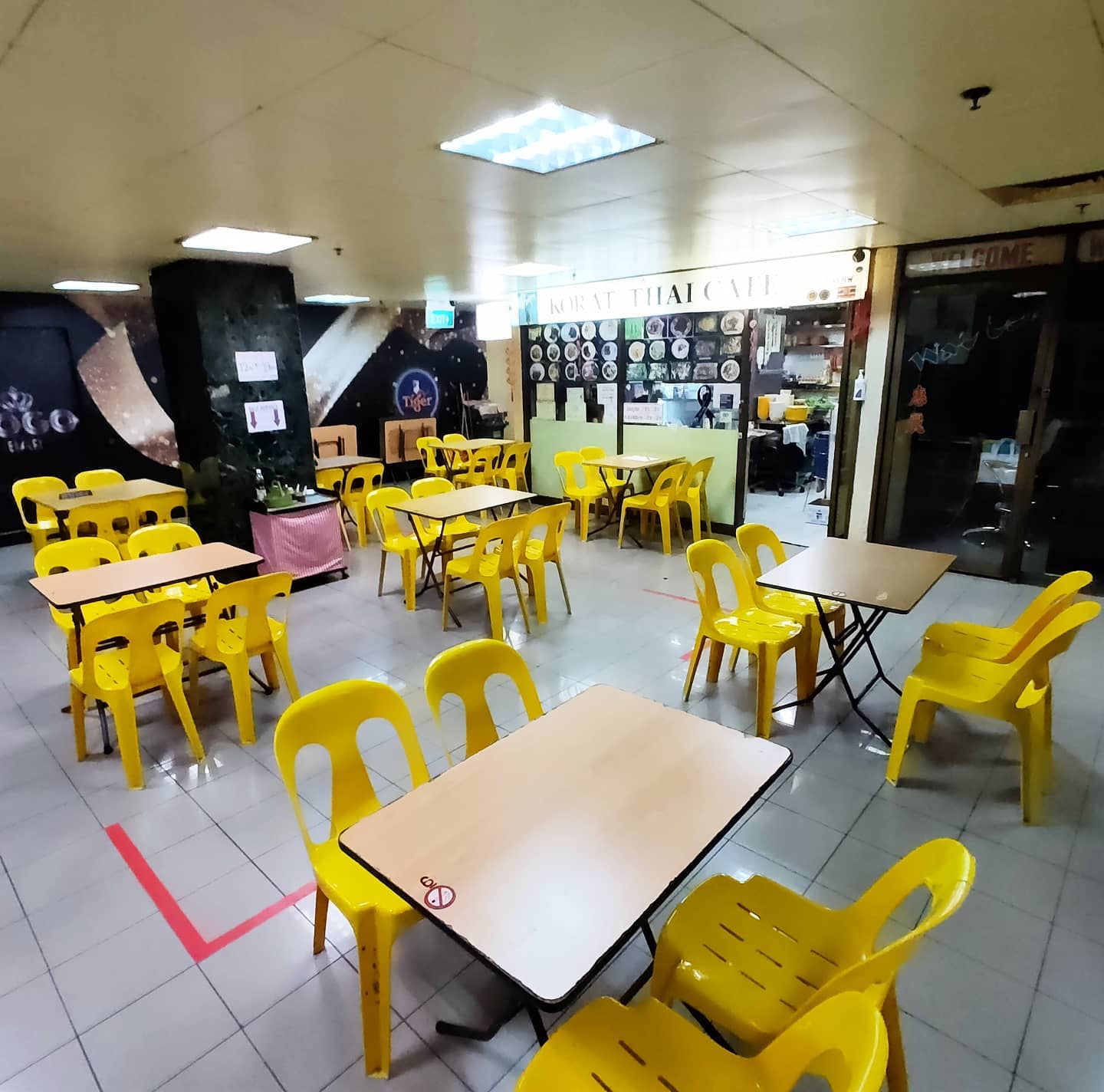 No family successor 
"We can't bear to close the cafe because it has been a lot of effort building it up for 15 years. We can't bear to just let it go and we don't want to disappoint our regulars," Rachel shares. While the Ongs have extended family members in Singapore, Rachel says none of them were keen to run an eatery. "They all have their own jobs," she says.

Her parents themselves had taken over Korat in 2007 from its original owner, who founded the cafe in 1999. "The old owners wanted to let go of the cafe — he's also a Singaporean and his wife is Thai. His wife knew my mum and asked her if she wanted to take over," recalls Rachel, who has been helping out at the cafe since her folks took over the reins, and later joined the business full-time as her "first and only job".

But she reckons her family "still don't really have a plan on what we'll be doing [in Thailand]. My parents just want to retire and enjoy life at the moment."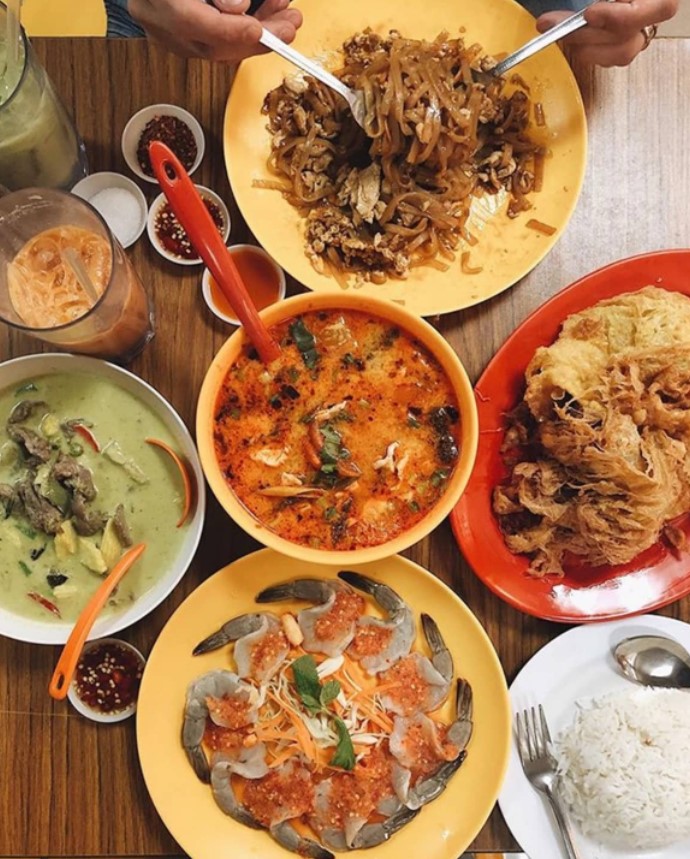 $200k asking fee for takeover
As for how much it would cost to take over the Thai cafe, Raymond tells 8days.sg: "Pricing I wish at $200,000 plus." The takeover fee would cover "everything", including recipes for Korat's extensive menu with over 80 items and tenure of the current chef.

"We have gotten quite a lot of enquiries on taking over, but there are no outright offers. They are still in the phase of considering," says Rachel. Raymond declines to reveal the number of enquiries he had gotten, except that it's "numerous". He says: "We're still looking for a suitable buyer."

The cafe's Facebook post has also received several comments from netizens expressing interest in taking over. Raymond, who initially included his mobile number in the post for potential buyers to reach him, has since removed his contact details. He informed Korat's fans in a comment that "due to high volume of enquiry message coming in, please allow me sometime to reply you guy individually [sic]. Thank you."

The cafe also allayed its regulars' fear that it would be closing, chirping: "There will not [be] a last day! Korat will still be around regardless, we will try our [very] best for [this] to happen."

Korat Thai Cafe, #03-28 Orchard Towers, 400 Orchard Rd, S238875. Tel: 6736-2282. Open daily except Mon, 1.30pm-10pm. Delivery orders via https://koratthaicafe.cococart.co/.

Photos: Korat Thai Cafe