Pan Lingling Wanted A Daughter So Badly She Refused To Believe Her Younger Son Was A Boy Until He Was Born
The actress, who stars in new Mediacorp drama The Unbreakable Bond, talks to 8days.sg about her two very guai sons and why she isn't destined to have a daughter. 
In new Mediacorp drama The Unbreakable Bond, Pan Lingling, 51, stars as Lin Xiu Huan, a woman who has been hurt and wronged, all because she loved a man too much.
The man in question is Gu Zhao Hua, a wealthy CEO played by Guo Liang. The two characters have a son together, played by Ayden Sng, whose sole existence is so he can sustain the life of his sickly stepbrother, played by James Seah.

When speaking to 8days.sg after the drama's recent press conference, Lingling describes her role as "one of the most challenging ones" she's played, all while staring daggers at Guo Liang, who was being interviewed a few metres away. 
"I love him a lot but he only loves his first wife, who has passed on. Our relationship was only meant to be a one-night stand, but after discovering I was pregnant, he decided to be with me so he could use my child to save his first son," said Lingling, seemingly getting character while motioning at Guo Liang hatefully.
Since the show also focuses on how Lingling develops a relationship with her son after being MIA for 20 years, we couldn't miss the opportunity to talk to her about her own sons, Beckham, 22, and Kynaston, 20.
Lingling's eyes light up as she gushes about her close relationship with her boys, whom she calls her "BFFs".
You would think that she might have a complaint or two, but Lingling has nothing but praise for her sons, shifting excitedly in her seat while talking about how they were like growing up.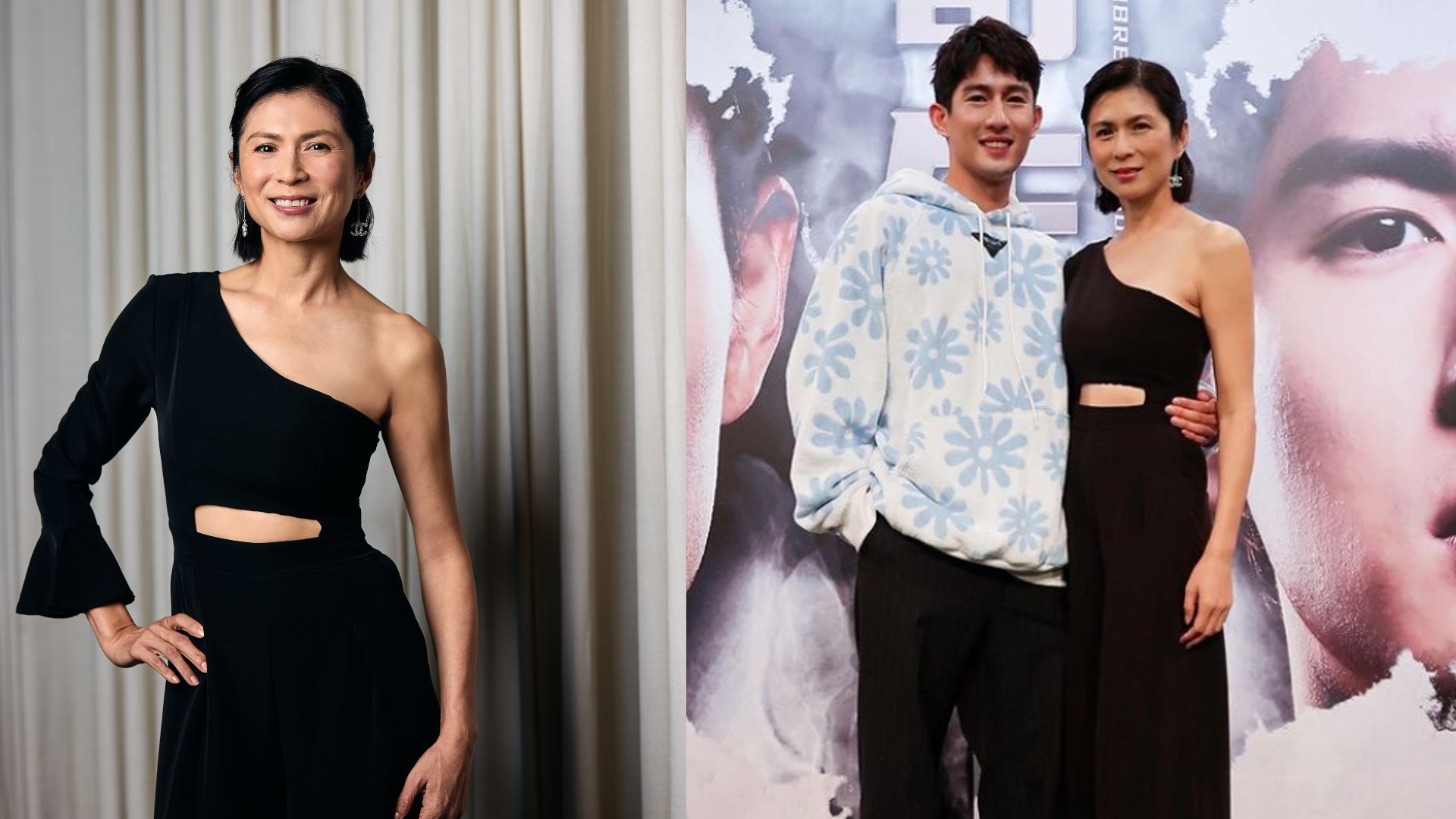 Lingling and her on-screen son, Ayden, whom she says is also very "guai"
8 DAYS: How would you describe your relationship with your sons?
PAN LINGLING: We're BFFs. [My] Sons are my lovers 'cos the Chinese believe that when you have a son, [he] is your lover from a past life. So yah, I got two… Maybe I didn't want them then, so they came to look for me in this life. (Laughs) My sons and I talk a lot and about many topics.
Even about girls and relationships?
Yes, they talk to me about everything! They don't really go to their dad [former actor Huang Shinan] 'cos he would always tells them: "You will know when you grow up, then you just have to face it". But for me, I'm more open because I would like them to know what's happening and what precautions they need to take in anything they want to do.

What's their relationship with each other like? Are they close?
(Nods proudly) Yes, very close. I think the younger one treats the older one like an idol. He listens to the older brother and he's very guai (well-behaved).
Okay, so they used to fight, but I think it's good for them to fight sometimes. My elder boy has leadership [qualities], so he will ask the younger one to sit down and have a talk with him. When I overhear them talking, I'm quite touched by their conversations.
Can you recall an incident where you had to protect them? 
(Ponders the question) No, but I think they have protected me very well. During the time I was ill (Ed: Lingling was diagnosed with stage one breast cancer in 2013, but has since recovered), they protected me. When I had trouble, they protected me. They would hug me and tell me to be strong.
They told me: "It's been hard on you and we will go through this with you." So, I'm glad I have these two boys. (Smiles fondly) Every night, they will come to me, pat my back and check if I'm feeling okay, check if I need the aircon turned on and ask me what I ate that day. Whatever the gor gor does, the didi will follow.
Do you remember a time they made you really angry?
Oh! I was very, very angry when my older son disturbed the younger one. That was after his PSLE and he just wanted to make his didi angry because he had nothing to do. He was very irritating. He aimed a rubber band at his brother and said: "How [would] you feel if I shoot this?"
They started to argue and got into a fight, I was so angry, I shouted at them. Then, my older son told me to calm down and said: "Mum, I'm big enough so you just cool down, I'm wrong, I'm so sorry."
So they apologise when they're in the wrong?
Yes, so in that moment he did not know he was wrong, but when I asked him what he was trying to do, he saw that I was mad and apologised.
Oh, there's also this one incident when they were younger. I bought a toy for [Beckham] and he insisted on opening it, but I told him no because we had guests around and to wait until they left. But he insisted and started to roll around on the floor.
I hate it when boys throw a tantrum when they want something.
So when gor gor did that, I controlled myself until all the guests left. Then I went [into his room], where he was pretending to sleep. I said no [wake up], I want to talk. Then he [got up and] ran. Wah, I [couldn't take it], I whack.
After that [Kynaston] kneeled down and said sorry for his brother. Then their dad, who wasn't at home at that time, called to ask what was happening. I said (in an exasperated voice) "Your son!" and I started to cry. My husband then rushed home immediately. (Chuckles)
It's so cute that they're so close
So cute, right? (Smiles) My older son is actually very guai so I don't know why in that moment he threw a tantrum. I cried so much [that day] because I shouldn't be [caning him so badly]. I was like a 'mad dog' and I didn't want to be such a bad mother. Sometimes, I think I'm too harsh on them, but I feel like it's the right way to educate them.
So you caned them when they were younger?
Oh, I believe in caning but once in a while lah, only when I'm very angry.
I cane one stroke only, but one stroke is good enough. I would only [punish them] like that when it's a big thing and I need to teach them a lesson. My voice is usually good enough to scare them… actually my eyes too, [I open them] very wide and they would know mummy angry already.
Lingling with her sons, Beckham (left) and Kynaston (right) and her husband, former actor Huang Shinan
Do you think kids these days are a lot more pampered and not as tough? 
(Pauses to think) Hmm…I don't know leh. I just feel that the generation now is always not hungry (laughs). I always think that my generation, we're the sandwich. Why? We [are] filial to our parents and we love our kids, so we do everything for them. We work so hard for our parents and our kids. So, yes, they are more fortunate. They are born in better times.
Have you ever wanted a daughter?
(Without missing a beat) Yes! Can see my face? (Smiles widely while clutching our hand) Anyway, I'm so jealous of any of my colleagues who have daughters.

I once saw a fortune teller who told me that I wouldn't have any daughters in this life. Even when my best friends [were expecting] and i don't know the gender yet, I would tell them, okay say this one will be my godson or goddaughter, they will always ends up having a son. 
Thankfully, you have two very guai sons!
Yah… (nods). They love to stay home. My elder son is very soft spoken and very gentle. The younger one he is shotput player so he's a bit rough and very tall but he's still a gentle monster.
They're really so cute and they still hug me and all that. When I didnt get into the Top 10 at the Star Awards, they gave me a hug when I reached home and told me not to be too upset because I'm the best mom.(Grins) So thoughtful.
How badly did you want a daughter?
When I was pregnant, I always thought my second son would be a girl. Always. (Pauses) I believe that before [the fetus] forms into male or female, if you go and do something like change the flower or whatever, they will become…
Change flower?
Yah, at the temple, In the olden days, they believe in [such things]. I was told that before you know the gender of your baby, you can go to the temple and change flowers for the goddess, then you would have a daughter.
I was really very hardworking. I really went to change the flowers you know (laughs). Then five months [into the pregnancy], my gynae told me I was expecting a boy. I asked: "What's the percentage?" He told me 70 per cent, so I said: "70, right? Still got 30 per cent, so I told myself go go go (and change the flowers)."
For the next few scans, my son literally closed his legs and didn't want to show his gender. I actually told my gynae: "See he don't show!" (Laughs) He told me: "Lingling look, I can confirm with you that it's a boy." But I insisted that we couldn't see anything from the past few visits! (Laughs)
In that moment I really thought maybe my baby became a daughter. I wanted a girl so I could make her a princess, have girl-to-girl talks and go shopping together. That's what I wanted. But it never came true.
At which point did you finally accept that your baby's a boy?
When I gave birth. I actually cried when a boy came out. Maybe that's why when my second boy was born, he looked exactly like a girl, with long, curly hair (laughs).
Maybe you will have granddaughters next time?
Yeah… but I think it's tough for meat eaters (laughs). I believe that meat eaters always tend to have boys. 
After I recovered from cancer, I changed my diet and became a lot healthier. I only eat fish and veggie. When I did consume meat, it would be during chemo when I needed the red platelets and so I would take beef.
The super close family of four
Since the show's name is The Unbreakable Bond, which of your two children would you say you have a more unbreakable bond with?
Wah… that's difficult leh.
Maybe you can tell us who is closer to your husband, and who is closer to you?
Both are close to me (grins). I'm the queen, I'm the princess and I'm the maid (laughs). .
Let's say you're in an emergency and you have to call one of your sons, who will you call first?
I would call both… I never really thought of this. Hmm… I will see who's overseas, then I'll call the person who's in Singapore. So that's the deciding factor, I depend on both equally.
Photos: Alvin Teo/ Mediacorp Photo Unit, Pan Lingling/ Instagram
The Unbreakable Bond is available on demand for free on meWATCH. It airs on weekdays, 9pm on Ch 8.
Catch the first episode of The Unbreakable Bond below.