Pin Wei Chee Cheong Fun Hawkers At Pek Kio Turn Down $600k Offer For 50% Stake; Opening New Stalls Instead
The hawkers' ideal selling price? $3 million for a 70% share in their biz, including two new outlets.
While handmade Hong Kong-style chee cheong fun hawker stalls helmed by former restaurant chefs are all the rage since the pandemic began, one stall has been quietly serving this dim sum fave since 2009. And with no fancy chef's pedigree behind it, either. Family-run Pin Wei Hong Kong Style Chee Cheong Fun at Pek Kio Market & Food Centre is a pioneer in the artisanal CCF hawker scene — its thin rice rolls are made on the spot with fresh batter and a custom steamer, a rarity in Singapore back in the day. Although the stall isn't as crazily crowded as before, it still enjoys a healthy following today even after 13 years in the business. 
The family behind the well-loved stall will open a second outlet at Blk 216 Bedok Food Centre and Market in June, with a third branch in the works at an upcoming hawker centre in Bukit Canberra. 8days.sg speaks to third-generation CCF hawker Eddy Tan, 50, to find out why the family chose to expand the business now.
No part of this story can be reproduced without permission from 8days.sg
All photos cannot be reproduced without permission from 8days.sg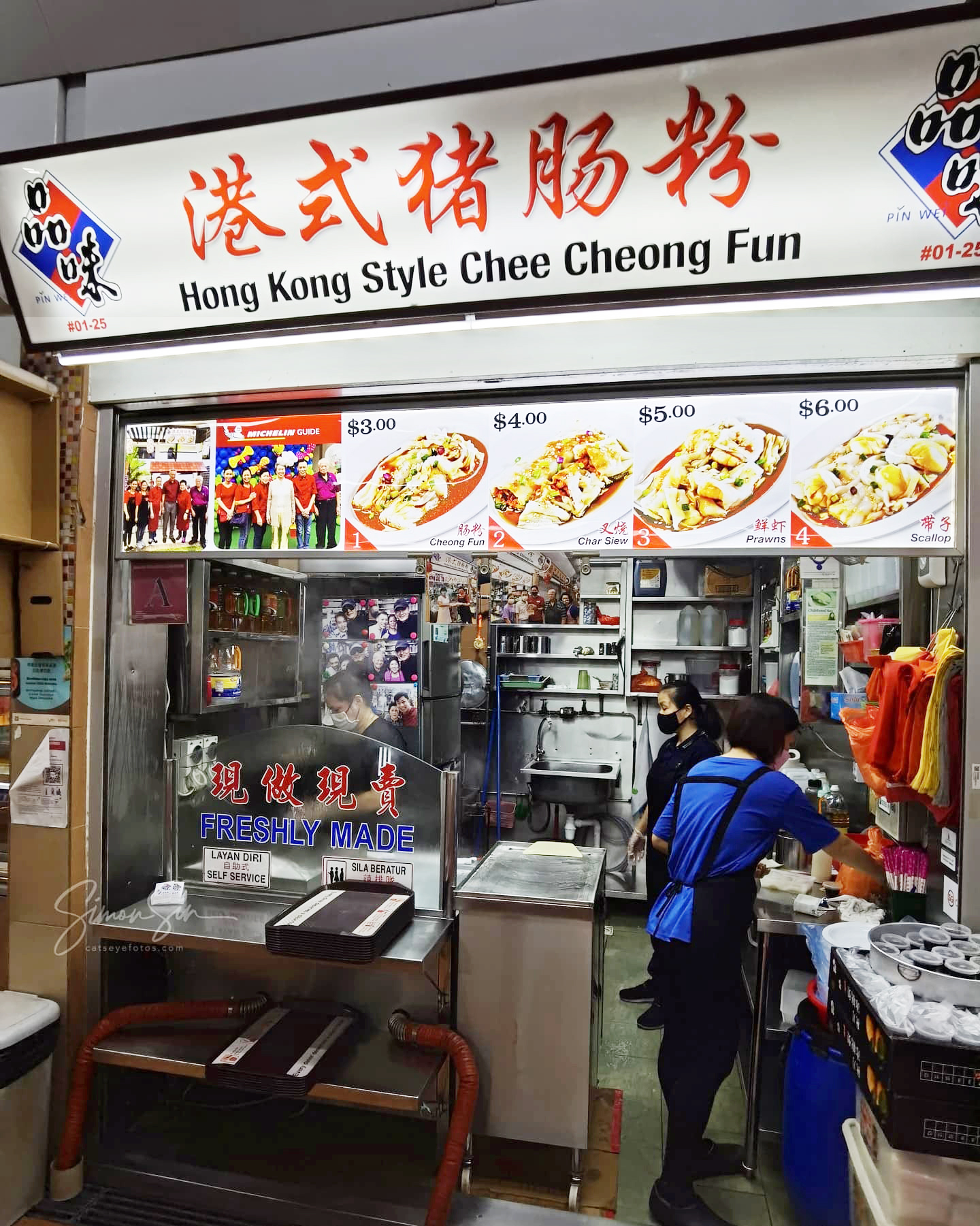 Turned down $600k offer for a 50 percent share in biz
"Actually, I got the idea [to open new outlets] last year, when a food group approached me [to invest in our business]. But we couldn't settle on a price," shares Eddy. He says that he thought that their $600k offer for a 50 percent share (which equates to a $1.2 million valuation in total) in the family's business was "too low". He reasons: "I find that our [brand] is worth more than that price, lah." He declines to share the name of the food group on record. 
He adds that he was also puzzled by the offer for only half the biz: "In business, there isn't 50-50. There's usually a bigger and smaller share, so that in case of any arguments, someone can make the decisions. So I didn't find their offer very sincere."
Funnily enough, it was the unsuccessful deal that gave Eddy the confidence to start expanding Pin Wei Hong Kong Style Chee Cheong Fun. "If our business didn't have the potential to grow, corporations wouldn't come looking for us," he asserts.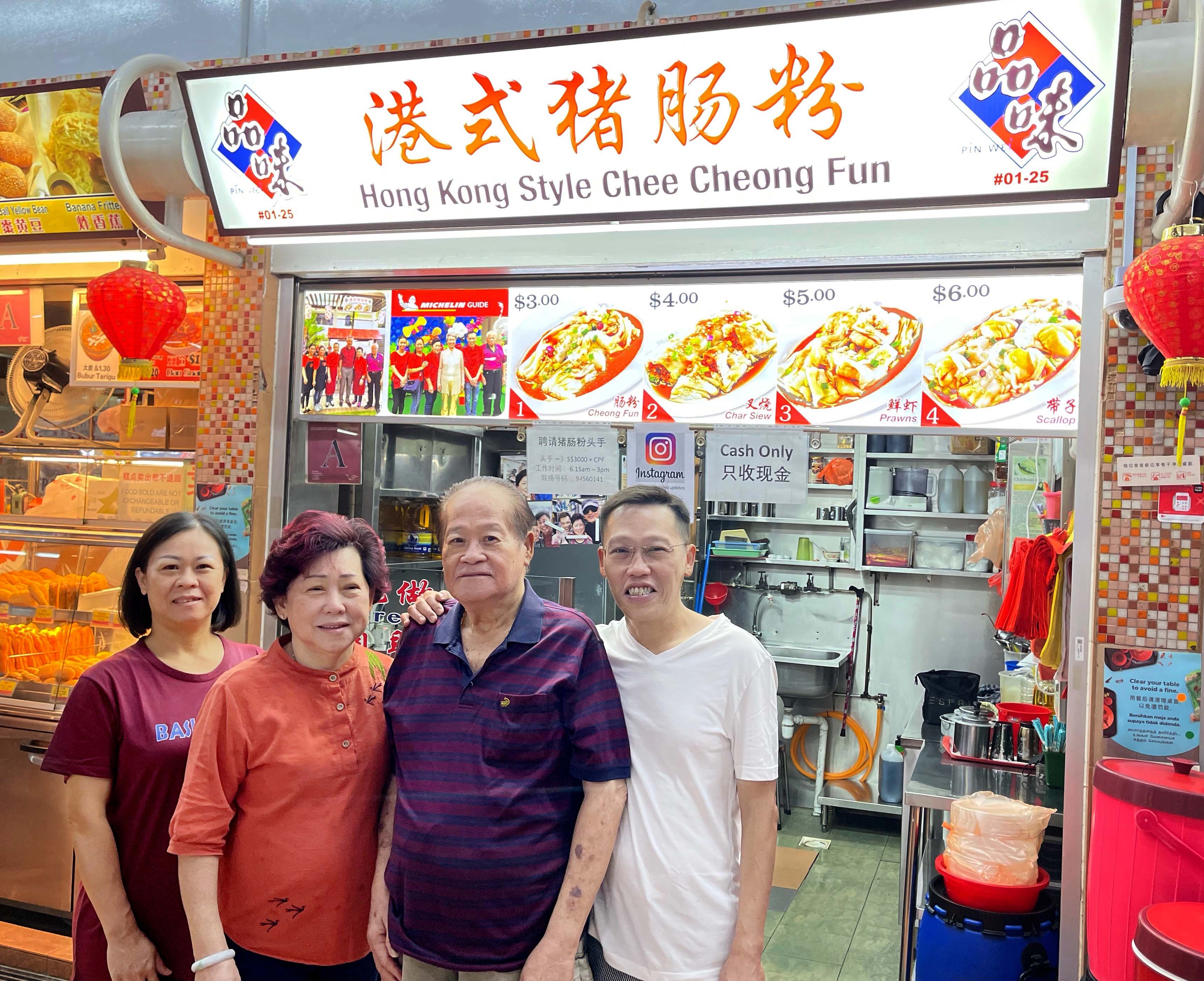 Biz had beginnings as a chwee kueh stall in the '50s
Eddy's grandfather was a street hawker who specialised in charcoal-steamed chwee kueh. He was succeeded by his son, Tan Song Beow (second from right; now 72).
The family only pivoted to selling handmade Hong Kong-style chee cheong fun – thin, silky rice rolls stuffed with fillings like prawn or char siew, served with a savoury sauce and chilli – in 2009 when Eddy (far right) took over the biz. He elaborates: "My grandfather sold chwee kueh. My father sold chwee kueh. I also sold chwee kueh (laughs). But when I took over, I felt that there were too many stalls doing the same thing. So I wanted to try something more daring – I'd seen [HK-style] chee cheong fun in Malaysia and Hong Kong, and convinced my dad to pivot."
The switch worked — they now sell around 400 plates daily on weekdays and 500 on weekends, despite opening only for breakfast and lunch. 
Father and son used to run the stall in Pek Kio with their wives, Thou Ka Chu (second from left), 70, and Jennifer Poon (far left), 50, but Eddy shares that due to their expansion plans, the family will be split across the various outlets and a central kitchen.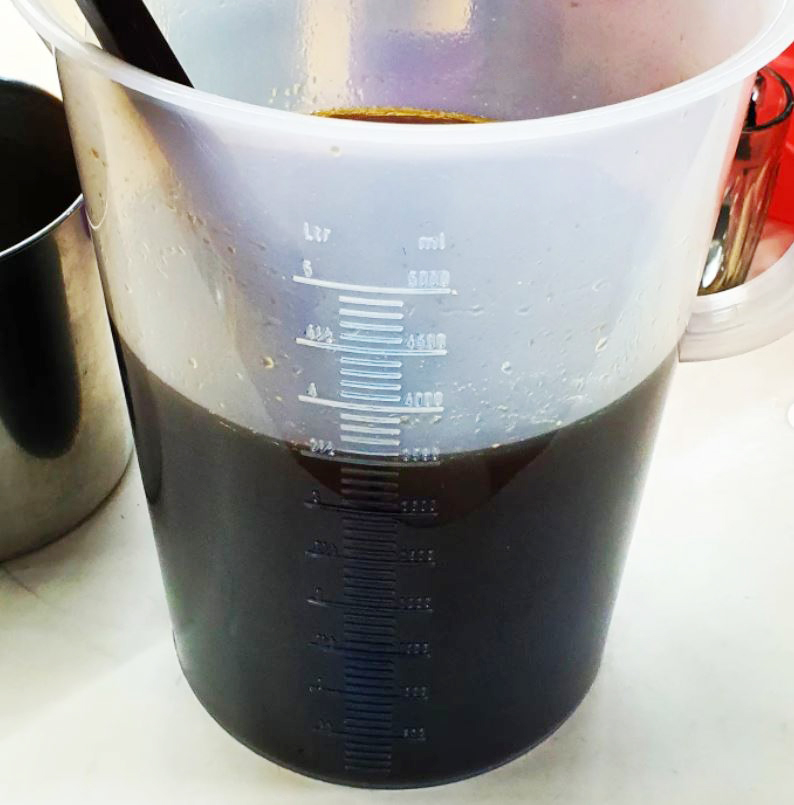 Central kitchen key to expansion
Ka Chu and Jennifer will oversee operations at the stalls while Eddy and his dad are stationed at their central kitchen in Bedok. "We'll prepare the batter, sauce and other ingredients before sending it to the various branches, so everything will be precise and the quality will be maintained," he declares. Staff steaming the handmade rice rolls will also be trained at the HQ outlet in Pek Kio Market & Food Centre for "at least a week".
The consistency that comes with a central kitchen is partly why Eddy's not worried that the Hong Kong-style chee cheong fun market is getting too crowded with newcomers (​​Chef Wei HK Cheong Fun — an aggressively expanding chain of hawker stalls helmed by a former Peach Garden restaurant chef — comes to mind). "At the end of the day, food is about taste. If you've got the taste that everyone accepts and your cheong fun is good, then you have no worries," he avers. "And I'm very confident about my quality. With the central kitchen, you'll have good control over the quality [of your food]."
Two outlets opening later this year
Renovations have already been completed at his second outlet in Bedok (above) – he's just waiting for the approval of his license to produce food from the central kitchen. Tentatively, the outlet will open for business on June 1.
Outlet number three, on the other hand, is up in the air: Eddy submitted a bid for the recently announced hawker centre in Bukit Canberra (slated to open in the third quarter of 2022), though he's fairly confident of snagging a stall there as "chee cheong fun [isn't as common] as duck rice or noodles".
Four types of chee cheong fun on menu
Pin Wei Hong Kong Style Chee Cheong Fun sells four variations of the steamed rice rolls: plain ($3), char siew ($4), prawn ($5) and scallop ($6). These will be available at a similar price at both of the new outlets when they open.
Willing to sell 70% of biz for $3 million
Undeterred by last year's unrealised deal, Eddy shares that he's still willing to sell his chee cheong fun business to a company – but only if the price is right. And that price is $3 million for a 70 percent stake in the biz, including both soon-to-be-opened outlets (a valuation of about $4.3 million for the entire business), declares Eddy. He explains how he arrived at this figure: "I've asked around and I heard that when companies buy your business, they calculate your yearly profit and multiply that amount by 4.5. So that's why I found $600k [for a 50 percent stake in my biz] a bit low, which is why I didn't sell it back then".
"If I have three outlets running well, I wouldn't consider anything below $3 million [for a 70% share]," he says frankly. "For three outlets, it's a very reasonable price. I'm confident of my product – I'm sure that if I open [a new stall] at a good location, there'll be a long queue." The towkay hasn't approached any potential investors at press time.
As for why he doesn't want to sell off his entire biz, the third-gen hawker says: "This is my baby, I've been [running] it for so long and put a lot of effort into it — I still want to participate in it as the business grows."
Meanwhile, Eddy is also open to franchising opportunities in future. "But first, I'll need some time to get the new stalls up and running nicely, otherwise how can I show [potential franchisees] that the business is good?" he says with a laugh.
Pin Wei Hong Kong Style Chee Cheong Fun's second outlet opens around June 1 at #01-45 Blk 216 Bedok Food Centre and Market, Blk 216 Bedok North St 1, S460216. Tel: 8180-2014. More info via Instagram and website.
Pin Wei Hong Kong Style Chee Cheong Fun's HQ outlet is at #01-25 Pek Kio Market and Food Centre, 41A Cambridge Rd, S211041. Open daily except Wed, 6.30am - 2pm.
Photos: Pin Wei Hong Kong Style Chee Cheong Fun, Simon Sin/Facebook
No part of this story can be reproduced without permission from 8days.sg
All photos cannot be reproduced without permission from 8days.sg