Popular Curry Puff & Bak Chang Home-Based Biz Opens Hawker Stall, Luscious $3.20 Pork Belly Glutinous Rice Among New Dishes
Kim Lee Traditional Hokkien Zhang & Crispy Puff, owned by an ex-hotel pastry cook and his wife, has levelled up from a pandemic HBB to a hawker stall at Jln Berseh.
When we spoke to Ken Lee, 41, last August, his home-based bak chang and curry puff biz was doing well enough for the former pastry cook-turned-personal trainer to consider opening a physical shop. Launched in April 2020, Kim Lee Traditional Hokkien Zhang, which operated mainly from a Facebook page, received "between 80 to 100 orders a day" for their signature rice dumplings at its peak. His Vietnam-born wife, Le Thi Kim Chi, who goes by Kim, 38, assisted him in cooking the meat fillings, steaming and wrapping of dumplings.

Ken added curry puffs to the menu after Kim had to go for a brain tumour removal surgery in July 2020, as "it's simpler for her to do" compared to the laborious work required to make bak changs. For the next two years, the couple took orders once a week, churning out about 100 dumplings and 100 puffs from their four-room HDB flat.

Earlier this year, Ken realised that they've outgrown their home kitchen and started searching for a physical stall to increase production. Two months ago, the couple invested about $15K to open their stall, Kim Lee Traditional Hokkien Zhang & Crispy Puff, at a Jalan Berseh coffee shop (which also houses the popular Sungei Road Laksa). The stall is now able handle four times as many orders. "We can make up to 400 changs and 400 puffs a day now," says Ken.

On top of their signature Hokkien rice dumplings and crispy puffs with fillings like curry chicken, sardine and store-bought Muar otak, the new stall also offers steamed glutinous rice with pork belly, congee and deep-fried snacks like chicken wings, har cheong chicken skin and prawn fritters.

No part of this story or photos can be reproduced without permission from 8days.sg.
Full support from loving wife
After experiencing multiple post-surgery complications last year, Kim has since made a full recovery and is only required to go for a check-up every two years now. "Yes I'm okay now!" asserts the radiant and bubbly hawker. She helps out at the stall daily, mainly manning the cashier and training their part-time assistant to wrap the dumplings.

"I'm still a little worried as it's a new environment for her. I worry that [working at the stall] may be too tough on her. I'm used to it as I've worked in the industry before, so I can handle the heat and hard work," says Ken, who used to work as a junior pastry cook at Singapore Marriott Tang Plaza Hotel before becoming a personal trainer as it paid more. 

The caring husband points out that Kim's arm was recently burned by oil splatters from the deep-fryer. "It's okay, not too tiring. Sometimes it's a bit tough as it's quite hot here," shares the unfazed Kim, who worked at a nail salon before the pandemic. "I've always been interested in [running] a food business so I'm excited to see how it goes."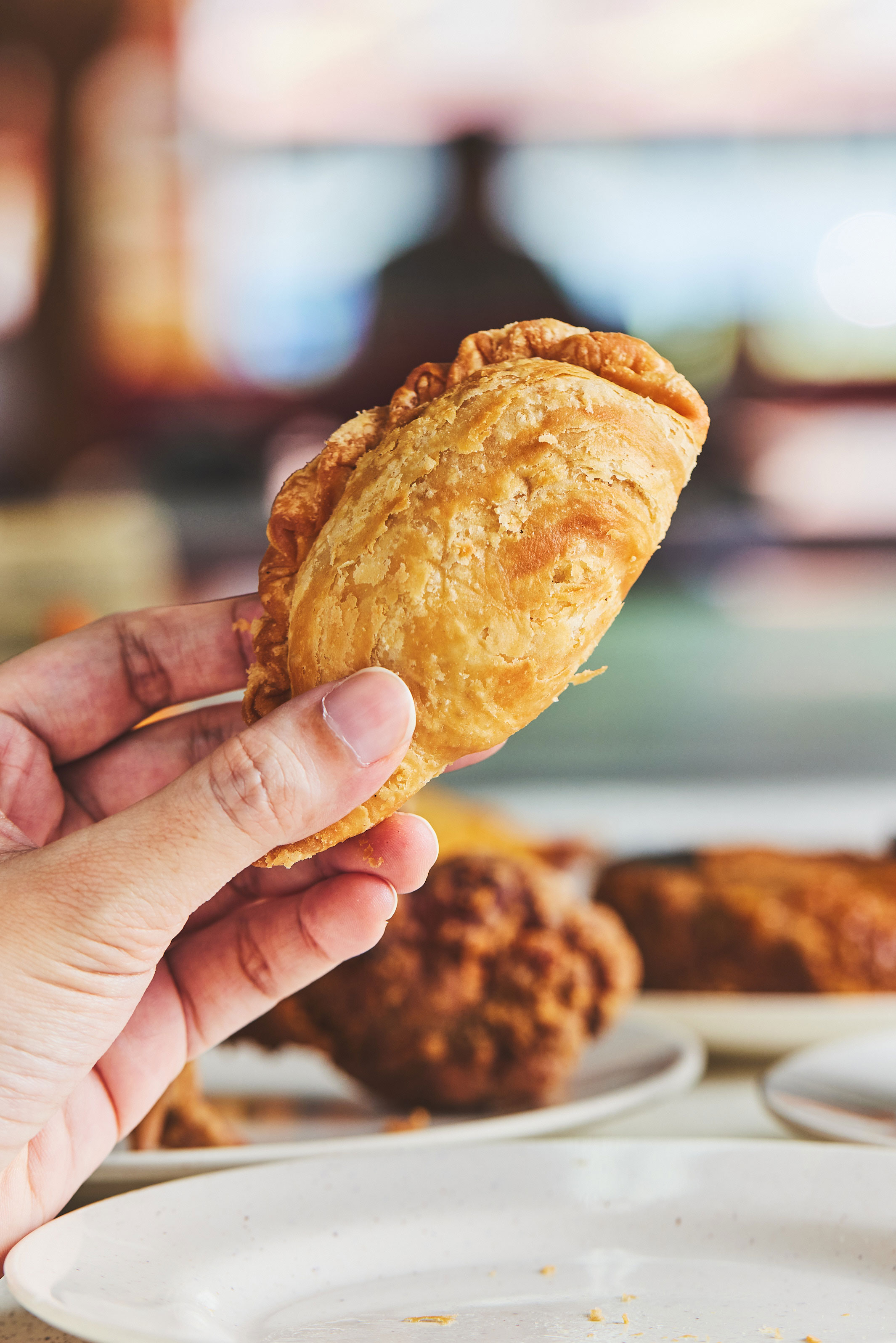 Planning to open a second stall soon
"I picked this stall as it has a spacious kitchen that can work as a central kitchen. My plan is to open a second, smaller stall this year. We'll make all the food here and supply it to the other stall. I also hope to hire a full-time helper soon so we can take care of all the food prep, and Kim can concentrate on managing the second outlet," shares Ken.

So far, business has been "okay", says the couple who has two kids. The stall prepares around 150 dumplings at a time and makes around 200 puffs daily. The stall has also stopped taking delivery orders via their Facebook page – customers can place their orders via FoodPanda instead.

Despite the costlier transition to a physical shop, Ken has decided against raising prices by too much. Prices for the curry chicken and sardine puffs remain the same, while there's been a ten cent and 60 cent increase for the otah laksa puff and signature dumping with salted egg yolk, respectively, to reflect rising ingredient costs. "We're making less profit, but our goal is to have more exposure and awareness so I consider the potential losses a marketing cost," says Ken.

While he's happy to have finally achieved his goal of opening a stall, Ken remains cautious about what's to come. "Many regular customers have congratulated me [on the stall opening] but I told them it's still early days. After the Circuit Breaker, our [home-based] biz sales dropped and I know things can be unpredictable. But I've always wanted to run a food biz, so we're giving it a shot."
Hokkien Rice Dumpling with Salted Egg Yolk, $4.30 (8 DAYS Pick!)
This signature item boasts the same chunky fillings from its home-based biz days. Pork belly, shiitake mushroom, chestnut, dried shrimp and a salted egg yolk are enveloped by moist Thai glutinous rice seasoned with soy sauce, five spice powder and hae bee. The luscious, tender pork belly and fragrant salted egg yolk are still our favourite bits to chomp on – this bak chang ticks all the boxes of a well-made, old-school Hokkien rice dumpling.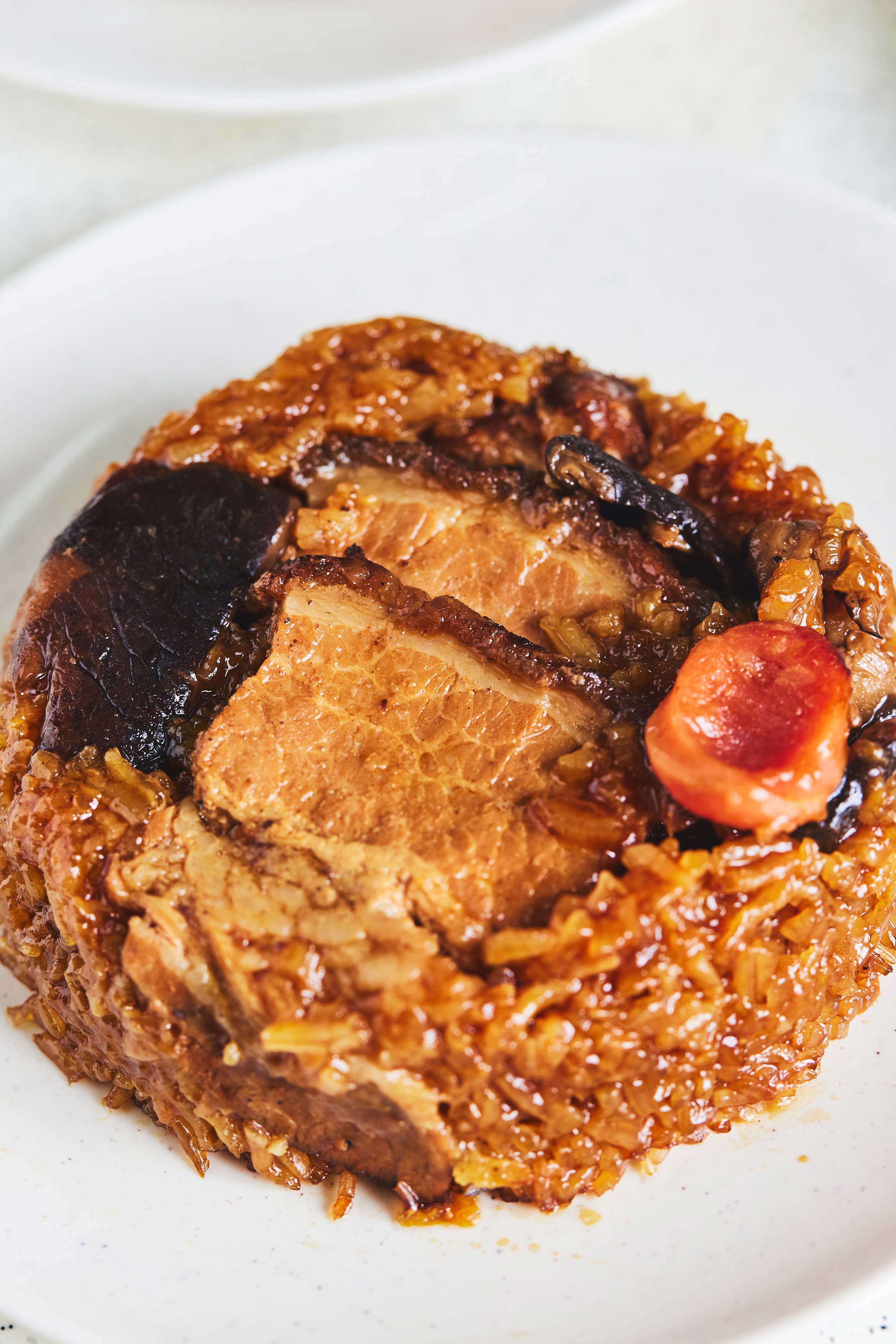 Steamed Glutinous Rice with Pork Belly, $3.20 (8 DAYS Pick!)
An original creation by Ken, who was inspired after making a Hakka specialty known as mei cai kou rou (steamed pork belly with preserved mustard greens) during Chinese New Year. "I had leftover pork belly and thought I could combine it with glutinous rice," he says. Instead of preserved mustard greens, which can be quite pungent, the hawker opted for the more popular shiitake mushroom and Chinese sausage instead.

Plush slices of pork belly, marinated overnight, sit atop deeply savoury glutinous rice (similar to what's used in the dumplings) while the earthy mushroom and sweet lup cheong round off the richly flavourful dish. Elegant and tasty, we reckon this could be served at a fancy dim sum restaurant.
Chicken Curry Puff with Potatoes, $1.80 each; $10 for six pcs (8 DAYS Pick!)
Prices remain (remarkably) the same for the curry puff, plus you can order them a la carte now instead of meeting the minimum order of six pieces back when they ran a home-based biz. The spiral flaky pastry is thin, light, and not too greasy, while the curry chicken and potato filling – featuring an aromatic, homemade rempah – are just as generous and tasty as when we last had it. Worth a try if you prefer a thinner-layered puff.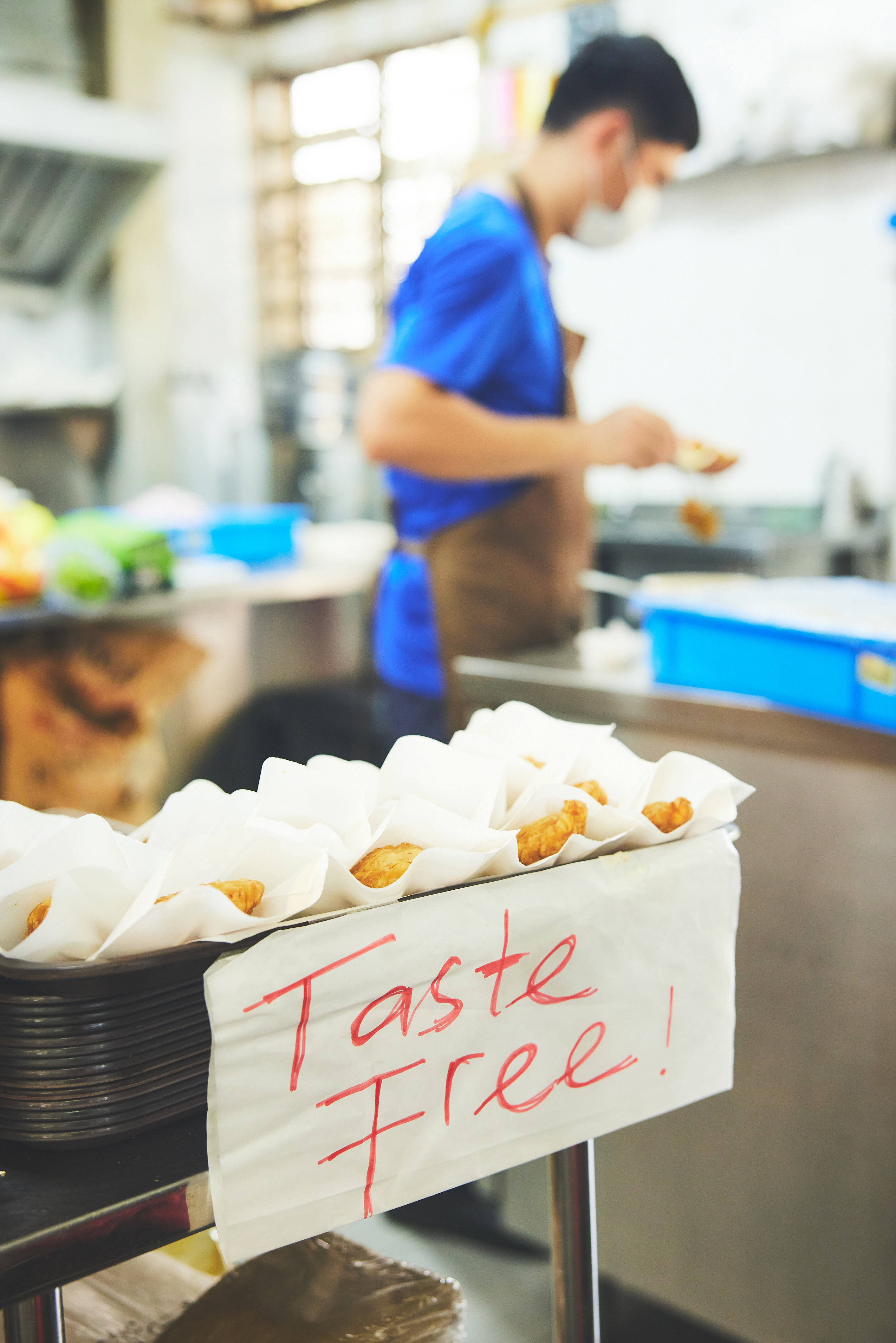 Free mini puffs on weekdays
On weekday afternoons, the stall offers 50 pieces of mini curry and sardine puffs (about half the size of the original) as free samples. "Rolling and folding the pastry takes almost the same effort as the normal ones. We hope to get new customers through providing these samples," shares Ken.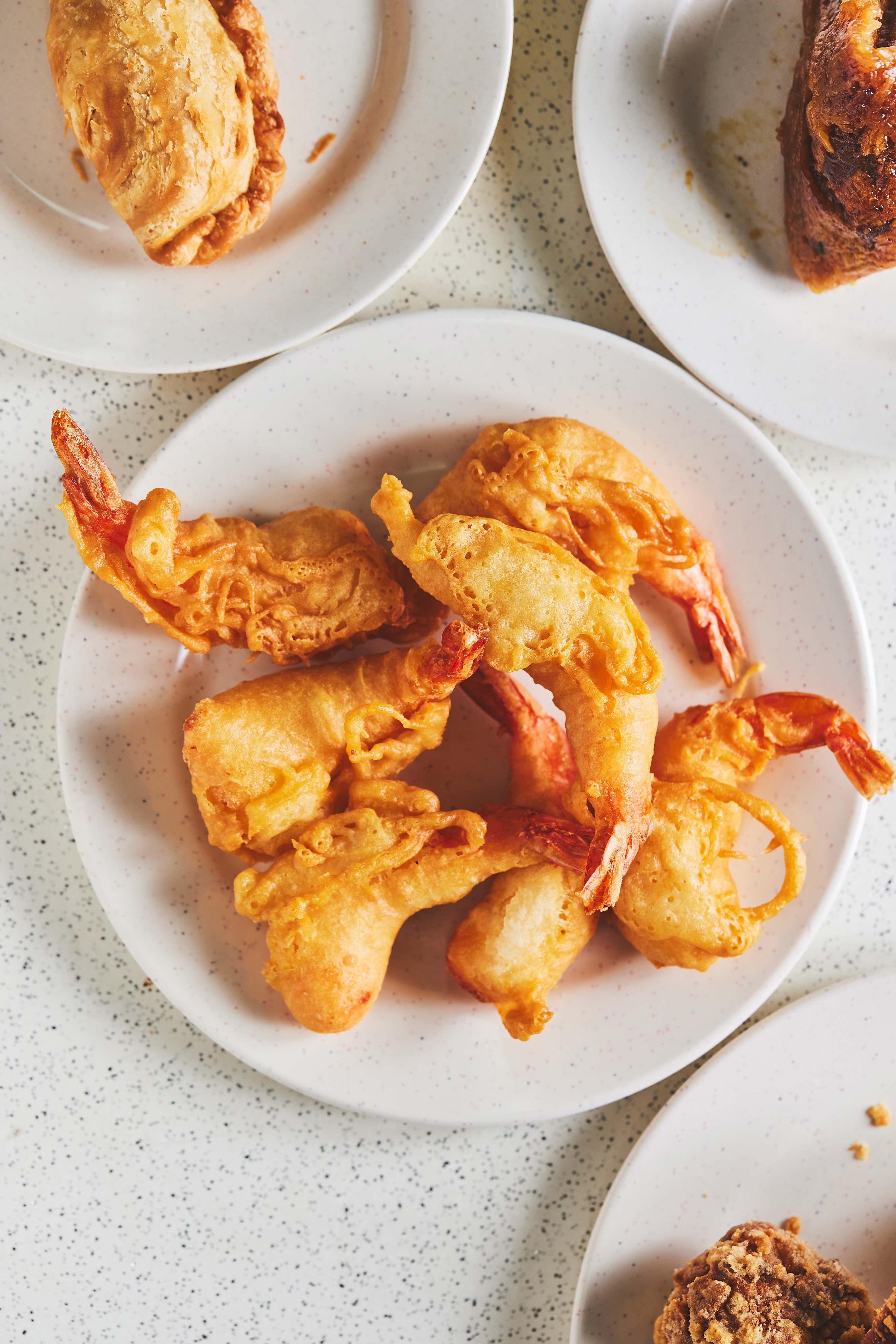 Pong Pong Prawn Fritters, $5.80 for eight pcs; $11 for 16 pcs
Reasonably sweet and springy sea prawns coated in a light and crispy batter that's not too greasy. Tastes good enough on its own, though you can also dip them in the salad cream or chilli sauce served on the side. A fun, crunchy snack that's good for sharing.
Prawn Paste Fried Chicken Skin, $3.50 (8 DAYS Pick!)
Crispy chicken skin coated in prawn paste-accented batter. We like that the har cheong is distinct enough without becoming overly pungent or salty. A shiok, decadent side to enjoy with your meal.
Chicken Wing, $1.60
The chook sports crispy skin with crumbly bits that are a result of a unique batter developed by the former pastry cook. The coating is sufficiently crunchy and while the meat is adequately juicy, we found it to be a tad underseasoned.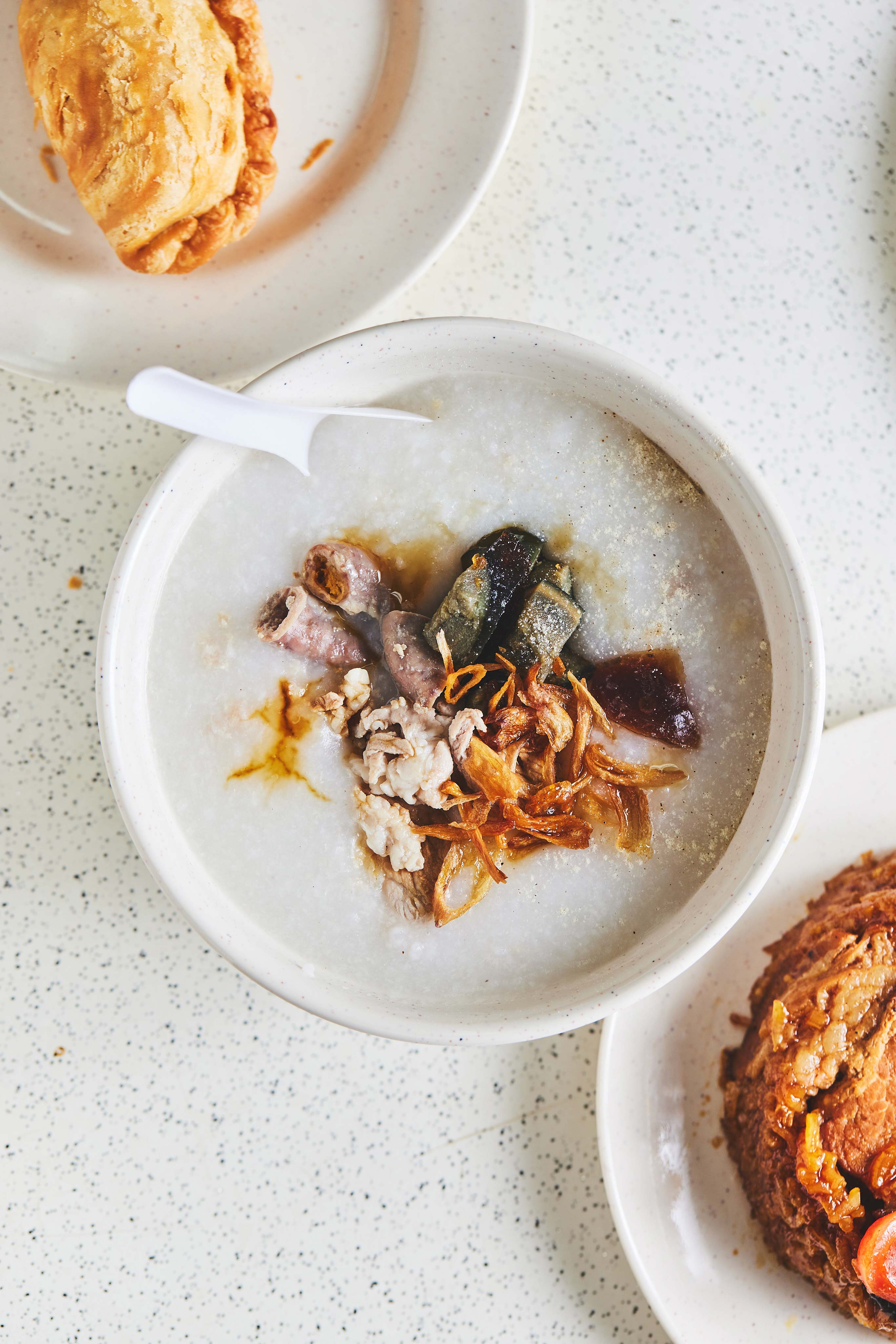 Minced Meat & Century Egg Congee, $2.50
A simple but comforting bowl of congee with well-seasoned sliced pork, pork intestine, century egg and finished with a heady mix of fried shallot, shallot oil and pepper.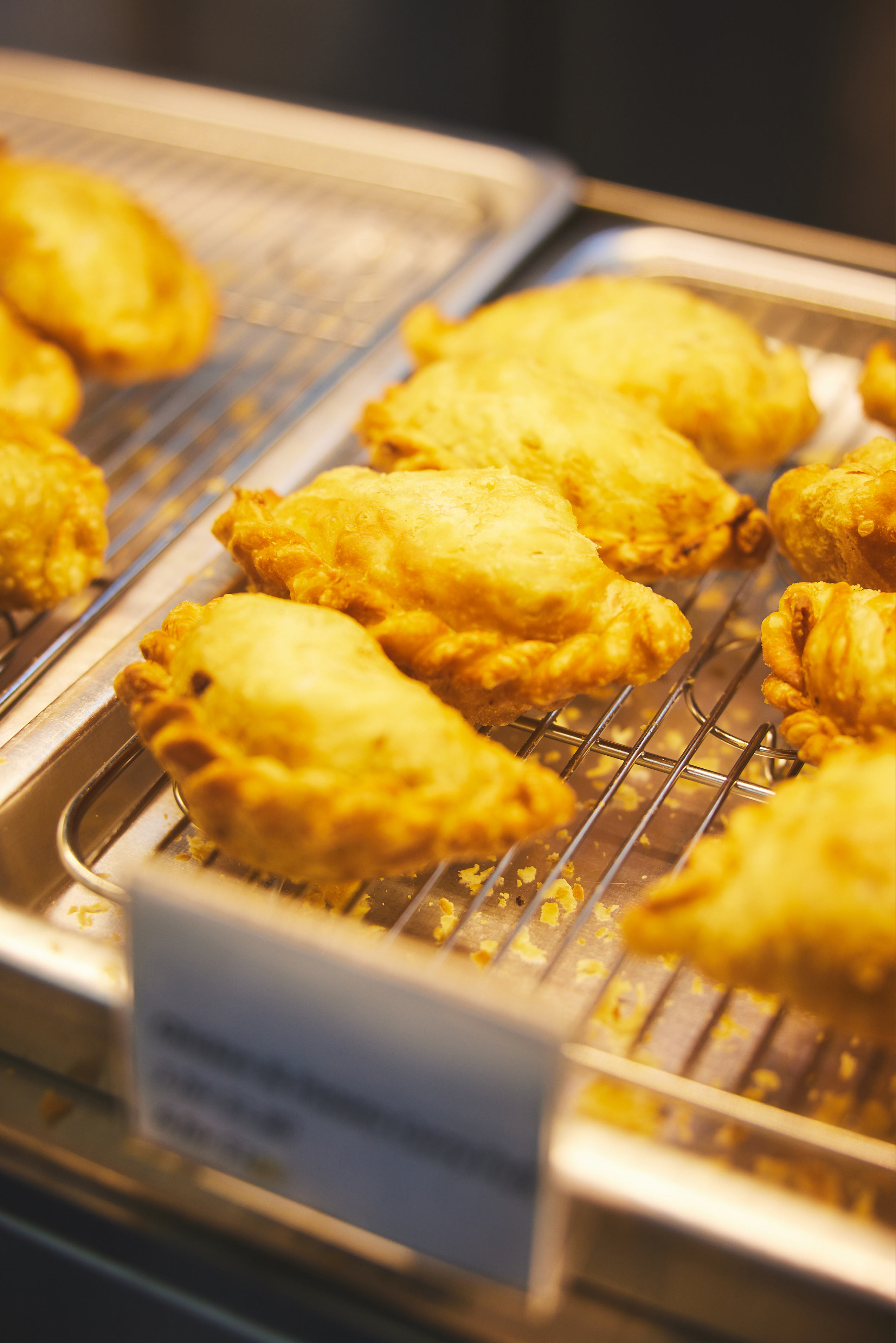 Bottom line
The food at this stall still carries the same brand of homespun nostalgia that the original HBB was known for. While we enjoyed new items such as the elegant steamed glutinous rice with pork belly and addictive prawn paste fried chicken skin from the expanded menu, signatures like the generously-stuffed bak chang and house-made crispy curry puffs remain the draw here. In fact, we think the menu can be further streamlined and hope that the hawker can focus on developing more flavours for the puffs — one of the better hawker versions we've tried — instead.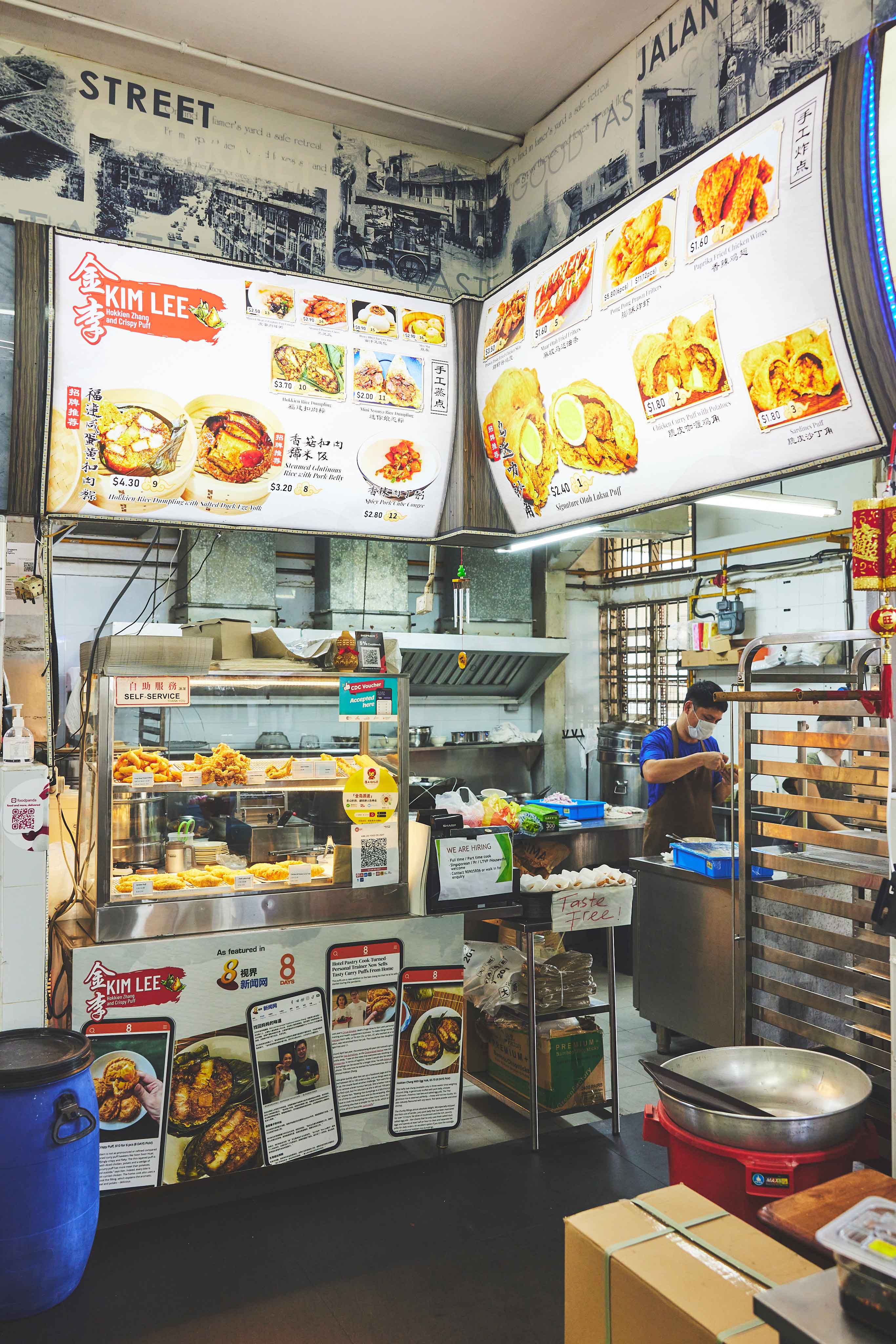 The details 
Kim Lee Traditional Hokkien Zhang & Crispy Puff is at Gourmet Street Coffee Shop, 27 Jln Berseh, S200027. Open daily 9am - 6pm except Wed 9am - 2.30pm. More info via Facebook.

No part of this story or photos can be reproduced without permission from 8days.sg.

Photos: Alvin Tan