Priscelia Chan On Why She Has Never Liked Acting With Husband Alan Tern & Why She's Thankful For Her Mother-In-Law
The actress is nothing like the awful daughter-in-law she plays in Mediacorp drama Your World In Mine.
Every good drama has to have someone really despicable to spice things up.
And in Mediacorp's Your World In Mine, which centers on the struggles faced by people with special needs as well as their family members, that person is Priscelia Chan, 43.

Okay, not Pris per se, of course. The actress plays the self-centered and money-hungry Chen Lin Lin, wife to the spineless Hong Mao Qiao (Ben Yeo) and daughter-in-law of Xiang Yun's schizophrenic former chicken rice seller.
"She really did a lot of nasty things," says Priscelia about her character, who is always up to no good and constantly creates trouble for the Hong family.
While Lin Lin is almost always scowling or rolling her eyes at her in-laws, Pris, in real life, is bubbly and chatty and full of effusive praise for her co-stars.

When 8days.sg met her at the show's recent press conference, she couldn't contain her excitement when talking about working with her pal Ben. 
"I really had fun acting with him and we were surprised that we could work together so well as a couple. We would always be like 'Hey! Where did that come from?" she beamed, before describing herself and Ben as the "lubricant" that "loosens things up" for their fellow cast and crew. 
And these fun-filled behind-the-scenes moments are why Pris is really thankful to be back at work after her two-year ordeal with a severe bout of eczema that left her skin red and raw. 
"Every night I'll really be filled with gratitude for my full recovery. It's not just about being able to act again, but also the moments you share with your colleagues on set, I'm really overwhelmed by this miracle of healing," says Pris.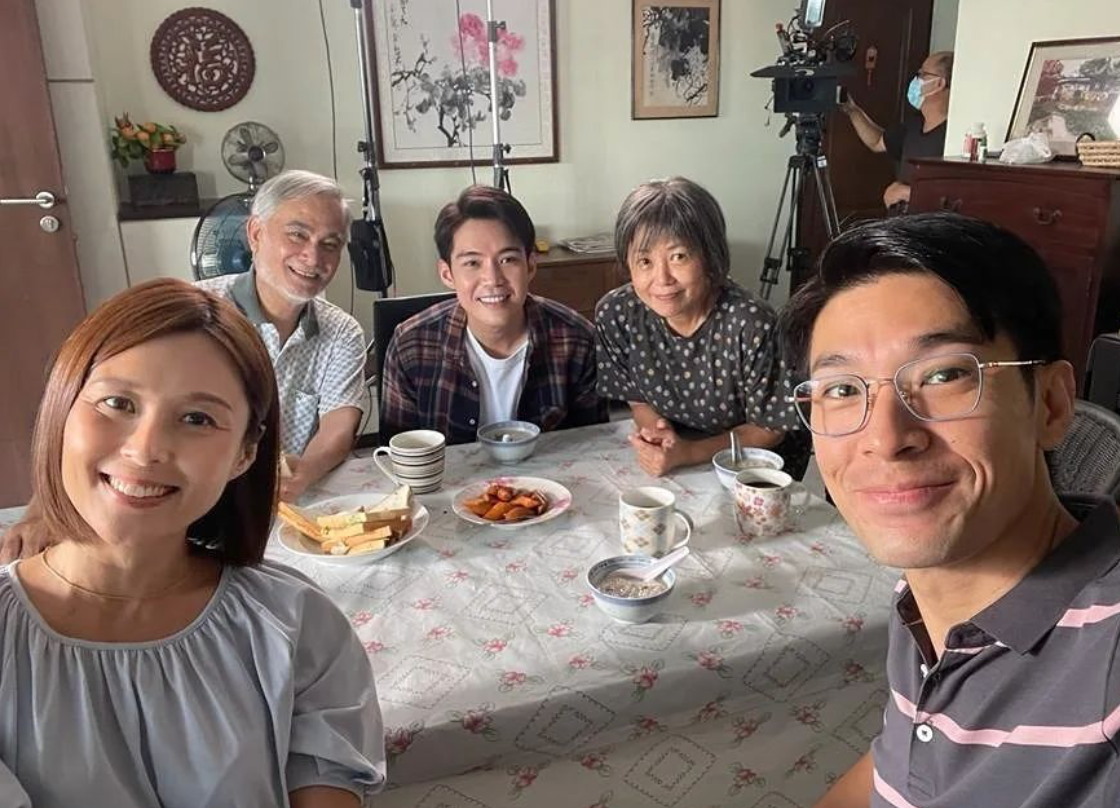 Priscelia, Zhu Houren, Desmond Ng, Xiang Yun and Ben Yeo on the set of Your World In Mine
8DAYS.SG: What was it like playing someone as awful as Lin Lin?
PRISCELIA CHAN: I haven't done a "baddie" role in some time and I really had fun doing it with Ben Yeo 'cos we're really good friends. Acting as a couple with him was effortless and there was a very different chemistry between us. And I'm so honoured to be acting with Xiang Yun-jie, Houren-da ge and Desmond, who's really talented too.
You had to take a break from acting for two years 'cos of your skin condition. Have you fully recovered from it or are you still on medication?
I've been fully recovered since 2019. It wasn't something I was born with and it isn't an autoimmune disease. It's actually really common and happens to lots of people. it can really set off just like that.
Is there a possibility of it relapsing?
Touch wood, hopefully not. Back then, my condition worsened because of topical steroid withdrawal so I never touched steroids again and totally recovered via holistic methods. 
And I took time to heal from the inside out. It's a physical, mental and emotional thing and time is really one of the greatest doctors.
Do you feel that you missed out on a good two years of your career because of what happened? 
The irony was, when I was all ready to return to work, the Circuit Breaker happened. I was like "I feel the brakes on me again just when I thought I'm here to charge" (laughs). But I've learnt to take life as it is. 
I'm still really thankful because I've played about 10 characters since my recovery and when I look back, I'll think about how the different roles have taught me different things. That's one of the biggest rewards for an actress, that you become more open to different views in life. 
Priscelia and her "hubby buddy baby" Alan Tern, whom she married in 2007
How does your husband [former Mediacorp actor] Alan Tern feel about your return to acting?
He's just really glad that I've fully recovered and that I'm back to pursue my passion. He knows how much I love acting. 
His last role was in 2011's A Song to Remember. Does he have any intention of acting again?
He's in the optical distribution line and couldn't fly overseas for two years [due to the pandemic]. He did take on a role last year, in My Mini Me and Me, where he played Xubin's father. 
I was quite surprised when that happened. I was like "Wow after 10 years?!" (Laughs) But to him it was just sheer fun. He said: "I'm not flying now, in the past I couldn't take up [any roles] 'cos time didn't allow me but [since I can't go overseas now], why not give it a shot?"
Priscelia and Alan in A Song To Remember
Do you wish that you and Alan can act in a drama together again?
No. I'm sorry but I never liked acting with my husband. (Laughs) We acted as girlfriend-boyfriend before we got married and as a married couple after we got married. And I realised the stark difference. I think acting as a boy-girl friend, brothers and sisters, or friends are fine. 
But I think it was when we were filming A Song to Remember, and he played a pretty bad character who was a lousy husband. And for once I felt, "Wow, I can't talk to him on set" 'cos it distracts me and I felt weird. It was like I was looking at the same face but he was a man from a different era.
I had to stop talking to him on set so I could look at him like he's not Alan Tern. I mean, I see his face 24/7 and I know all his quirks (laughs). 
Then I went to ask other actresses who told me that they don't like acting with their husbands too. That means I'm normal! (Laughs)
The show also focuses a lot on your character's awful relationship with her mother-in-law. How's your relationship with your mother-in-law in real life?
My mother-in-law is a really sweet lady, I'm really very thankful for her. Before I got married, I heard of many not-so-nice stories about mothers-in-law and I actually lived with mine for 1.5 years before we got our own house. So every time I hear those stories, I would be really grateful that I have such an understanding mother-in-law who treats me like family. She's able to feel my love for her and would reciprocate [in her own ways].
I always say that my mother-in-law is a chef with a PhD because she cooks very well. And she'd always ask me: "Shi Mei what do you want to eat? I'll cook for you" and I'll tell her that she can cook whatever she wants. 

But she would say that I had a long day at work so she wants to cook the things I like, and she'd really make an effort.
Photos: Priscelia Chan/Instagram, Mediacorp Photo Unit
Your World In Mine is available on demand for free on meWATCH. It airs on weekdays, 9pm on Ch 8.
Catch the first episode of Your World In Mine on meWATCH below: