Remember John Hong? These were the nominees for a Top 10 Artistes Popularity poll in 1991… and here's what they are up to now
Who was your favourite star back then?
A major throwback post by Aileen Tan on Instagram has gotten fans of local showbiz all nostalgic. 
The Mediacorp actress showed a poster from 1991 featuring 20 of the then-hottest SBC stars, all of whom were vying for a spot in a Top 10 Artistes Popularity Poll. SBC is short for the Singapore Broadcasting Corporation, which was what Mediacorp was known as then.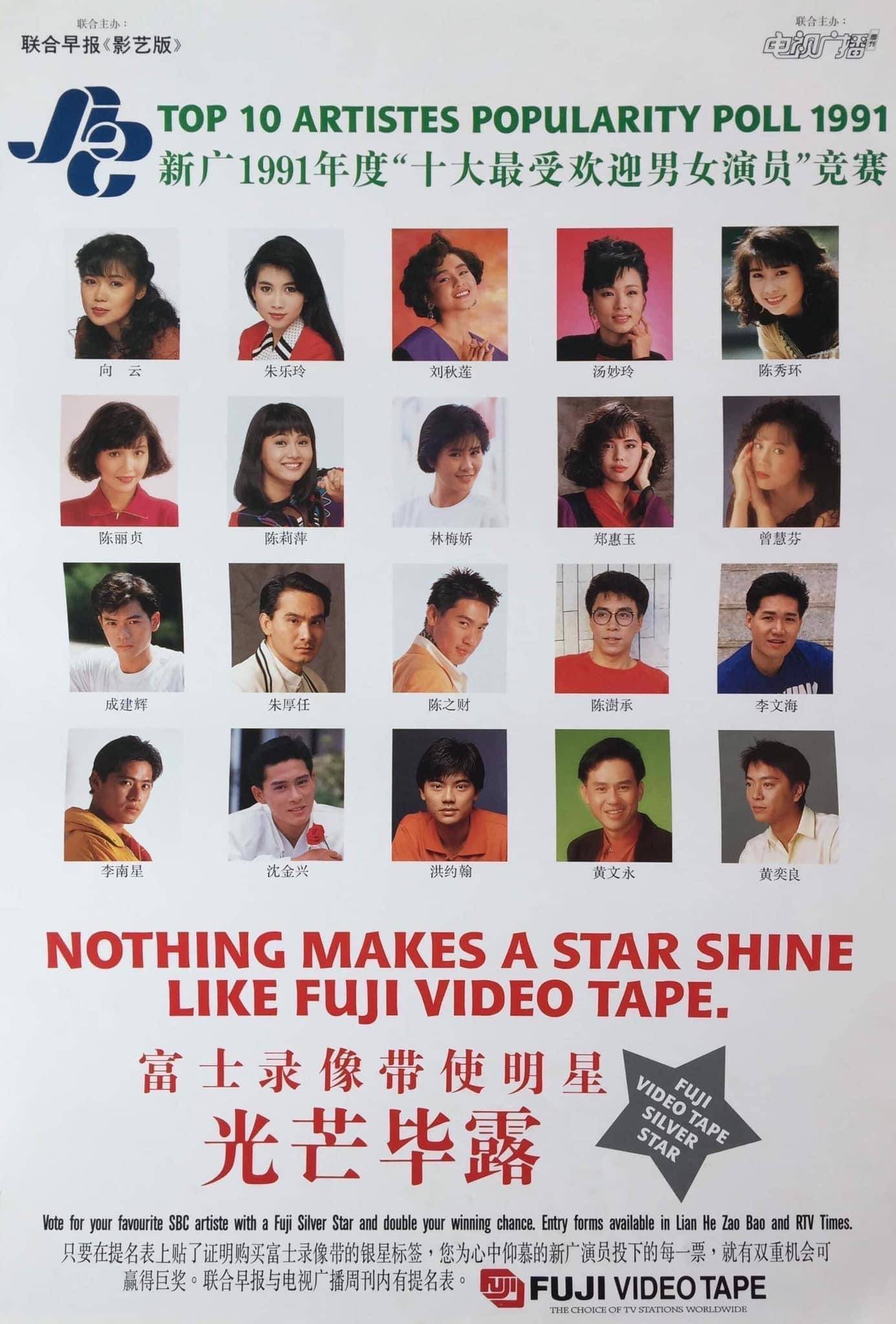 Spot any familiar faces?
The poll is the predecessor to the Top 10 Most Popular Artistes award that we're all familiar with today, having taken place in 1991, three years before the first Star Awards in 1994.
So here are the artistes that were nominated for the awards, and for those who aren't in showbiz any longer, here's what some of them are up to now.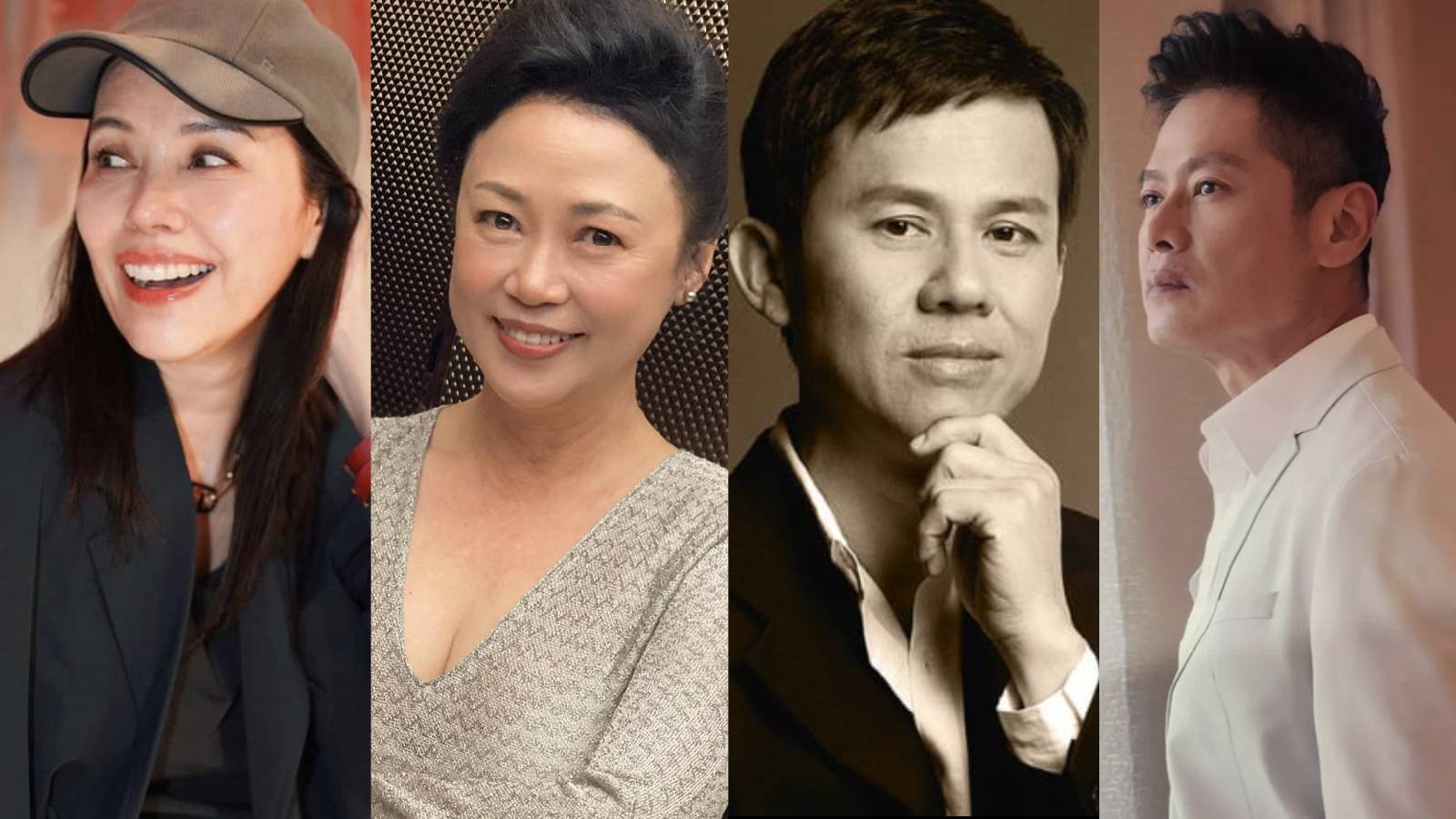 Zoe Tay, Xiang Yun, Huang Wenyong, Li Nanxing.
Celebs that are still active in local showbiz
You'll definitely know these veteran celebs — Xiang Yun, 61, Chen Xiuhuan, 57, Aileen Tan, 56, Chen Liping, 57, Lin Meijiao, 59, Zoe Tay, 55, Zhu Houren, 68, Chen Shucheng, 73, Li Nanxing, 58 and Huang Wenyong.
All of these artistes, save for Wenyong who passed away from lymphoma in 2013 at the age of 60, are still active in showbiz. 
Oh, and you can catch Xiang Yun, Zoe, Aileen, Houren, at the Star Awards this year too.
Xiang Yun, Houren and Aileen are nominated for the Evergreen Artiste award this year. Aileen and Xiang Yun are also nominated for Best Supporting Actress, while Houren is nominated for the Best Supporting Actor. Zoe is nominated for Best Actress.
Liping can now be seen in Titoudao: Dawn of a New Stage, while Xiuhuan is part of the cast of long-form drama Sunny Side Up. 
You can also indulge in a hefty dose of nostalgia with Nanxing and Liping on talkshow The Reunion, where the longtime friends and Good Morning Sir stars reminisced about their time on the classic drama.
As for Shucheng, his most recent drama is Silent Walls, which debuted last month, while Meijiao's last project is 2021's My Star Bride Telemovie.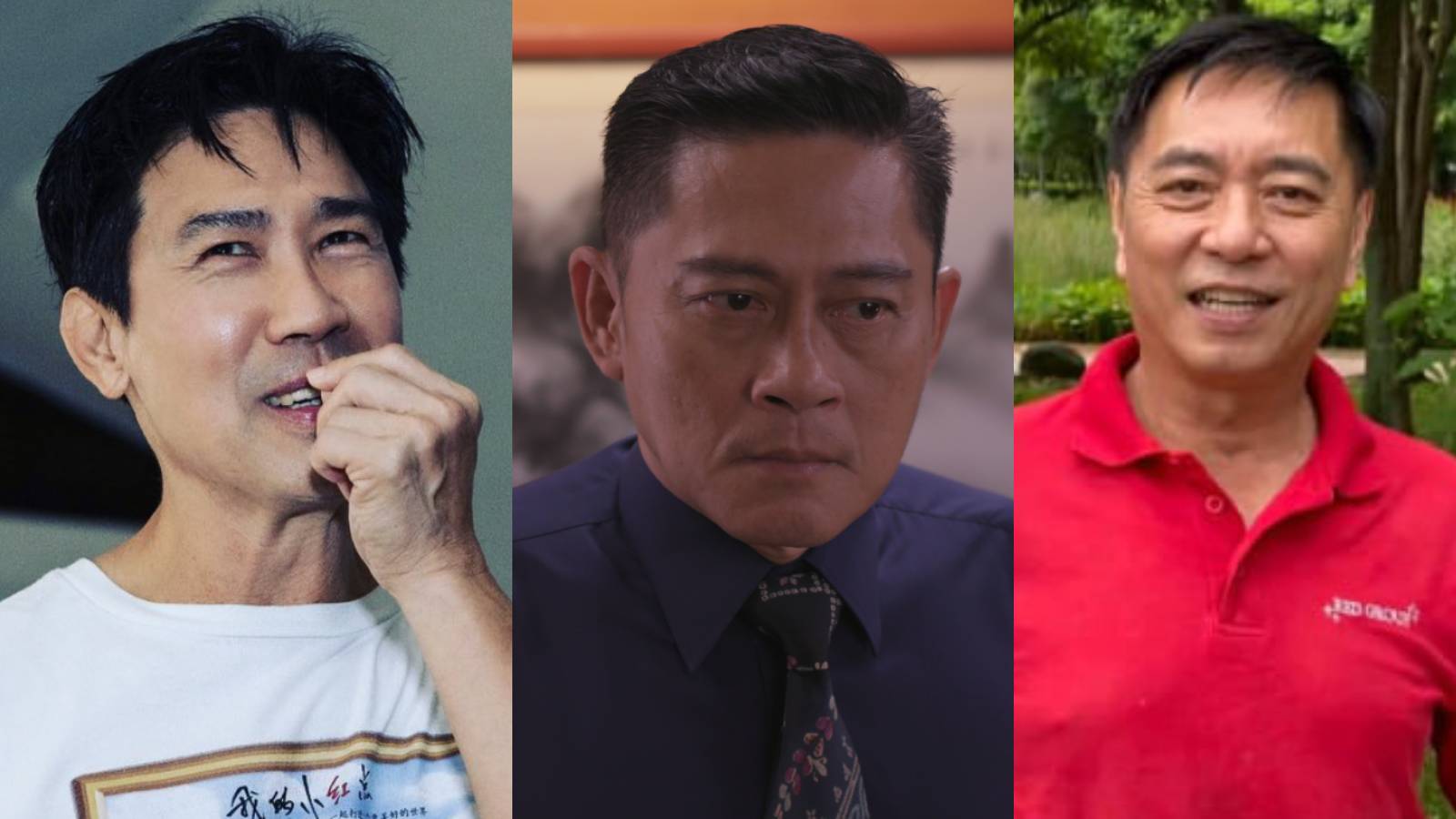 Edmund Chen, Desmond Shen, Huang Yiliang
Stars that aren't active in showbiz any more… but we still see quite often
First, we have former actor Edmund Chen, 62, who's married to Xiang Yun. Though Edmund's not acting any more (his last project was in 2017), he recently shared that he's open to the idea of being on screen again.
You know, like Desmond Shen, 60, who recently appeared in the 2023 drama, Silent Walls. 
Or Li Wenhai, 66, who has cut down on the number of projects he's worked on in recent years, but is definitely still open to new offers. Wenhai's last drama was 2022's You Can Be An Angel 4.
As for Huang Yiliang, the 62-year-old was convicted of assaulting his employee with a metal scraper in 2022. He began serving his 10-month sentence in February last year.
Meanwhile, for former actresses Madeline Chu, 52, and Zeng Huifen, 61, they still keep in touch with their celeb friends, with Pan Lingling posting pictures from a meetup with Madeline last year, and Liping sharing snaps of her meal with Huifen as well.
Former actress Tang Miaoling, 54, is still active on social media, and in 2018, ventured into F&B when she opened a Korean kopitiam stall (which has since shuttered) with former actress Cassandra See.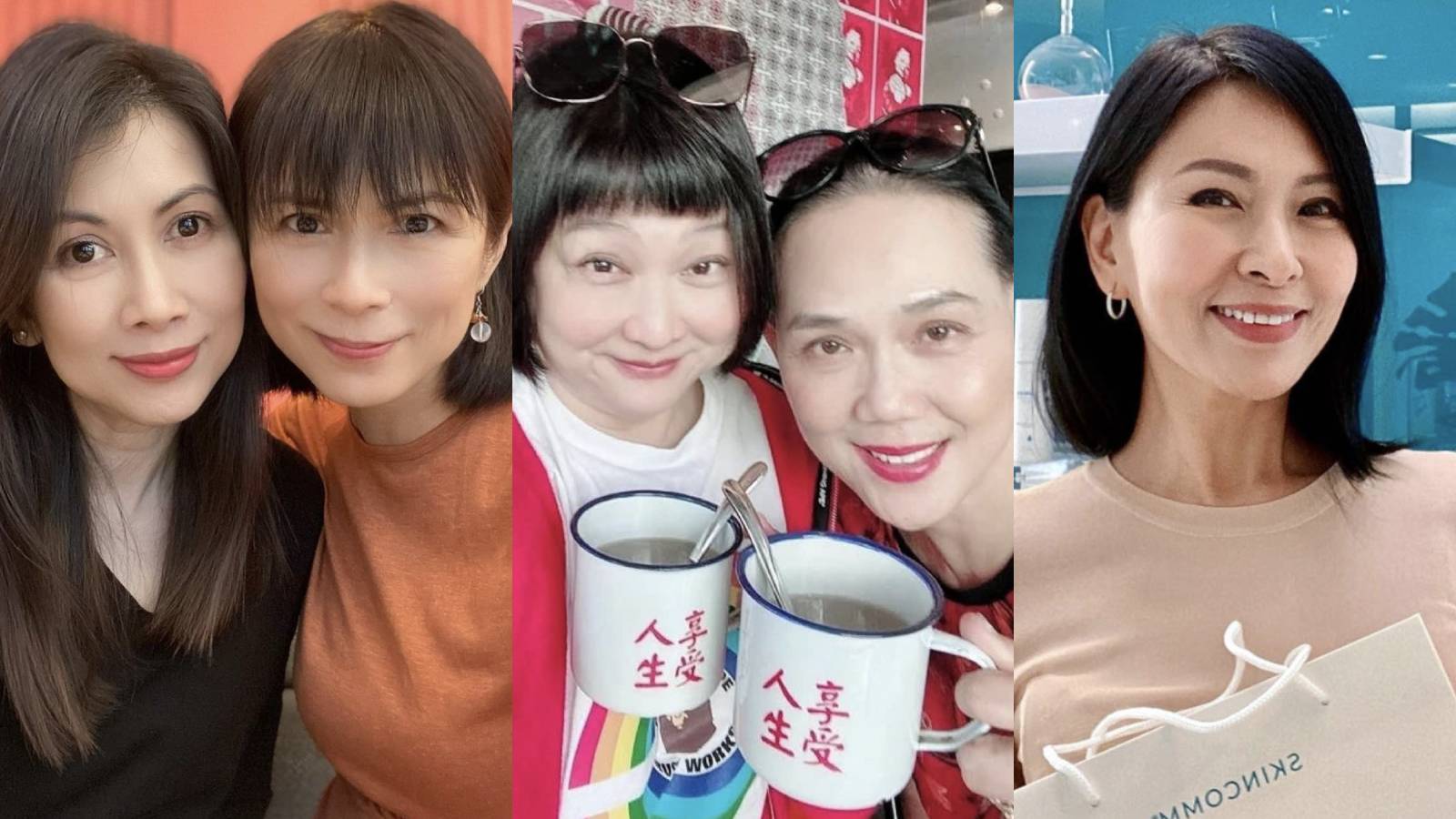 Madeline Chu (with Pan Lingling), Zeng Huifen (with Chen Liping), Tang Miaoling
Liu Qiulian, John Hong, Sean Say
The 'Where Are They Now?' stars
Unfortunately, there are three stars we have disappeared from the public eye.
Liu Qiulian, 59, who we last saw onscreen in the 2003 drama, Love is Beautiful, has kept a low profile since leaving showbiz.
In 2018, a netizen shared on a Facebook post that Qiulian has since become a Buddhist nun, though there was no confirmation from Qiulian herself.
Meanwhile, John Hong, 56, quit local showbiz in 1992, after getting embroiled in a scandal that rocked the nation.
According to a report from that year, John, who was poised to become the next big SBC star, was accused of molesting an actress at a nightclub, and sneaking in his girlfriend into SBC grounds to have sex in the artistes' restroom.
These accusations were brought to the media's attention by a fellow actor, who remained anonymous.

Though John denied these allegations, he eventually resigned from SBC to return to his birthplace, Hong Kong.
At that time, the 25-year-old said he was returning to Hong Kong to carve out a career for himself there. Unfortunately, it never really took off, and he has remained under-the-radar since.
Finally, we have Sean Say. The former actor appeared in a number of dramas alongside Fann Wong, including 1999's Out To Win, and the classic 1995 drama Chronicle of Life. He is also a close pal of Christopher Lee's and was one of Chris' best men at his wedding to Fann. 
Unfortunately, Sean has kept an extremely low-profile since exiting showbiz in the early noughties, with little else known about his whereabouts now.
Photos: Xiang Yun/Instagram, RTS, SBC, TCS and Mediacorp artistes/Facebook, Zoe Tay/Instagram, Huang Yiliang/Facebook, 8DAYS, Edmund Chen/Instagram, Pan Lingling/Instagram, Chen Liping/Instagram, Tang Miaoling/Instagram, Sean Say 成建辉/Facebook