Rita Wilson reacts to photos of her and husband Tom Hanks 'scolding' man on Cannes red carpet
Everything's been blown out of proportion. 
Rita Wilson has offered her side of the story about her husband Tom Hanks supposedly losing his cool with a staffer ona Cannes Film Festival. 
Hanks and Wilson were photographed apparently looking irate as the two-time Oscar winner pointed a finger at a man who has been named as Vincent Chapalain while they attended the premiere of his new film Asteroid City on Tuesday (May 23).
Speculation had been rife Hanks had lost his cool as he was pictured looking stern and pointing at Chapalain. The exchange lasted only moments as the couple walked the red carpet.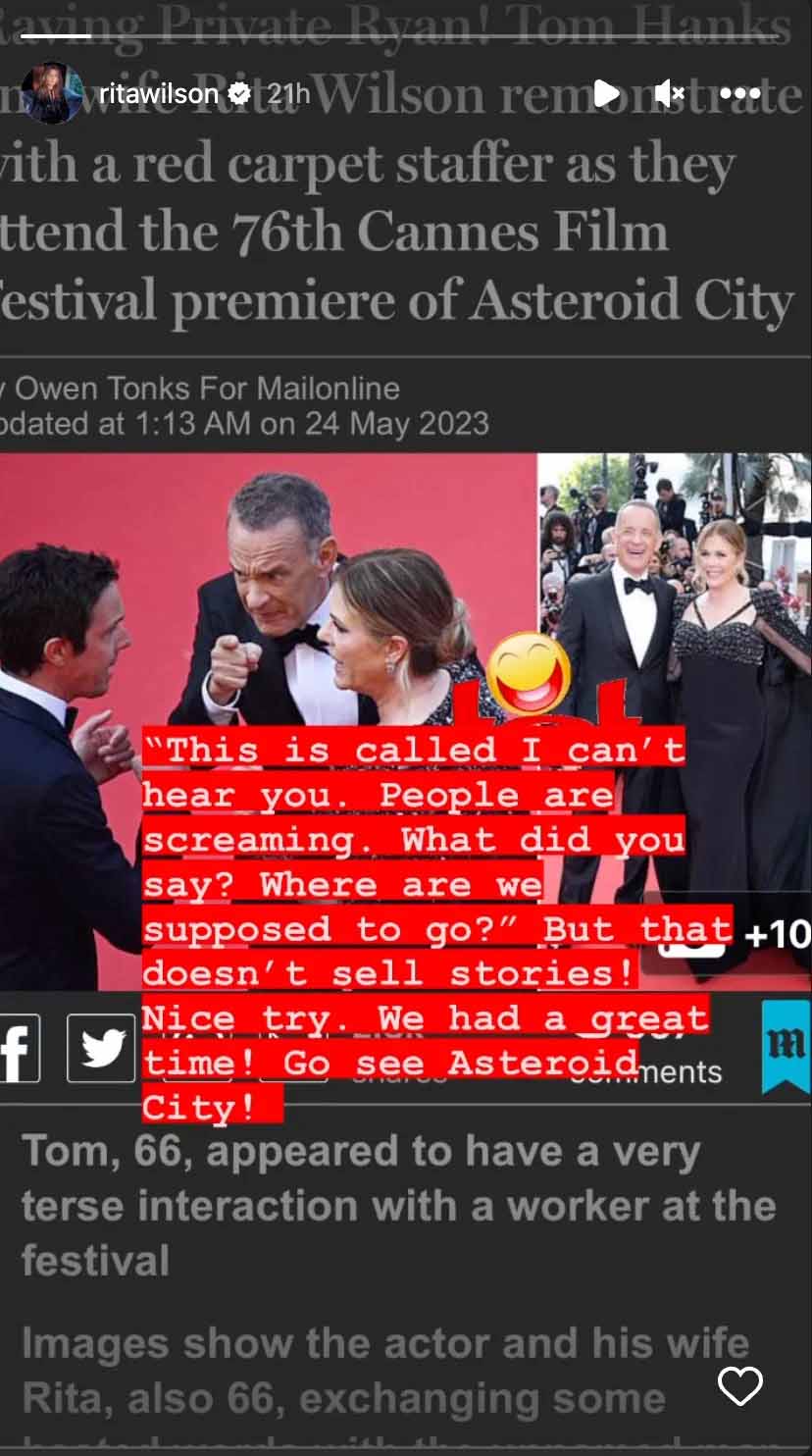 But nothing can be further than the truth. 
Wilson — and Chapalain — have now brushed off speculation they were rowing by saying it was simply a discussion about where they were meant to be going while crowds of fans were screaming so loudly they could barely hear.
The Sleepless in Seattle actress captioned a screenshot of the exchange on an Instagram Story with the message: "This is called 'I can't hear you. People are screaming. What did you say? Where are we supposed to go?'
"But that doesn't sell stories! Nice try. Go see 'Asteroid City'!"
Chapalain backed her version of events when someone asked him on his Twitter page what had gone on.
That person asked: "Did Tom Hanks and Rita Wilson get confused with security? An explanation?"
Chapalain replied: "They just asked me if they should go back to the start of the mat with the rest of the film crew (I'm not security) wink."
The viral pictures followed Hanks' BBC interview where he shared that he was guilty of occasionally losing his cool while working on film sets.
While discussing his debut novel, The Making of Another Motion Picture Masterpiece, which is loosely inspired by his own career, Hanks said, "I have pulled every single one of those moments of behaviour myself on a set," he said. "Not everybody is at their best every single day on a motion picture set.
"I've had tough days trying to be a professional when my life has been falling apart in more ways than one and the requirement for me that day is to be funny, charming, and loving — and it's the last way I feel."
Asteroid City
opens in cinemas on Aug 17, 2023. 
The Making of Another Motion Picture Masterpiece
 is now in stores. 
— BANG SHOWBIZ
Photo: TPG News/Click Photos
Watch exclusive 8Days interviews on meWATCH and Mediacorp YouTube Channel.