Ase Wang On Making The First Move On Her Fiancé, Why She Didn't Think He Was Going To Propose, And Her Shocking Wedding Plans
Moral of the story: Girls can make the first move too!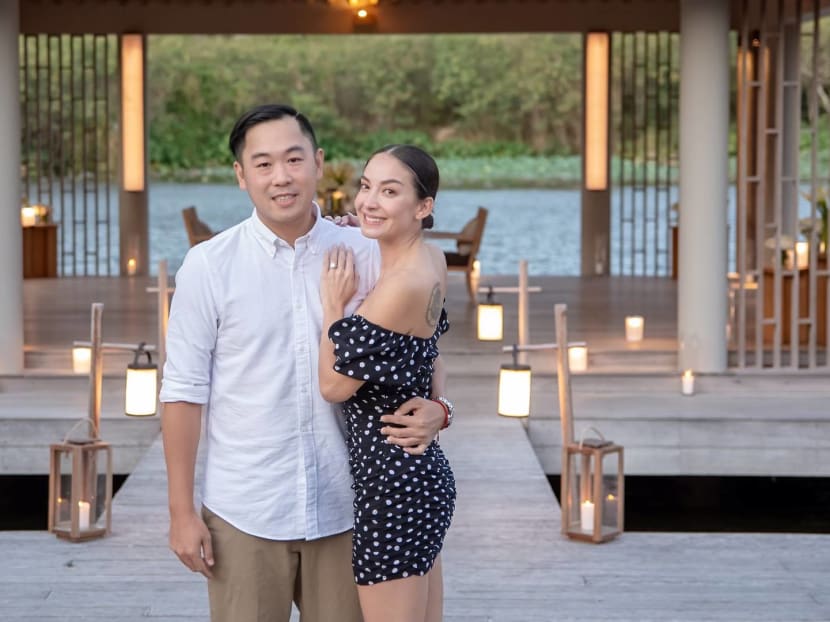 Ase Wang's love story with her fiancé, American-born, Thailand-based Chinese entrepreneur Jon Lor, sounds like something you'd expect to see in a feel-good romcom. But it couldn't be more real for the actress, model, entrepreneur, and Phoon Huat scion.
For starters, Ase tells 8days.sg that she and Jon, both 38, actually got to know each other through mutual friends about five or six years ago, and they were even neighbours at one point. However, she didn't realise she had feelings for him until about nine months ago, after she had just come out of a "pretty unhealthy relationship" with a singer. (P/S: She refrained from naming names, but Ase announced her split from Thai rock star Preeti Barameeanant in July last year, so feel free to do the math.)
"I remember sitting down and thinking, I'm obviously looking for love in all the wrong places and choosing the wrong people, and what I think is my type is obviously not it," Ase, who is based primarily in Bangkok, mused during our WhatsApp call. "And then I was like, 'Why am I always thinking about Jon?' Like, 'Oh, Jon would never do this' or 'Jon would never do that', and I realised that he is exactly what I want."
Instead of being the passive "princess in the tower waiting to be rescued by her Prince Charming", Ase boldly decided to make the first move, and invited Jon to meet her at a bar so she could pour her heart out to him.
Spoiler alert: it turned out well. Obviously.
"I'd basically prepared this whole speech telling him how I feel about him and that I'd been thinking about him, and that I just needed to get it off my chest and it was okay if he didn't feel the same way," she recalled. "And he was like, 'Of course I wanna see where this goes.'"

Naturally, Ase admitted that she was "nervous and frazzled" before embarking on her big confession, and she had confided in her manager beforehand. "My manager was fully supportive and said, 'What do you have to lose? Just do it.' At first I wanted more time to think about it, but then I just went, screw it, I'm gonna do it. If you want something, you've gotta go out and try getting it. It's better knowing the truth than thinking, 'What if?'. I don't like being in that grey 'what if?' part, so I would have been okay even if I had been rejected, because at least I got it off my chest."
Since then, Jon has told Ase that he gives her props for daring to open up to him like that, because he's never had a girl do that before. "He did tell me that he's always liked me and he would have eventually asked me out if I didn't, but it probably might have taken more time, and since I was so straightforward, he wasn't left guessing. The moral of the story is: Girls can make the first move too! (Laughs)"
8 DAYS: What is it about Jon that made you know that he is The One?
ASE WANG: I feel like when you stop having anxiety about your future with somebody and you're a hundred per cent confident you're ready to go through life — which is already so difficult — with this person, that's when you know. For me, I always had this anxiety with the people I dated in the past, like, what's the future going to be like? What if something goes wrong? And as soon as that anxiety stopped [with Jon], I finally understood what people mean when they say, "You know when you know."
Can you tell us more about your upcoming wedding?
I'm actually not having a wedding! We're going to ROM on March 31, then my three best friends are organising a small dinner at Corner House at the Botanic Gardens that night, and the next day, we will be going to the Maldives. We'll be there from April 1 to 5 and will just be having a small ceremony with the exchange of rings on the 3rd. It's just going to be me, Jon, my parents, and his parents.
Why do away with a big traditional wedding?
Well, I'm still doing a tea ceremony with my grandma and parents, but other than that, I really want to be in the moment, and I feel like if I had a big wedding, I would not be able to do that because I'd be too busy running around and checking up on people. A lot of my friends who had big weddings say they can't remember a lot of things, but I want to remember every single moment.
I love going to big weddings but I never wanted to be the one with the big wedding. Maybe it's because I've worked in the entertainment industry since I was 18, so I've always been dressing up and going to events and being around people, so I wanted my wedding to be the complete opposite.
And your parents are okay with that?
They're totally okay with it. Both my side of the family and my fiancé's are very open-minded, and they're like, "Oh, whatever makes you kids happy." But everyone is shocked at how simple I want it to be because they always thought I was going to have this massive wedding. Even my own friends are shocked!
What were your parents' reactions when they found out you were engaged?
They actually knew before I did, because Jon sent them a photo of the ring. Everybody knew I was getting engaged but me. (Laughs) I knew we were gonna get married because we'd spoken about it and booked our ROM date, but it was so organic that I thought that maybe there wouldn't be an engagement and we'd go straight into marriage. And I was led to believe that too because my fiancé and friends played this very big prank on me for two months, where they gathered together and were like, "Let's make her think that she's not getting engaged."
Did you ever talk to Jon about wanting a proposal?
I did want to talk about it but I thought to myself: eye on the prize. I was dying at first, though. My girlfriends would say, "You're all getting married so quickly and he hasn't mentioned anything about an engagement so just let it go." And they pushed it so far to the point that I ended up sitting in a bathtub, crying, and going, "I'm never getting that moment, whyyy?" (Laughs) Jon would also send me messages and ask, "What do you want for your wedding band?" So unromantic! I wondered if he was taking advantage of the fact that I'm so chill with him. (Laughs) But I think I would've been okay if it didn't happen.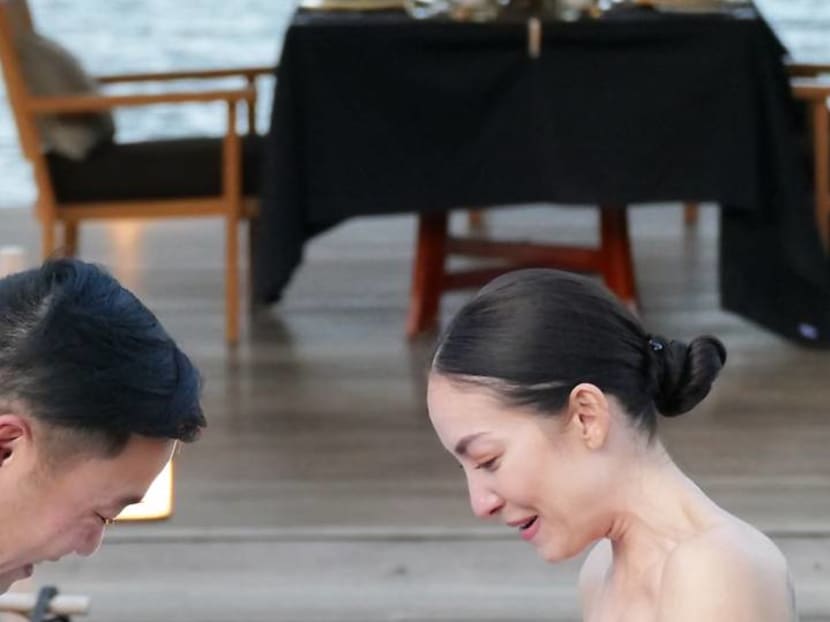 So tell us how the proposal went down.
So what happened was, we went on holiday to Vietnam, and I literally thought we were just going on holiday, that's it. We were in Amanoi (a five-star resort) and one day he asked me to dress up because we were going to eat at a Michelin-starred restaurant. I said, "Why do I need to dress up in Vietnam?" and he was like, "No, it's a Michelin-starred restaurant and everybody is going to be dressed up," and I thought, okay, maybe he just wants to do date night.
When we were there, the staff — who were all in on it — suddenly asked if we wanted to go next door to have a look at the spa, and Jon said, "Oh, it's so nice here. Why don't we take a picture?" and gave his phone to the staff… and that's when he went down on one knee.
Apparently I was laughing and crying and laughing and crying at the same time because I was so stunned! (Laughs) And then all the stories started coming out like, "You know I was crying in the bathtub like two days ago because I thought we weren't getting engaged!" and Jon said he felt really bad and almost wanted to stop the prank at one point, but my girlfriends insisted that they go on with it.
You've frozen your eggs three times (in 2017, 2018, and 2019). What are your plans for starting a family?
I still have to do one more round when I decide to do IVF. I definitely want to start a family and try to have at least one child, but that being said, we're the kind of couple who is like, just because we have a baby, life isn't going to stop 100 per cent. Things might change a little bit, but I won't be falling into that category of mothers who are always obsessing over diapers or something. I want to be very chill about it, so I'm also very chill as to when that happens.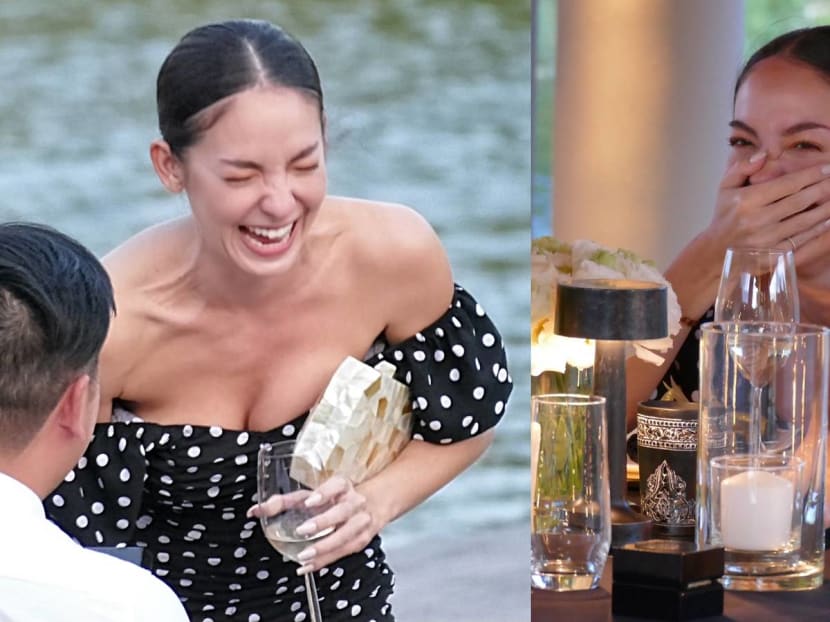 Photos: Beam Artistes, Ase Wang/Instagram