Sharon Au's SHN Cut Short By 4 Days, But She Enjoyed Quarantine So Much She Didn't Want To Leave
She was so reluctant to check out today, she stalled for time by cleaning the room till it was almost the way it was when I checked in , she tells 8Days.sg.
The Ministry of Health announced yesterday (Jun 23) that the stay-home notice (SHN) period for travellers from higher-risk countries will be shortened from 21 days to 14 days starting from today (Jun 24). You'd expect most folks in that situation to be jumping for joy at the news.
Not Sharon Au.
The vivacious actress-host has been serving SHN at Royal Plaza on Scotts since arriving in Singapore from Paris on June 7, and was initially suppopsed to serve her 21-day quarantine until June 28. But due to the latest MOH guidelines, it has since been cut short by four days. This means that Sharon would be able to emerge from isolation today (Jun 24).
When 8Days.sg contacted to get her thoughts on being able to check out four days earlier, we expected the 45-year-old to be jumping for joy.
After all, the Paris-based star has seen enough of the inside of hotel rooms for extended periods of time after jetting back and forth between France and Singapore, right?

To our surprise, we got a string of texts from Sharon expressing how "reluctant" she was to leave her "sanctuary and me-time" after 18 days in isolation.

When we texted her at about 11am today, Sharon told us, "The hotel has called me five times since this morning [to ask], 'Miss Au, are you ready to go home?' I am not. I am still packing (laughing emoji).
"I LOVE MY QUARANTINE. I BECAME SO CREATIVE. DON'T CHASE ME OUT. I AM NOT READY TO FACE THE CHAOTIC WORLD IT'S MUCH SAFER IN MY SMALL ROOM (sic)," she, er, yelled over text.

Ever since she began her quarantine at the Orchard Road hotel earlier this month, Sharon has been filling her days with creative endeavours, from playing musical instruments to doing ballet, which she documented on her socials.
According to Sharon, her time in quarantine made her realise that she's "someone who possesses tremendous discipline in picking up new languages, new musical instruments, [and] new skills".
This reminded her a lot of her days as a student at Tokyo's Waseda University, which she graduated from in 2011.
"I was reluctant to leave because I enjoyed tremendously the me-time I had," she said. "The past 18 days motivated me to be more creative than I've ever been. I felt safer in the room, than out there in the real world. I know it is warped to feel this way but I can't help it. (Laughing emoji)"
Despite her unwillingness to check out of the hotel, Sharon, whose two recent COVID-19 tests came back negative, eventually did so at 1pm this afternoon. But not before she "lingered and bid farewell to [her] cocoon".
"I was reluctant to leave. I cleaned and tidied up the room till it was almost the way it was when I checked in," she said.
In her Instagram post announcing her shortened quarantine period, Sharon joked that it must have been her Swan Lake dance performance that "touched the hearts of the authorities" and convinced them to release her ahead of schedule.
"Later on, my friends started forwarding me CNA's news on the new quarantine regulation. So it wasn't my dance after all," she quipped.
Of course, despite all her quips and jokes about quarantine, having extra time due to the shortened quarantine means she's got more time for the main reason for coming back to Singapore this time.
"My one and only plan for this trip is to spend as much time with my mum as possible," she explained. "So I must apologise in advance to rejecting all other invitations (laughing emoji)." Sorry, Sharon's friends.
Sharon, who has been working as an investment director in a private equity firm in Paris since 2018, will be jetting back to France in late August.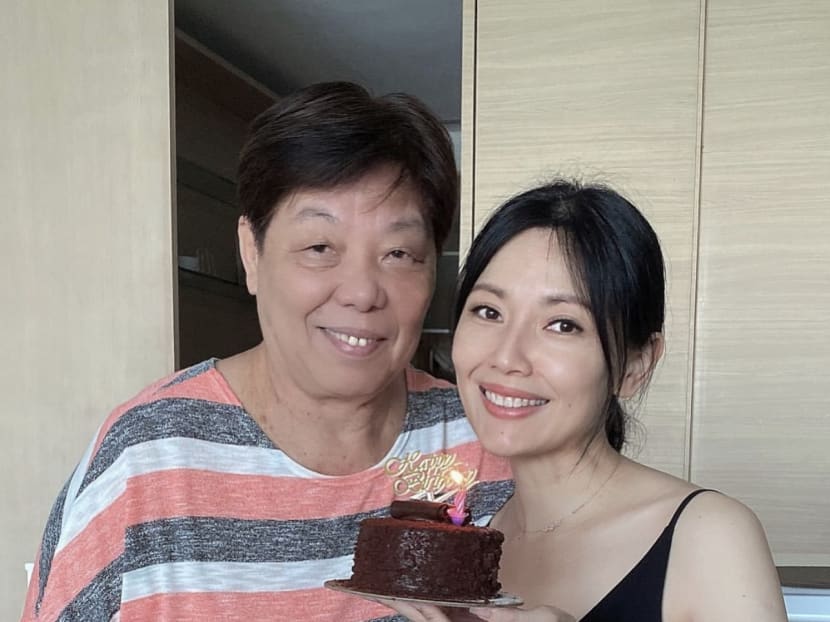 Photos: Sharon Au/Instagram