Li Ronghao Proposes To Rainie Yang On His 34th Birthday
They've come a long, long way since that wefie they "accidentally" uploaded on Facebook.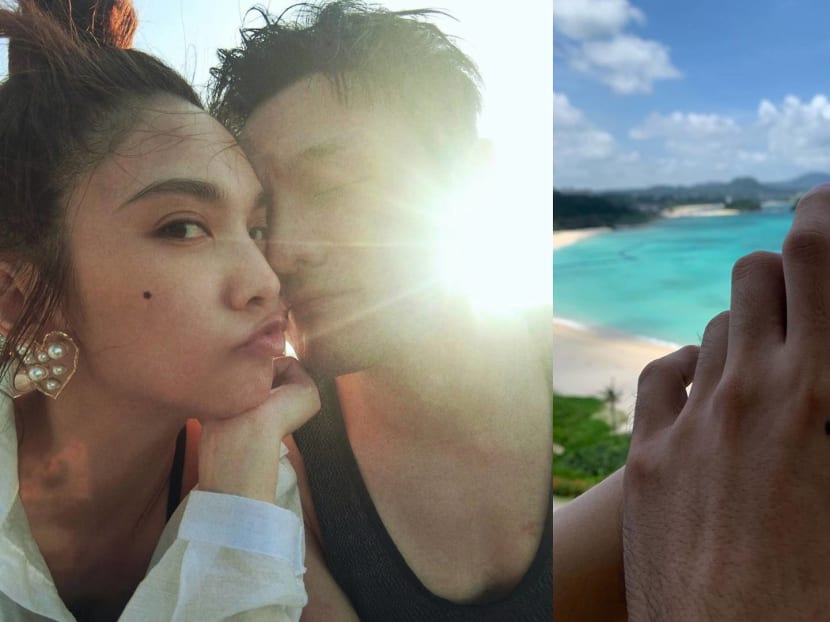 Remember Rainie Yang's 2005 track 'Ai Mei' ('Ambiguous'), a heart-wrenching ballad about the pain and uncertainty of being in a relationship where you're "more than friends, less than lovers"?

It wasn't until 10 years later that it seemed like she had successfully progressed from that frustrating phase with fellow singer Li Ronghao. Back then in 2015, the pair first sparked dating rumours when an intimate picture of them had somehow made its way to Ronghao's Facebook page, supposedly by mistake on Rainie's part.
While the couple was initially reluctant to say much about their romance at first, they gradually became more comfortable with being open about their affections for one another.

Then, in September 2017, Ronghao declared in the most epic way that yes, Rainie is his girlfriend. How? When she showed up unannounced on stage at his Taipei concert, he planted a big smooch on her adorably scrunched up face (the kind you might have made as a kid when your mum kissed you in front of your friends).
Things seemed to be warming up even more when Ronghao uploaded his first photo of Rainie (albeit one that had gotten the babyfied treatment on Snapchat) on Instagram on June 4 this year, wishing her a happy birthday.

She returned the favour in the wee hours of this morning (Jul 11), sharing a lovely snapshot of the two of them fishing on a boat, marking Ronghao's "debut" on her page. "It's this man's 34th birthday today. Happy birthday!" she wrote in her caption.
Hours later, Ronghao announced that he had popped the question to his 35-year-old girlfriend (now fiancée), and broke the good news to his followers with a sunlit wefie (this time, not posted by accident) and a short but sweet note thanking her for saying yes.
Accompanying the post was a close-up of them holding hands, with the giant, sparkly rock on Rainie's ring finger being the centre of attention.

Congrats to the happy couple! We look forward to seeing more (intentionally uploaded) wefies from them online.
Photos: Rainie Yang's Instagram, Li Ronghao's Instagram, PBE Media