Sedap Modern Nasi Lemak With 'Taiwanese-Style' Fried Chicken & Ramen Eggs At Hip Bugis Cafe
The chef here used to work at the S'pore outpost of Balinese restaurant Naughty Nuri's.
What began as a plan for a fried chicken franchise last October morphed into a modern nasi lemak concept for friends and business partners Gideon Tan, Andrew Pai and Kent Mok. Several months after running their fledgling business, Husk, out of a central kitchen, the enterprising trio now serve fragrant coconut rice with skillfully executed fried chicken, fish, and beef rendang out of tropical-looking cafe Husk in Bugis Cube.
All photos cannot be reproduced without permission from 8days.sg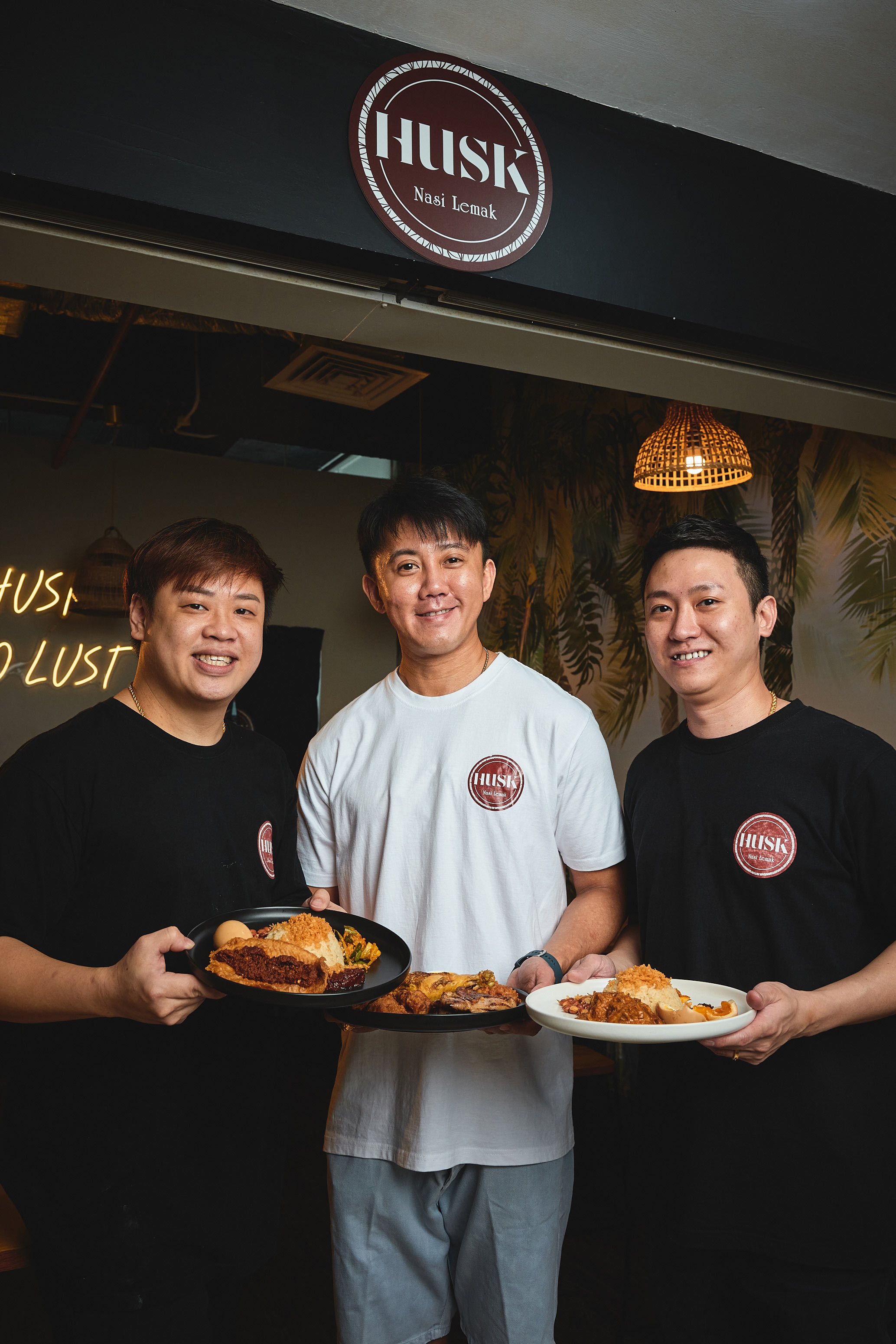 The three bros
Gideon (left in pic), Andrew (middle) and Kent (right) have been friends for over a decade and shared a dream of running an F&B business together.
Gideon is the only chef among the three, while Andrew is an investor in several restaurants in Taiwan (his wife is Taiwanese).
In 2019, the three initially planned to set up a franchise for a fried chicken recipe sold at one of Andrew's restaurants in Taiwan. What began as a suggestion to sell rice alongside the chicken ended up in a pivot to a nasi lemak biz, so they set about cooking and delivering out of a central kitchen in Queenstown – then later a central kitchen in Duxton – before working their way up to a shopfront at Bugis.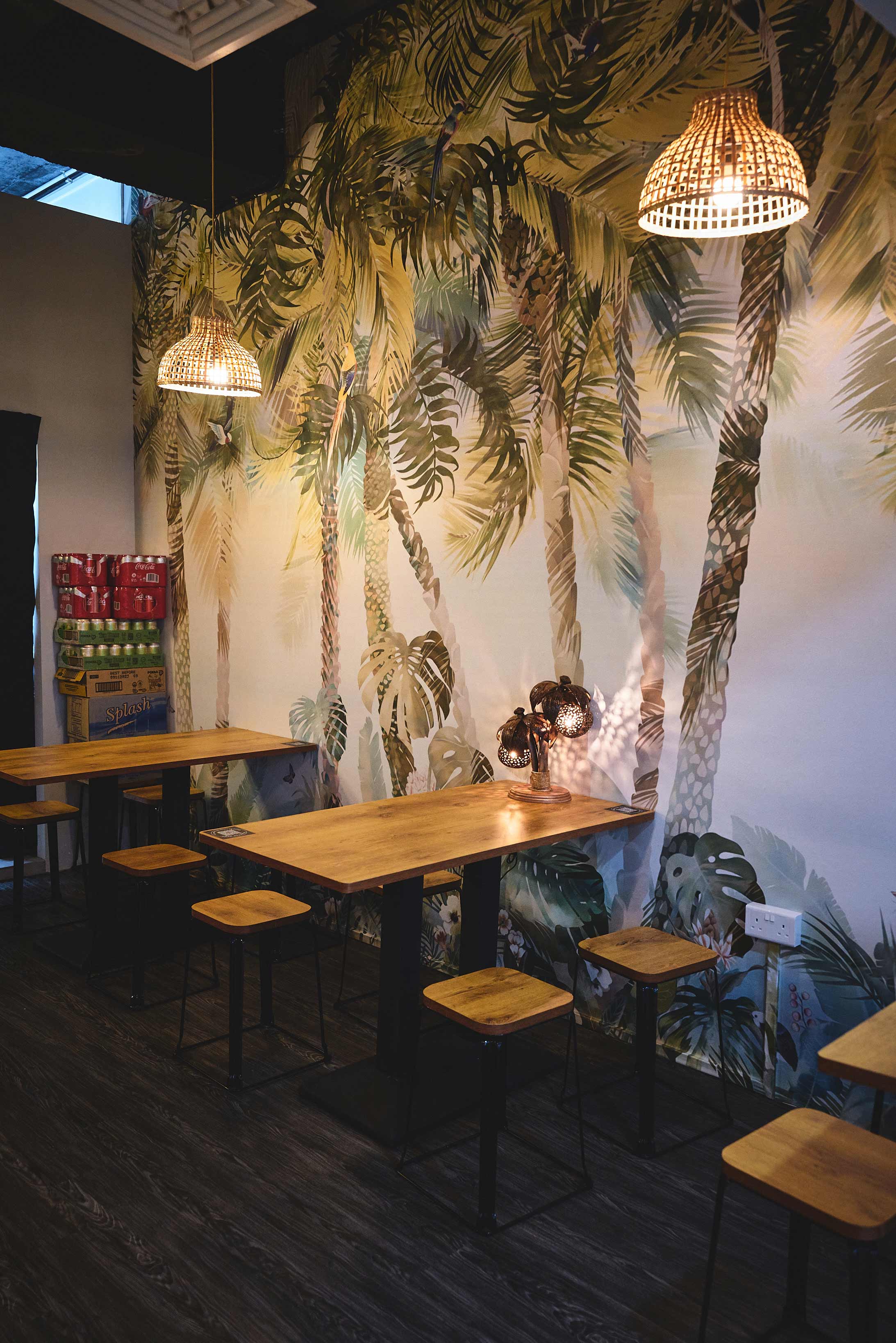 Bali vibes
Husk – named after coconut husks, a nod to the coconut milk used in nasi lemak rice – found enough success as a delivery biz that the trio decided to get a physical unit. Last July, they spent $10,000 on a 20-seater space, which they spruced up in a tropical theme with palm tree-splashed wallpaper, rattan lights and coconut table lamps, on the third floor of Bugis Cube.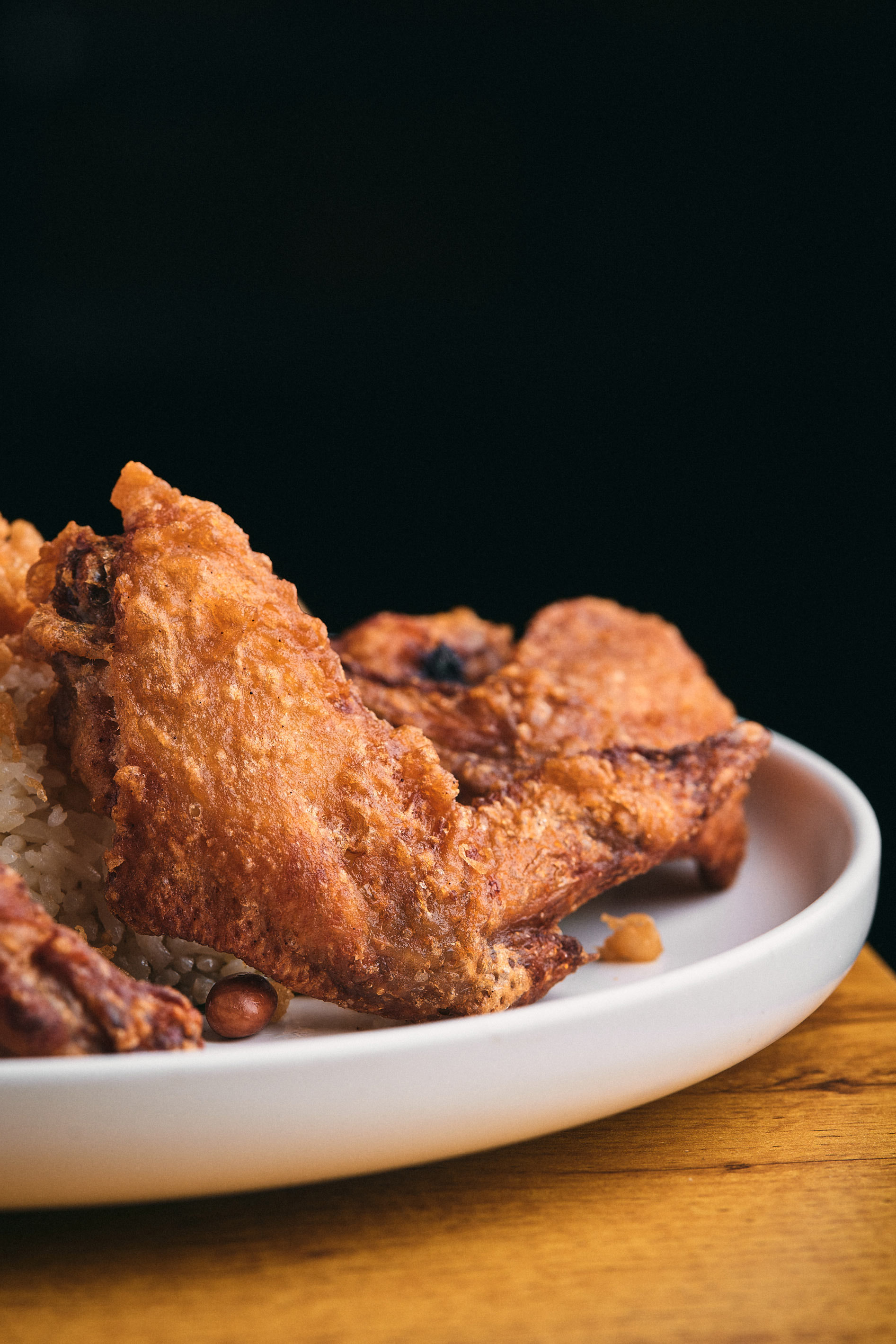 It's Bugis Cube, okay?
Don't go to Bugis+, which is the big mall attached to Bugis Junction by a walkway. "Many customers get confused," Kent says.
Instead, Husk is nestled in a maze of beauty establishments that make up Bugis Junction's overlooked neighbour. The shop sits opposite a hair salon, but don't judge it by its location – the food here easily fits in at a smarter restaurant, and they bring the dishes to your table.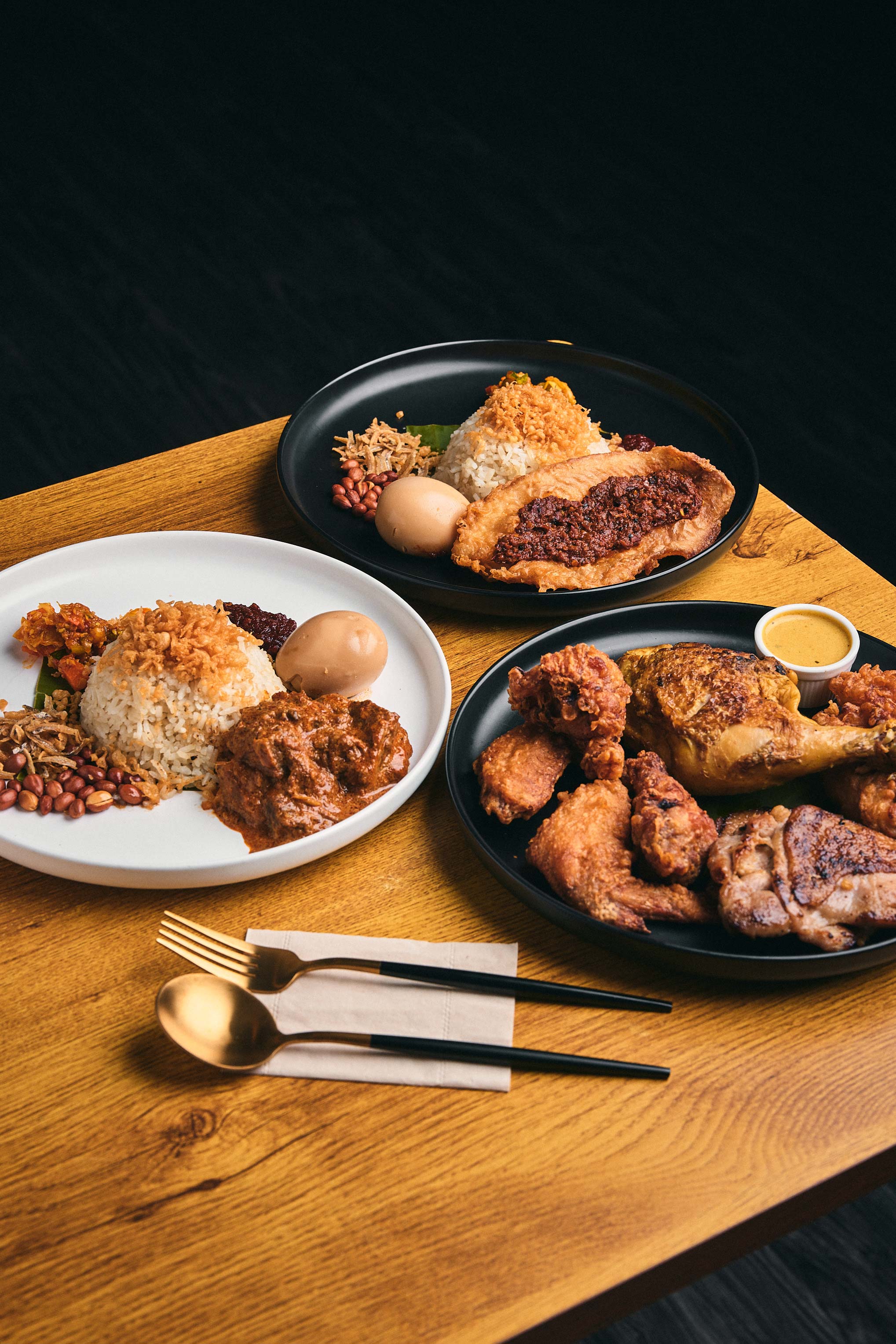 How they split the work
Gideon, 33, cooks, while Kent, 33 and Andrew, 34, take turns managing front of house tasks like taking orders and serving food. Kent, a former freight forwarder whose business was hit by the pandemic, has a seven-month-old girl. Andrew is married with no kids, and Gideon is single.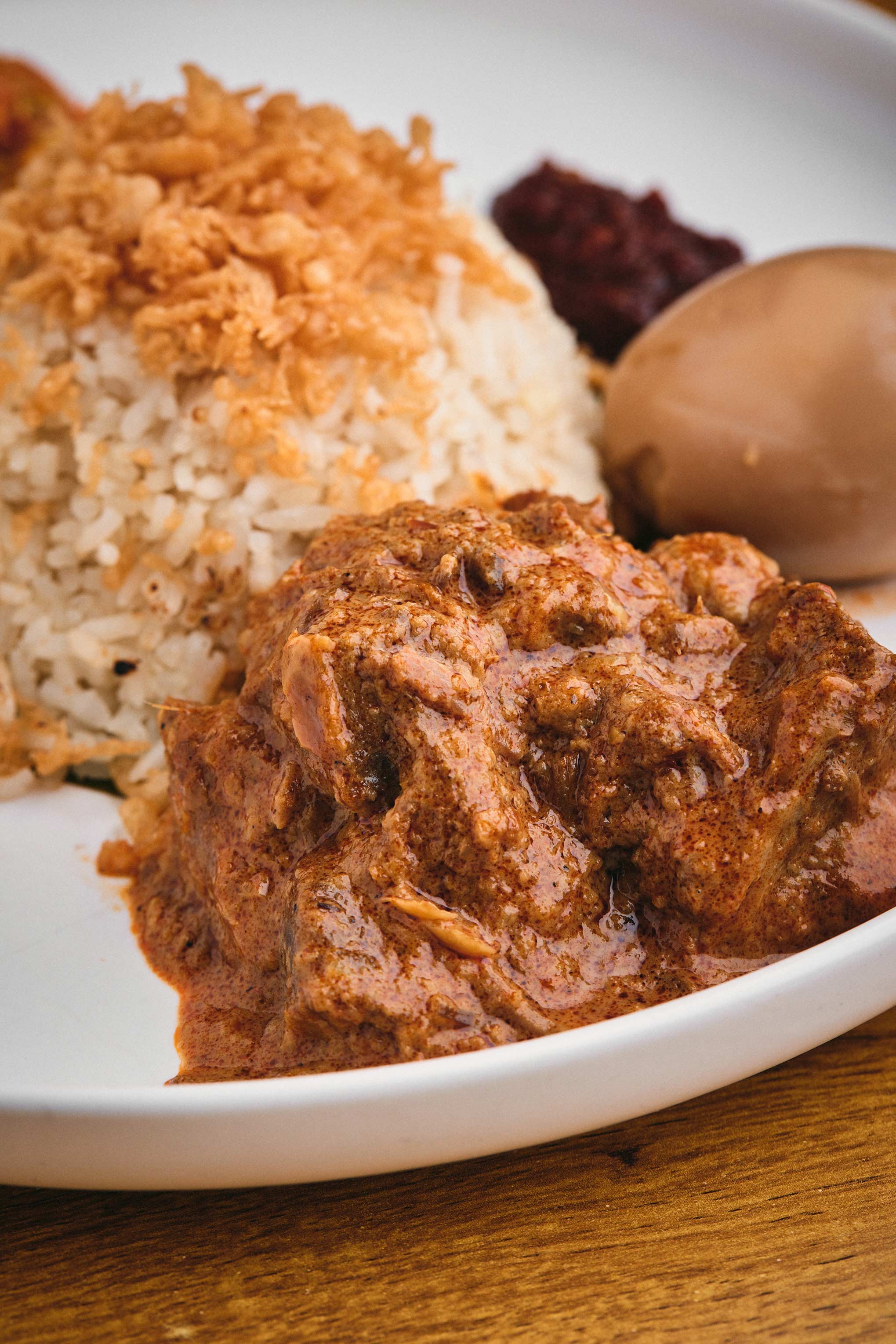 Ex-Naughty Nuri's chef
All of Husk's menu items are courtesy of Gideon, who, thanks to a large circle of Malay friends as a child, frequently dined on home-cooked Malay classics including – what else? – nasi lemak. "To me, Malay food is comfort food," the chef says.
The Shatec grad began his cooking career in 2006 as a trainee at Shangri-La Singapore's The Line restaurant before moving on to now-defunct Marina Bay gastropub Foodology. He then spent four years as head chef at Food Matters, then Wicked Grill, and finally Naughty Nuri's. All three brands come under the Massive Collective group.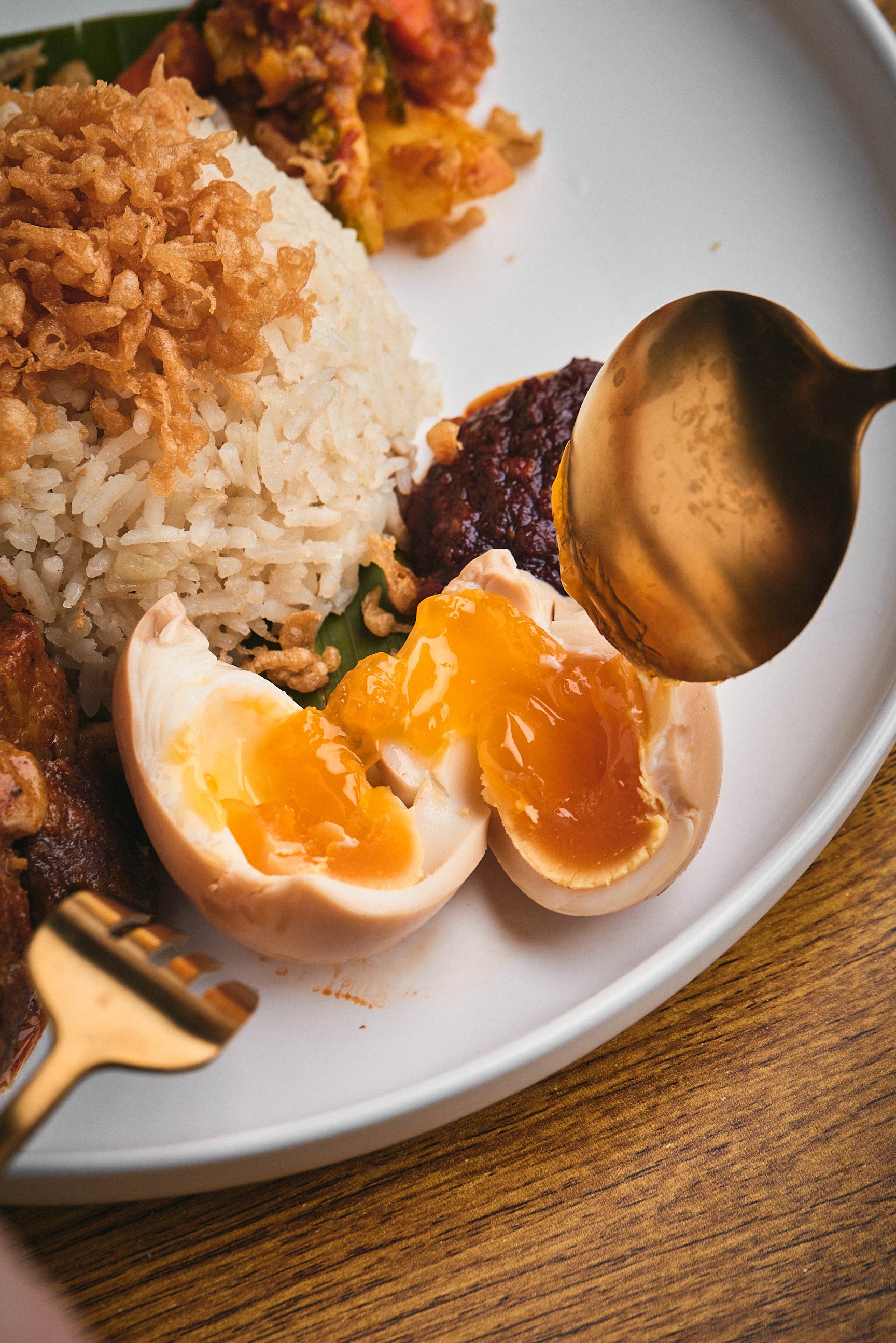 Food made à la minute
Unlike other nasi lemak places, which fry batches of ingredients early in the day and let them sit, Husk makes every plate to order. "We pride ourselves on the freshness of our food," Kent says. All three sauces – lemak sauce, assam pedas sauce and sambal chilli – are also made in house.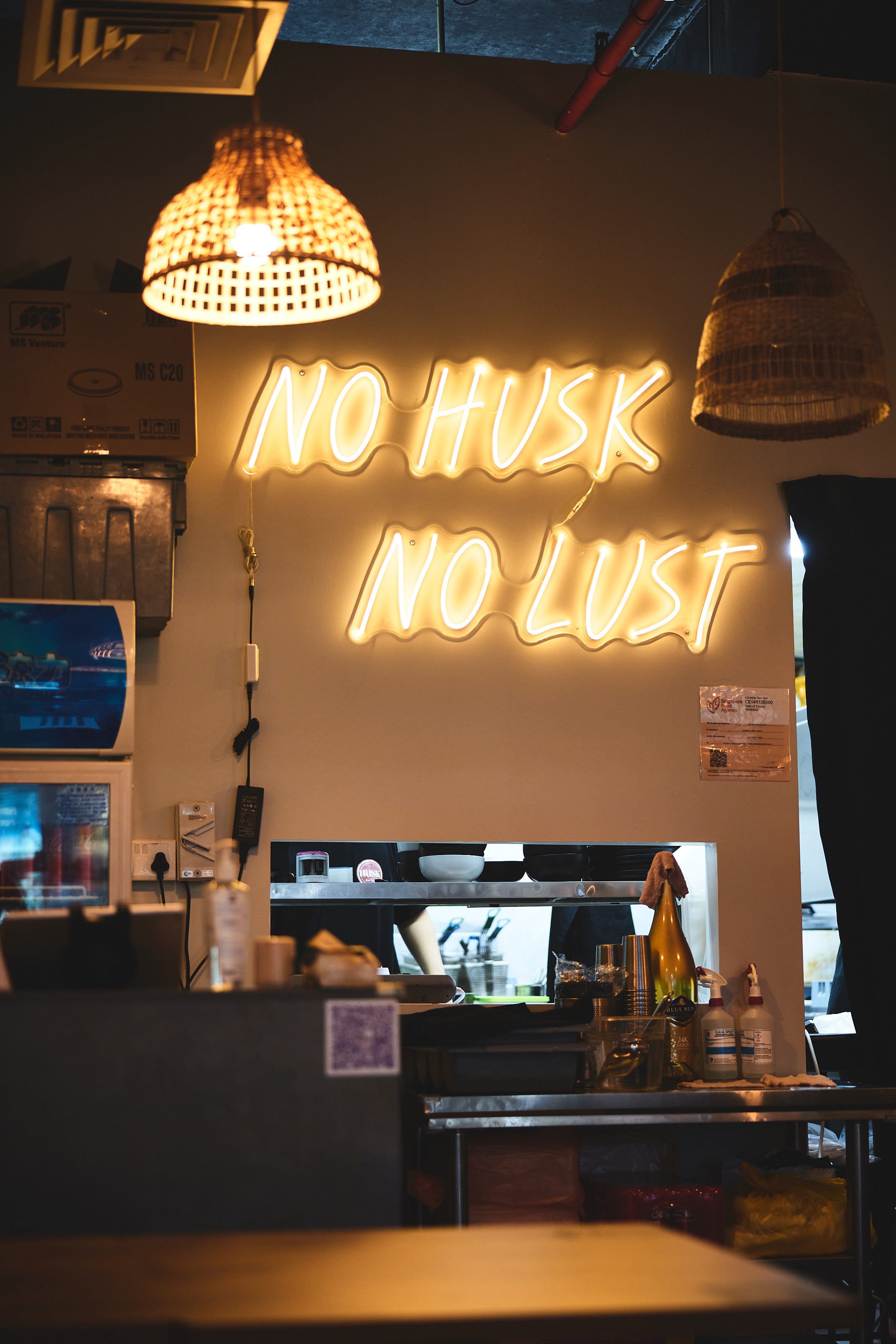 Big dreams
Though social distancing has battered walk-in traffic over the last half a year, Husk's solid base of delivery customers kept things going. The biz now sells about 100 plates of food a day, earning them enough to hire a kitchen assistant.
Meanwhile, the three bosses are already plotting how to turn their lone stall into a nasi lemak empire. On the cards are Halal certification (the dishes already don't contain pork or lard), plans for more outlets in the coming months, and a shift to a larger, "cafeteria-style" eatery in the heartlands when their lease ends in June.
Says Gideon: "We want to bring Malay cuisine to another level, and serve restaurant-quality food – but not at restaurant prices."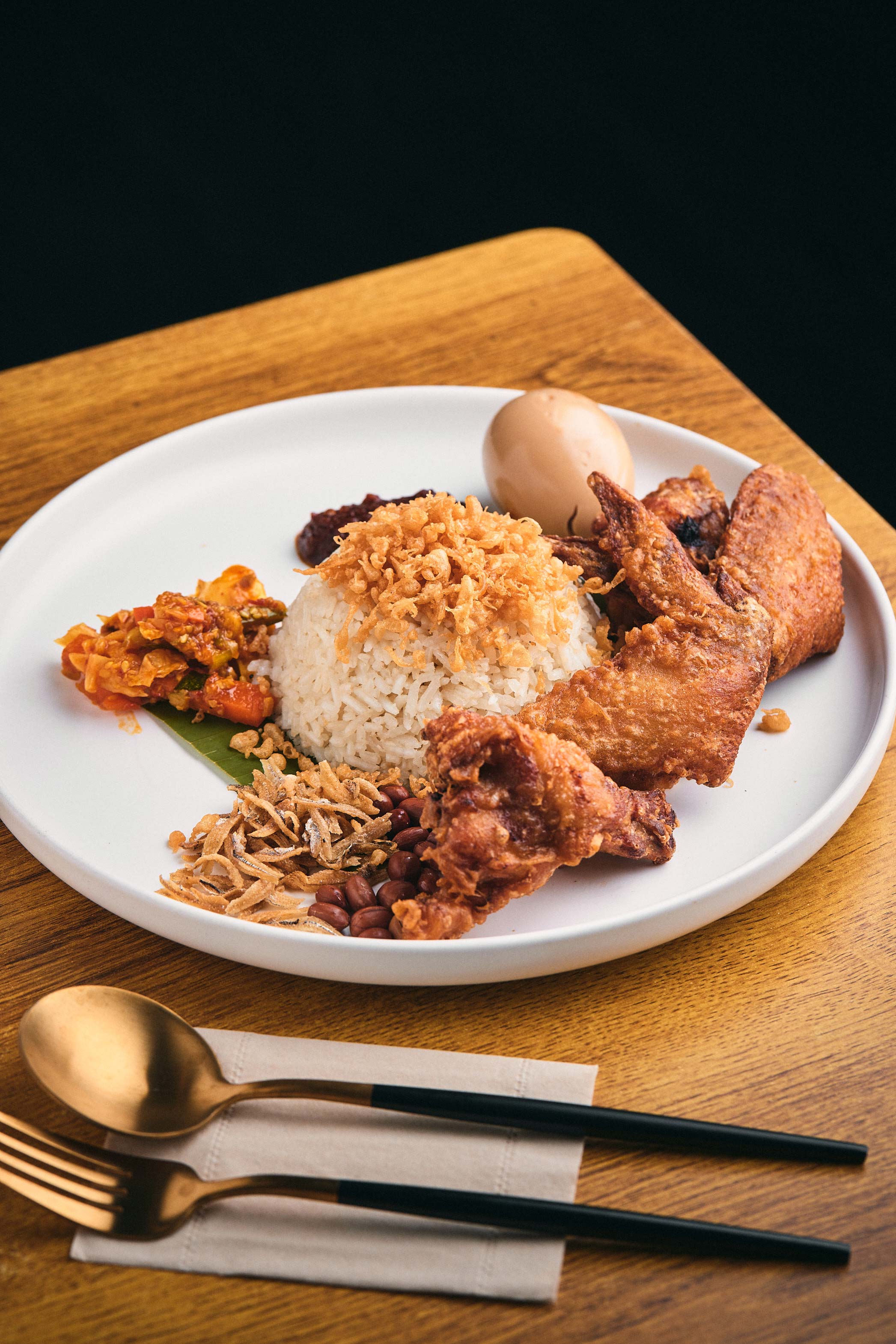 Chicken Wing Twins Set, $7.80 (8 DAYS Pick!)
We like the restaurant-quality presentation of all the dishes. And they taste as good as they look.
Ironically, the chook, made using a fried chicken recipe from the Taiwanese restaurant, doesn't exactly taste like Taiwanese fried chicken. Instead, it's more like prawn paste chicken and very savoury. Brined 24 hours in a mix containing sugar and other secret ingredients (all the chicken items get the same brine treatment), these wings are shatteringly crisp, well-seasoned, and yummy.
The Thai jasmine pearl rice used in each dish is a labour of love: ten ingredients, including coconut oil, coconut water, and coconut milk, are added to the grains, which are then wrapped in pandan leaves after steaming. The rice is fluffy and lemak, but inconsistent in flavour: on our second visit, we can't quite make out much coconut or pandan smell.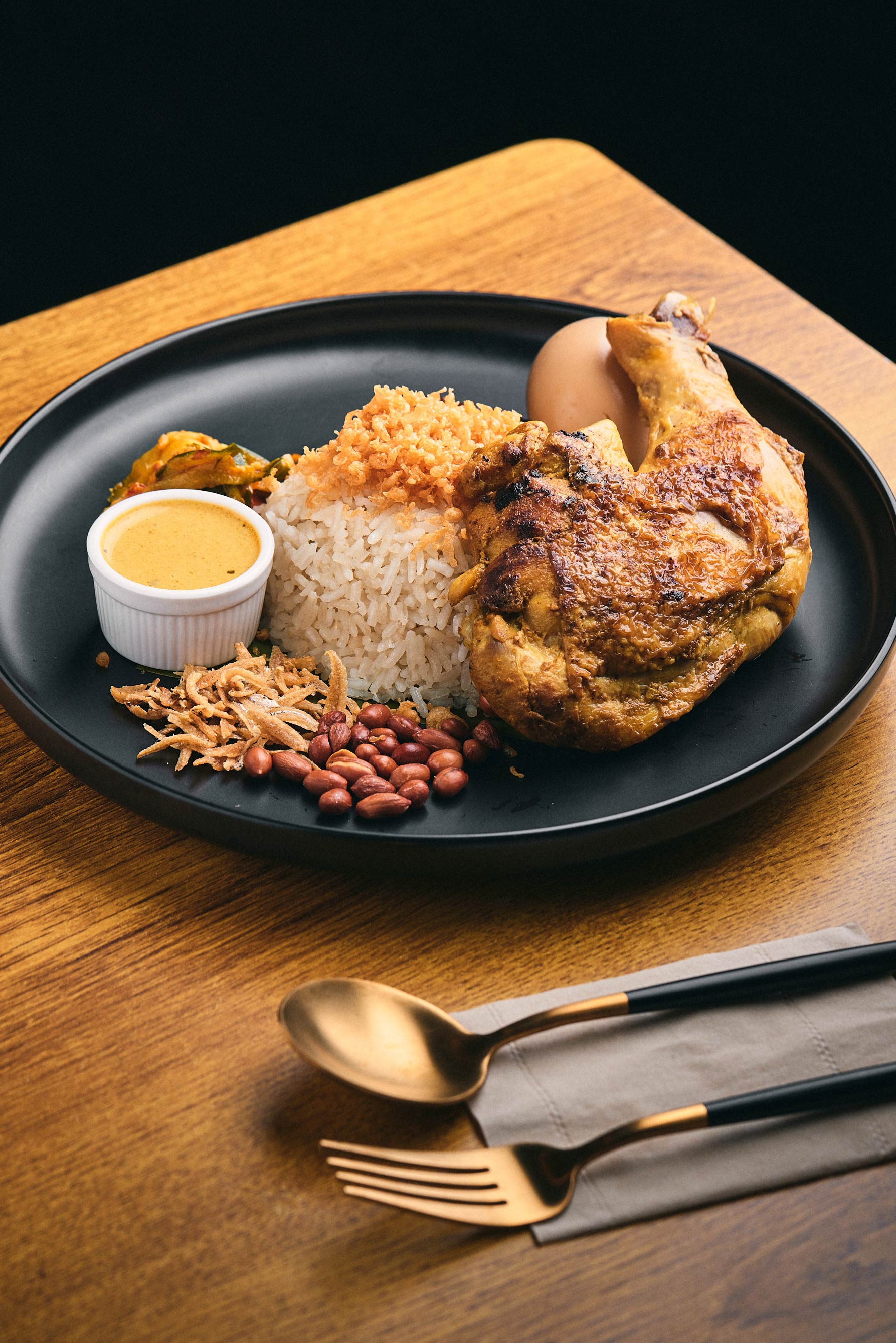 Wholesome Lemak Drumstick, $11.50 (8 DAYS Pick!)
The most popular item on the menu. The large chicken leg, cooked sous vide, is fork-tender and goes well with the curry-like sauce, which boasts turmeric, coconut, and chilli padi. We like that the rice here comes topped with crunchy morsels of fried batter. Shiok.
Instead of a fried egg, Husk's meal comes with house-made ramen eggs boasting gooey yolks and salty, tender whites marinated in soy sauce and honey for a richer flavour.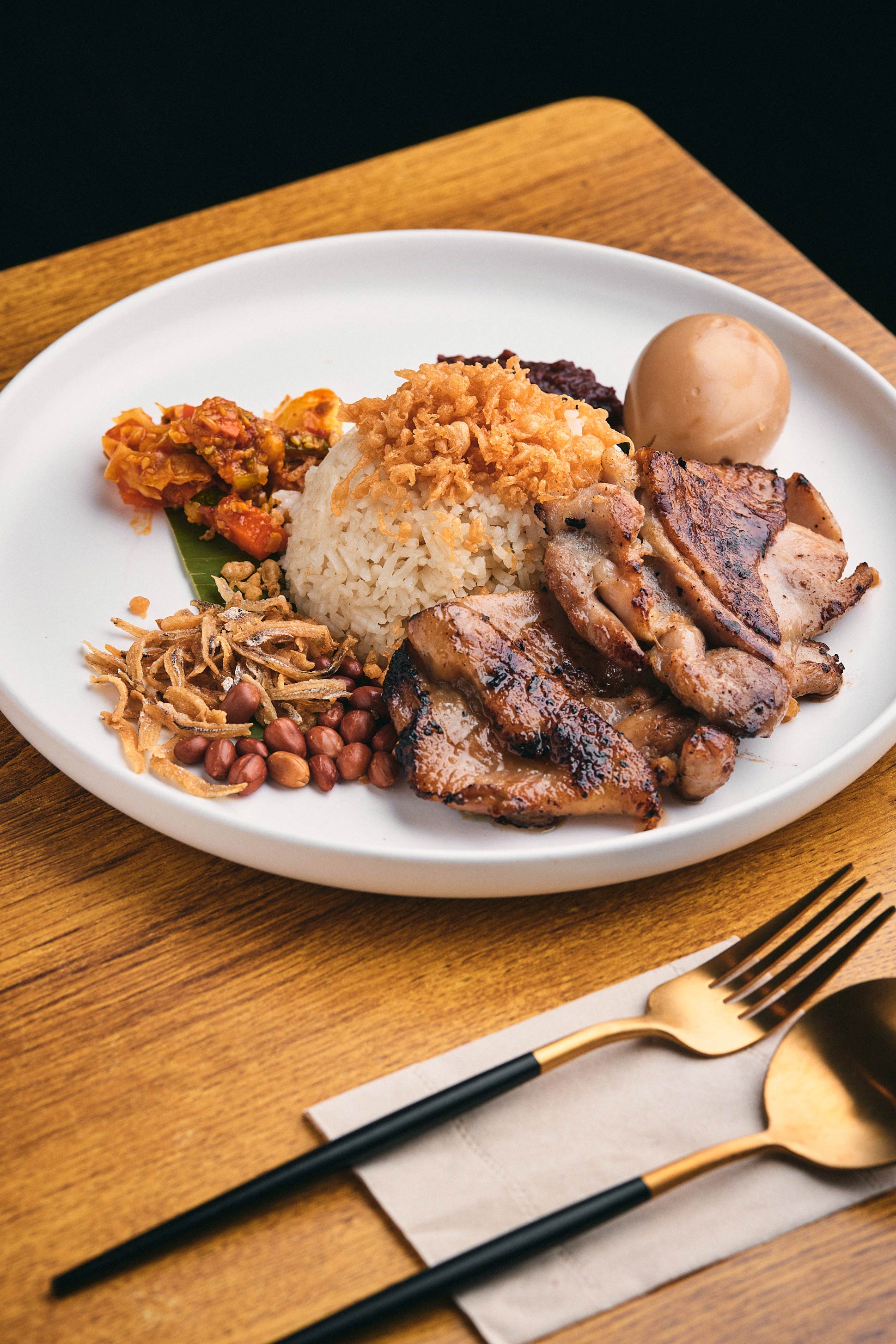 Grilled Chicken Set, $8.80 (8 DAYS Pick!)
Though anyone prepared to eat the calorie bomb that is nasi lemak isn't typically inclined to order anything as healthy-sounding as grilled chicken, trust us, this one's worth ordering.
It's smoky, salty, and a little sweet, like a cross between barbecued and cured meat, and tastes a little like Thai moo ping (charcoal roasted meat skewers).
Add a little homemade sambal – the recipe took Gideon months to perfect, and includes ikan billis, pandan leaves, dry and fresh chilli, and gula melaka – for the perfect sweet and spicy kick.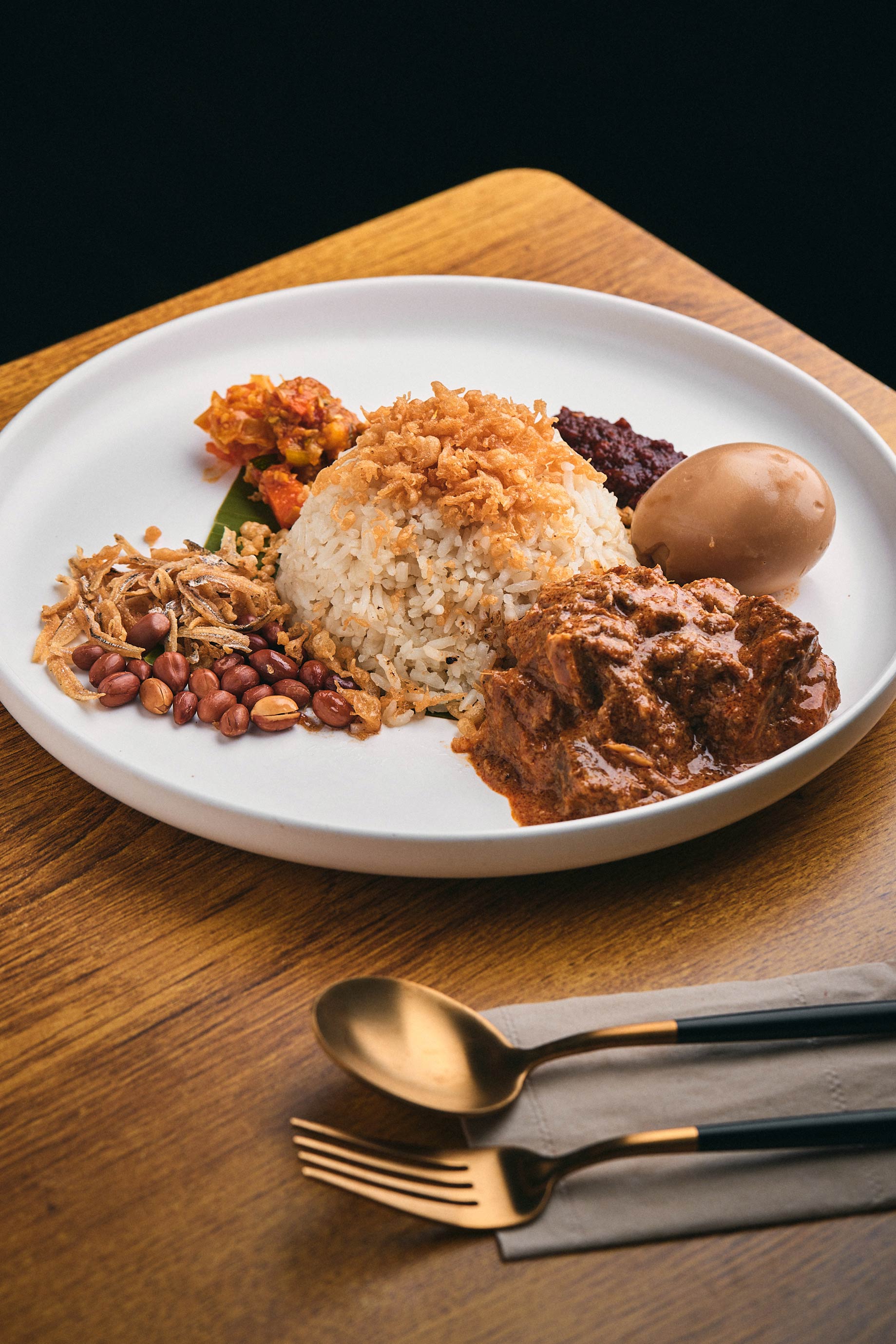 Sous Vide Beef Rendang, $14.80
Beef brisket (mutton also available) is boiled with salted lemon water to remove any gaminess, braised at least 14 hours till tender, then cooked overnight with onions, grated coconut, and lemongrass. It's sweet and robust, with a mild spiciness, and complements the tender beef, which still retains some bite.
The tangy, store-bought achar balances out the richness, while light and crunchy peanuts and ikan billis add texture. Gideon is especially proud of the ikan billis – it took him 1.5 months to find anchovies of just the right size. We love it, too – unlike other places, the fish isn't hard and pointy as a spear, but quite airy, like tiny pieces of keropok.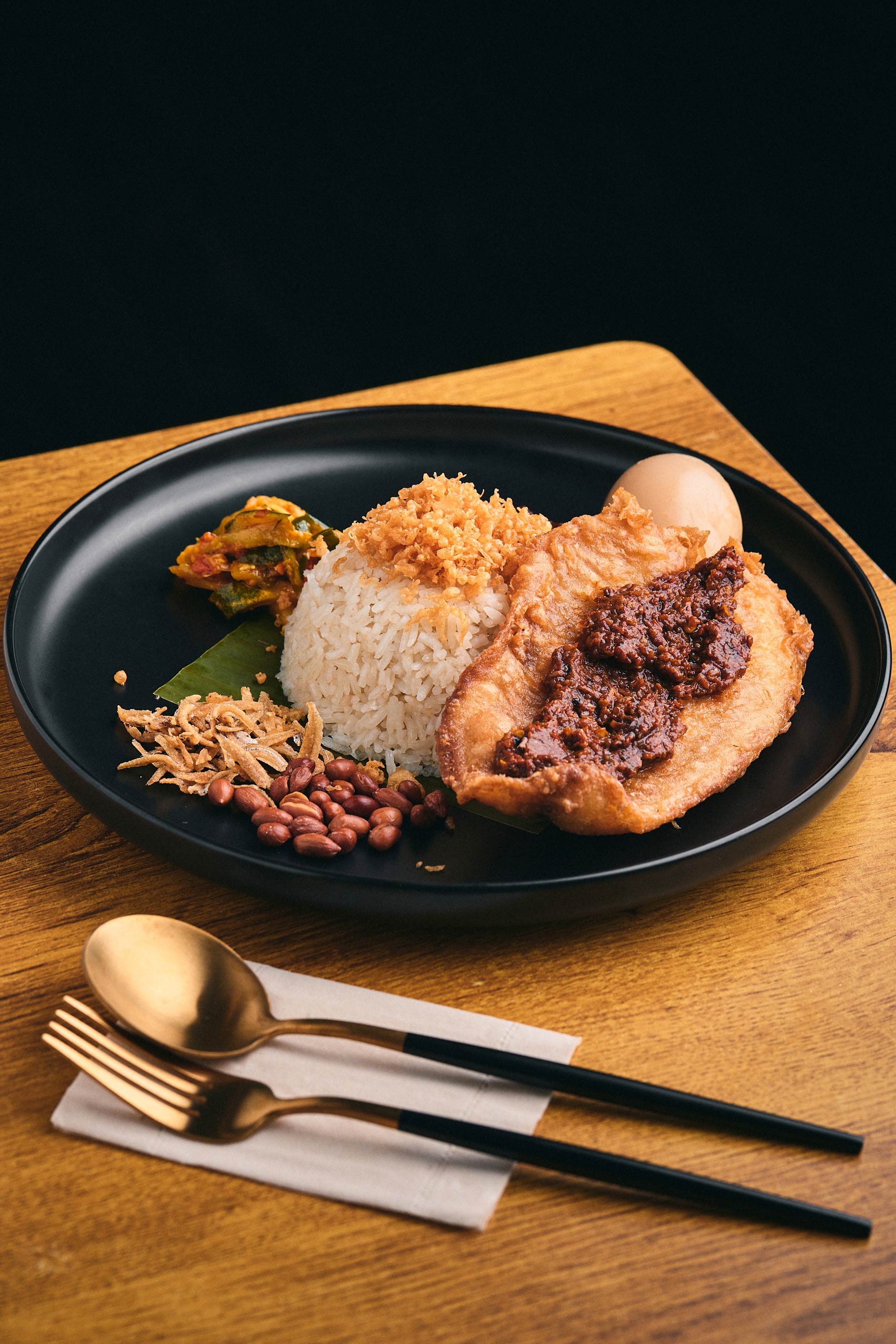 Fried Tilapia Fish with Assam Pedas Sauce, $9.80 (8 DAYS Pick!)
Unlike the typical fried ikan kuning, the boneless (convenient!) and flaky tilapia fillet tastes and looks very much like the fish you get in a dish of fish and chips. The delightfully light skin of batter is topped with a stripe of chunky assam pedas sauce that Gideon's added sambal to for a sour-spicy-sweet combo.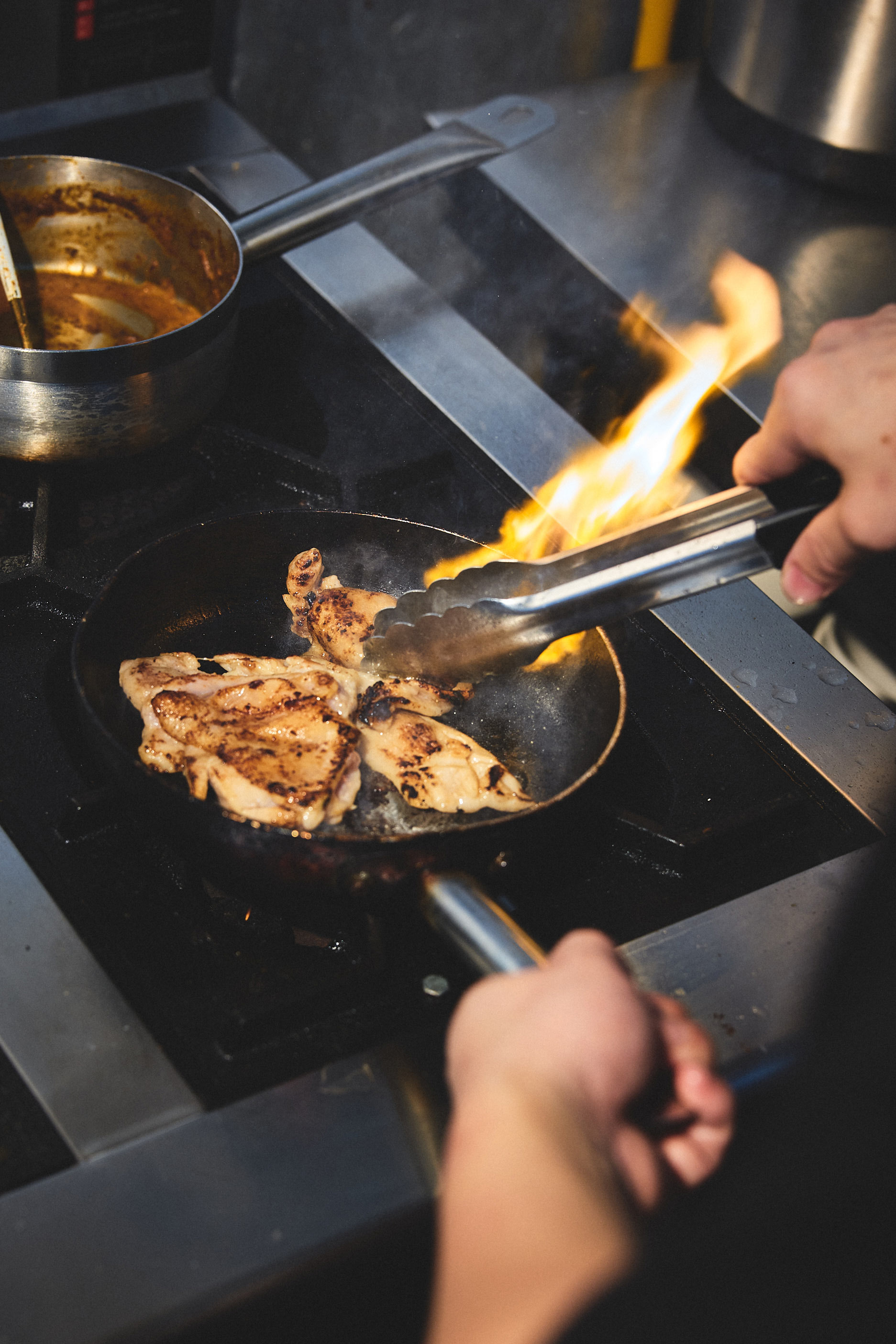 Bottom Line
Despite the rojak of influences (Taiwanese recipe! Japanese eggs! Thai skewers!) this nasi lemak's flavour elements taste so good, even older folks can be enticed to overlook the fusion element.
Professional techniques and solid execution justify the higher prices. Everything we tried was delish, but we especially liked the fried chicken – you can't go wrong with a crispy wing or drumstick. We just hope the flavour of the rice can be more consistent as it was less coconutty on our second visit.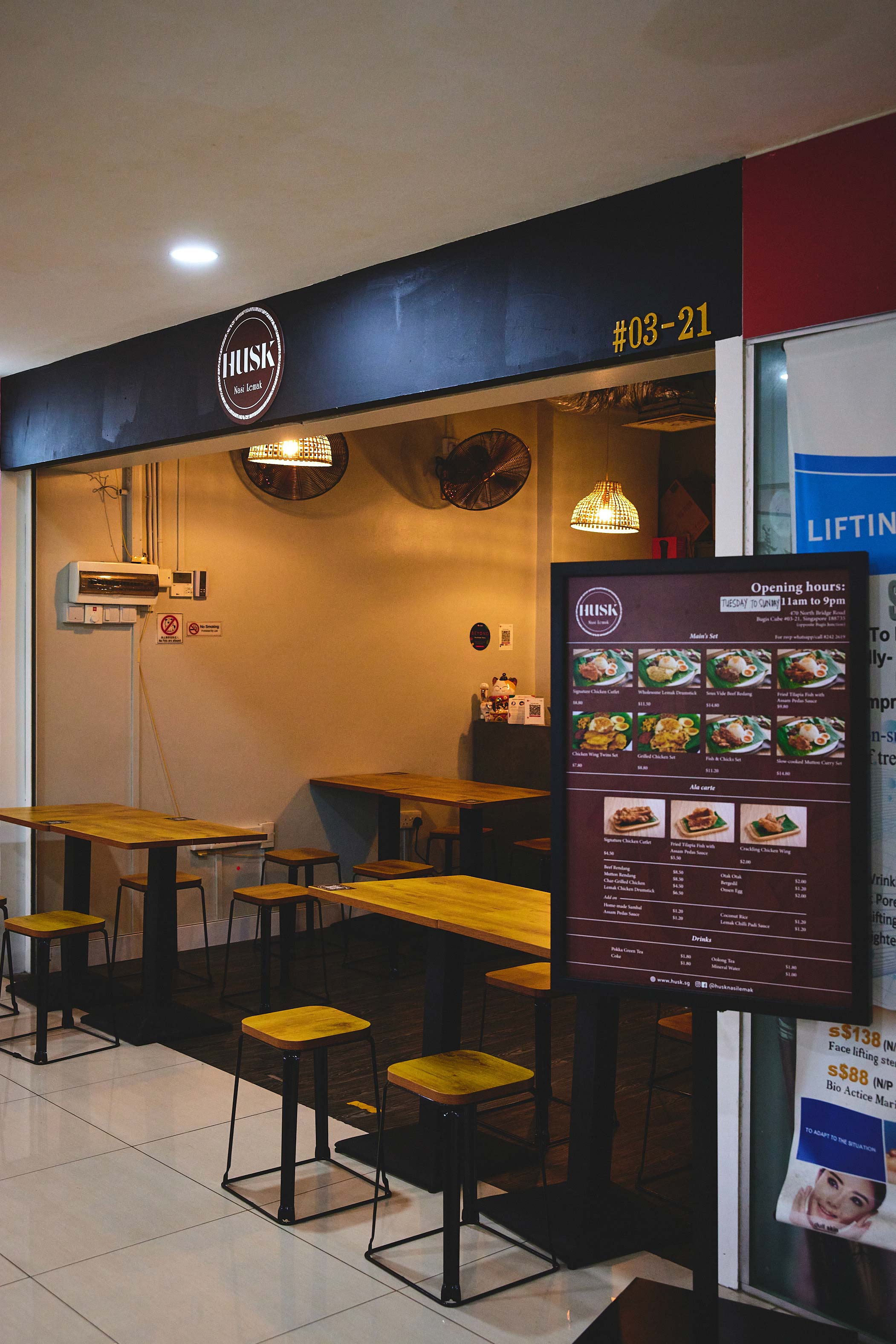 The details
Husk is at 470 North Bridge Rd, #03-21 Bugis Cube, S188735. Open Mon - Sat, 11am - 9pm. More details on their Facebook and Instagram.
All photos cannot be reproduced without permission from 8days.sg
Photos: Alvin Teo