Chase Me, The Game Show Godfrey Gao Was Filming When He Collapsed, Is More Hardcore Than Ninja Warrior
We review the controversial reality show where Godfrey Gao died after suffering a heart attack while filming it.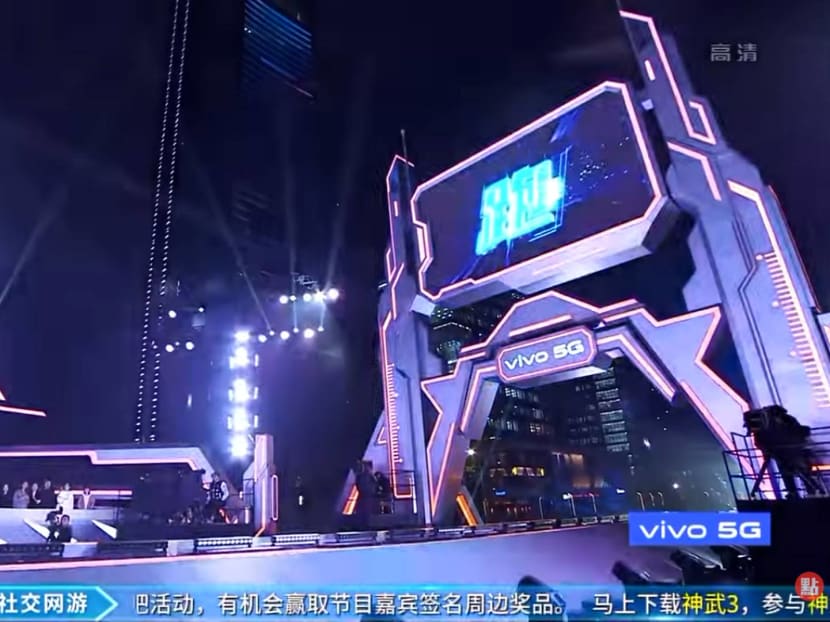 A few years ago there was this Netflix show called Ultimate Beastmaster. It's the streaming service's first reality competition programme, and true to its name, it's a friggin' monster. Imagine Ninja Warrior, but on anabolic steroids.
Ultimate Beastmaster involves athletes trying to 'slay' this obstacle course — shaped like a dragon — that's 195m long, eight stories tall, and made of 50 tons of steel. It makes the Ninja Warrior course look like a kid's playground (sorry).
The Ultimate Beastmaster obstacle course is big but it's nothing compared to the one on the Chinese reality show Chase Me. It was on the set of that show that Taiwanese-Canadian actor/model Godfrey Gao suffered a heart attack and subsequently died on Wednesday (Nov 27).
Produced by Zhejiang TV, Chase Me is basically a glorified chasing game: celebs get pursued by professional sportsmen… at night. They're put through the wringer in a series of obstacles designed to test their strength, endurance, balance and speed.
The trail is so hardcore that even the seasoned athletes — including Olympic gold medallists — had a tough time keeping up, let alone the amateurs. While Netizens are pointing fingers at the producers for safety lapses, the more important question is: who greenlit this intense game show in the first place?
How intense? Insanely. I checked out the first episode online (embedded below) and, from a viewer's perspective, it wasn't exciting at all — it was plain exhausting. Ninja Warrior is fun; Chase Me isn't.
The setting looks like something out of Tron. Even the contestants dressed like Tron cosplayers except their suits aren't fitted with illuminated strips and light discs. But as Chase Me progresses, it slowly turns into The Running Man, not the Korean variety show, but the 1987 Arnold Schwarzenegger movie about a gladiatorial game show (yes, The Hunger Games of its day).
Make no mistake, the obstacles themselves — Spinning Bridge, The Giant Beetle, Swinging Bamboos, Wormhole Beehive (an eye-catching vertical honeycomb maze) — are massive and tough to tackle. But what made them even more siong is the fact it entails running. Lots of it.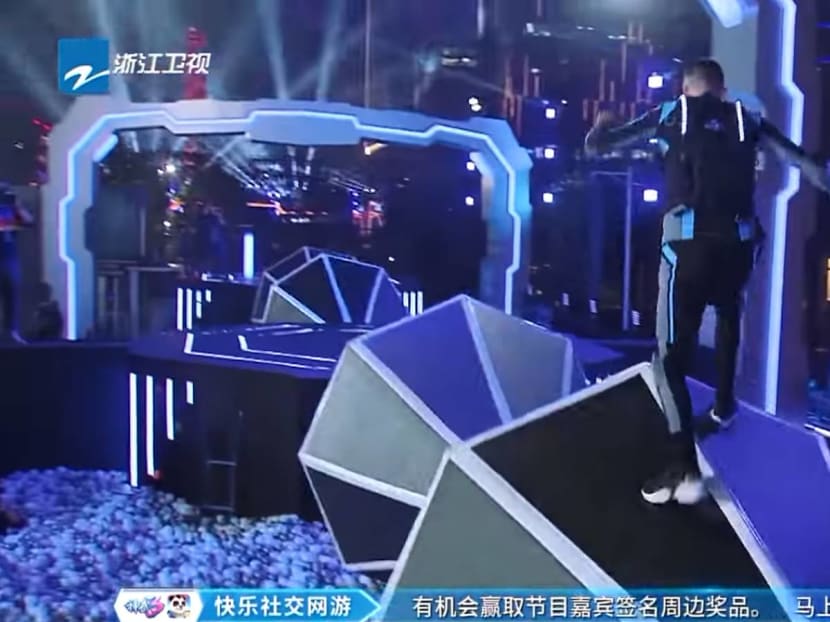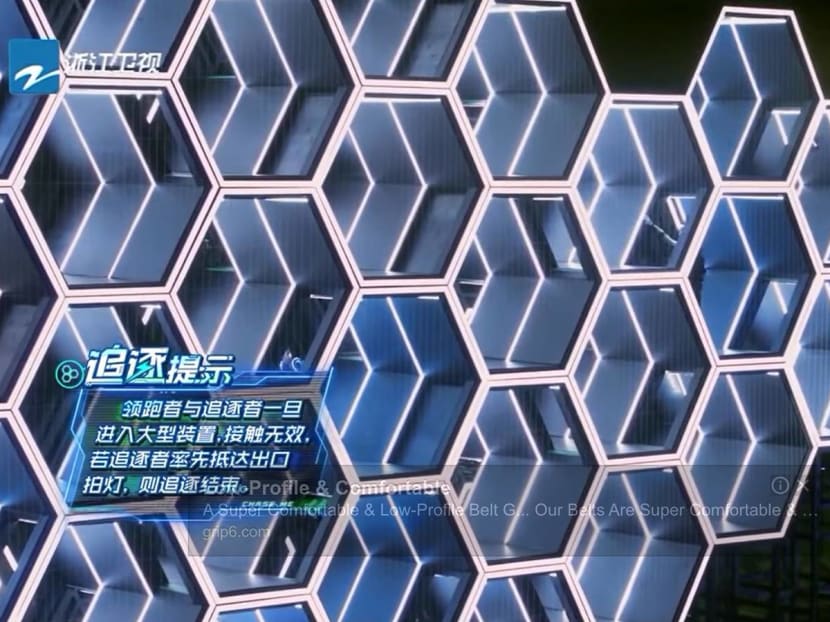 On Ninja Warrior and Ultimate Beastmaster, there isn't much running because the obstacles are just right next to each other. On Chase Me, the players have to run a few blocks just to reach the next hurdle. On top of that, they have to run fast to avoid being caught.
The circuit distance varies; one route is 1.65km, another 1.3km. (In comparison, the average Ninja Warrior course is about 100m long and Ultimate Beastmaster is 195m.) Either way, the players are maxed out before they can even attempt to overcome the barrier.
Anyone who's done the SOC should know that shack feeling. Running in that uncomfortable, heat-trapping Tron suit doesn't help either. In each segment, you keep hearing the players say "I'm tired, I'm tired."
Keep running: 'Chase Me' participants have to run from one obstacle to the next.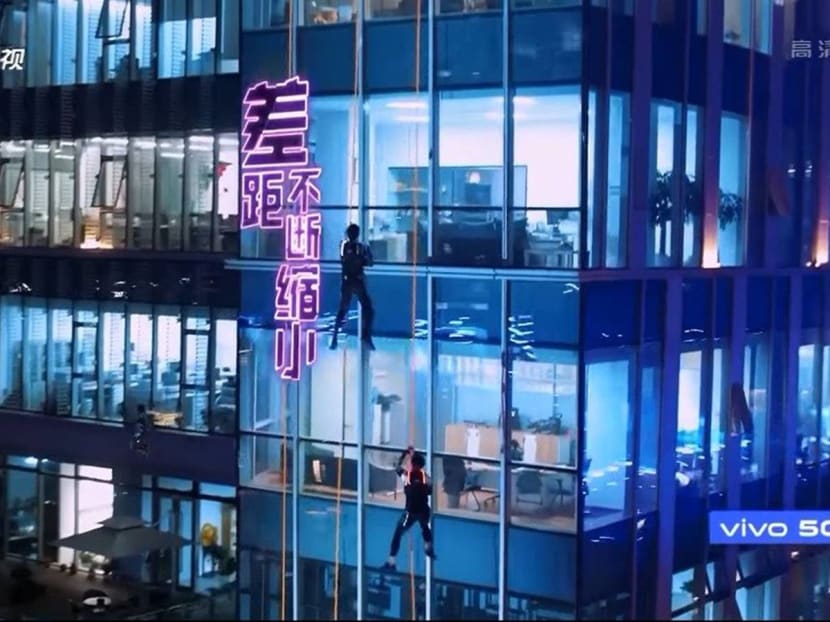 Oh, it gets recklessly worse. In the final stretch, the players have to rope-climb a 20-storey building. If you're afraid of heights, this is the time to quit the game. And if you aren't afraid of heights, this is the time to pretend you are.
Because that's not the end. Once they reach the roof top, they have to zip-line across 140m to complete the race. Remember: this is happening at night. People are tired. It's dark. You're 70m above ground. One miscalculation and things can go sideways.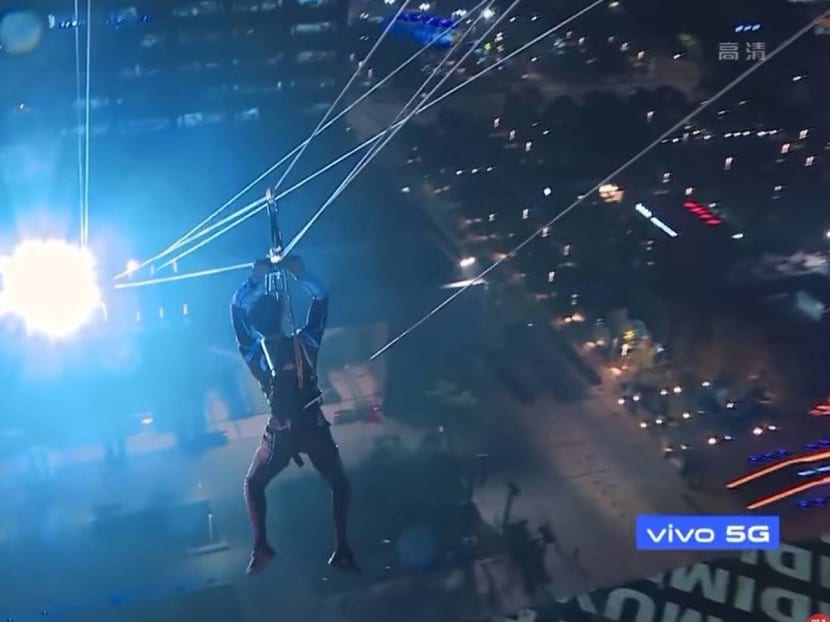 Are you sure this a game show? Or is this a boot camp for super-soldiers? And if it's a game show, what's exactly the prize? On Ninja Warrior and Ultimate Beastmaster, there's a monetary incentive, so I understand the players' motivation. But on Chase Me, what's at stake? Bragging rights as someone who outran an Olympic medalist? More social media followers? Soaring ratings? Or is making it out of the obstacle course in one piece the reward?
Photos: YouTube screengrabs