Razer CEO Tan Min-Liang Still Complies When His Mum Yells At Him To Get His Lunch
Nobody messes with an Asian tiger mum, not even when you're a company CEO.
Razer CEO Tan Min-Liang has a famously close relationship with his parents. The tech entrepreneur, 43, who splits his time between Singapore and Razer's international offices in San Francisco and Taipei, has mentioned in interviews that he still stays with his folks whenever he's in town.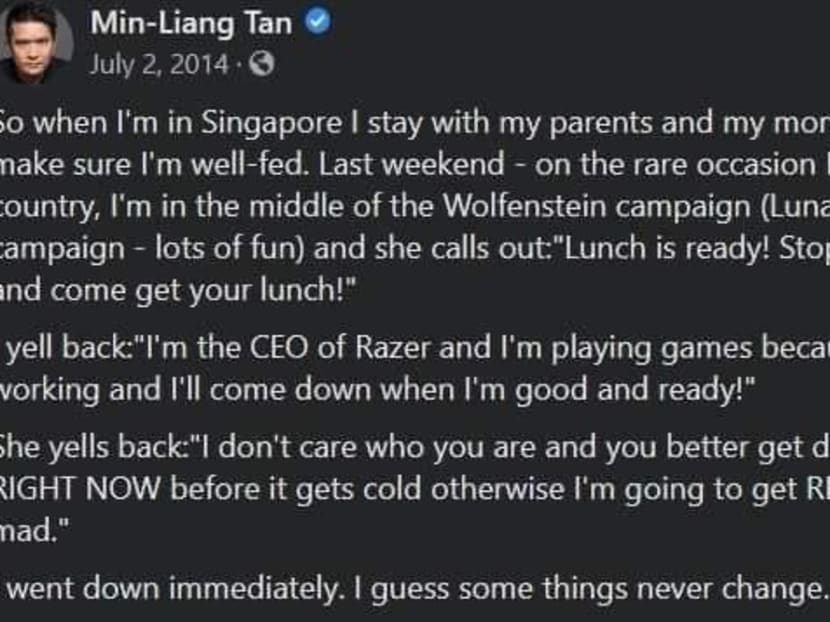 An old Facebook post by Min-Liang dated July 2014 recently started going viral on Facebook groups Subtle Asian Traits and Asians Never Die, due to the relatability of its content.

In the post, Min-Liang shares an anecdote about his mum, saying:

"So when I'm in Singapore I stay with my parents and my mom likes to make sure I'm well-fed. Last weekend - on the rare occasion that I'm in the country, I'm in the middle of the Wolfenstein campaign (Lunar campaign - lots of fun) and she calls out: 'Lunch is ready! Stop playing and come get your lunch!'

I yell back: 'I'm the CEO of Razer and I'm playing games because I'm working and I'll come down when I'm good and ready!'

She yells back: 'I don't care who you are and you better get down here RIGHT NOW before it gets cold otherwise I'm going to get REALLY mad.'

I went down immediately. I guess some things never change."

Anyone has shivers down their spine and flashbacks to when mum counted to three, after reading Min-Liang's post?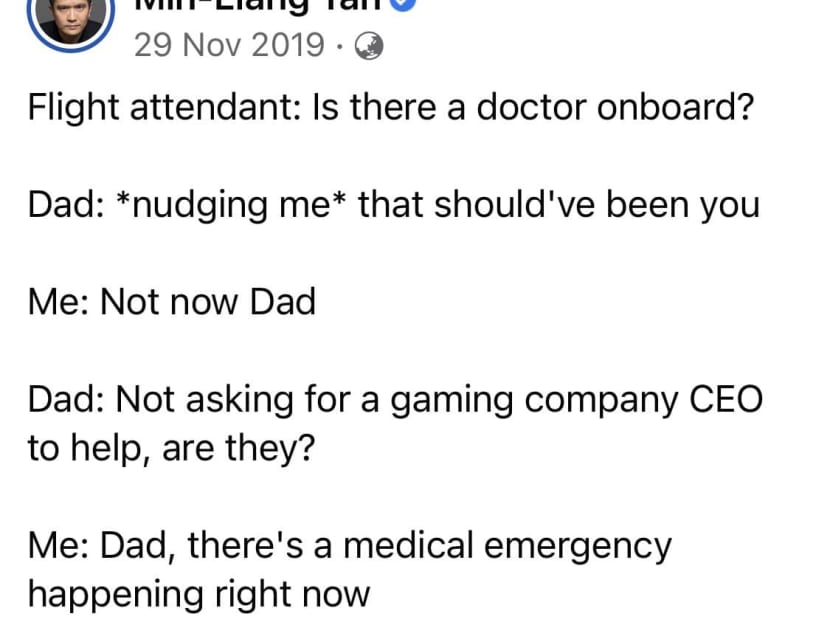 In 2019, Min-Liang also shared another amusing anecdote about being savagely roasted by his pragmatic dad on a flight.

The post goes:

Flight attendant: Is there a doctor onboard?

Dad: *nudging me* that should've been you

Me: Not now Dad

Dad: Not asking for a gaming company CEO to help, are they?

Me: Dad, there's a medical emergency happening right now

Dad: Go and see if a toaster helps

Goes to show nobody is spared from Asian parents' wrath, not even a successful gaming company founder who's reportedly buying a S$52.8mil Good Class Bungalow in Bukit Timah.


Photos: Tan Min-Liang's Instagram/ Subtle Asian Traits