Artbox 2019 Returns For Its Third Year And Its The Biggest And Best By Far — Here's Your Guide
The outdoor lifestyle market runs over a whopping 200,000 sq ft this year and is now open for biz at the Singapore Turf Club at Kranji.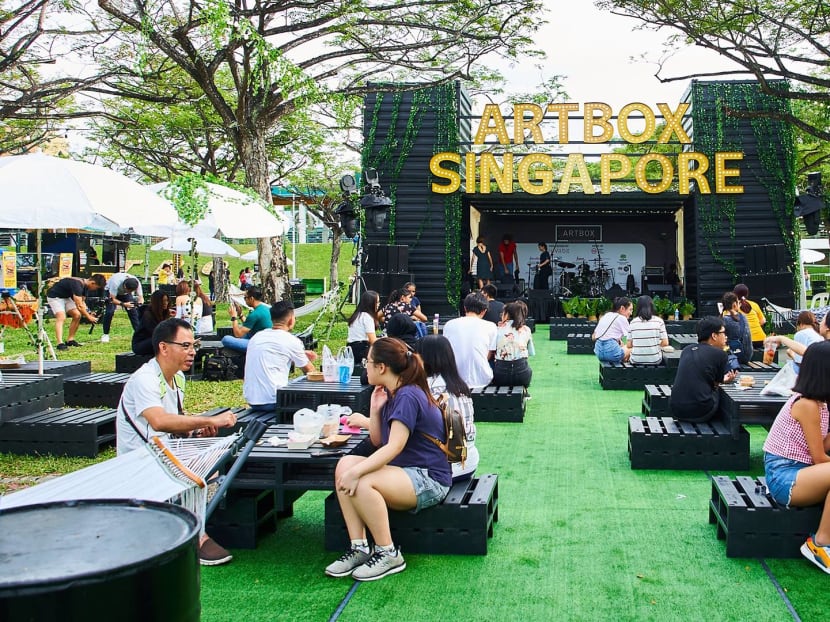 When Artbox Singapore, the local iteration of the popular Bangkok lifestyle market, first landed here in 2017, way too many people packed into its tiny 50,000 sq ft confines at Bayfront event space, and the result was overcrowding and disappointment. The year after, they expanded considerably to 140,000 sq ft, but it was still crowded. This year, they've ponied up (literally) and trotted over to a much larger space — the event which runs over two weekends now takes up 200,000 sq ft (that's about four football fields) at the Singapore Turf Club at Kranji. Sure, it's a little off the beaten track (make that a lot off, actually) but with this freedom of space, the event can now hold about 250 retail and F&B vendors and an endless list of activities, performances, workshops and Instagrammable spots, so it's worth making a day of it and schlepping all the way to Kranji. Dress light, bring fans, an empty stomach and a full phone battery. 8days.sg tells you what to look out for.

For those not accustomed to trekking this far north (ie. us), it can feel like you're about to drop off the island and end up in Johor. But if you make it, you'll be rewarded with a very rustic Garden of Eden at the sprawling Singapore Turf Club grounds, which has been transformed into a millennial-friendly playground. This year's shindig is inspired by the biblical garden, and has upped the ante in terms of the number and types of experiences you can get here, beyond the street snacks and F&B options.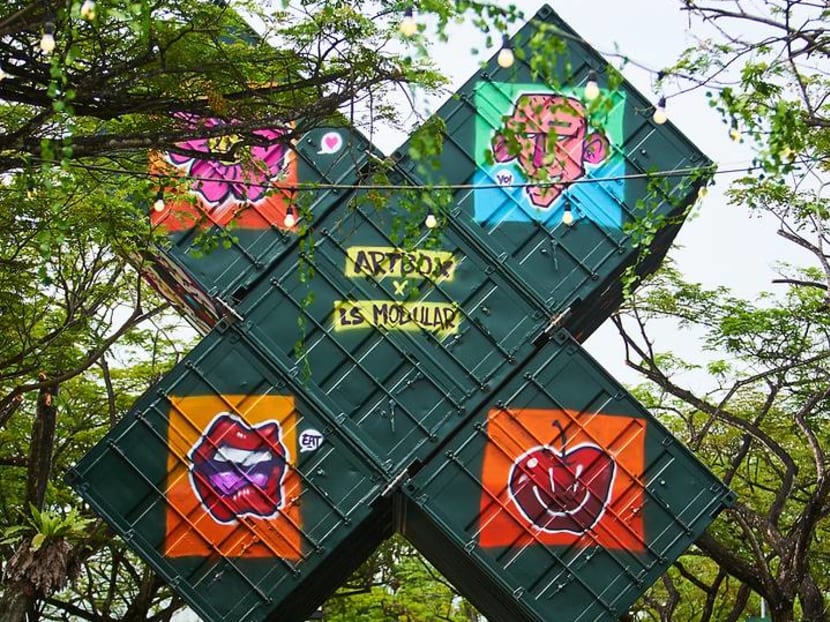 Artbox's signature containers are having a field day here, with 50 per cent more containers on the ground than before. These seven containers near the entrance took 10 hours to set up. Don't worry — they're totally safe to walk under.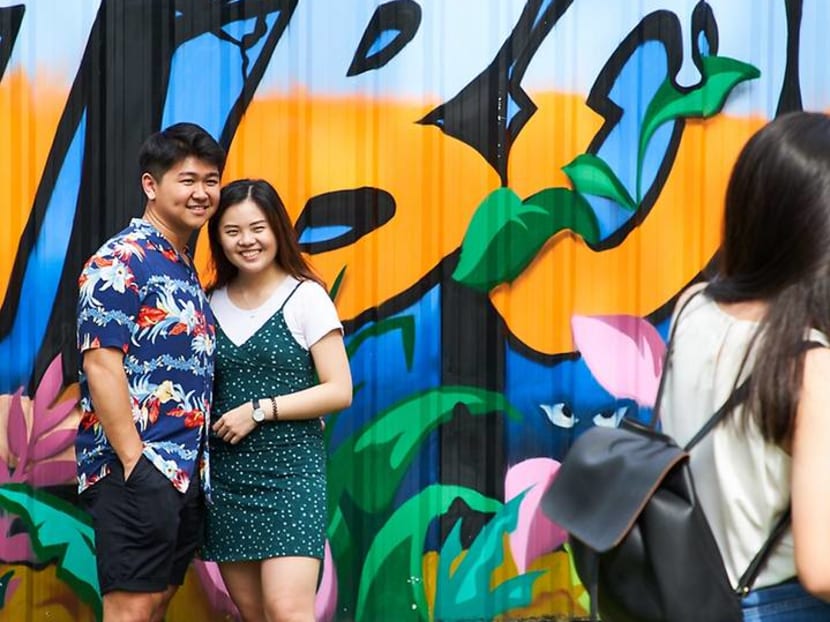 Graffiti and street art abound, and make for great photo backdrops. The works of artists and musicians from Singapore, Malaysia and Thailand will be showcased here.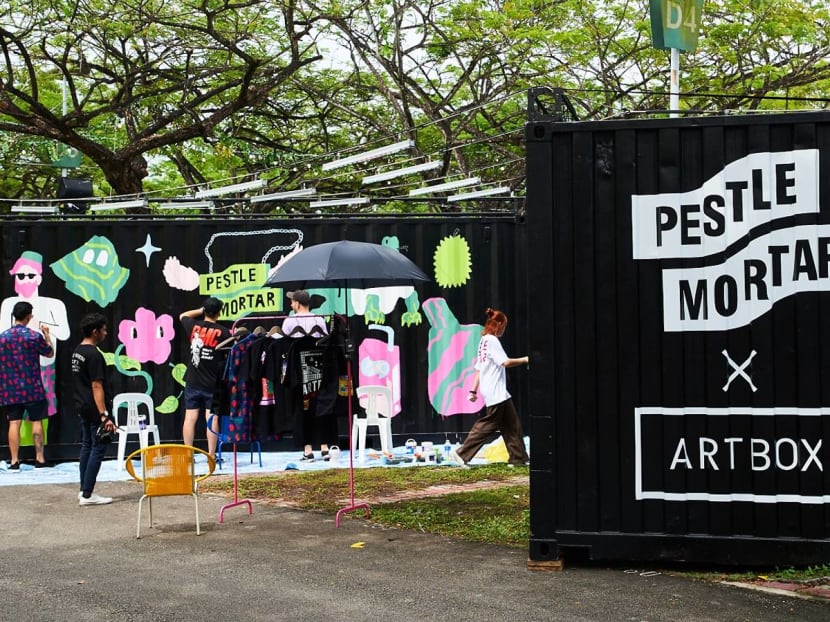 Besides pasar malam style stalls hawking fashion and lifestyle merch, there are also recognised indie brands who've set up shop, such as popular Malaysian street label Pestle & Mortar clothing, who has created special limited edition Artbox merchandise.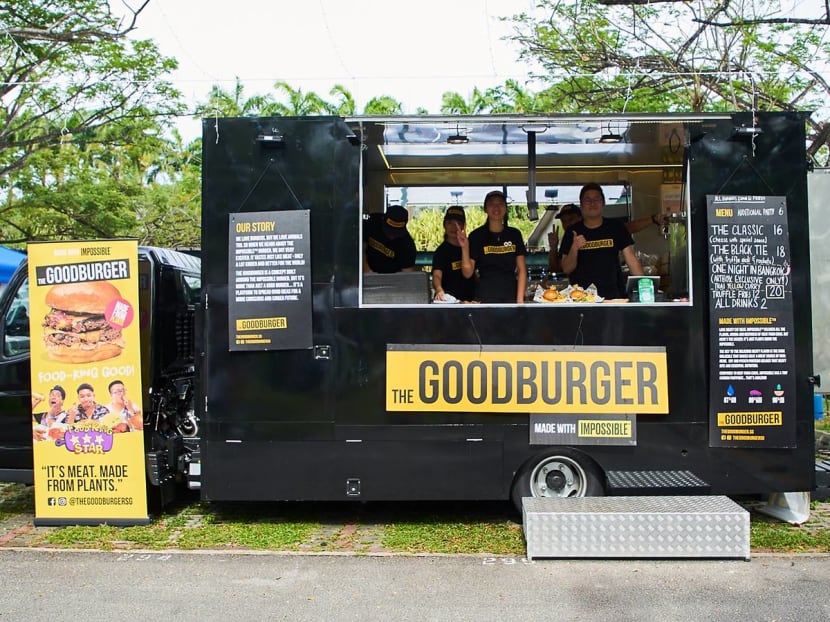 Food trucks, snack stalls, F&B galore. Expect more than a hundred vendors trying to entice you with the latest street snacks, some with a Thai bent, such as Pad Phat Kaphrao Beef Cubes from Beef Bro, tom yam crispy chicken from Hot Star Fried Chicken, Thai tea cream puffs from Kazo and a special One Night in Bangkok burger from Impossible burger foodtruckers The Goodburger.


What's a street market without street food? These are bites from Thai restaurant Thailand Street Food.

Everything is 'grammable.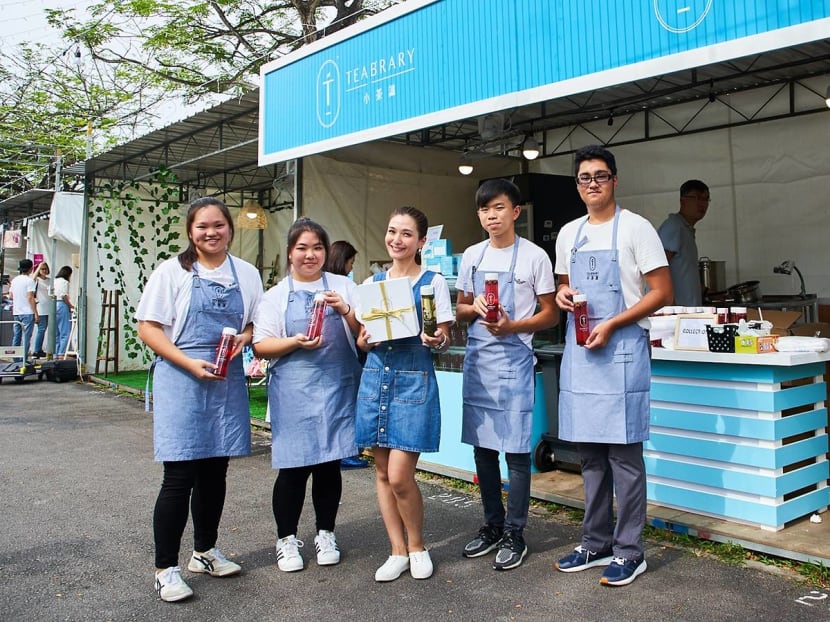 Vivian Lai with her tea brand Teabrary at Artbox. Will lao ban niang be present for photos ops through the two weekends? You'll have to find out.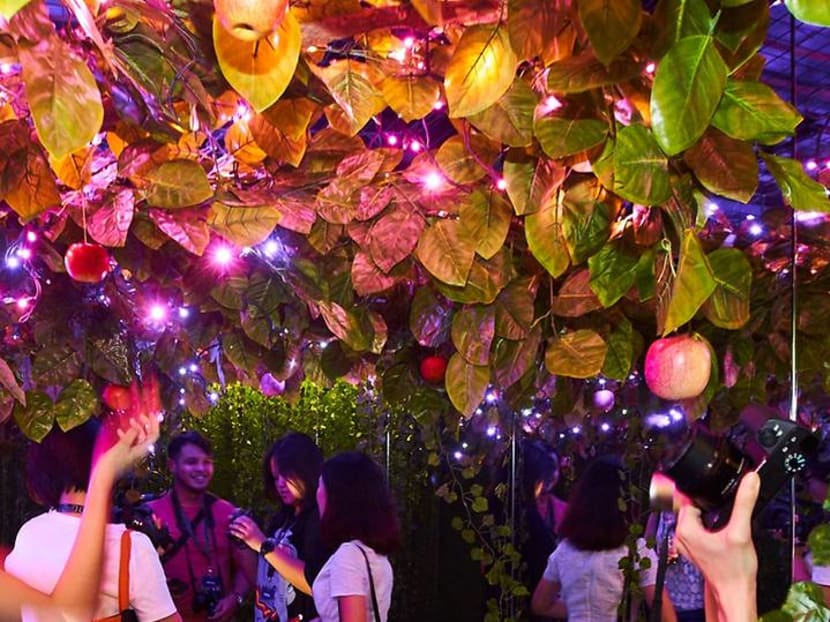 One of the few air-conditioned spaces in Artbox, the Heart of Eden is an immersive walk through a 40-footer shipping container that recreates the Garden of Eden, complete with tempting apples hanging from trees. It's $5 per entry. Worth it for a few minutes of respite from the heat and a few very IG-worthy shots? We think so.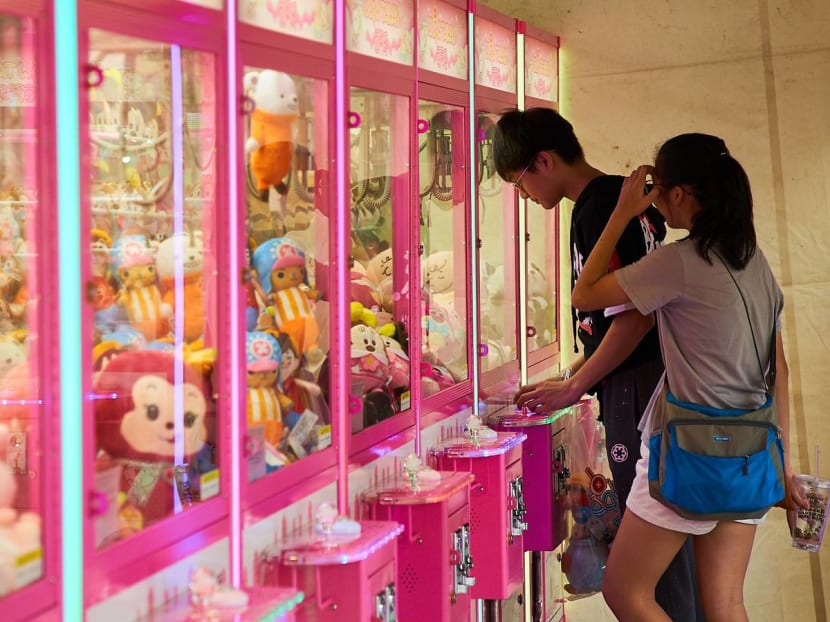 Claw machines and arcade games add to the lively carnival atmosphere. If you've had your fill of food, drinks, retail and art, try your luck at the claw machines or carnival games.

A whole row of arcade games await.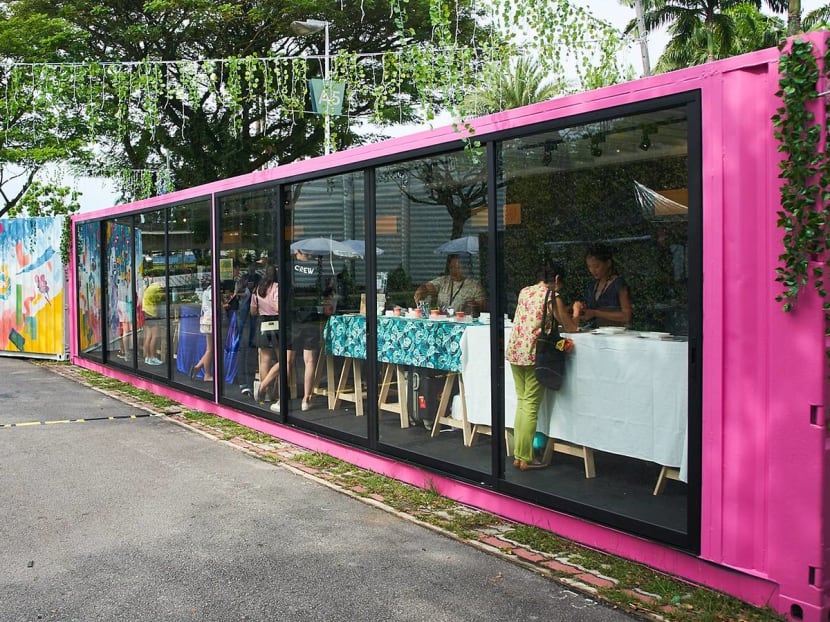 Find this pink container, where a variety of mini-craft workshops are held. The space is tight, but that's part of the fun, where you can try to make 3D jewellery, get a jagua tattoo, make a watercolour painting, or create your own perfume, while trying not to bump elbows with your neighbour. All workshops are $15. You can also buy a Hydro Dip horseshoe for $20, with real horseshoes from the Singapore Turf Club, with proceeds going to the Children's Society.

A good chance to see if you can rock a real tattoo.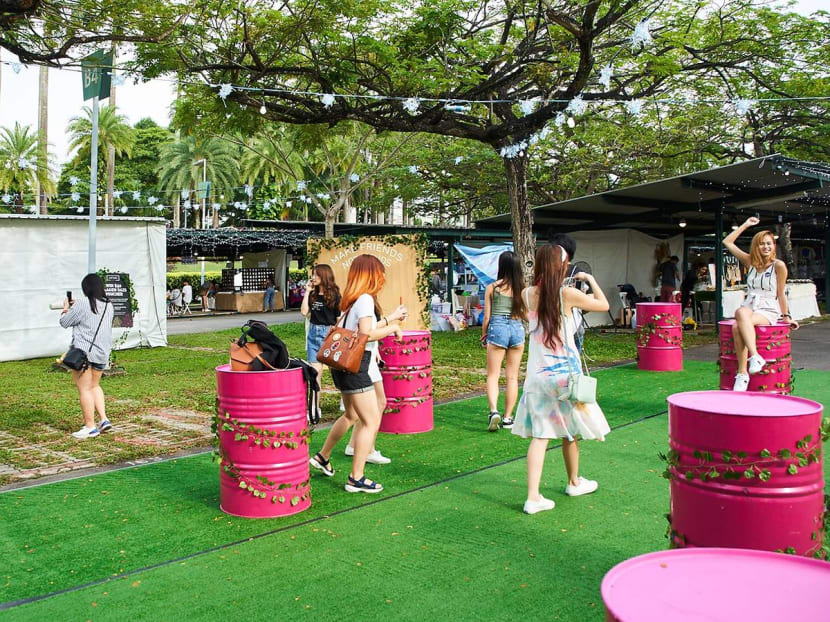 Instagrammable spots abound. IG-worthiness is everywhere, bound only by your imagination, but the organisers have helped you along with these more obvious photo ops, replete with pink container drums and cute backdrops.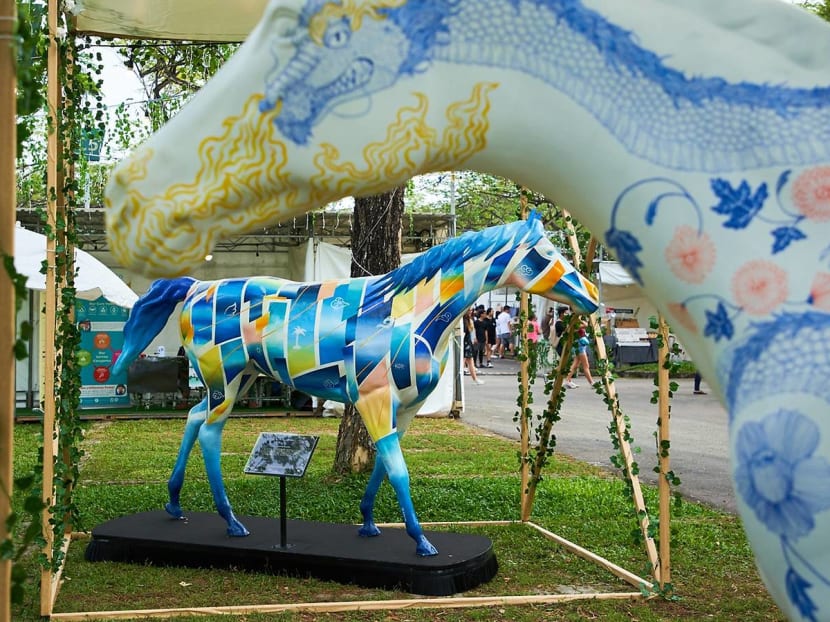 At the end of the event, four horses painted by artists will be auctioned off for charity. Yay or neigh?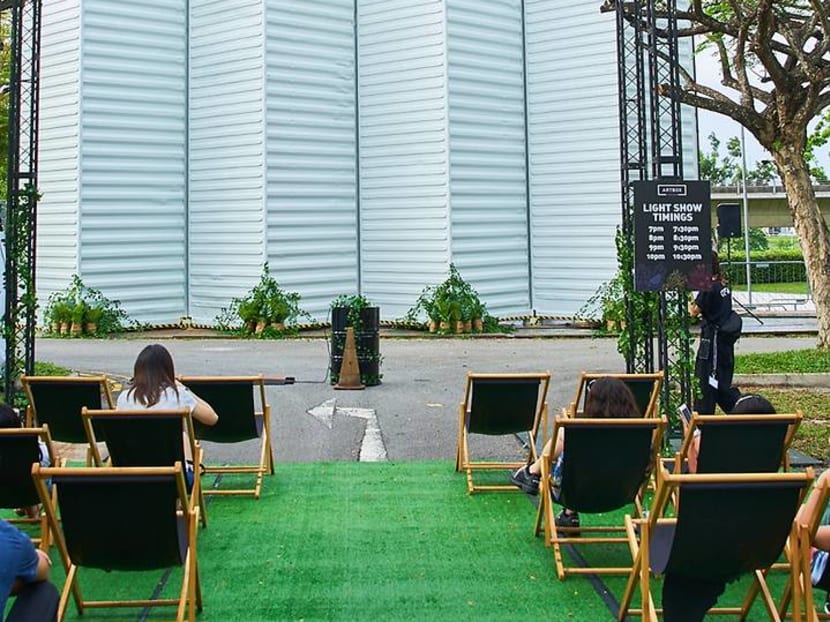 It may look like a blank wall from here, but the organisers are especially proud of this Lenticular Artwork, which is made up of six-storey high vertical containers. On the other side, artwork has been painted, so that MRT commuters going in one direction see one picture, while the ones going in the other direction see another image. On the white side, a two-minute light show will be projected every half hour from 7pm to 1030pm. Buy snacks and drinks, chope a comfy lounge chair and enjooooy.

One fun free activity is the Stranger's Portrait, where you pick a stranger's polaroid out of a box, and draw them on a piece of paper, based on their photo. You then slide into your 'stranger's' DM to send them their portrait. And someone will do the same for you. Cute.

A few of these pillars can be found throughout the grounds. There's one done in collaboration with the Singapore Children's Society, while another one by LanternFox allows you to be illustrated into the artwork virtually, if you snap a photo with it.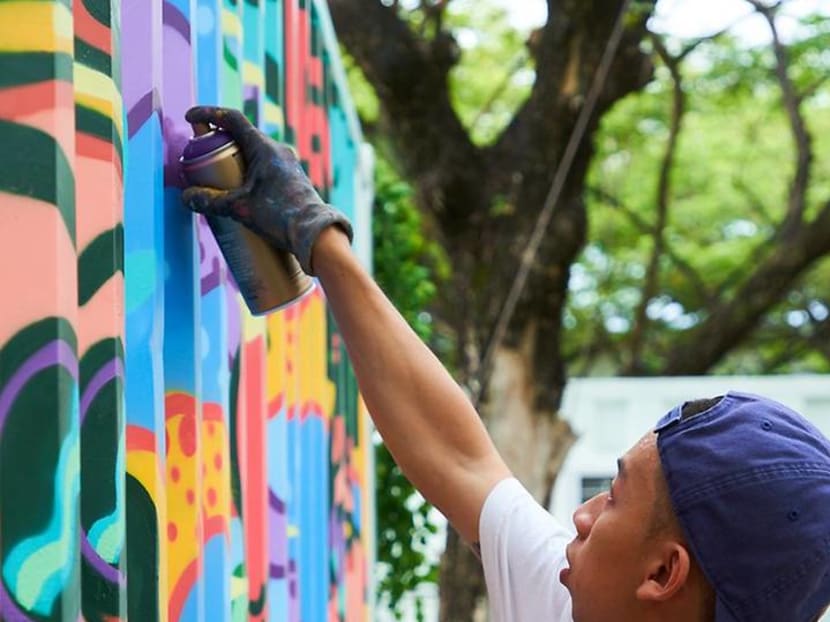 Adding to the urban cool feels are artists live-spraying containers. Observe and enjoy.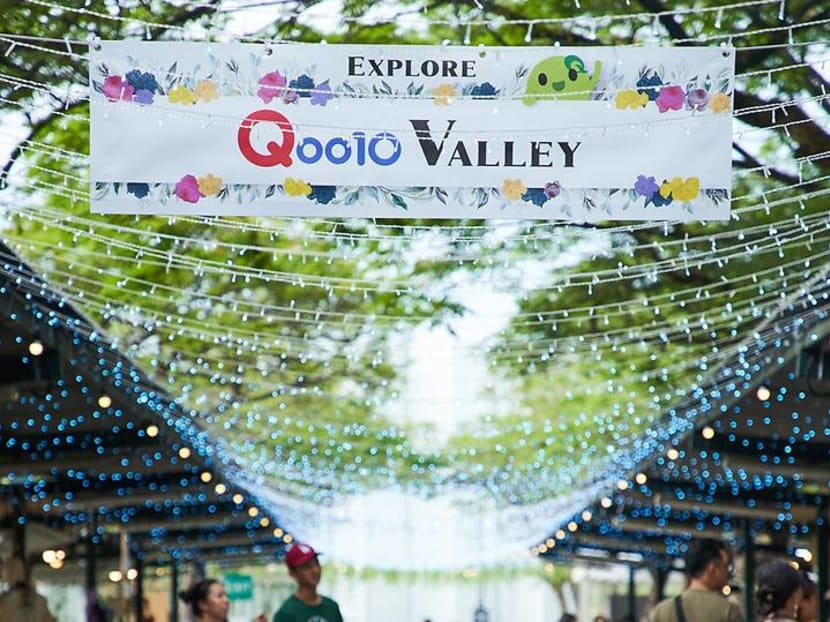 Shop up a storm at Qoo10 Valley, a row of pasar malam style stalls hawking a variety of products. Great for some early Christmas shopping!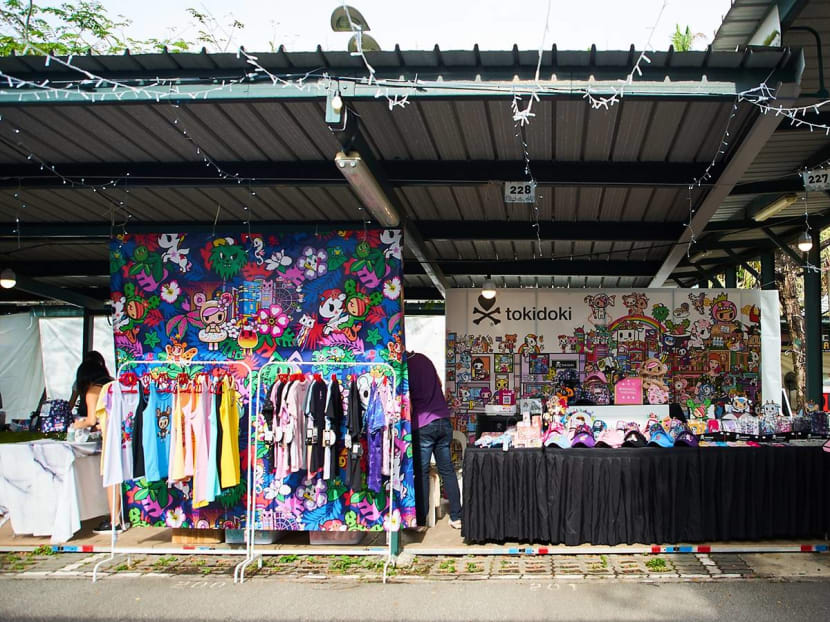 A Tokidoki merchandiser has set up shop too — great for picking up gifts for yourself and the kiddos.

What's a millennial-centric event without some socially conscious messages? This installation by City Sprouts lets you slap stickers onto a board that reminds you to be more conscious of food wastage, and where your food is coming from. Love it.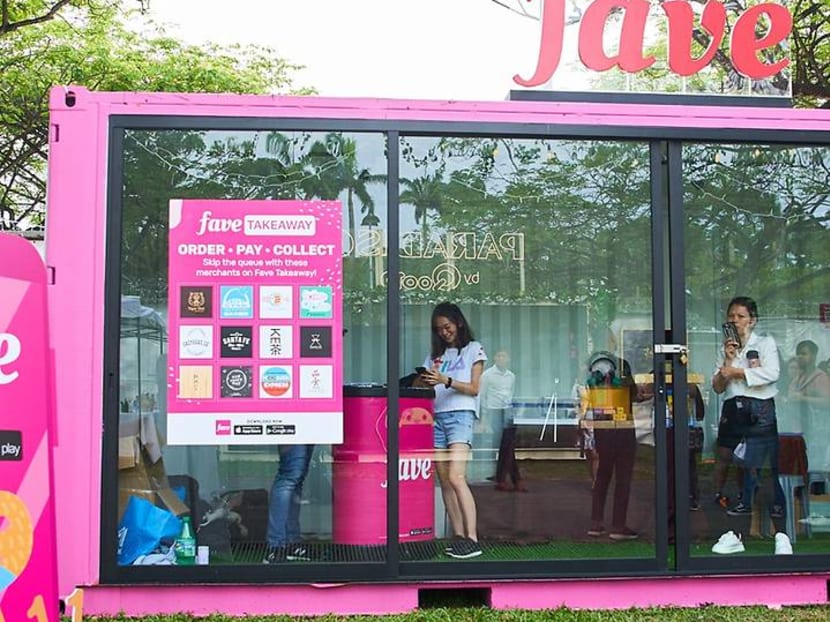 The vendors at Artbox prefer cash or FavePay, a cashless payment app. You can also get exclusives deals and promo codes with Fave.

It runs Nov 15-17 and Nov 22-24 from 3 to 11pm at Singapore Turf Club (Carpark B), The Grounds@Kranji, 1 Turf Avenue. Free admission. More info at www.artbox.sg.


Photos: Alvin Teo