This Convenience Store Doesn't Sell Food Or Drinks, But Here's Why You Should Check It Out Anyway
This new shop with a difference is nestled in Orchard Road.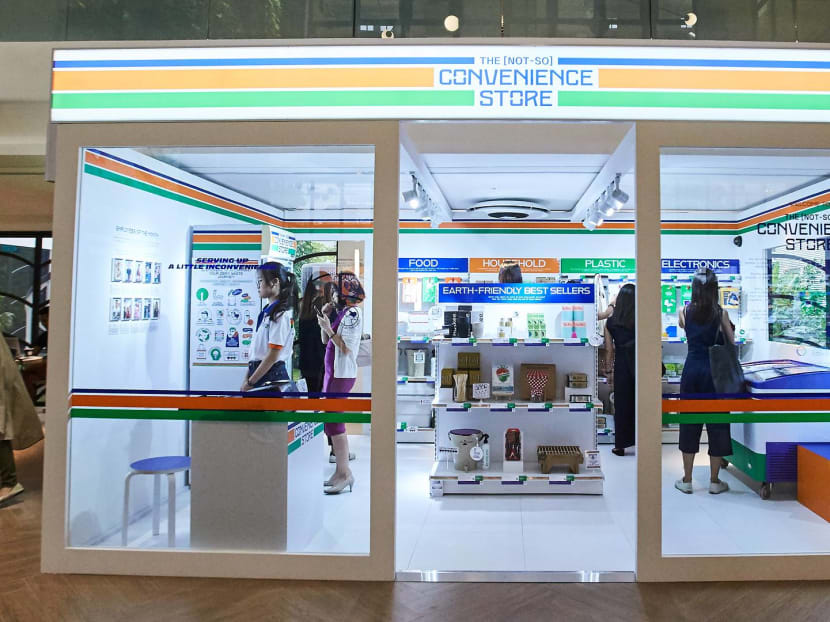 There's a new convenience store right smack in the middle of Orchard Road, but instead of snacks or drinks, you'll find menstrual cups and discarded telephones on its shelves. Come again?
Welcome to The [Not-So] Convenience Store, with a shopfront so quirky cool, it makes for a great OOTD spot. But it's more than just a photo opp, okay? What looks like a retro cool convenience store is actually an exhibition to raise awareness about a zero-waste lifestyle, and the massive impact that plastic, household, food and electronics waste have on the environment.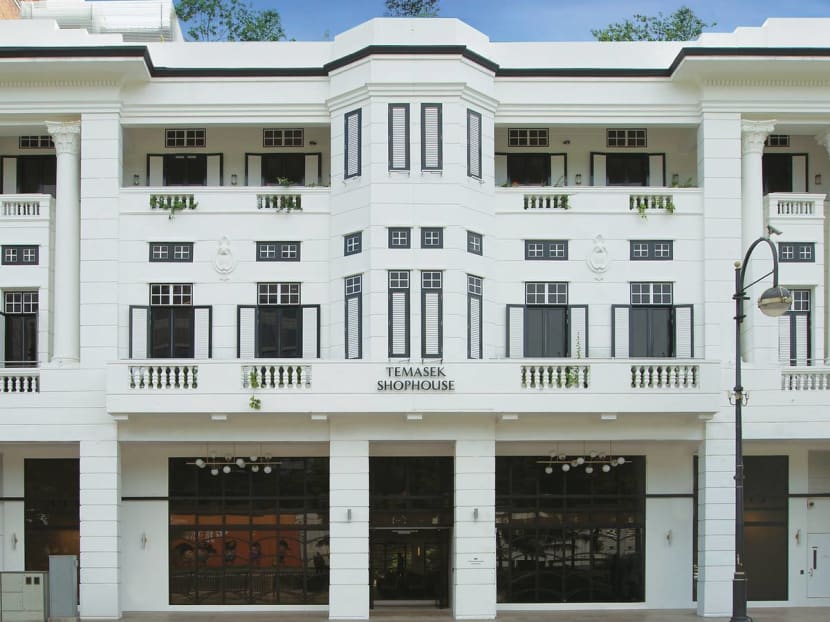 You've probably passed by it without even realising. The [Not-So] Convenience Store is nestled within Temasek Shophouse, a cluster of five shophouses between Plaza Singapura and The Cathay that have been beautifully refurbished, and opened its doors earlier this month. The 91-year-old heritage building was left vacant for years before Temasek Trust, the philanthropic arm of Temasek Holdings, took over the 25,000 sq ft space to create a "social impact hub". Level 1, where the [Not-So] Convenience Store is, comprises an event space, lounge areas, a garden and a café that are open to public; the upper levels house co-working spaces for social enterprises as well as Temasek Trust offices. But more on that in a bit.
(Photo: Temasek Shophouse)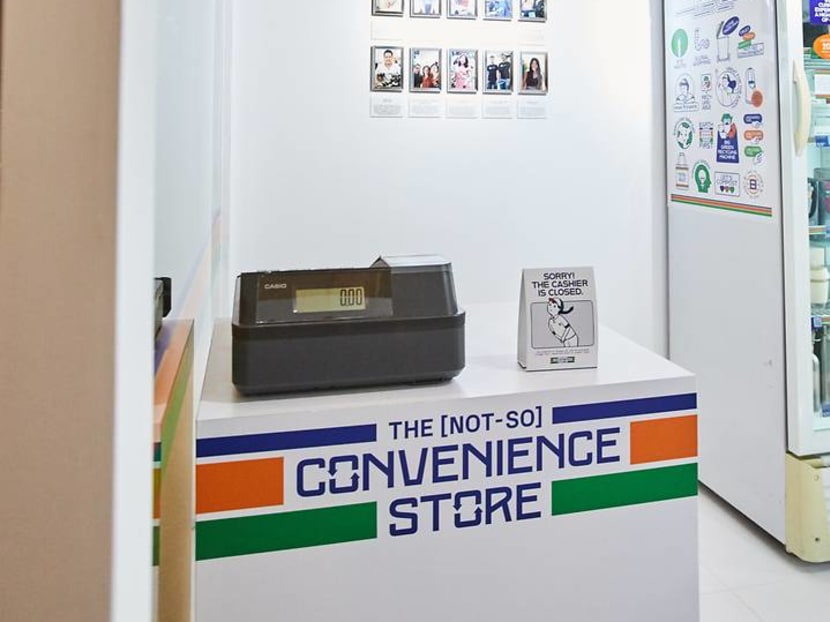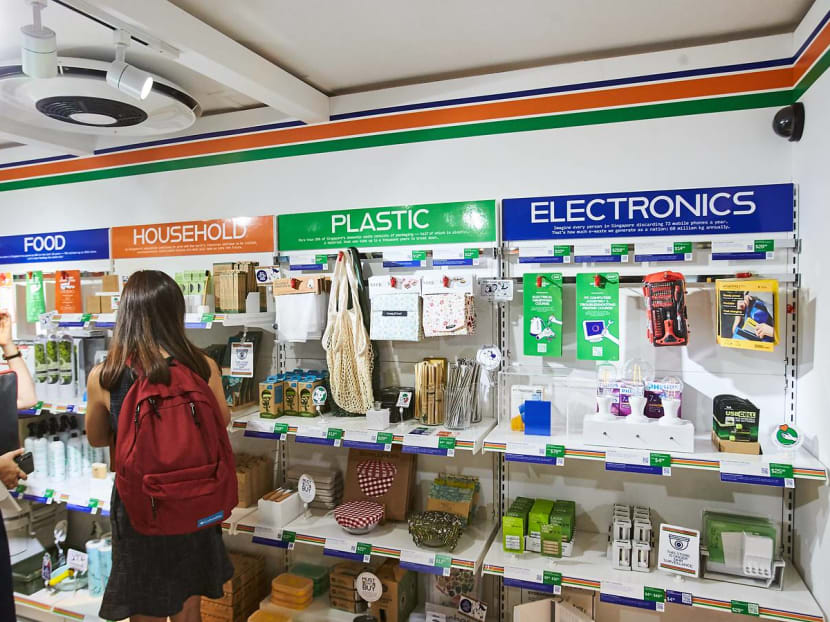 The 'store' displays nuggets of information about our increasing waste problem, as well as showcases sustainable alternatives. So, rather than sanitary pads, you'll find the eco-friendly menstrual cup. Rather than disposable cup noodles, cups made from bamboo husks occupy prime shelf space.

You can't buy anything physically here, but if you're spurred to action and want to buy any of the products from a plethora of local businesses, just scan a QR code to buy it online. You'll find everything from bamboo straws and bento boxes to soap nuts and tooth powder (a greener alternative to toothpaste).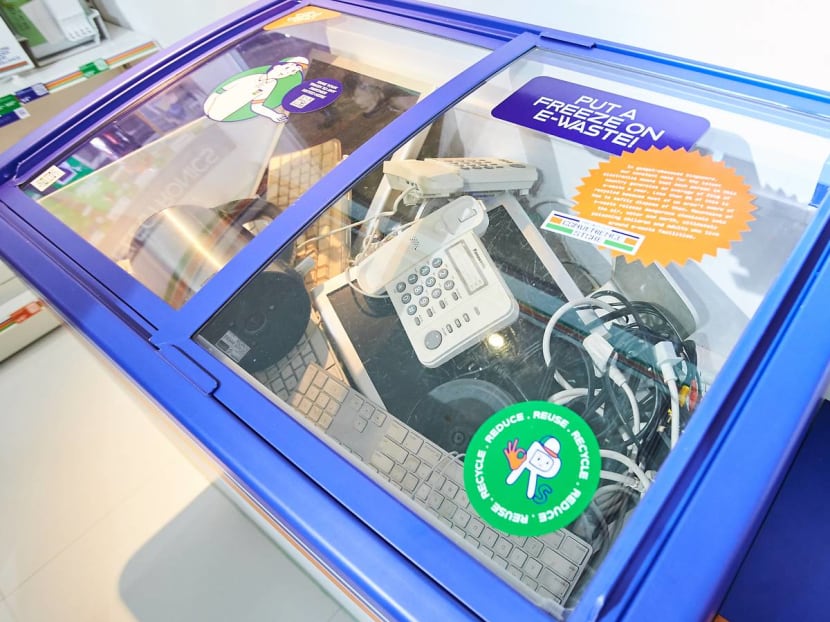 You won't find ice-cream or ice cubes in this standalone freezer. Instead, it's heaving with discarded electronic goods. Who knew our quest for the latest gadgets wasn't just detrimental to our bank balances, but the planet as well? Hefty amounts of e-waste are generate per person in Singapore, and a whopping 94 per cent of that goes unrecycled, and as a result, emit harmful chemicals in the air. To find out how to dispose of your gadgets responsibly, scan the accompanying QR code.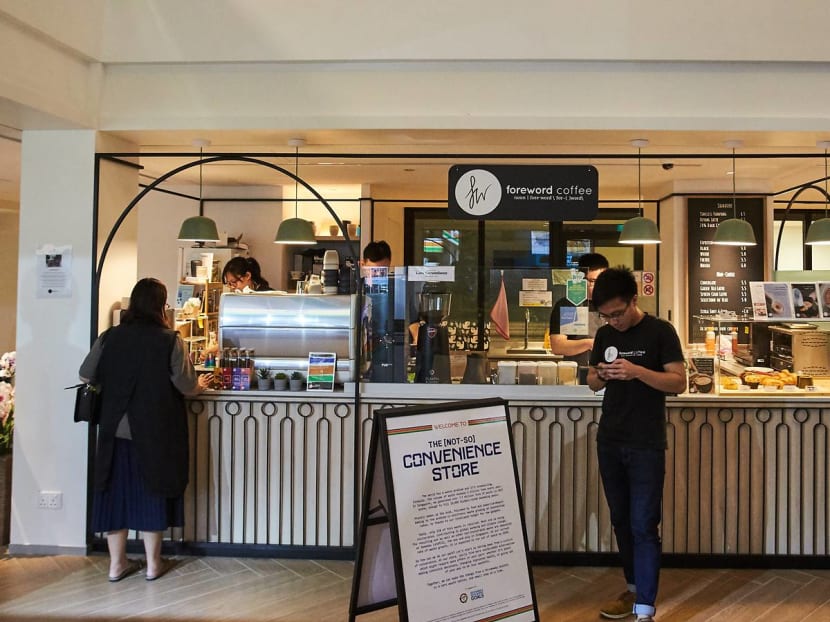 While you're here, stop for a cuppa at Foreword Coffee, which is among a slew of social enterprises that Temasek Shophouse has partnered with. Whether you're up for a regular cuppa, a spiced chai latte or just want a couple of pastries for tea, you'll find it here. How is this homegrown café operator different from your fave Sunday brunch spot? These folks are on a mission, well, a few missions, really. They believe in hiring and providing skills training to differently-abled people, and believe in minimising its carbon footprint by sourcing its beans from Asia and roast them locally.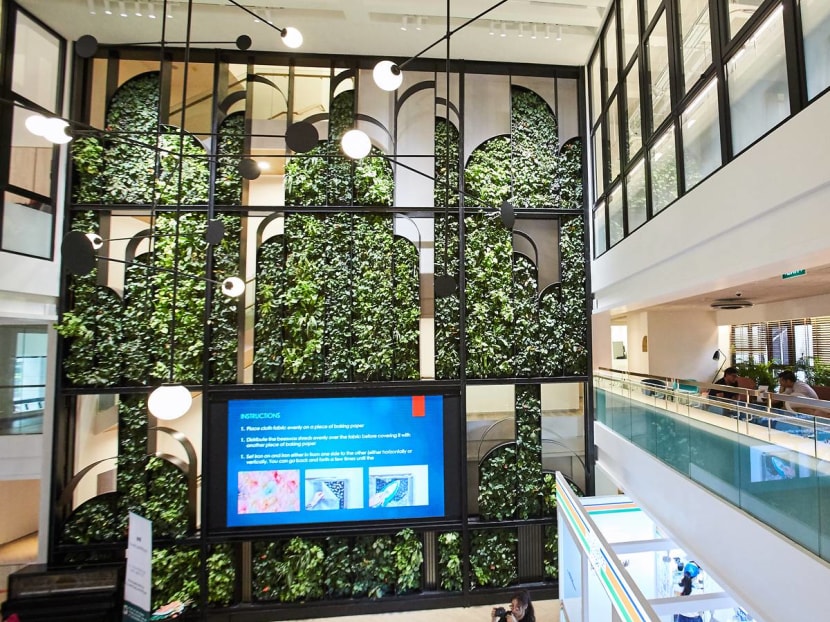 The ground floor is also decked out with a soaring three-storey art deco-inspired green wall, comprising over 20 species of locally grown plants, and comes with a self-watering system. Perfect for some soothing downtime as you sip that cuppa…or for an OOTD.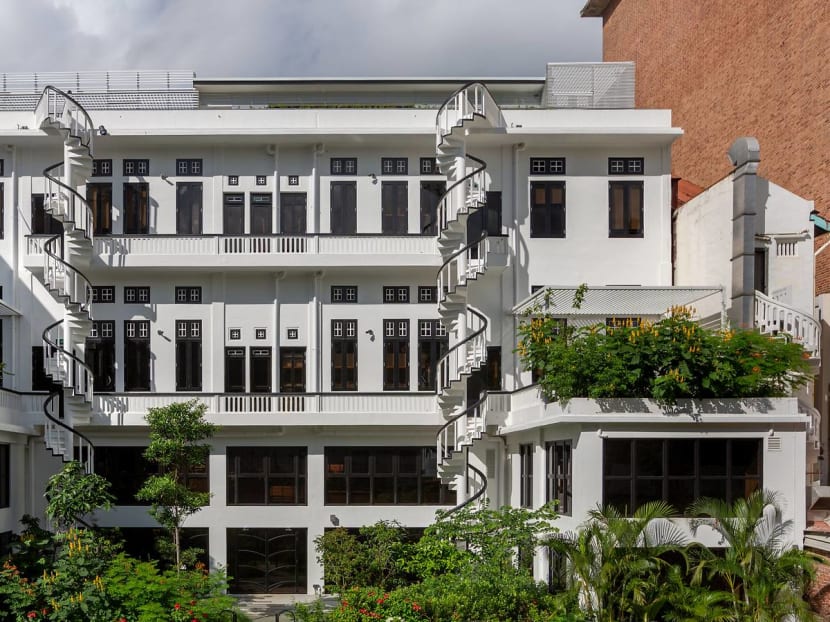 Also accessible to public is the garden at the back of the building, which happens to be just as Insta-worthy as its front.
(Photo: Temasek Shophouse)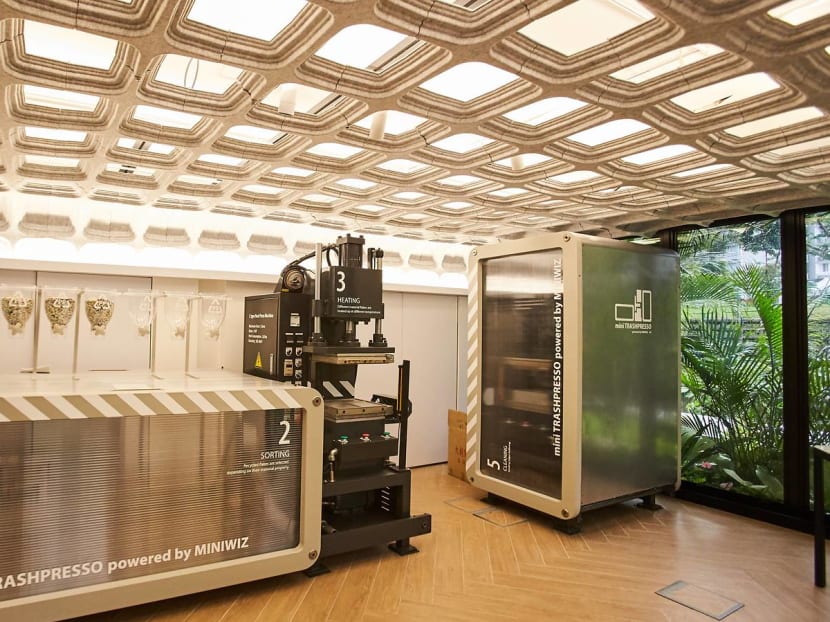 Among the companies that have set up base at Temasek Shophouse's co-working space is Taiwanese company Miniwiz, which turns one man's trash (well, post-consumer and industrial waste, specifically) into upcycled materials that can be turned into furniture using their cheekily-named Trashpresso machine. You can't witness the actual production here, but you can sneak a peek through the glass doors at this version in their showroom at Temasek Shophouse. And if you think we're talking tacky chairs that look like an art student's project, you're terribly wrong.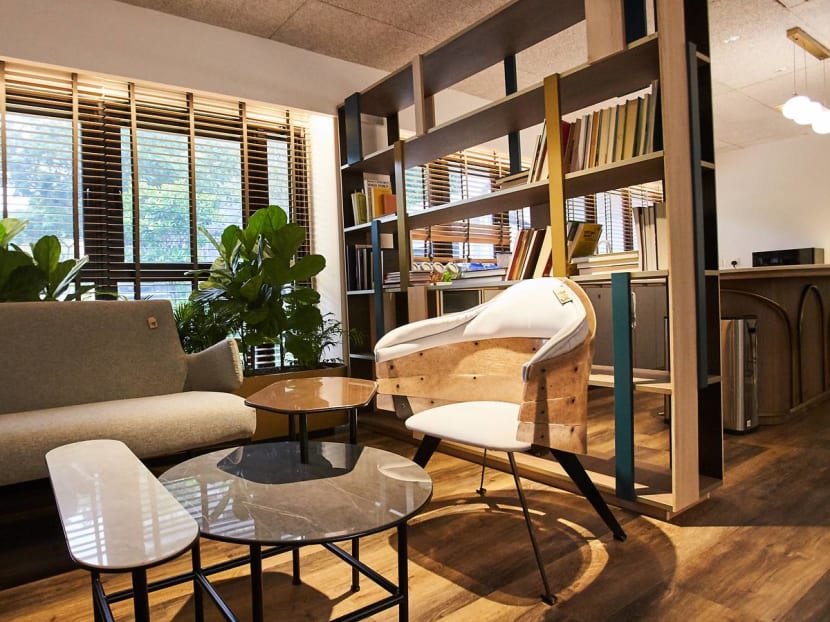 Believe it or not, these mod-cool pieces of furniture, found in Temasek Shophouse's co-working space on the second storey that is not accessible to public, were fashioned out of upcycled materials from Miniwiz's Trashpresso machines.

The [Not-So] Convenience Store runs from Jun 7 to Jul 31, at Temasek Shophouse (28 Orchard Road), 8am-9pm on weekdays and 11am-5pm on weekends. Admission is free. More info at https://temasekshophouse.org.sg/.

PHOTOS: Mark Lee