Getting Tasered, Stealing & Other Crazy Things People Are Doing For Toilet Paper Around The World
It's not just us in Singapore, okay?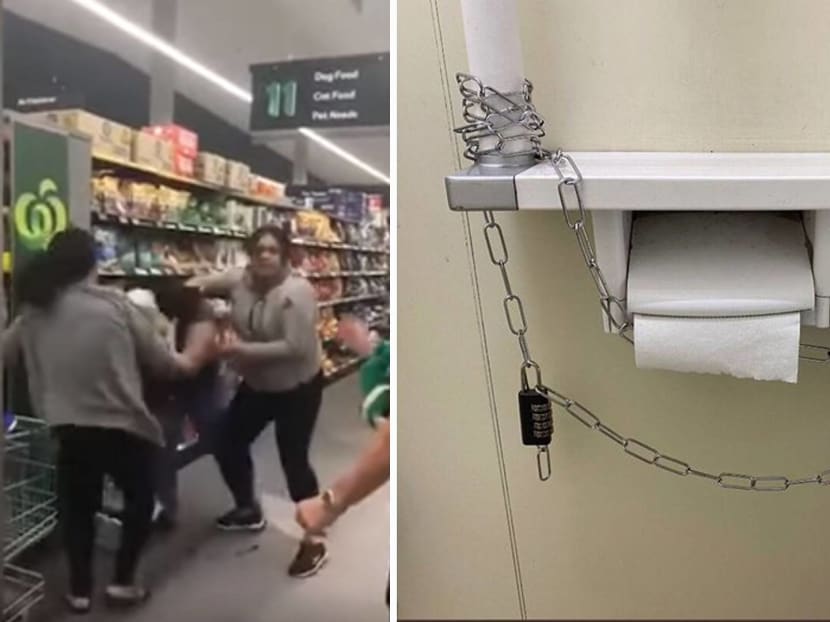 The Covid-19 crisis is teaching us many things about personal hygiene. How to wear masks, how we've been washing our hands wrong all this while… and just how important toilet paper is to us.
You see it in the panic-buying sprees happening all over the world as the coronavirus spreads. It played out like a Hollywood disaster movie first in Hongkong last month where people were snapping up essentials. Among the items flying off the shelves: surgical masks and hand sanitisers (perfectly understandable), rice and cup noodles (of course), and toilet paper (but why though). Then we experienced it ourselves in Singapore in February, the fateful day when DORSCON Orange was announced. And now, people in Australia, the US and Japan are hoarding so much toilet paper, you'd be forgiven for thinking that they'd just licked food off the floor.
This viral photo shows an apartment in Hongkong stockpiled with enough toilet paper for an entire village.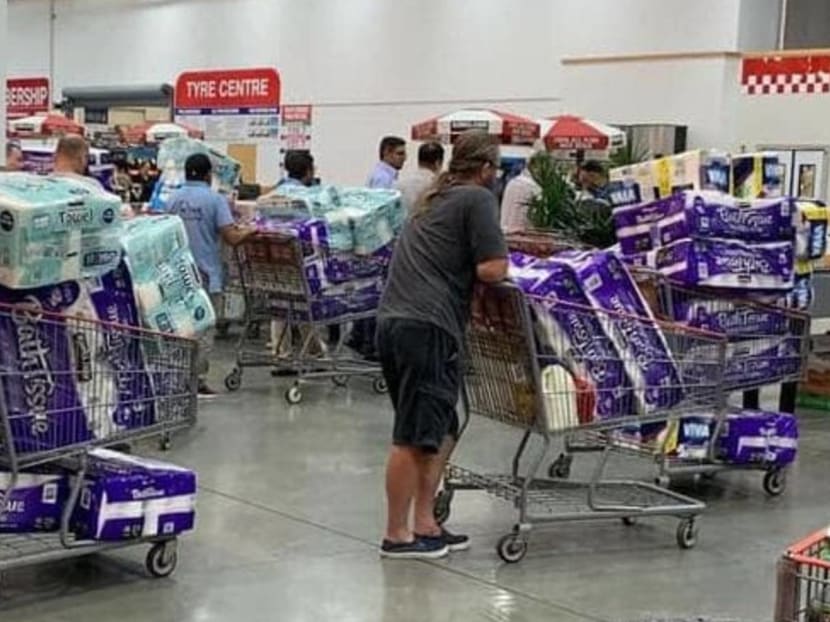 While it isn't the only thing that people are bulk-purchasing in a frenzy, the fact that toilet paper has been flying off the shelves has been somewhat puzzling for some. Experts around the world have weighed in, giving several plausible reasons for the phenomenon. Some say that TP symbolises a way to have control in the midst of a pandemic that's seemingly out of our control. Neuroscientists have explained that when we face a threat, the part of our brain that processes fear and emotions shuts down and this results in irrational thinking. Others speculate that it's just due to plain ol' herd mentality, or should we say, FOMO.

In a video that's gone viral, three women are seen in a scuffle in a supermarket in western Sydney, over toilet paper, of course. There was some shoving, a lot of hair-pulling and enough blood-curdling screams for a B-grade horror film. Except that this is real life. One woman was seen with a trolley heaped with packets of toilet paper, while another was seen confronting her saying: "I just want one packet." The woman proceeded to protect her cart of rolls and replied: "No, not one packet." The store manager then intervened, and called the police.
Two women, aged 23 and 60, have been charged by the police and will appear in court on Apr 28. In the meantime, police are urging people to stop panicking. Said NSW police acting inspector Andrew New: "There is no need for it. It isn't the Thunderdome, it isn't Mad Max. We don't need to do that." Wise words, people.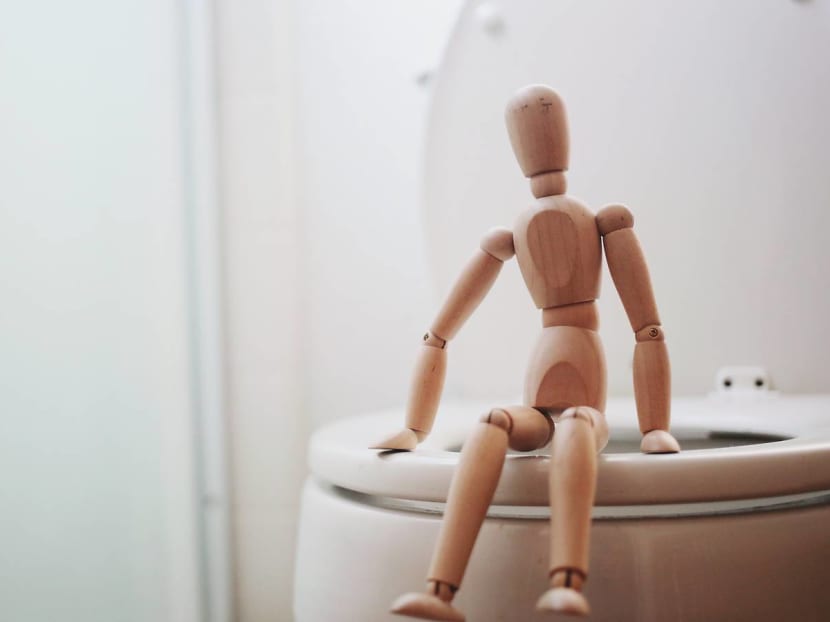 A 50-year-old man was tasered and arrested by police after he got into a scuffle over toilet paper at a supermarket in the New South Wales town of Tamworth. Police tasered the man after he resisted arrest and grasped at an officer's firearm. According to the police, "[T]he man became aggressive over stock unavailability and threw boxes of tissues at a female staff member and walked off. When a female customer approached the man, he allegedly grabbed her around the throat before she was assisted by another customer. No injuries have been reported."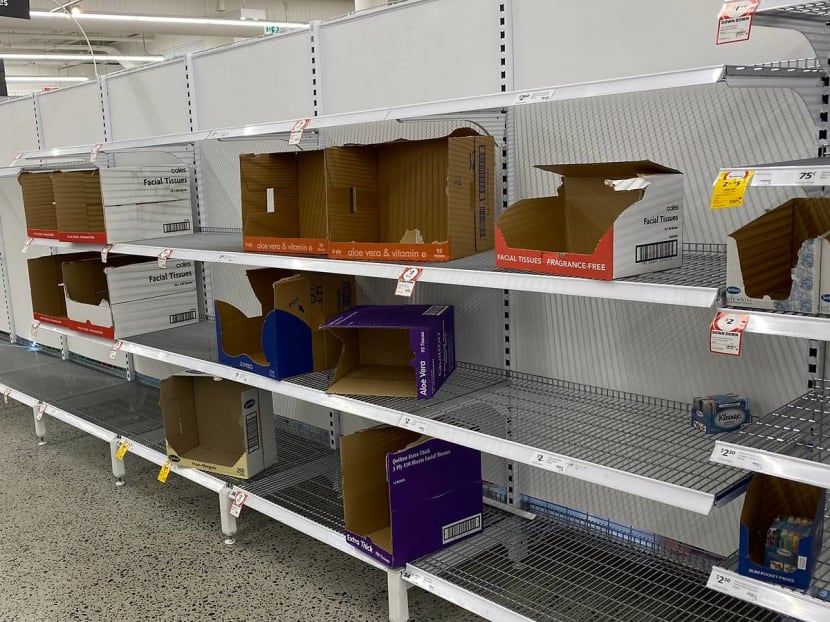 A woman pulled a knife on another customer in a supermarket in western Sydney. The dispute happened as toilet roll supplies were getting replenished on the shelves. The police were called in, though no arrests were made. Police have since revealed that the incident occurred due to the woman's communication difficulties as she is deaf and mute.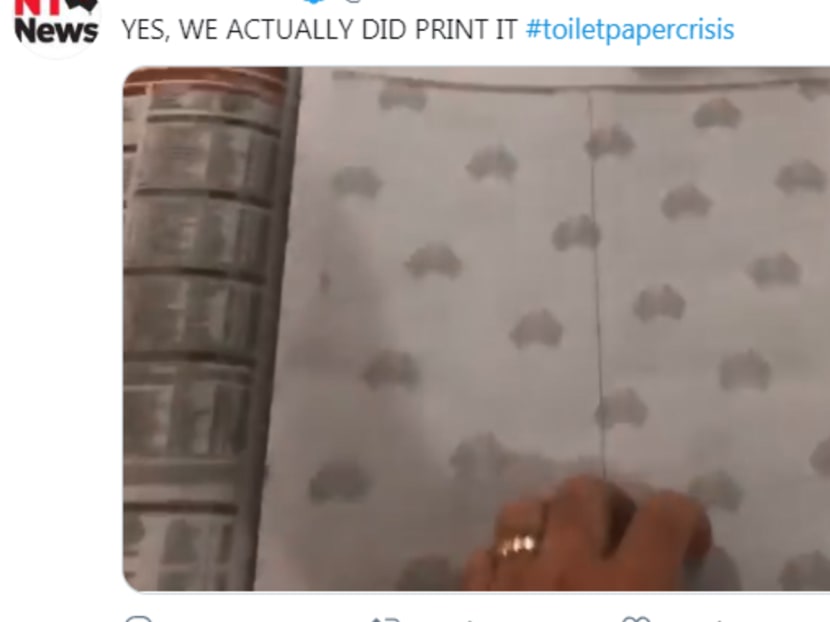 Some folks Down Under have managed to find the humour in the incredulous toilet paper shortage going on. Australian newspaper NT News printed eight blank pages for folks to use as toilet paper, you know, just in case you're down to the last square and can't get any in the supermarkets. The eight-page insert of "limited edition one-ply toilet newspaper sheets — found in the paper's entertainment section, no less — is empty except for watermarks and cut-lines, so you can cut them into squares for use in an emergency. How thoughtful.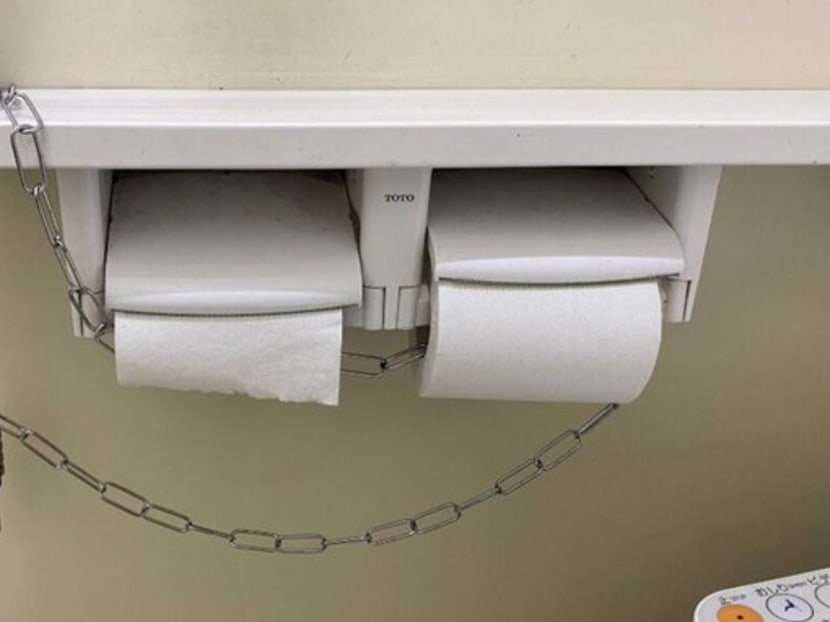 Meanwhile in Japan, folks have resorted to chaining up toilet rolls in public loos to prevent theft. A spate of toilet roll snitching has been reported around Japan. To combat the problem, signs have been put up in some public restrooms telling people not to take out rolls of toilet paper or nick spare supplies. Others state that those caught stealing loo paper will be reported to the police. One public restroom in Tokyo has even been closed due to TP theft. But the one that takes the cake is this one which has chained toilet rolls to the stalls. It's by no means foolproof, but you'll know we've hit peak desperation if someone actually unfurls the roll just to steal it.

A delivery man in Hongkong last month was robbed at knifepoint by masked robbers, who made away with about 600 rolls of toilet paper worth HK$1,600 (S$285). The delivery worker was unloading the precious commodity outside a supermarket in Mongkok when it happened. Police nabbed all three culprits within a day, and the stolen loot was found in a guest house not far from where the theft took place.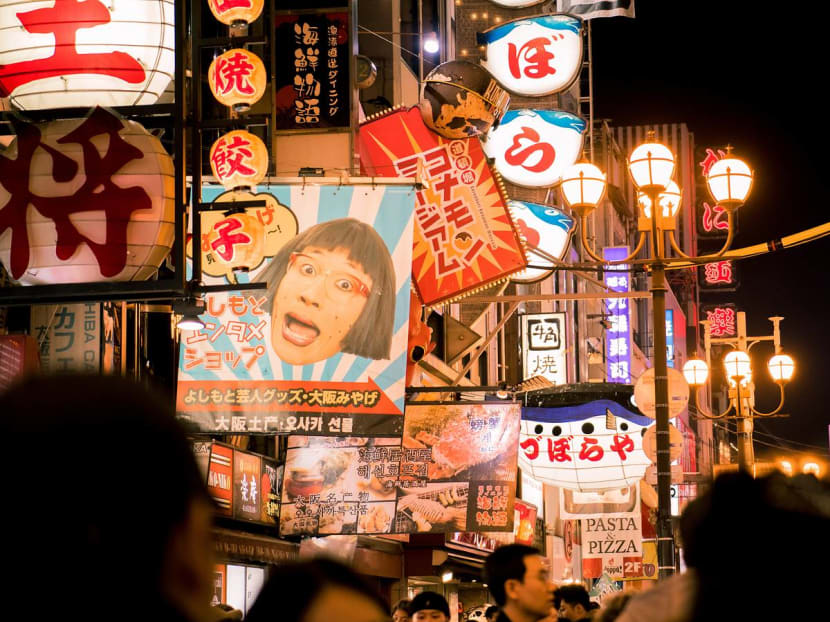 Tweeting about her experience, a Japanese woman said that she had bought the last pack of TP at a drugstore when she overheard a man asking a shop employee if they had more. She offered to give him two rolls—or more if he needed— from the packet she'd purchased as she lives by herself and doesn't need that much. They started chatting and exchanged Line contact details. He later thanked her and asked her out to dinner. "Is this really happening? I met a guy because of a toilet paper shortage!" she tweeted. Is this the stuff of movies? Probably.
Sales of bidets in Australia have reportedly soared ever since toilet paper supplies in Australia have been wiped out. One of the biggest retailers of these personal washer systems in Australia reported a 500 per cent jump in traffic on his website. Meanwhile, there's been an increase in Google searches for terms like bidet (350 per cent increase), 'biday' (160 per cent), and er, 'bum guns' (50 per cent).

Photos: Twitter, Facebook, Pexels, Unsplash