The Merlion Has A Cameo In The Aladdin Musical. Plus, Other Easter Eggs In The Show, On Til Sep 1
Not gonnna lie — this story will open your eyes to a whole new world.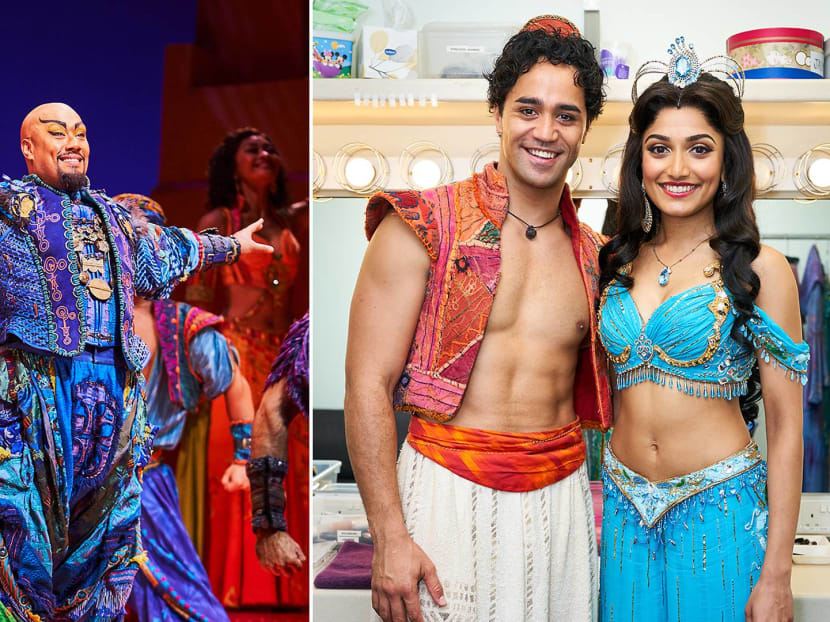 Public service announcement #1: Aladdin the musical has landed on our shores. Public service announcement #2: There will be no Will Smiths popping out of magic lamps (though it's probably for the best). But the spectacular Broadway smash hit, which has earned rave reviews since its inception in 2014, has more tricks up its sleeve than you can imagine.
PHOTOS: Alvin Teo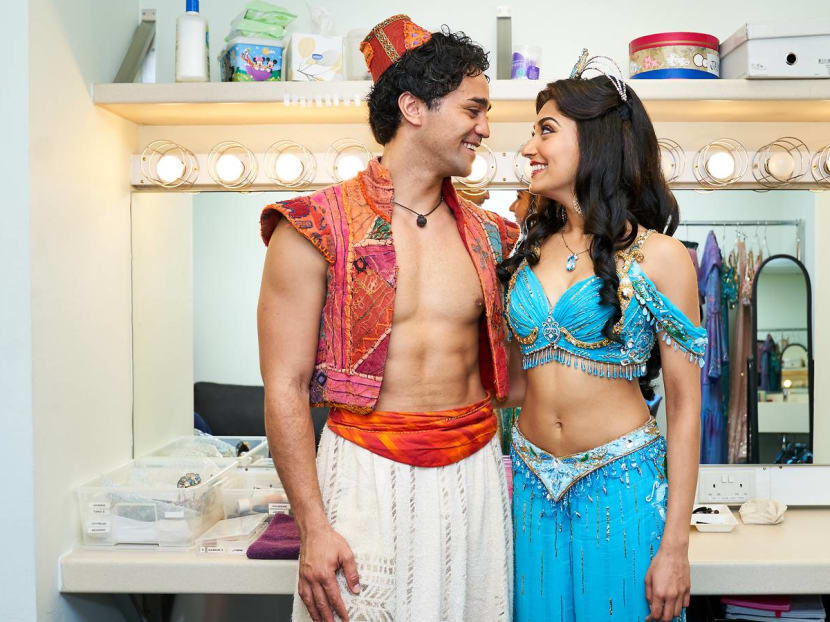 We found that out during a media preview at the Sands Theatre in Marina Bay Sands, where it'll be playing till Sep 1. We got to poke and prod around backstage, hang out with Princess Jasmine in her dressing room, and discovered behind-the-scenes trivia and the wonderful Easter Eggs that Aladdin the musical has hidden on stage in plain sight. Keep on scrolling to find out show secrets that will make your Aladdin musical experience just a little more magical.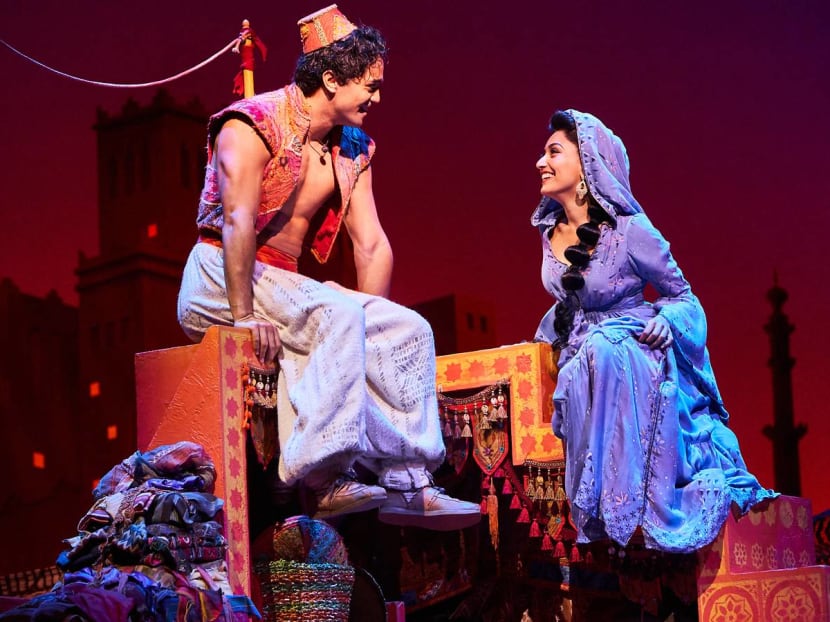 The show travels with 32 shipping containers, and one-and-a-half containers are costumes alone. That amounts to about 200 tonnes of sets, props and costumes, which is double the weight of what the average musical production travels with.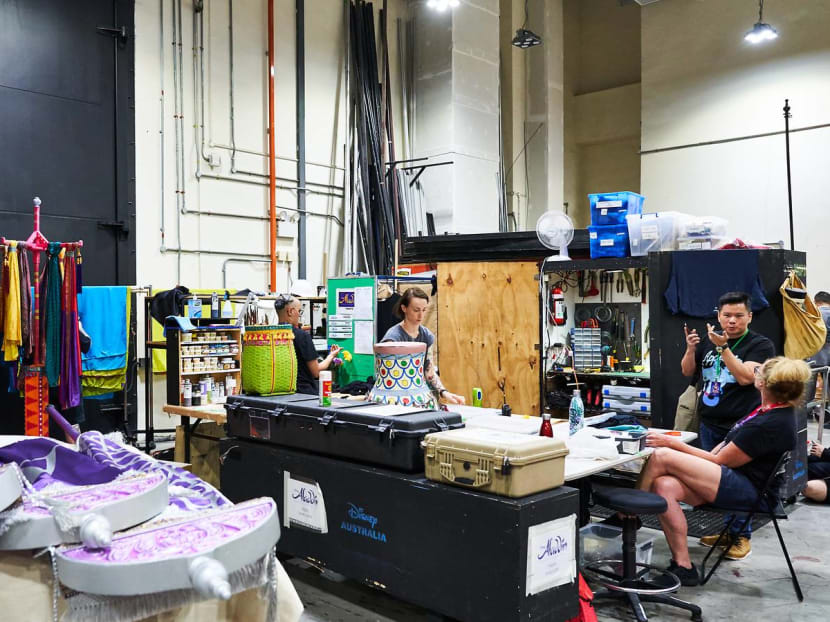 Tucked away just beyond the wings of the stage is this props area, where we nearly walk into wet paint and get a real sword waved in our face. But we also got up close to the genie's lamp(s), so that's okay.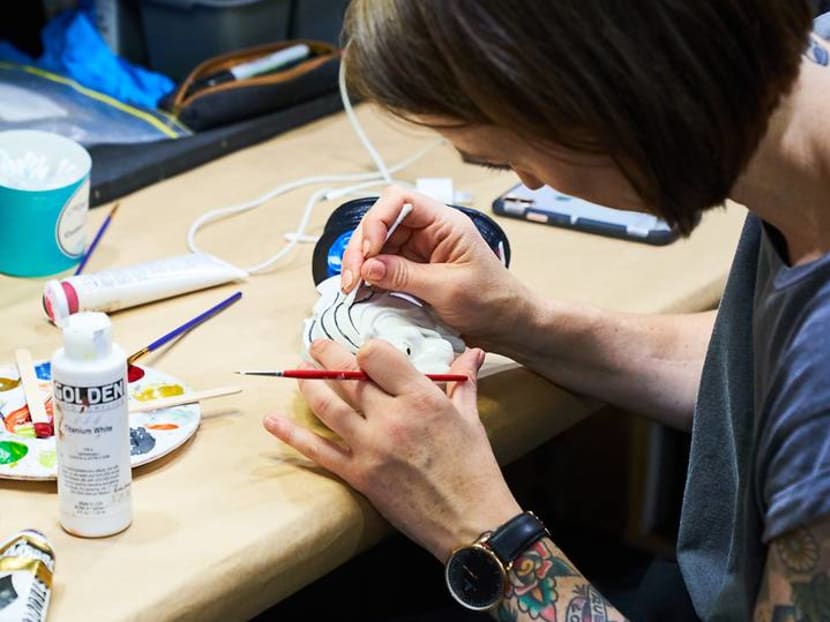 Why is there someone hand painting a Merlion figurine backstage at Aladdin? The man with all the answers and our tour guide for the day, Disney Theatrical Productions production company manager, Matt Henderson explains: "We do a little bit of local flavour everywhere we go. [There's a scene] where the genie pulls out something from his pocket. In New York, it's the Statue of Liberty. In Australia, it's Vegemite."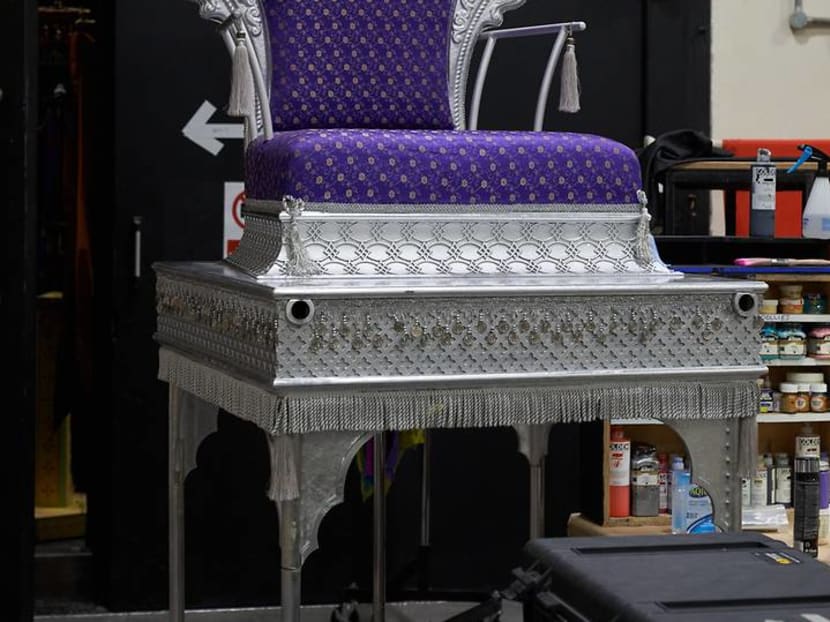 But here's a picture to let you scrutinise the prop — and all of that intricate beading on the edges — for as long as you like. See if you can spot it during the 'Prince Ali' number.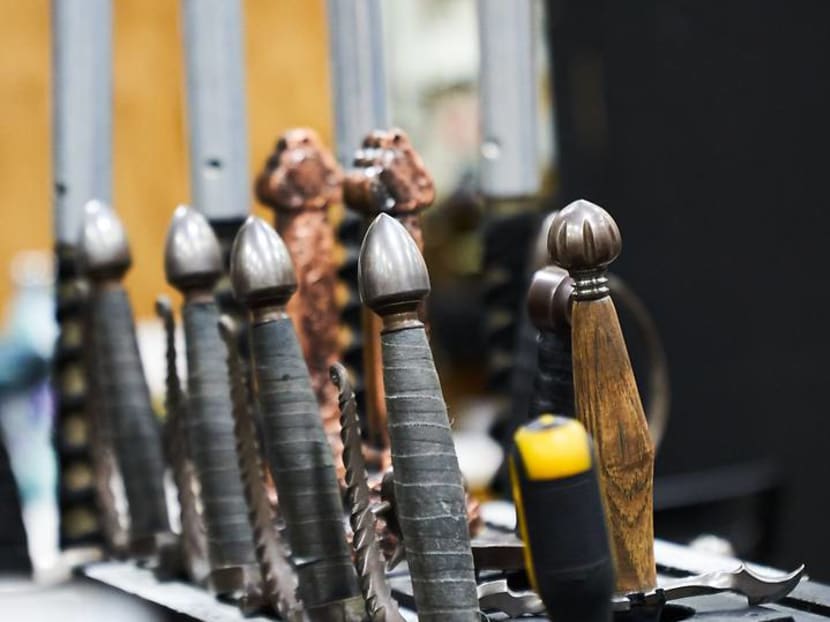 "The fighting is legitimate and the swords tend to get serrated, so even though we dull the blades, they need to be [checked] every night," says Matt. "We've never had any injuries, thank god."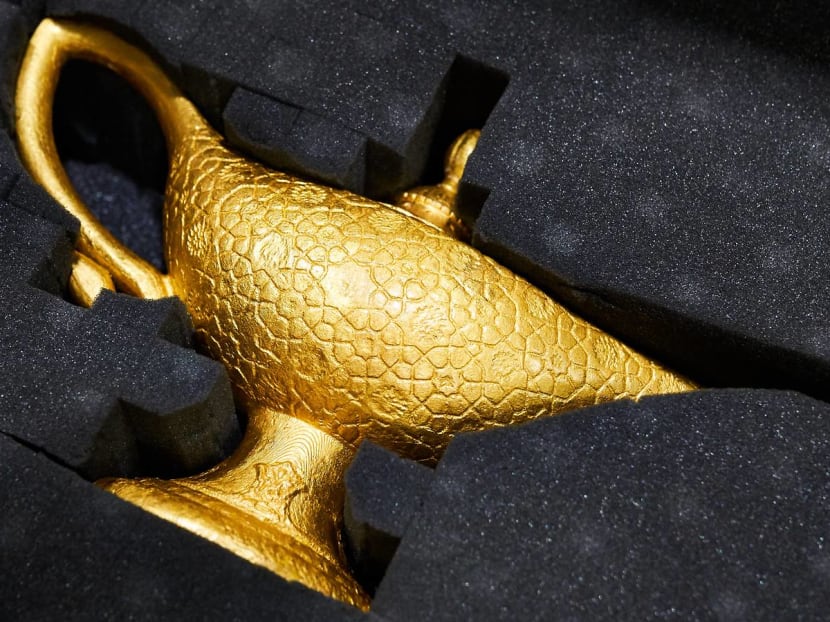 Matt refuses to reveal the exact number, but will only say: "There are several different ones used in the show, and no two lamps are the same."
We'll save you the hassle and tell you that it isn't humanly possible to count them all in the few minutes you have during the 'A Friend Like Me' number, which involves an impressive tap dance segment. But here's what we know: There are 120 pieces of gold that come together to form the super 'grammable set, and the ensemble cast costumes are kitted out with 1,427 Swarovski crystals. Each. There are about 30 blinged-out suits used in total. You do the math.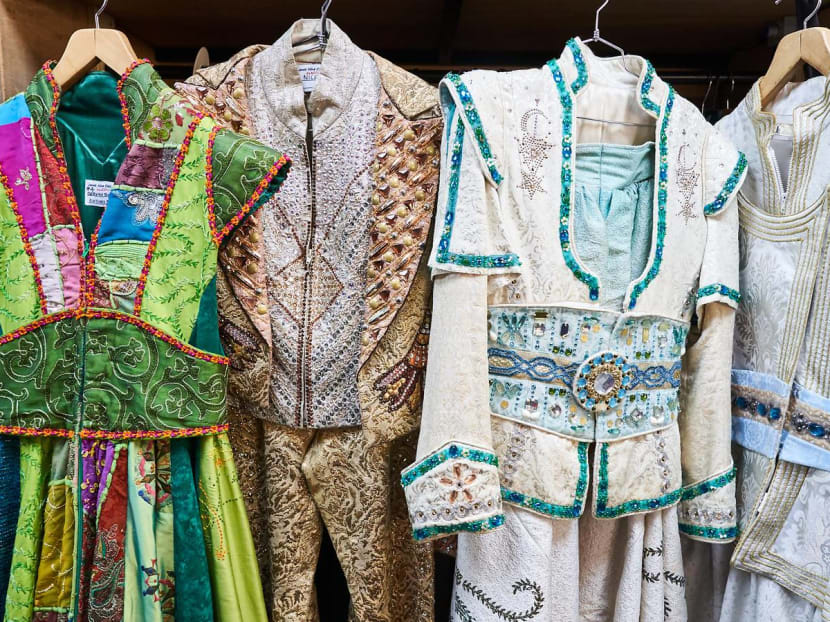 The ensemble outfit (pictured here, second from left) also hold another secret: the pants have microphones in them, so you can hear the tapping crystal clear, during the tap dance segment.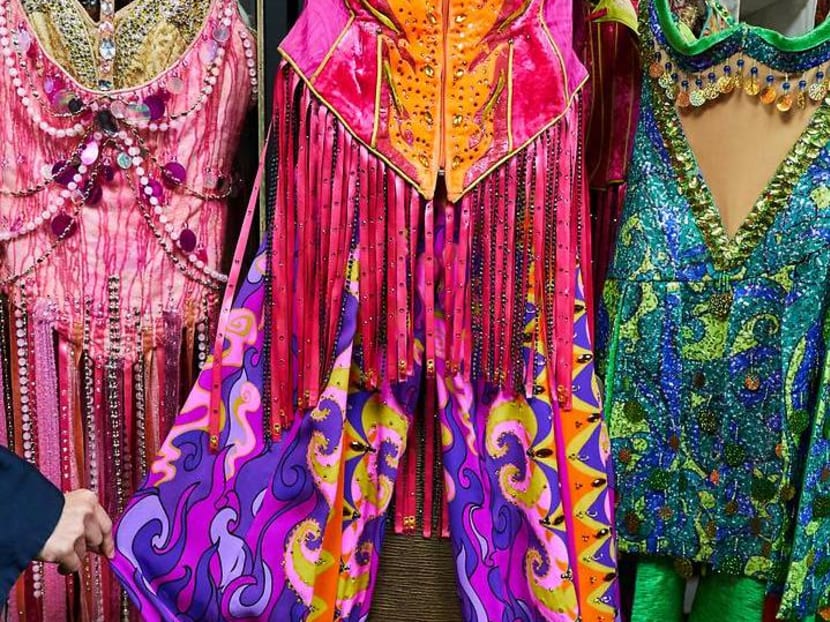 "You may not notice from the audience, but this pattern here on this costume, it's the smoke when the Genie comes out in the original animated feature, and that pattern is replicated in this costume. It's a little homage back to the film," Matt reveals.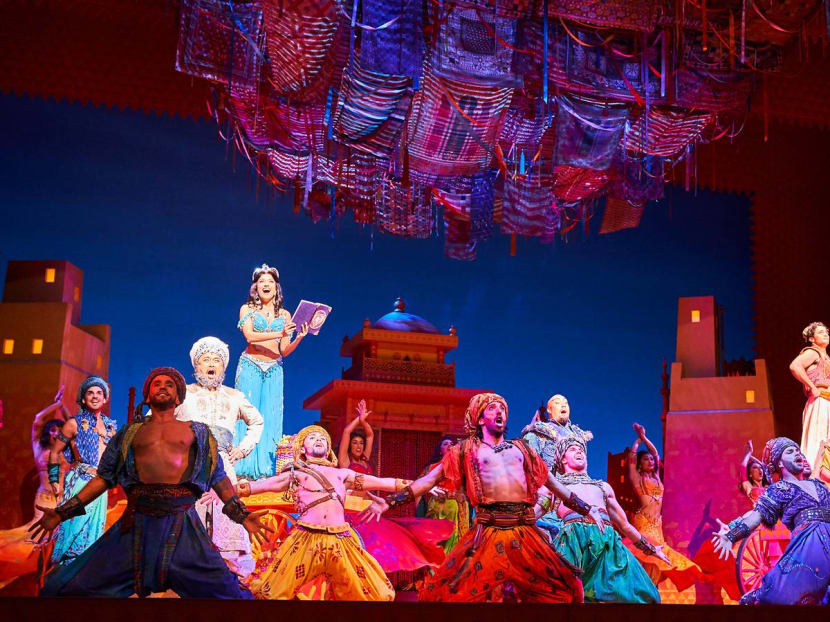 There are over 108 costume changes that take place in less than one minute in the show — and 80 of them are under 15 seconds. You'll want to keep your eyes peeled for the swiftest change, which happens onstage: Aladdin goes from street rat to prince in Just Two. Seconds.
Think performers only burn calories while they're on stage? To get from the stage to the bunker where the costumes are kept, performers have to scale two flights of stairs and sprint down a long corridor. "Some will do up to 15 trips up and down during the show. They'll do their scene, come up, rip the clothes off, change into the next set of clothes and run back down," Matt tells us.
In fact, they're steps away from the stage. We hung out in Princess Jasmine's dressing room with Graeme Isaako and Shubshri Kandiah, the actors playing Aladdin and Jasmine respectively, who let us in on more show secrets, fairy tales and dreams of becoming royalty.
8DAYS: What can we find you doing just before you go on stage?
SHUBSHRI KANDIAH: The whole cast does a physical and vocal warm-up together every day [for half an hour] before the show. I think that's important for us to connect as a group before then doing a show together.
GRAEME ISAAKO: The choreographers and directors who are with us all the time come and give us notes as well, just 'cos there's so much going on — sets, lighting, and other things we can't see in the moment on stage. So it's nice to revisit what we need to do every couple of days and it makes the experience much better for the audience.
If you were a real-life prince or princess, what's the first thing you'd do?
G: You know how in 'Prince Ali' he has this grand entrance? Just for the fun of it, I'd like to have an experience like that — just like, three hours of partying. That'd be really cool. That's how a prince would live, right? He's got the money! (Laughs)
S: If I were a princess, I'd want a personal chef. Yes, I'm a foodie!
You're the leads in a fairytale, so can you come up with a fairytale together that includes these elements: Singapore, genie, and durian.
S: Once upon a time in Singapore…
G: …there was a young boy…
S: …who wanted to be a genie.
G: So he figured out a way for someone to rub a lamp and get wishes…
S: And out came a durian.
G: The durian granted the three wishes to the little boy...
S: …after he ate it.
Catch Aladdin from Jul 21 to Sep 1 at the Sands Theatre at Marina Bay Sands. Tix from $68 at Sistic. More info at www.marinabaysands.com.
While we can't tell you how it works, we can tell you this. Only a select few get to ride the magic carpet — Aladdin, Jasmine, their understudies and technical crew ride it on a regular basis.
Photo: James Green