Why A Singaporean Millennial Went On An E-Scooter Tour Around The Island — And The Amazing Lessons Learnt Along The Way
It's a history lesson with a plot twist.
We know what you're thinking: Why would a Singaporean need to go on a tour of Singapore? When the invite to go on Trails of Tan Ah Huat landed in our inbox, we were intrigued. Born and bred in Singapore, we weren't sure what this heritage tour around Singapore could teach us that we don't already know. As it turns out, much more than we expected. You know how you can spend your whole life walking past something and not think twice about it? And then something happens and your mind is blown and you see it in a whole new light? You get our drift.

If you've ever wondered what life was like for an early immigrant in Singapore, Trails of Tan Ah Huat might be for you. The four-hour tour purports to be a nostalgic, interactive journey through the Downtown Core and winding back alleys of Haji Lane. Your guide is a Chinese immigrant who'd lived through Singapore in the 1920s (okay, it's someone playing the fictitious character, not a centenarian or a ghost) who will take you through his fictional life story. We're not going to give away any spoilers to Ah Huat's story, but just know he's a medicated oil seller looking to peddle his wares to other immigrants in Singapore, and then, life happened.


The only catch: you have to choose if you want to traverse the island by bicycle or e-scooter. Now, we're pretty sure our grandparents weren't whizzing around the streets of Chinatown on e-scooters, but we sure were sure excited to go on this adventure. E-scooter noobs, fret not. You'll get some time to practice before the tour begins.
At 8.45am on a Friday morning (sorry late risers, this tour is only conducted in the mornings), we gather at the Crawford Lane office of Let's Go Tour Singapore, the homegrown agency known for their curated bike and e-scooter tours. We are greeted by co-founder Robin Loh, 47, (above) who jokes that he ended up as the poster boy for Tan Ah Huat because they "didn't have a budget to hire someone else".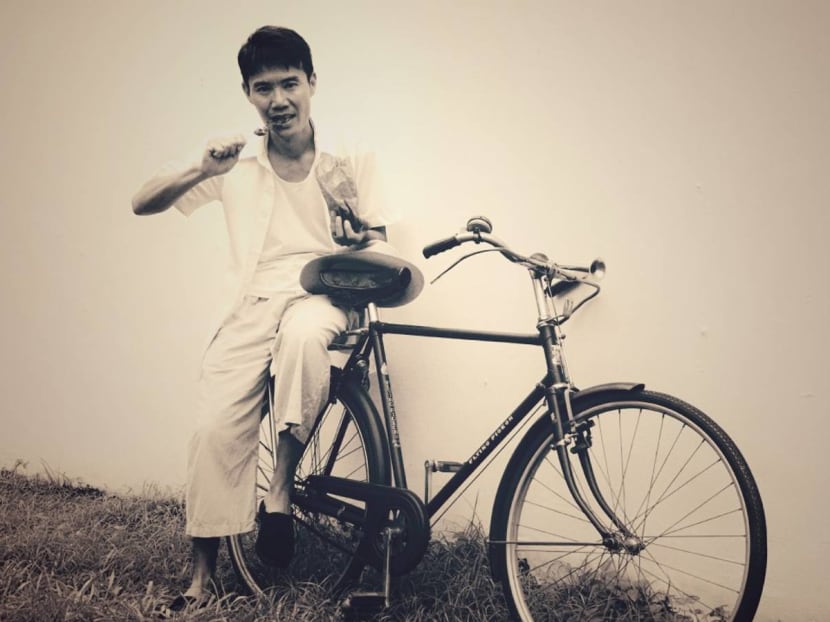 Robin, who also runs several F&B and spa businesses, tells us that "local sights, local heritage and local food" are his passion, and promises us that the tour we'll be going on is an "immersive storytelling experience that isn't just about walking past landmarks". At each stop, Ah Huat tells you another chapter of his life story. In other words, there's no such thing as giving up halfway, unless you can live with cliffhangers.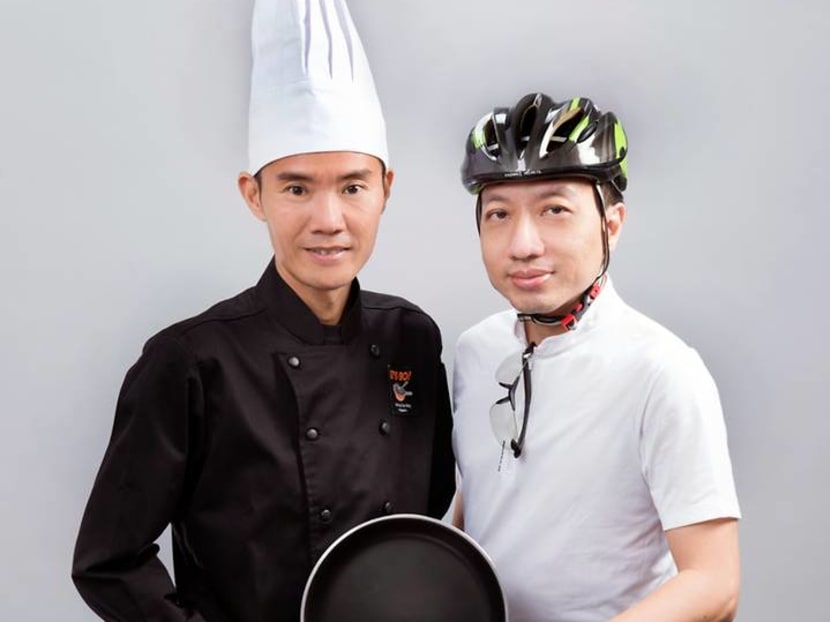 But why bicycle tours?
According to Robin's partner, Daniel Tan, 48, who happens Robin's insurance agent, he "got the idea of a bicycle tour when [he] went to Bangkok some years ago." And because he didn't fancy shopping for four whole days, he went online and decided to book a bike tour.
The self-deprecating Daniel marvels at the fact that he managed to survive the tour, which he calls a "marvellous experience". He recalls: "The tour was well-designed by using side roads and alleys to avoid heavy traffic. I saw parts of Bangkok few tourists ever see. Upon my return, I was determined to create the same here. I needed a partner who has a place in the town area so I looked in my client list for someone to con… I mean, convince! (Laughs) And I found Robin! Bought him kopi and 30 minutes later, he [decided] to invest $3,000 and the company was born."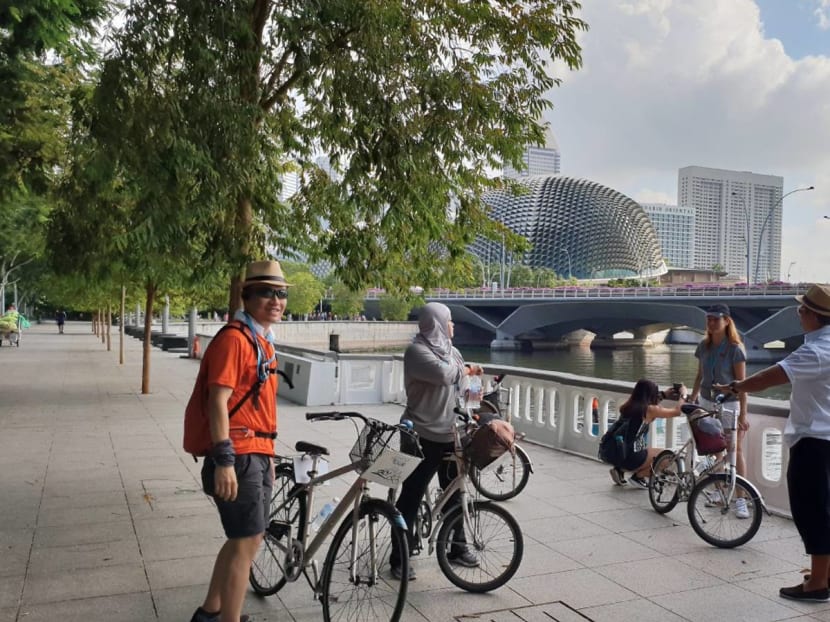 The itinerary sounds great, but we're slightly concerned about riding in the sun for four hours. Would our foundation and false lashes survive? (Here's one tip for the girls: Slap on some sunscreen and forgo the make-up.) Robin assures us that there would be sufficient rest stops, many of which are under shade, and snacks provided along the way. Phew. The pit-stops, especially those in the shade, prove to be much-needed.
Our e-scooter adventure is quite smooth, and attending a weekday morning sesh certainly helped since the streets were generally quite empty. But if you're an inexperienced e-scooter user like us, take extra care because we got painfully nicked in the ankle twice.
However, Robin isn't available to take us on today's tour, so our guide is Tan Ah Huat's understudy , a 29-year-old dude named Alfie. He's dressed to impress in coffee shop uncle garb, an old school straw hat and a Good Morning towel to complete the 1920s look. He has been a tour guide for five years, and today, he will be doubling up as a storyteller for us. He shows us a safety video, hands us bottles of chilled water, and off we go to soak in some Vitamin D.

Scroll on for some highlights of the trip, and five places in Singapore that we've always passed by, yet know very little about its history until our nostalgic trip with Tan Ah Huat.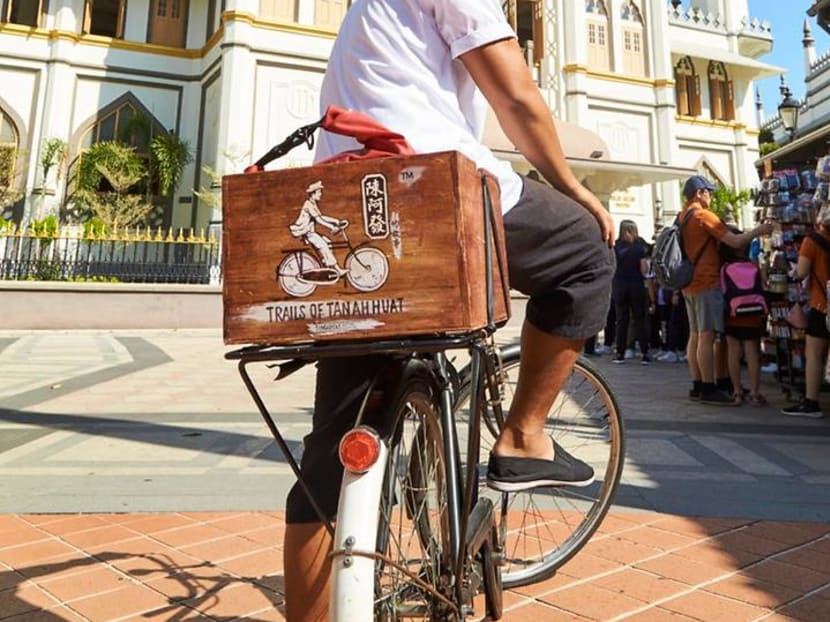 Just a stone's throw from Haji Lane, our first major stop is at the biggest mosque in Singapore, the Sultan Mosque. We may have taken countless OOTDs there, but never really knew this nugget of info that Alfie was about to tell us.
Did you know? The black strip that runs under the golden dome of the mosque is actually made out of donated soy sauce bottles. Say what?
Shortly into our journey, we scoot past this magnificent Singapore icon, which has played host to numerous celebrities, including Michael Jackson in 1993. Although Raffles Hotel is currently under renovation and is expected to reopen in August, Alfie still stops and enthusiastically tells us about its history. He may be playing the role of a medicine seller from almost 100 years ago, but Alfie incorporates technology into his spiel today, and whips out an iPad to show us videos which had been shot at that exact place during the olden times.
Did you know? The Singapore Sling was first concocted in 1915 by a local bartender named Ngiam Tong Boon.
​​​​​​​Photo: Raffles Hotel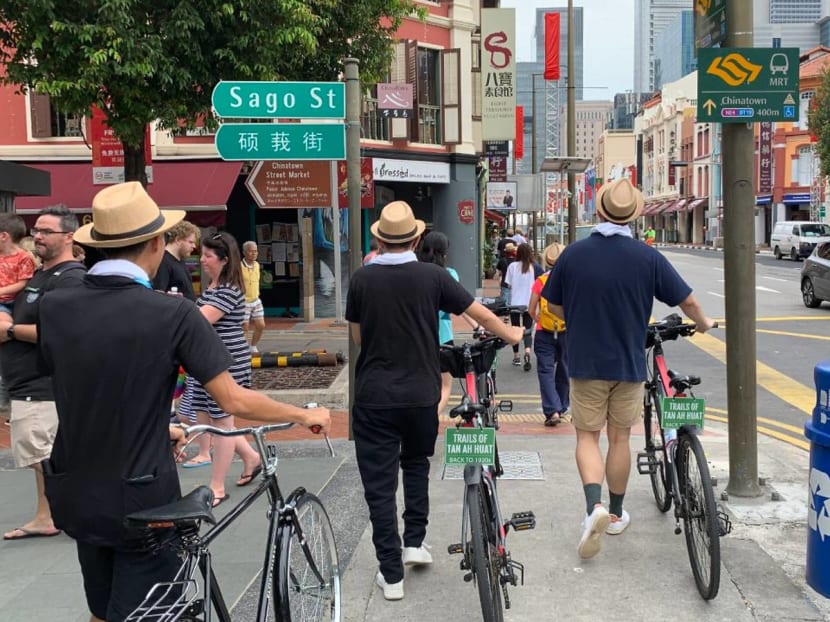 If you paid attention in class, you'd know that Chinatown was once home to brothels and opium dens. But where exactly? Let Alfie show you the way. We're about two hours into our journey when we stop at Chinatown. When Alfie announces that it's tea break time, we're frankly quite relieved. By now, our lack of stamina is beginning to take its toll. But strangely, we've become quite invested in Ah Huat's life story, so this break means that we get to hear about yet another chapter of his life. And, boy, is it one of the most interesting ones yet. We've always known seedy things used to happen here, but never realised just how deep and dark a history Chinatown has.
Did you know? Sago Lane used to be a street of death houses for the poor and terminally ill to spend their last days and to get a proper burial when they pass on, all free of charge.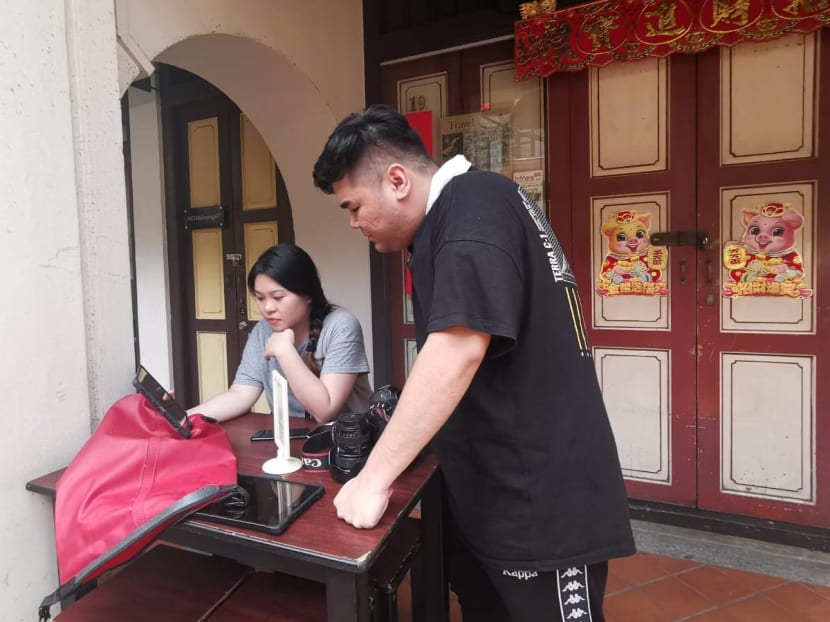 After the Sago Street revelation, the mood is slightly sombre, but we keep calm and carry on to Smith Street, which used to be bustling with brothels. The area was also a hotbed for opium smoking, drinking and gambling. Alfie describes these houses so vividly, it's like we were there. Naturally, we have questions, and Alfie is more than willing to share.
Did you know? "Back in the day, prostitutes were treated really badly and were not entitled to doctors even if they were sick. These women, often riddled with diseases and subjected to beatings, had no choice than to commit suicide by throwing themselves off the top floor of this building," he reveals, pointing up at the shophouse above us.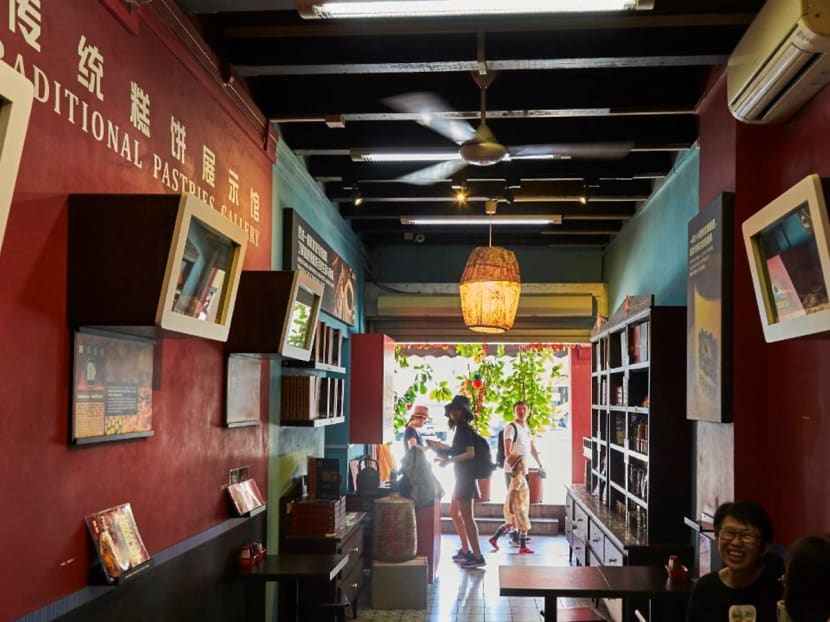 We consider this stop a highlight not because we finally get to rest in air-con comfort because the inside of the store holds a very fascinating insight to coffee shops of the past. Once we refuel with teh peng and kaya toasts, we're led to the air-conditioned corner of the coffee shop where a plethora of items from yesteryear are displayed.
Did you know? "In the past, if you could afford to go to coffee shops where you could sit down like this, it meant you're of a certain financial status?" Alfie quips. "Did you also know that coffee shops used to double up as 'recruitment agencies', where bosses would discuss business dealings over coffee and yell out to a bunch of coolies waiting outside for jobs if they needed an extra pair of hands for manual work?" Wow. We. Did. Not. Know. That.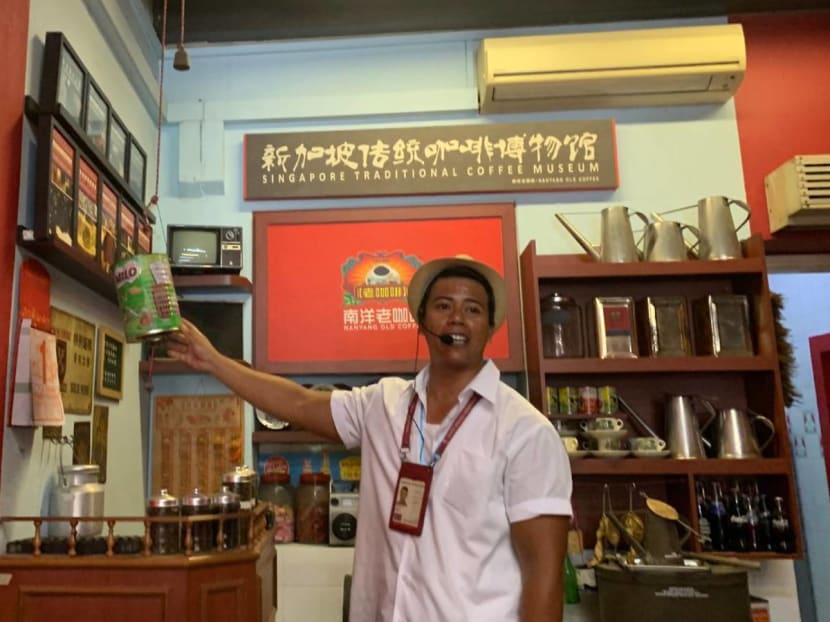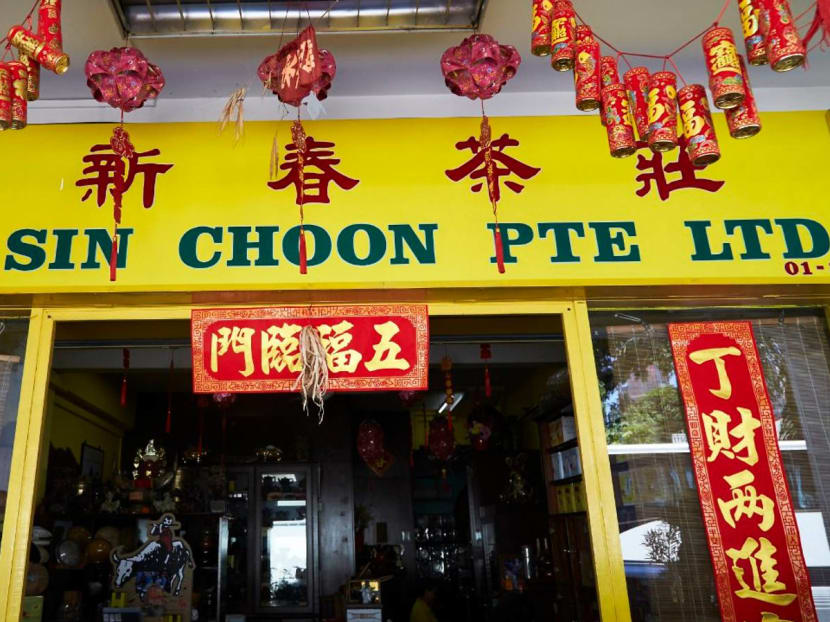 We arrive at one of the oldest tea merchants in Singapore, which was established in 1925 by Chinese immigrants. The shop still uses the traditional method of hand wrapping their teas with pink medicinal paper and we manage to catch one of the workers packing tea in action.
Did you know? "There's free tea for everyone and anyone that walks past this place!" exclaims Alfie. The tea here is still refilled up to four or five times a day.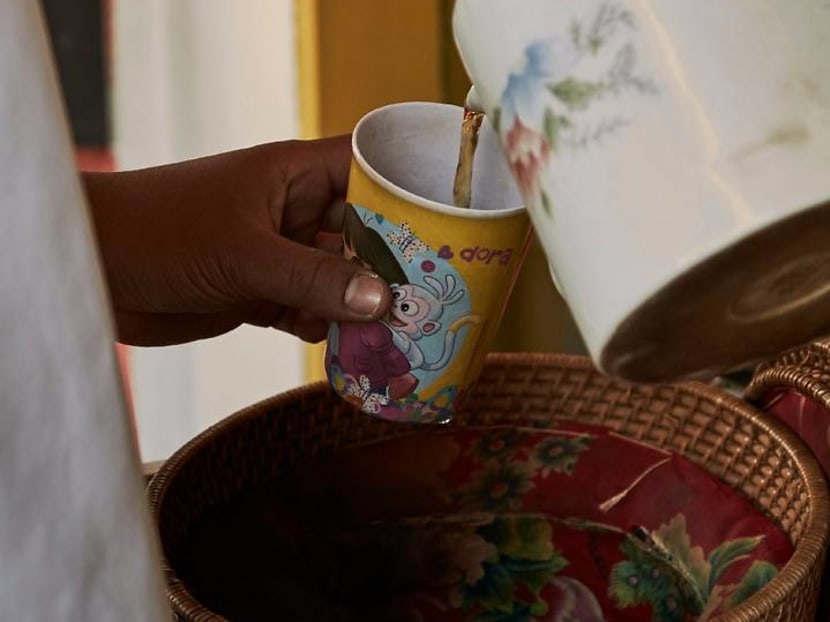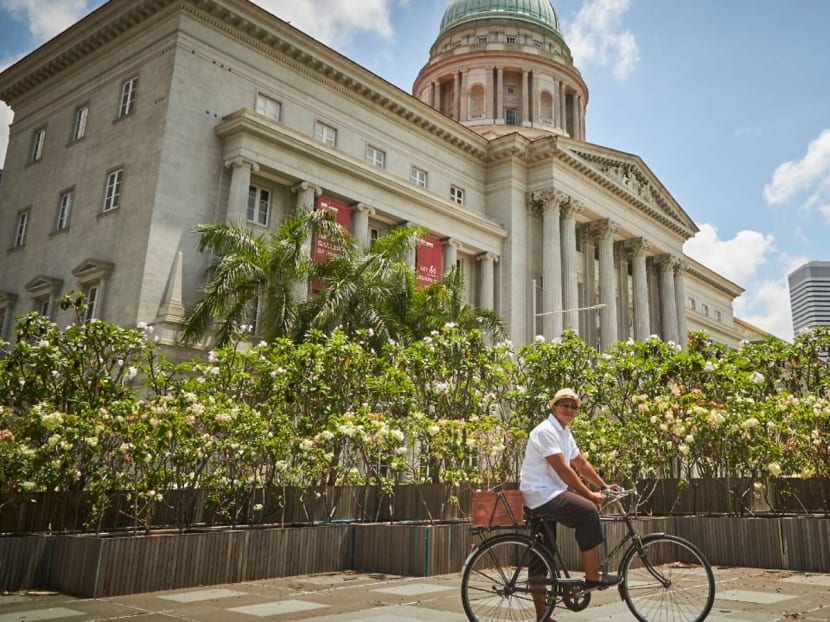 Tan Ah Huat's story may have ended by the time we reached Marina Bay, but riding along the scenic waterfront and speeding along the F1 tracks was a treat.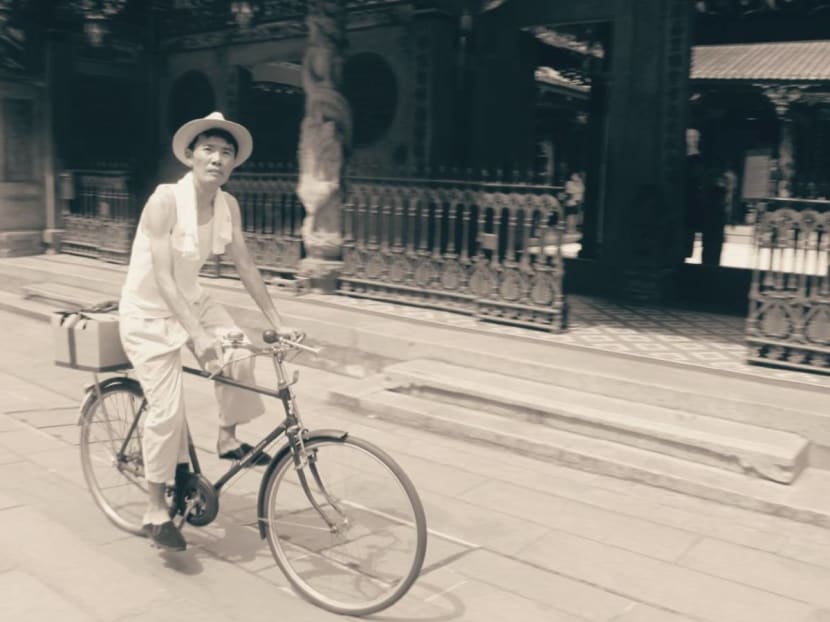 The tour lasts 4 hours, and costs $99 per person. 8DAYS.SG readers get a 10% discount — just enter '8DAYS' at the checkout. Each ticket gets you a straw hat, Good Morning towel, a bottle of water, the use of a bicycle or an e-scooter and helmet, a dedicated licensed tour guide and storyteller, as well as local drinks and snacks at designated rest stops.
Trails of Tan Ah Huat, Singapore 1920s starts at Block 462, Crawford Lane, #01-57, Singapore 190462. From 9am to 1pm on various days. More info at https://www.letsgotoursingapore.com/product/trails-of-tan-ah-huat/.
Photos: Bryan Lim and Let's Go Tour Singapore