Will This Reusable Mask — Designed & Developed In Singapore — Change The Way You Think About Masks?
The design is inspired by the scuba diving mask.
Now that masks are here to stay (on our faces) in the foreseeable future, it's only natural that we're on the lookout for safe and economical alternatives to the disposable surgical mask. There are the free reusable masks handed out by the government, or fashion-forward alternatives that local fashion brands have churned out. But a group of people in Singapore, with backgrounds in medical engineering, industrial design and healthcare, have designed and invented this intriguing-looking contraption known as the Gill Mask.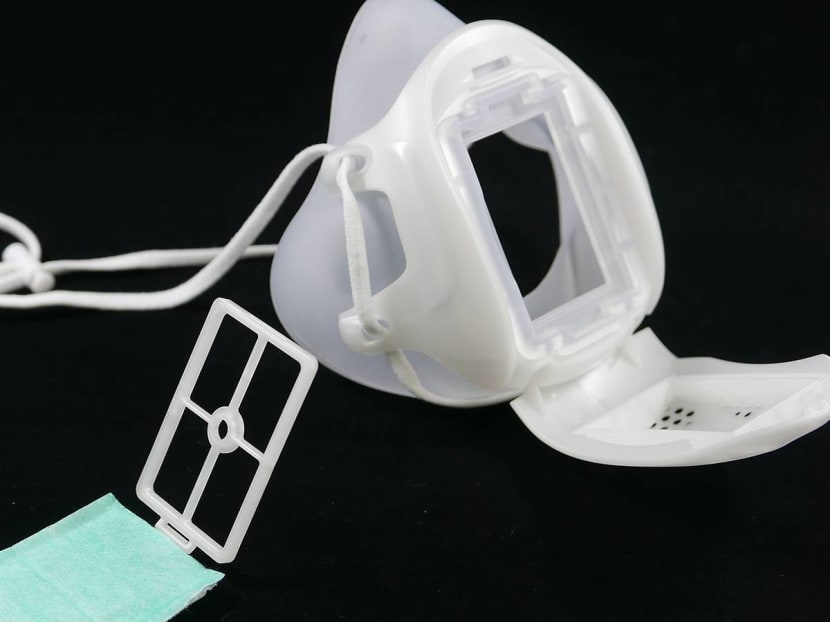 The Gill Mask is marketed as an eco-friendly reusable silicon respirator, inspired by the design of a scuba diving mask. The mask comes with a detachable cartridge that holds a disposable filter (the makers recommend using a portion of a three-ply surgical or non-surgical mask, or an N95 equivalent folding mask material filter). In this respect, the Gill Mask helps extend the use of a single surgical mask by multiple times, since you only need to use a part of the disposable mask in the cartridge each time. Straps are also adjustable. And even as the filter is constantly changed, the Gill Mask has to be washed regularly in hot water and then air dried, or you can sanitise it with disinfectant wipes or spray before rinsing off.
Veronica Chew, head of sales and marketing at Gill Lab, tells 8Days.sg that the Gill Mask has "a tight fit of a N95 respirator that seals the mouth and nose of the wearer", and offers the protection of a respirator such as the N95, and the fluid-resistant properties of a surgical mask due to the filter in the cartridge of the Gill Mask. In terms of breathability, the Gill Mask is comparable to N95 masks, Veronica adds. The mask's soft silicone material purportedly conforms to each individual's face, which is meant to minimise bruising and irritation on the face.

The Gill Mask was introduced in April, and about 2,000 to 3,000 are currently used by frontline workers, such as delivery staff and taxi drivers, as well as consumers. On how the Gill Mask came about, Veronica shares: "The Gill team decided to tackle the problem from a different angle to reduce surgical mask consumption and offer a more protective seal. Inspired by snorkelling masks and the ability to breathe under water, the team used their expertise in designing medical devices and user experience to develop a safe, comfortable and sustainable respirator suitable for both professionals and the public."
The Gill Mask is available in two sizes for adults and retails from $28.50. More info at www.gillmask.com.
Photos: Gill Lab