Titoudao Star Koe Yeet Reacts To Circuit Breaker-Inspired Bubble Tea Meme: "I Look Very Pitiful!"
The Malaysian actress revisits some of the memorable moments of making 'Titoudao: Inspired by the True Story of a Wayang Star'.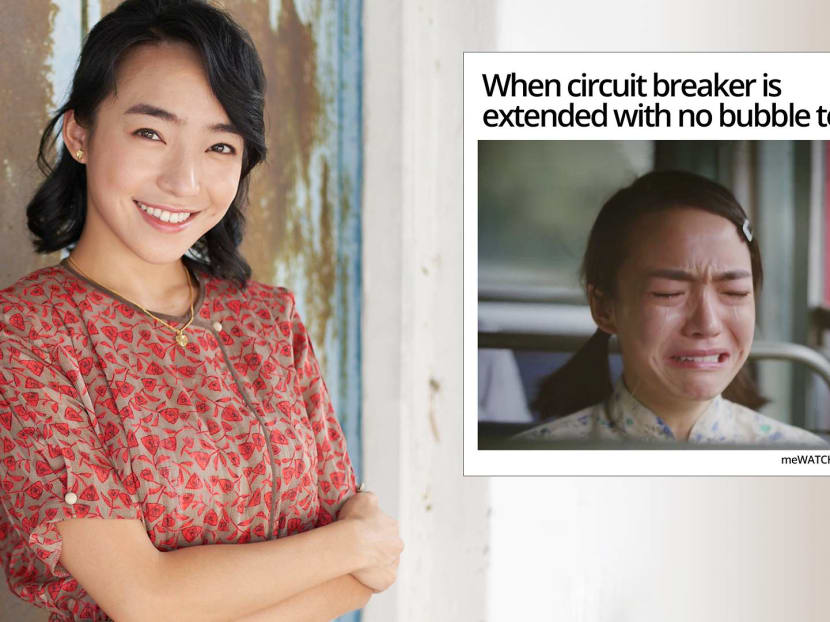 The last time 8days.sg spoke to Koe Yeet was in December, on the set of Titoudao: Inspired by the True Story of a Wayang Star, Mediacorp's English-language biopic of Chinese opera dowager Oon Ah Chiam, in Ipoh. We were pressed for time then, with only a few minutes with the Malaysian actress — who plays the eponymous character — before she was whisked away to film what would be the farewell shot of the series.
When we catch up with Koe Yeet recently, things are different now: she has all the time in the world for us. "I am very free," she tells us over Skype from her Kuala Lumpur home where she's currently sequestered with her parents. "I have nothing to do." (Our chat happened just two days before Malaysia extended its Movement Control Order, which took effect since Mar 18 to contain the spread of COVID-19, for another four weeks to June 9.)
By "nothing to do", she means she's been passing time watching movies and random YouTube videos, reading and updating her social media. "I'm spending a lot of time with my parents," says Koe Yeet who has her own apartment before moving back amid the MCO. She was used to seeing her parents — her father owns a security company while mother is a housewife — once a week "but now, every day is Sunday."
Let's wayang a bit: Koe Yeet going through her stage action with the director. After doing 'Titoudao', Koe Yeet can speak a bit of Hokkien now. My dialect group is Kwongsai, so I was never really good at it, she says. In KL, no one speaks Hokkien. My mum speaks it but my dad doesn't understand it.
Chatty and lively, Koe Yeet, 28, doesn't sound like she's been worn out by the lockdown. At the time of the interview, Titoudao is just one episode shy from its finale on Channel 5 and is about to be launched on Channel 8, dubbed in Mandarin. Koe Yeet, who's also a trained barrister, is curious about how that version will turn out. She's in awe of the people redoing the voices. "It's not easy, man," she says. "I don't know how they are going to do it. It's going to be a da gong cheng [huge undertaking in Mandarin]."
Over the course of our conversation, we discussed her memorable moments in making Titoudao, her ambivalence about sharing relationship stories with netizens, and her thoughts on the ugly-cry scene which was turned into a bubble tea meme (our bad!). Here are six things we learnt from her…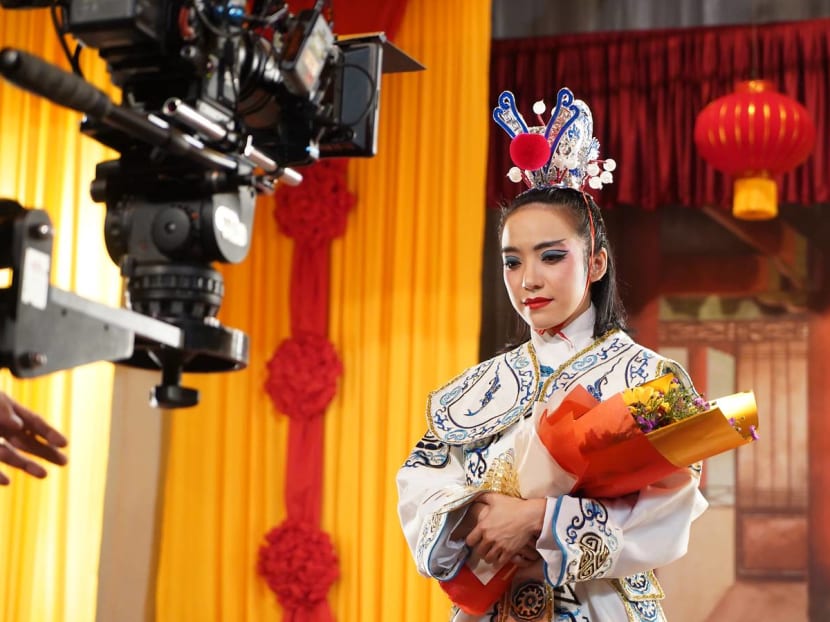 1. Titoudao: Inspired by the True Story of a Wayang Star is the first show she's on that her pals have seen.
"My best friends don't really watch my stuff," Koe Yeet shares. "Because they say it's awkward to watch me — they know me, they grew up with me." But because Titoudao is her first Singapore TV drama, her KL kaki decided to make an exception. Their feedback? She was surprised that they liked it. "The series is so good that they forgot that I am their friend," she says. "My friend's mum watched it too but she doesn't understand English, so it's good thing they have the Mandarin version now."
2. She is mesmerised by how the show looks.
Koe Yeet is so blown away by what the artisans did with the colour grading that she wants to hug them. "When we filmed many of the parts — the sunset, the night scenes — I saw the playback and they didn't look like they do [in the final cut], she says. "I didn't expect the colours to jump out at you." She feels that if the audience knew about the blood, sweat and tears that went behind-the-scenes, then they would appreciate more the post-production efforts.
Up in arms: Koe Yeet with Tasha Low and Nick Shen. This was one of the first few scenes where we got to touch real swords, Koe Yeet says. So we took a lot of pictures with them.

3. She made her screen kiss debut on Titoudao.
"I think no one realised that I'd never kissed a guy on screen," says Koe Yeet of her snog with Joel Choo, who plays Ah Chiam's future husband Ah Hock. She doesn't think it was a big deal because the conditions in which it was filmed were un-romantic. In that scene, Ah Chiam is leaving the wayang troupe to get married but not before she's humiliated in a ritual where she's smeared with mud.
The mud, according to Koe Yeet, was made from oats, cocoa powder, coffee, crushed Oreo cookies, and biscuit crumbs. On the top of that, she had to do the scene in the rain. It must've been sticky as hell right? "Very much so," she says with a laugh. "The producers let me shower after that, which is cool." And that was it for the day for her? "Oh no. After the shower, I moved on to the next scene."
4. She might've overshared her private life on social media.
When Koe Yeet recently shared on Instagram that she's in a long-distance relationship, she's surprised that a lot of people are fixated by it. "To be honest, I received so many messages that it actually scares me. Usually, she keeps matters of the heart to herself, but "this is a difficult time for people in long-distance relationships and that's why I talked about it.
So what can she tell us about her boyfriend?
All Koe Yeet would only say that he's not in Malaysia and he isn't Malaysian. "I think people will gradually know," she says. All they need to know that I'm in a relationship, I'm happy and I'm proud of it.
No pain, no cane: In this scene, Koe Yeet's Ah Chiam is punished by her sifu, played by Nick Shen. Koe Yeet admits that she got hit a few times for real. Because she was wearing protective padding, it didn't hurt that much. Nick was very good — it looked like he actually hit me because of his hand movements, but the strokes landed softly.

5. She's attending some self-improvement lessons online.
During the lockdown, Koe Yeet signed up for MasterClass, not for acting, but cooking. "I'm doing the one with Gordon Ramsay," she says. By her own admission, she's a terrible cook. "Something bad happens when I walk into the kitchen," she adds. "Either I break a plate or I cut myself — it's a curse!" How's her culinary skills now? Still the same, she thinks. "MasterClass just teaches you the technique, you still have to actually practice it."
Right now, the natural born master chef in the family is her father. "My dad never watched any MasterClass or read any recipe books, he just started cooking since he was young. He is so good at it — it's a talent." What is his signature dish? Try his steamed fish, she recommends. "The best thing about this MCO is that I get to hang out with my dad and eat his cooking for lunch and dinner."
Double act: Koe Yeet with Tasha Low, who plays Ah Chiam's sister, Ah Dui. In real life, Koe Yeet is the eldest of three siblings; her brother, 27, is a banker, while her sister, 24, works in IT.
​​​​​​​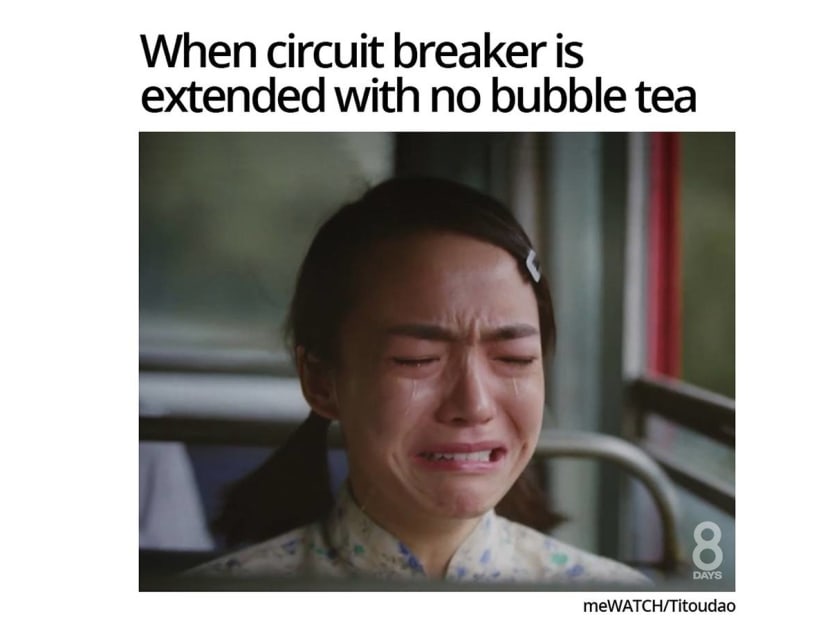 6. She has a 'sad' story behind that Titoudao shot which was used in a bubble tea meme.
"I looked at it and I laughed," says Koe Yeet of her ugly-cry face which was used in an 8 DAYS meme about the closure of bubble tea shops during the extended Circuit Breaker. "I didn't know people like bubble tea that much. I don't like bubble tea personally. It's just funny how that face is used to represent someone who can't get their bubble tea. I look very cham [Hokkien for "pitifully disastrous"], really."
The meme is amusing but the actual scene isn't. It's the poignant moment where Ah Chiam packs her bag to join a wayang troupe. "That scene was shot on the first day," Koe Yeet recalls. "I was still blur because I had just arrived in Ipoh. It was also my first time working with the director and we were stuck in a bus which was going round and round. Because it was 4-5pm, everyone was chasing the light. It was such a stressful situation."
How stressful? "Picture everyone on the bus looking at you: if you don't cry, that scene won't work. The entire episode won't work. The entire series won't work. I was under a lot of pressure. In the first few takes, I didn't cry as much, not the bawling cry.
To get her sobbing, the director told her to imagine that her mother is the only person in the world who loves her and after she has left and no one else is going to love her anymore. "I don't want to go through that again. It was a tough scene."
A family portrait: Koe Yeet with the rest of 'Titoudao' cast in character as members of the Sin Sai Hong troupe.

Titoudao: Inspired by the True Story of a Wayang Star is now streaming on meWATCH. The Mandarin-version airs weekdays, Ch 8, 9pm; it's also on meWATCH.
Photos: Alvin Teo (Main), Koe Yeet, Oak 3 Films