Sharon Au Located Her Stolen Laptop 5 Days After Paris Burglary; But French Police Were "Too Busy" To Help
Sharon, who has since quit her job at a private equity firm, also shared that she's been suffering from nightmares recently.
In the week after Sharon Au shared on Instagram that her apartment in Paris had been broken into, the 46-year-old has been gradually sharing more about the traumatic experience that has left her with "nothing".
In an interview with The Straits Times, Sharon revealed that she has since quit her job as an investment director at a private equity firm based in Paris. She added that she wants to "heal" and "reevaluate" her life in France. 
According to a couple of pictures that Sharon posted on her Instagram Story, the burglars appeared to have gain access to her apartment by damaging and ripping out the lock on the front door. 
What appears to be the remnants of Sharon's front door lock.
Sharon also shared a picture of a French police officer in her apartment post-break-in, presumably dusting for fingerprints left behind by the burglars.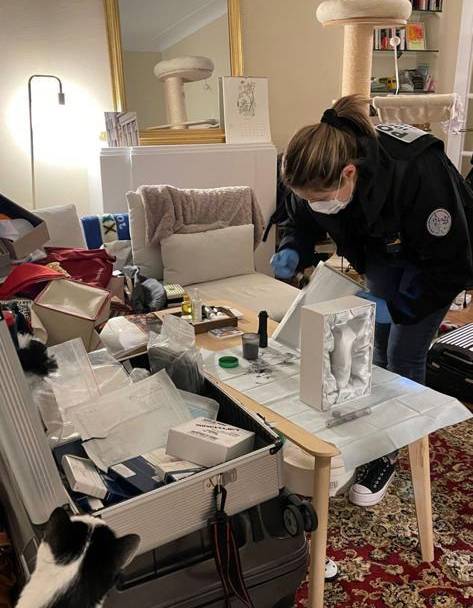 The aftermath of the break in.
In a post made on May 16, Sharon wrote that she hasn't been sleeping well, and that she's been suffering from nightmares.
"They seem to be telling me 'Keep searching, and you will find your way out.' Vesak Day today. May the [light] be with you," she wrote in her caption.
Guess it's a lost cause then...
Then yesterday (May 18), Sharon posted a screenshot from Apple's Find My tracking app. She shared that she had manage to locate her laptop, a MacBook Pro, "5 days after the burglary". 
Her laptop appeared to have been transported by the burglars to a location that was 64km away, or about an hour's drive away.
"But the police said they were too busy, and neither did they want to escort me there," she wrote, adding: "They have bigger crimes to solve".
Apart from that, there have been no new updates from Sharon about the burglary, or the subsequent police investigation.
Photos: Sharon Au/Instagram