Shiok 'Char Siew' With Truffle Oil Ramen & Crispy Ngoh Hiang By 23-Year-Old Hawker
The culinary school grad developed the modern char siew recipe with her executive chef dad. Her stall Liu Kou Shui in Sembawang offers fusion rice and ramen bowls from $5.
As Singapore transitions from pandemic to biz-as-usual mode, many home-based businesses that thrived amid dine-in restrictions are relocating to permanent homes in kopitiams and hawker centres. One such biz is Liu Kou Shui (mandarin for salivating), a HBB that specialises in char siew marinated "mala-style" with Sichuan peppercorns and dried chillies.
With group buy sales dwindling and crowds returning to eateries, its bubbly owner, Liew Xiao Xuan, 23, an ITE culinary grad, decided to move her home-based biz Liu Kou Shui into the newly opened Bukit Canberra Hawker Centre in Sembawang last December. The petite zoomer runs the stall with help from her supportive mum Zhang Xin Ling (pictured below, right), 52. They serve fusion rice and dry ramen bowls topped with mala 'char siew', which is now pan-fried rather than roasted (more on that later).
No part of this story or photos can be reproduced without permission from 8days.sg.
Family of chefs
Xiao Xuan owes her culinary interests to her parents, both of whom have worked, or are working, in hotel and restaurant kitchens (her dad is now executive chef at a "large restaurant group" that she declines to name on record). "They were very supportive of me joining this line, as they know that you will always have a future as long as you have the skills," she says.
She started off with a Nitec in Western Culinary Arts, before moving on to French Culinary School Institut Paul Bocuse (which has a campus in the Institute of Technical Education) where she snagged a Bachelor's Degree in International Culinary Arts Management.
Thriving HBB made "$2K a month" at its peak
Apart from professional training, much of her culinary foundation came from practice at home with her family, who "always cooked together and tried new recipes whenever there was a special occasion". Her home-based biz Liu Kou Shui was started on the side while working as a chef at House Downstairs café in Ghim Moh after graduation: "Thankfully, I had a flexible schedule so there was time for me to experiment". She and her dad (who once worked at a Chinese roast joint) came up with the recipe for her signature char siew, both classic and "mala-style".
Why char siew in particular, when she's trained in Western cuisine? "Char siew has always been my favourite since I was young – I used to eat it every day," chirps the young hawker. She started selling the meats a la carte in December 2020, before offering the char siew with rice bowls once "group buys started to take off".
At its peak, Xiao Xuan estimates grossing around "$2,000 per month" with consistent sales of "more than 100 bowls" every weekend, in addition to salary from her full-time job (she moved on to hotpot joint FuFu Pot when it opened in Plaza Singapura in October 2021).
Invited to apply for Bukit Canberra Hawker Centre
Some $30K of her earnings helped pay for Liu Kou Shui's permanent home at Bukit Canberra Hawker Centre. Xiao Xuan says she was invited to set up a stall there by the hawker centre's management, Canopy Hawkers Group (under the wing of Food Canopy, which operates food courts and canteens).
"I was already looking for a hawker stall then, so it was perfect. Especially 'cos it's so near to my house that I can cycle to work," she adds with a laugh.
On why she left a steady job to start her own business, the hawker reasons, "If I work in a restaurant, it's already so tiring. If I work for myself, I'm just as tired. Might as well work for myself lor (laughs)." Unwavering support from her parents also helped. Says her mum Xin Ling: "Whether you're working in a restaurant kitchen or a hawker centre, it's all up to your skills. I'm confident that my daughter will succeed."
Business has been "quite decent" at the sprawling, greenery-covered hawker centre with many visits from her regulars – she now hopes to solidify operations at their first stall before expanding in future.
The menu
Liu Kou Shui's fusion rice bowls ("a bit Japanese, a bit local – everything lah," says Xiao Xuan) start from $5, with a choice of protein, a soft-boiled egg and blanched veggies on Japanese pearl rice. It costs $1 extra to swap the rice with dry ramen.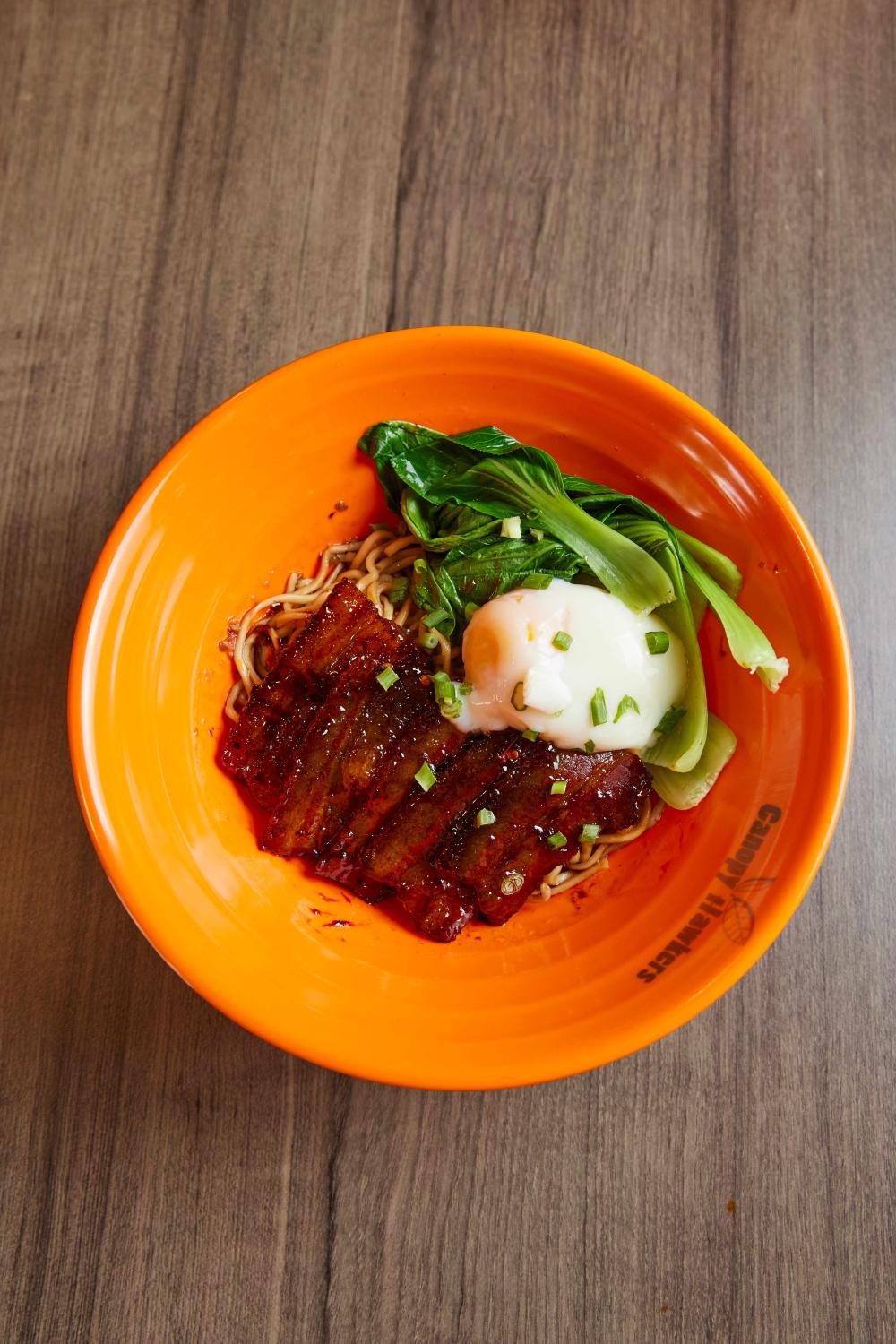 Mala Char Siew with Green Chilli Ramen, $8
The stall's signature 'char siew' has undergone some changes since its HBB days. While she used to roast pork shoulder butt in the oven, she's switched to pan-frying thinly sliced pork belly that's been marinated overnight in Sichuan peppercorns, dried chillies, dark soya sauce and malt sugar. "It works a lot better operations-wise, with almost the same effect because of the [pan] sear," she explains.
Indeed, we find the fatty pork belly slices succulent, pleasantly savoury and crisp-edged from the caramelised sugar, with just enough numbing heat from the mala-style marination. It's pretty addictive – especially when mixed with the oozy yolk from the onsen egg – though we do miss that smoky flavour that comes with well-roasted char siew. 
We pair the mala 'char siew' with dry ramen, tossed in a fiery homemade green chilli mix and kombu tare (Japanese-style kelp sauce). Though fragrant, we find the green chilli almost distractingly spicy, as it masks the taste of the char siew.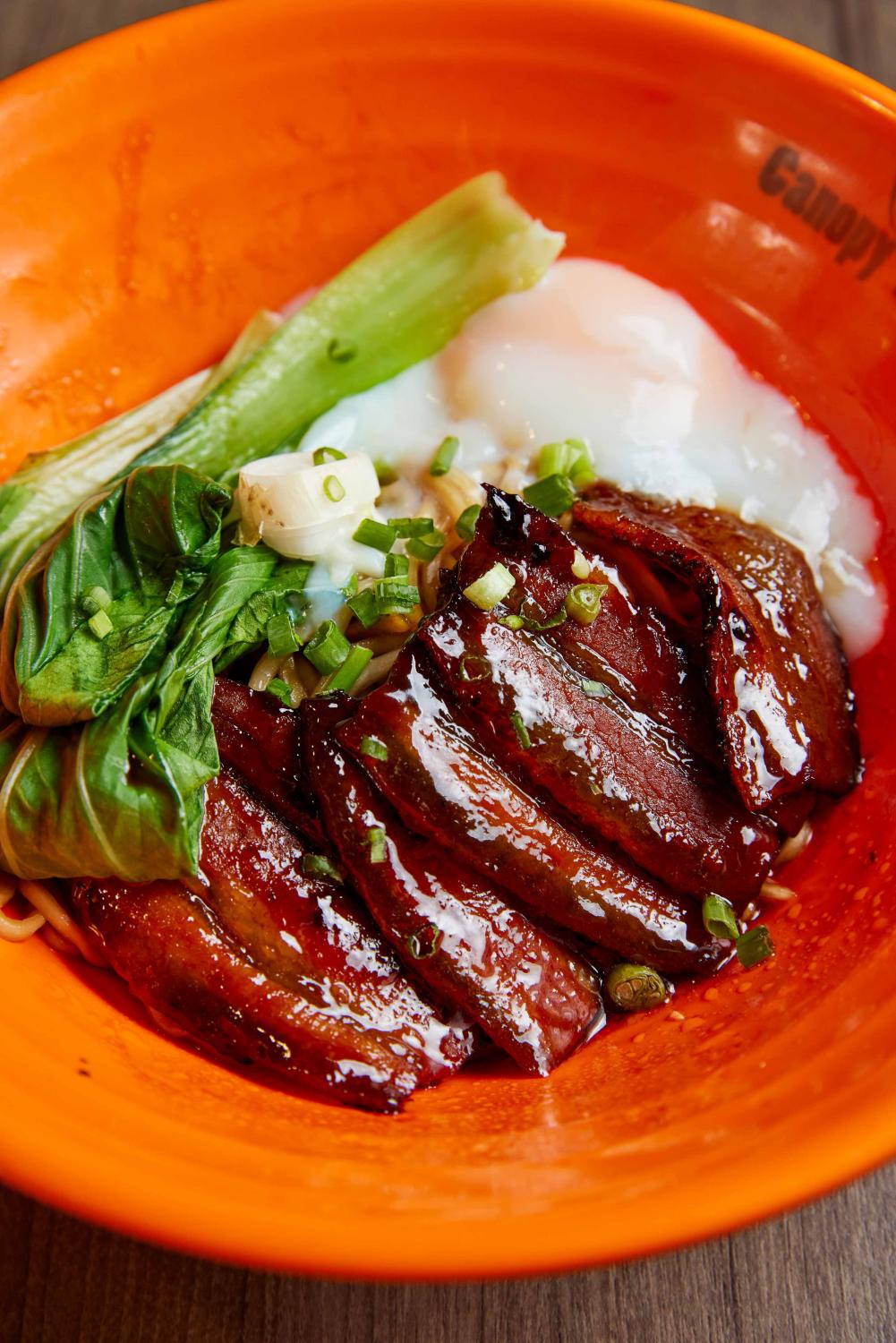 Caramelised Char Siew with Truffle Oil Ramen, $8 (8 DAYS Pick!)
We prefer the truffle oil version, which features a couple of glugs of the earthy condiment on the same QQ noodles – it lends the bowl an agreeable funk that melds nicely with the kombu tare and sweet caramelised char siew (similar recipe, just without mala notes from the peppercorns and chillies). Our favourite bowl here.
Beef Sukiyaki Don, $8 (8 DAYS Pick!)
One of Liu Kou Shui's other best-sellers features slices of Angus beef, onions and a mix of red and green peppers, stir-fried with soy and mirin. The beef is tender with a pleasant chew, and generous enough at this price point.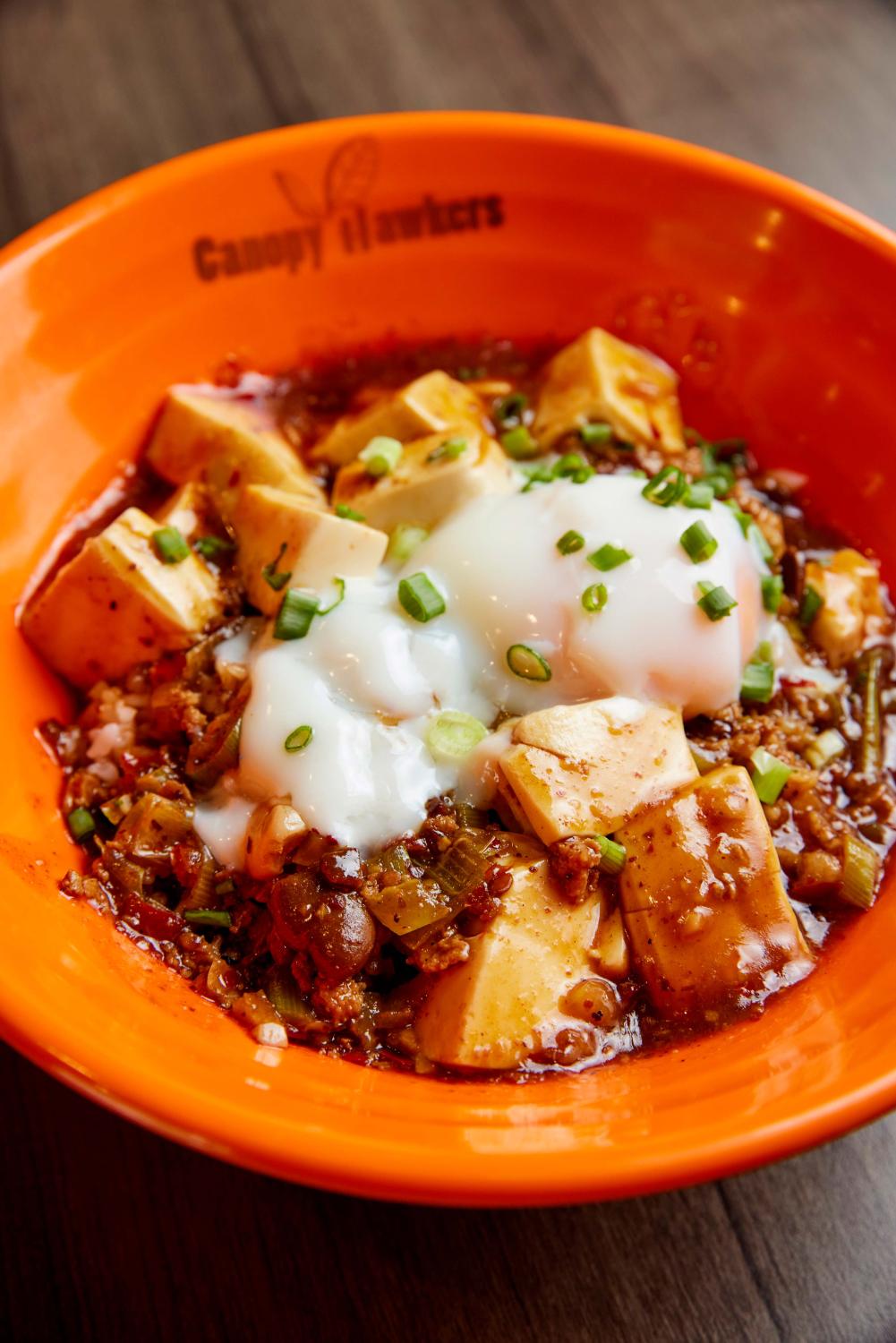 Mapo Don, $5
Xiao Xuan's cheapest rice bowl is a Japanese-style mapo tofu – a typically sweeter and milder cousin to the classic Sichuan dish – comprising firm tofu cubes, onions, minced pork and leeks blanketed in a thick, reddish-brown gravy underscored by Japanese fermented bean paste and peppercorns. The mapo tofu is more savoury than spicy, with plenty of homely appeal. It's also less greasy than a plate you'd find at a Sichuan joint.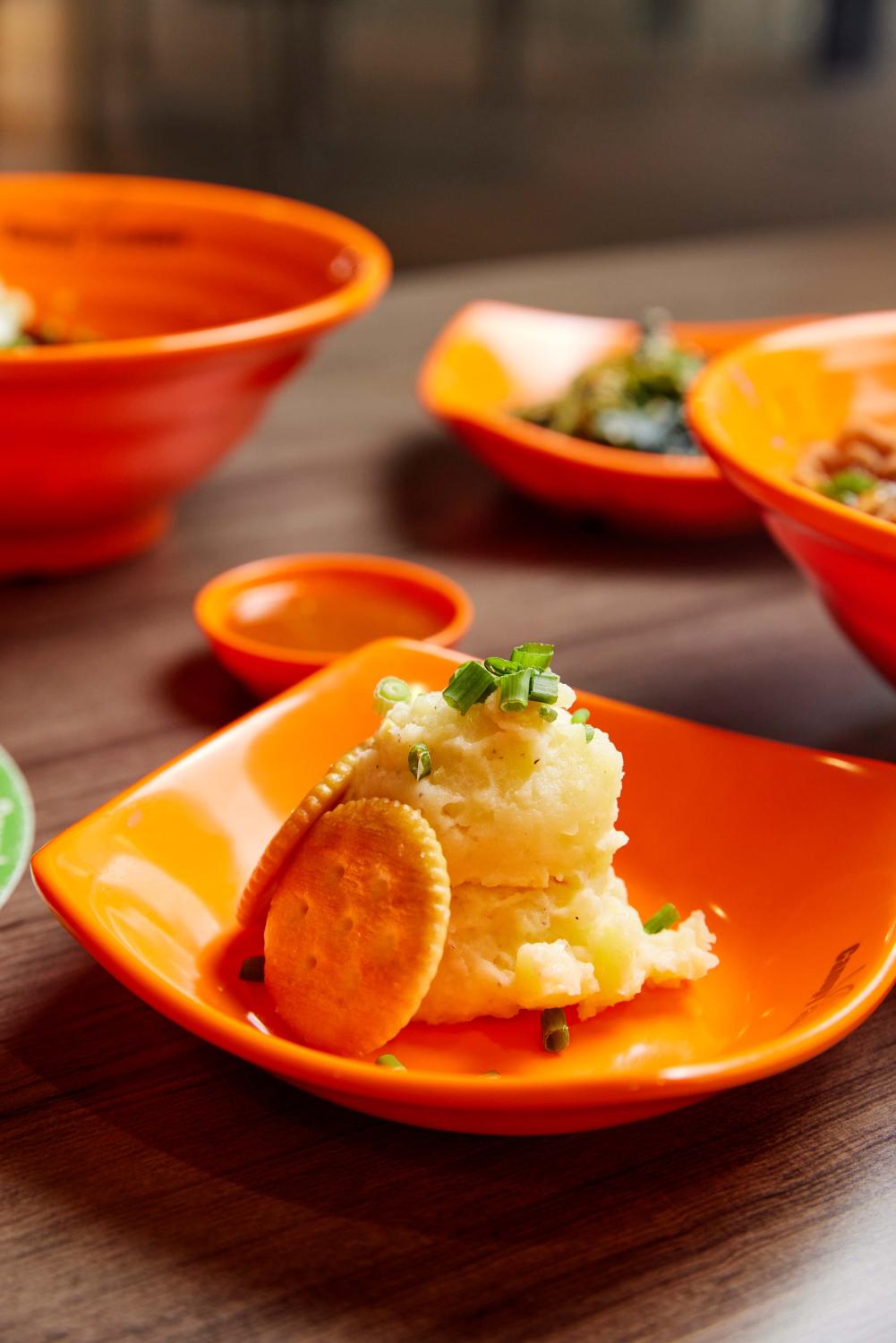 The sides
Complementing the stall's rice bowls are a plethora of sides, most of which are Japanese-influenced.
The Kelp Salad ($2.50) is a refreshing palate cleanser, though we prefer the Potato Salad ($3.50), featuring smoothly mashed spuds studded with corn kernels and served with Ritz crackers for crunchy contrast (inspired by a street stall Xiao Xuan visited in Japan).
We also dig the hawker's twist on the classic Ngoh Hiang ($3.50), where the handmade beancurd skin rolls – cradling minced chicken, shredded crab and water chestnuts flavoured with five-spice powder – are dipped into a three-flour batter and deep-fried. This extra step results in a shatteringly crisp coat around the roll. Shiok.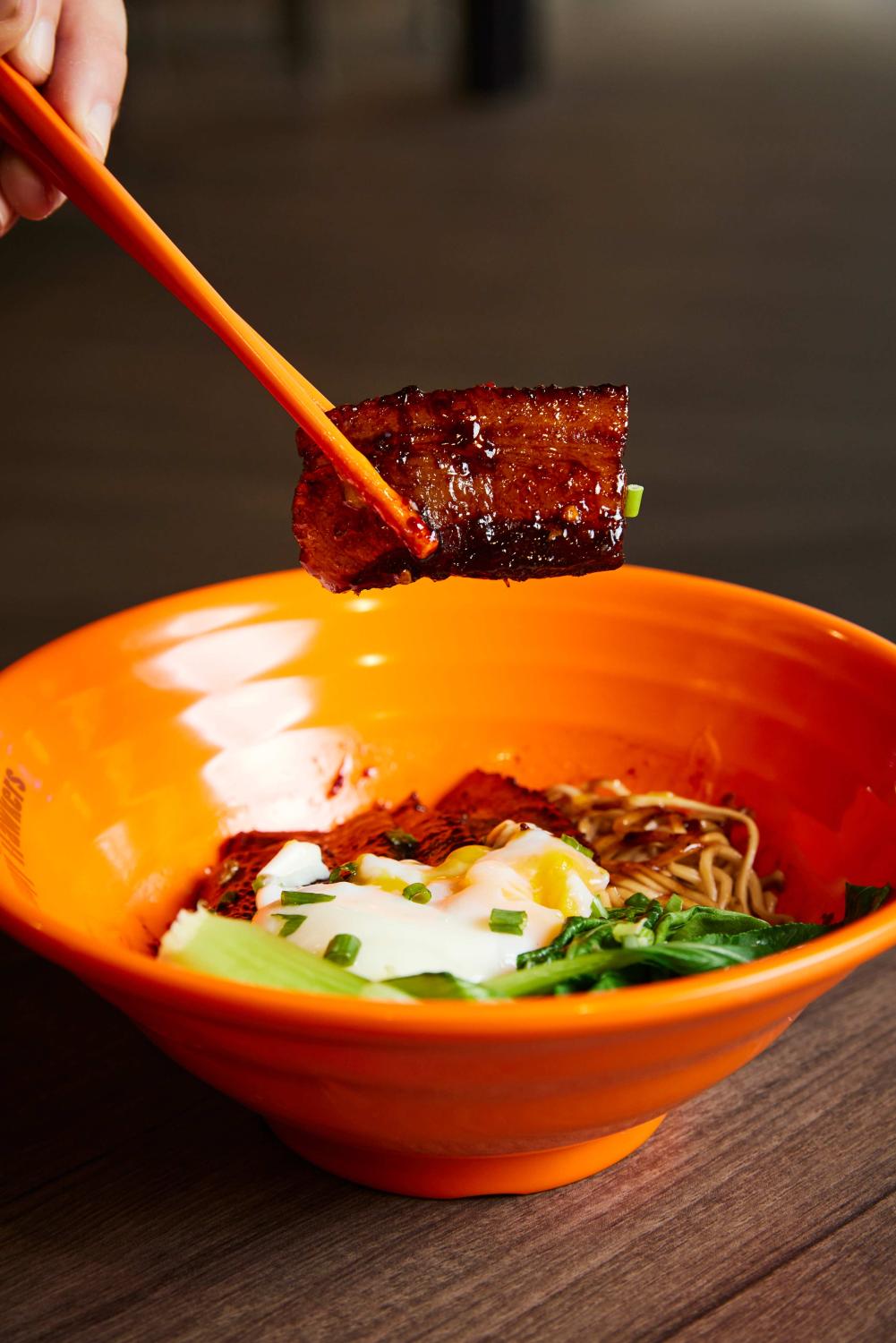 Bottom line
The fusion rice and noodle bowls by Liu Kou Shui's young culinary school grad boss are a notch above standard hawker offerings. Both versions of her pork belly 'char siew' are yummy – though it's more like a glazed, pan-seared Japanese version of bacon than authentic char siew. The stir-fried beef bowl and super crispy ngoh hiang are also worth trying.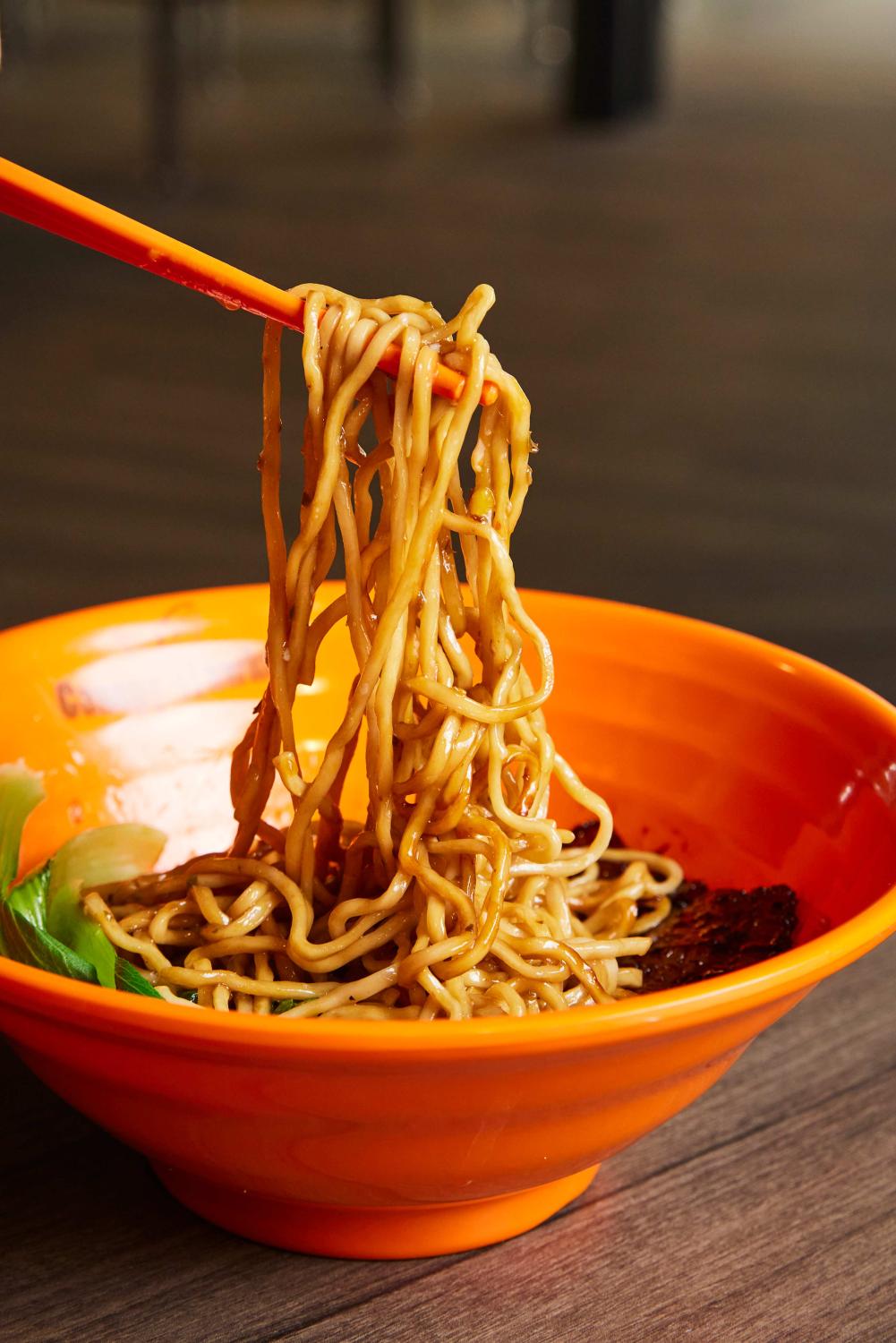 The details
Liu Kou Shui is at #01-29, Bukit Canberra Hawker Centre, 21 Canberra Link, S756973. Tel: 9721-0211. Open daily except Tue 11am – 9pm. CNY operating hours: 11am – 5pm on Jan 21 (closed Jan 22 – 24). More info via Facebook & Instagram.
Photos: Aik Chen
8days is now on #tiktok! Follow us on www.tiktok.com/@8dayseat
No part of this story or photos can be reproduced without permission from 8days.sg.