Shiok Chicken Rice From Sin Ming Stall Now Served In Bishan Restaurant After Fan Partners Hawkers
The customer-turned-partner is a sushi chef who eats half a chicken thrice a week.
Most folks check out Gim Huat Kopitiam at Sin Ming Road for its famous stall tenant, Sin Ming Prata. But only foodies in the know have been quietly patronising the under-the-radar Blk 24 Sin Ming Hainanese Chicken Rice stall, also housed in the same coffee shop. There, hawkers Kelvin Oh, 47, and his wife Dynn Hui, 41, served their delicious steamed and roasted chicken rice from 2013 to July this year. Now, thanks to a regular customer who turned out to be a rather prolific restaurateur-chef who runs a group of Japanese eateries, their humble stall has upgraded to become a modern 70-seat eatery in Bishan. The new joint cost six figures to set up.
It has also been renamed Sin Ming Road Chicken Rice.

No part of this story or photos can be reproduced without permission from 8days.sg.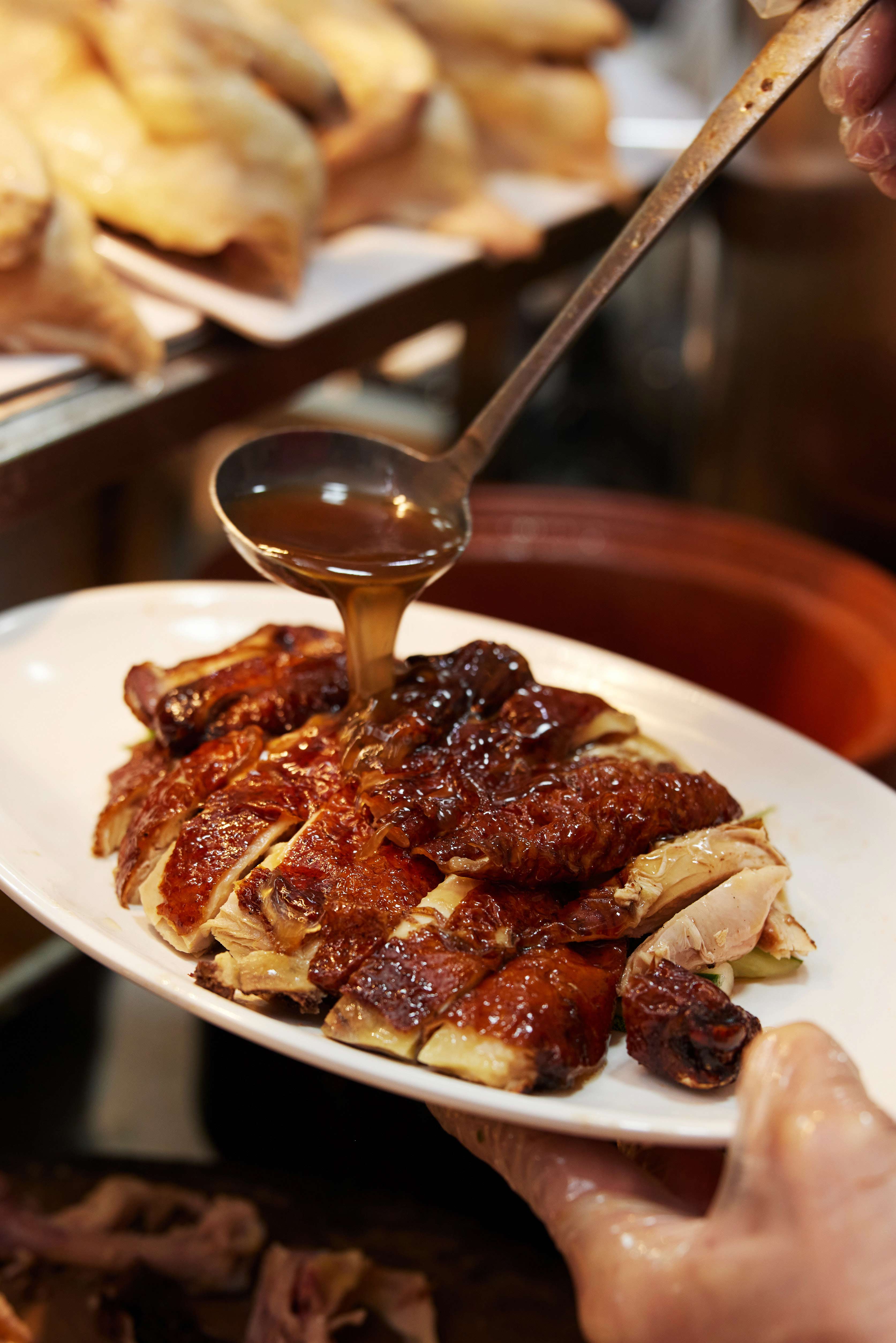 Customer-turned-partner ate "half a roast chicken" thrice weekly 
The aforementioned regular customer whom Dynn dubbed "ban zhi shao ji" ("half a roast chicken" in mandarin) would order that all for himself, whenever he visited. This happened about thrice a week, for the last seven years.
The couple found out later that their super fan runs a group of Japanese restaurants in Singapore. They became friends. After a lazy lunch one day, the conversation drifted to business expansion. 
"We did not want to run multiple stalls as we want to keep our quality consistent," says Kelvin, who had previously shut down a second stall in Yishun within a year. 
"So, I suggested that they try opening a larger standalone eatery to expand their [reach]," recalls the fan-turned-partner, who asked to remain anonymous. "I prefer to let the couple be in the limelight," he explains.  
"Their chicken rice is excellent, but they just needed that little extra courage [to expand]. They already know how to swim, but it is time to swim out to sea. I didn't really approach them, nor did they approach me to go into a partnership. It just happened – like it was made in heaven," he adds.

He owns half of the newly rebranded Sin Ming Road Chicken Rice. Despite his restaurant experience, he leaves the menu and daily operations to the couple so as not to cramp their style. "I only advised them to remember that they opened this restaurant to showcase their chicken rice, so don't let the zi char dishes overshadow the main product." They offer white and roasted chicken, a soup of the day (the comforting Old Cucumber and Pork Ribs, $4.50, is a fave) and about 20 zi char dishes.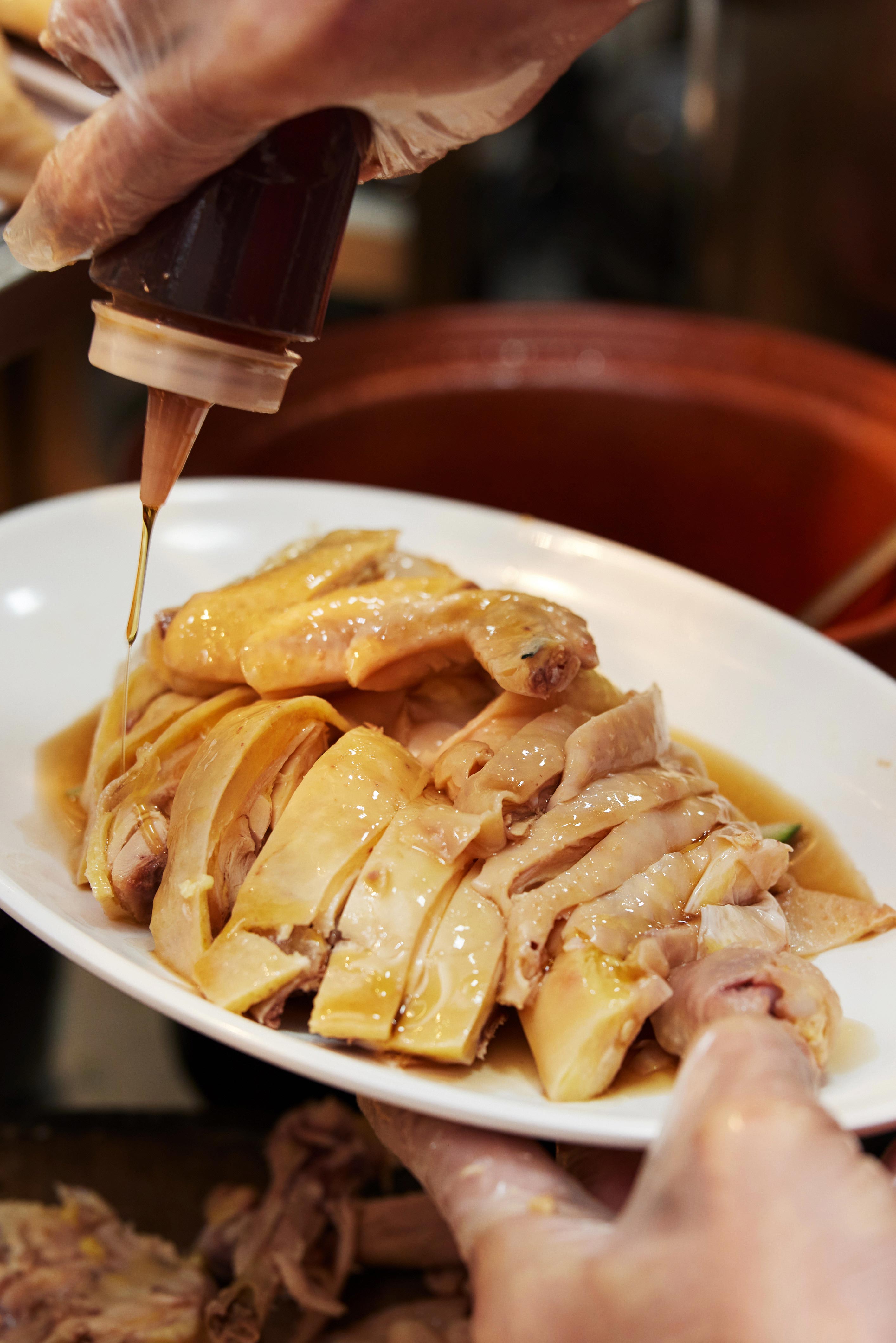 Initially wanted to sell chicken rice in China
Kelvin's parents ran a now-defunct economic rice stall. When he was in his twenties, he apprenticed with a local chicken rice chef and planned to start a restaurant in China with his friend, who ran a manufacturing business there. But SARS happened in 2003. While they waited to restart their plans, Kelvin worked for his friend as a logistics supervisor. Before they knew it, eight years flew by. Kelvin then decided to return to Singapore to reunite with Dynn. 
In 2013, the couple finally started their chicken rice stall. They have since earned a modest but steady fanbase through word of mouth. On the day of our visit, one customer came specially from Redhill to show his support. Local celebs Ann Kok, Xavier Ong and Bernard Lim have also been spotted at the Bishan joint.
Ready customer base in Bishan
Kelvin and Dynn took nine months before they found this shop space at Bishan St 11. "When we offered delivery service during the Circuit Breaker, we noticed that many of our orders came from Bishan, so we knew we already had a customer base here," explains Dynn.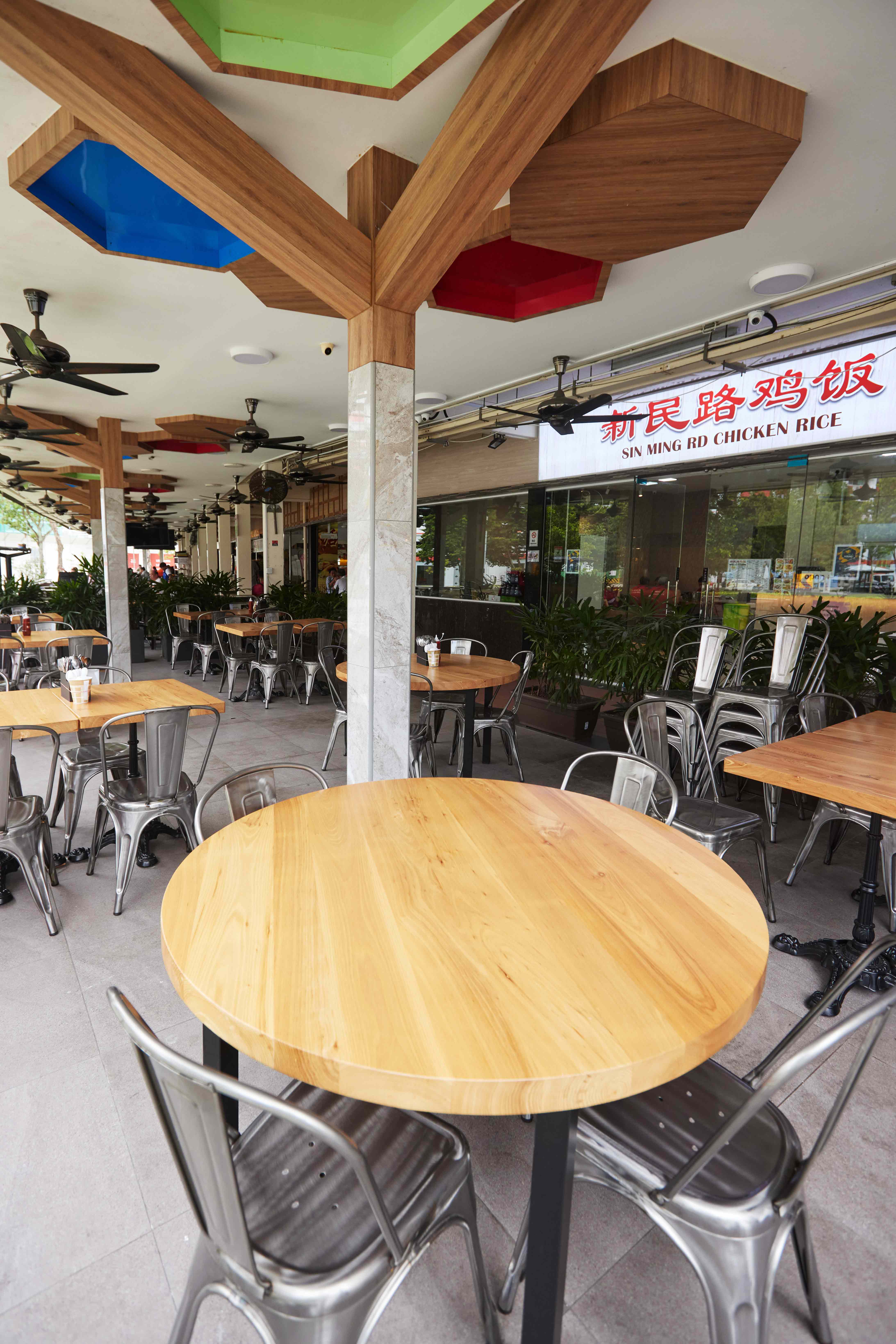 Rent here costs more than double their old kopitiam stall's. While they previously catered only to the lunch crowd, their neat new 70-seater operates for lunch and dinner.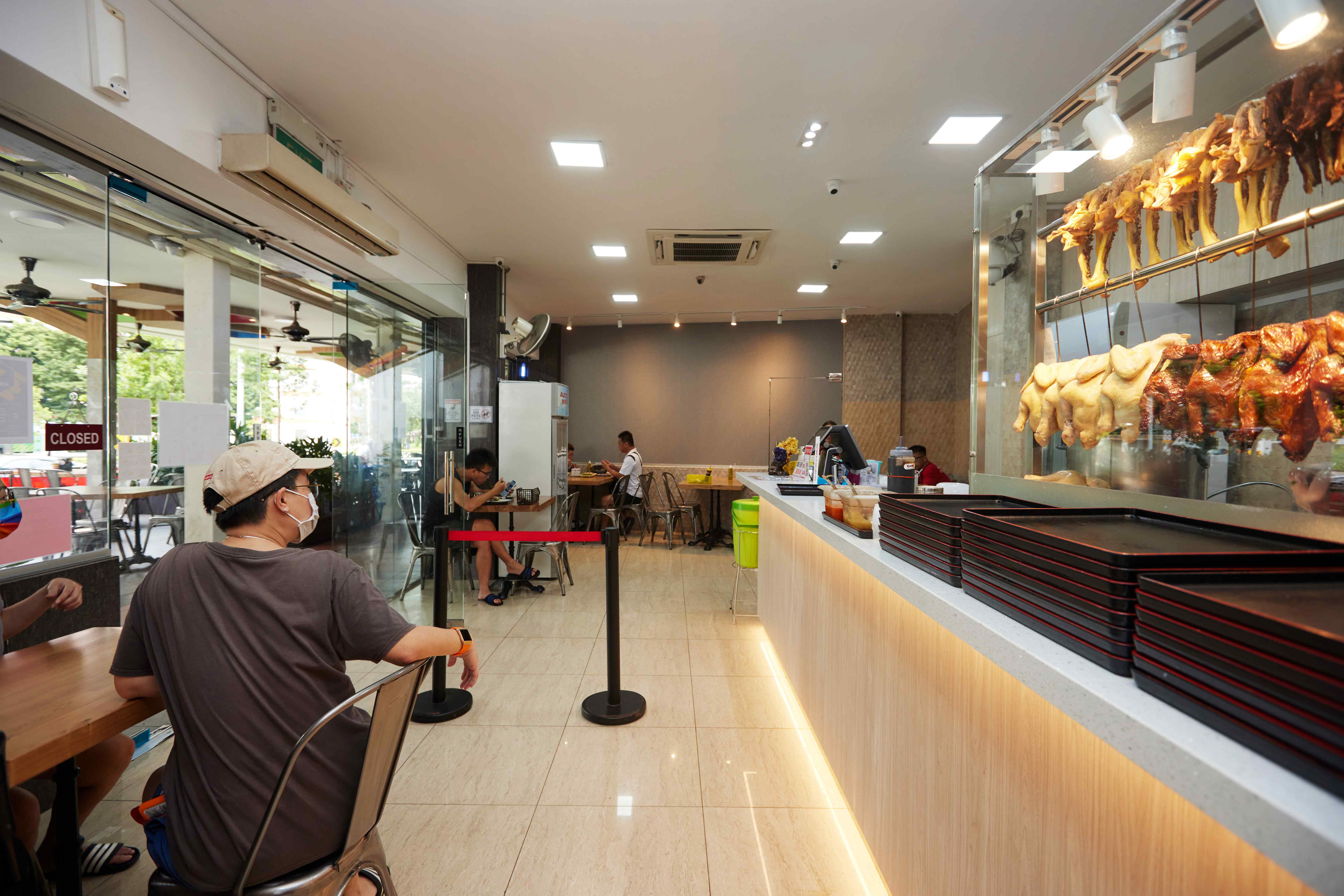 The air-conditioned interior has booths and handsome wooden tables for about 30 people. The al fresco space, which is cooled by several ceiling fans, can seat about 40 pax.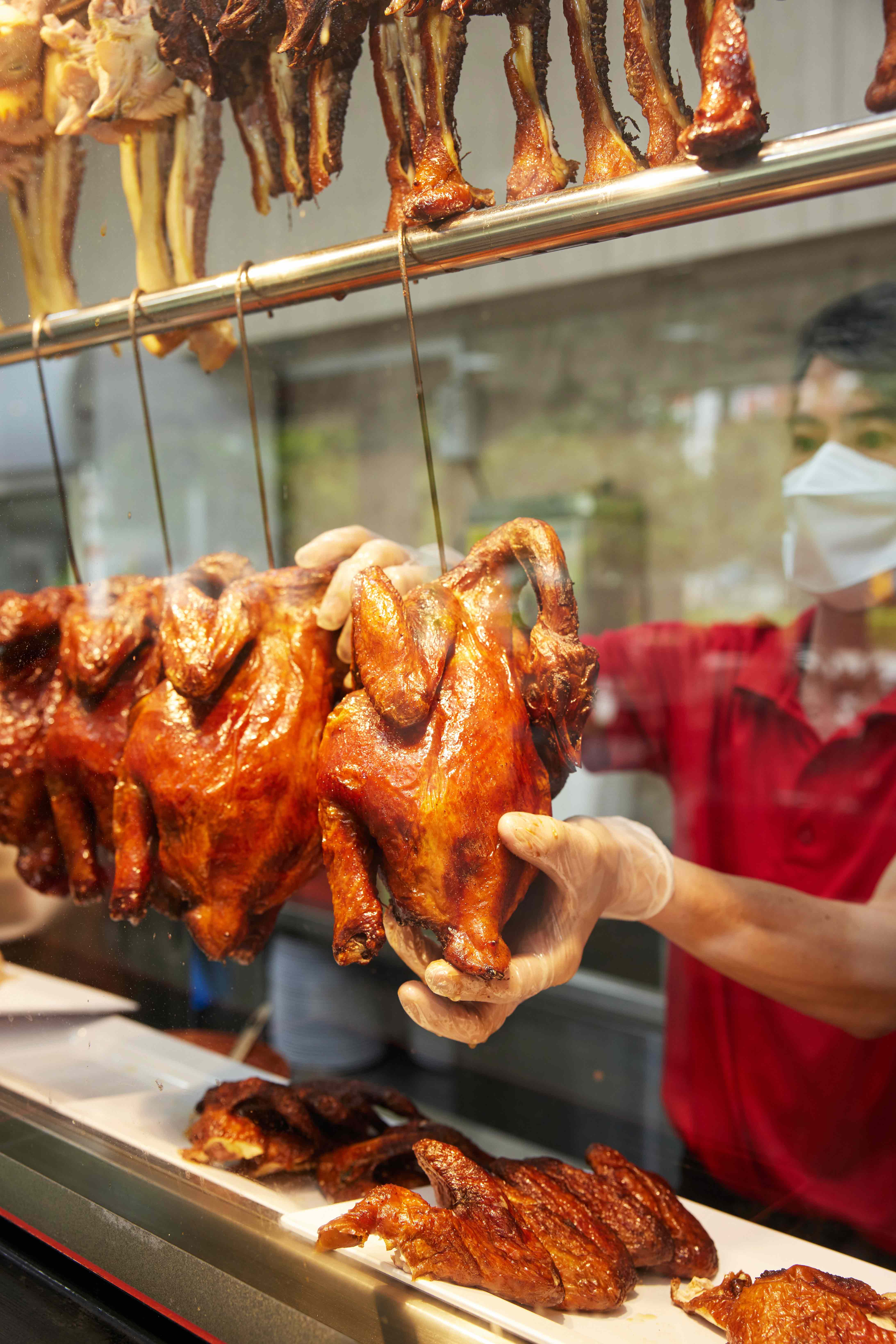 Planning to offer both broiler and kampong chicken soon
Chef Kelvin chooses chickens that weigh at least 1.4kg each. Due to the live broiler chicken ban imposed by Malaysia earlier this year, they've been using chilled kampong chook – which cost double the broiler chicken – since June 2022. During our review, we were served the kampong chicken, which we personally prefer for its firmer flesh and sweeter flavor. They're back to using broiler chickens now. However, Kelvin noticed that his kampong birds were popular with customers and thus plans to offer both broiler and kampong on the menu, as soon as prices and supplies stabilise. Prices are just slightly higher at this fancier new address compared to their hawker stall; a basic plate of chicken rice used to cost $4.30 previously vs $4.50 now.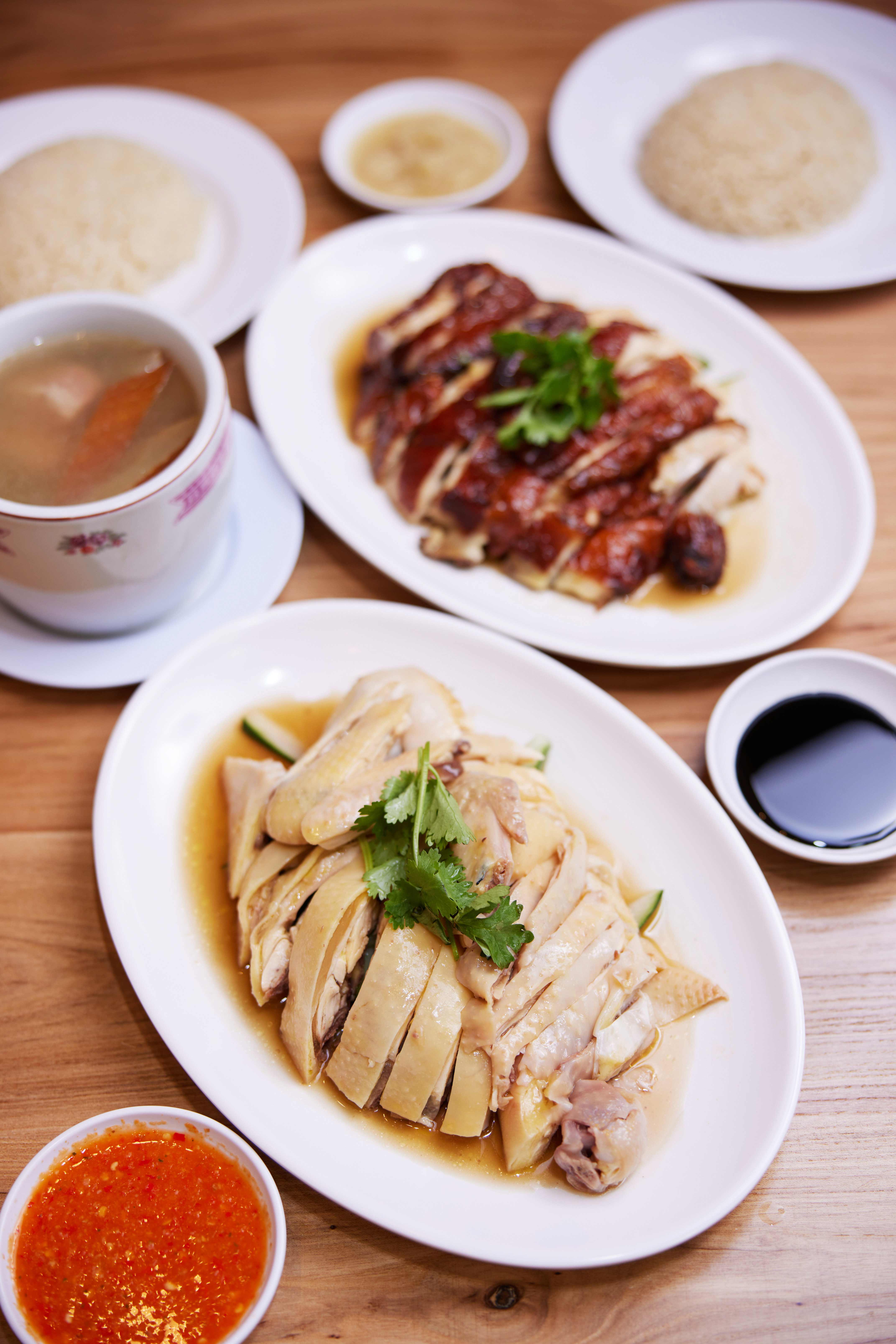 Roasted or steamed?
At their old stall, the roasted chicken was the star but at the restaurant, sales of both types have been similar, says Dynn. We noticed that most customers ordered the roasted chicken during our visit. The chicken is freshly prepared twice daily; once in the morning for lunch, and the second batch at about 2pm for the evening crowd.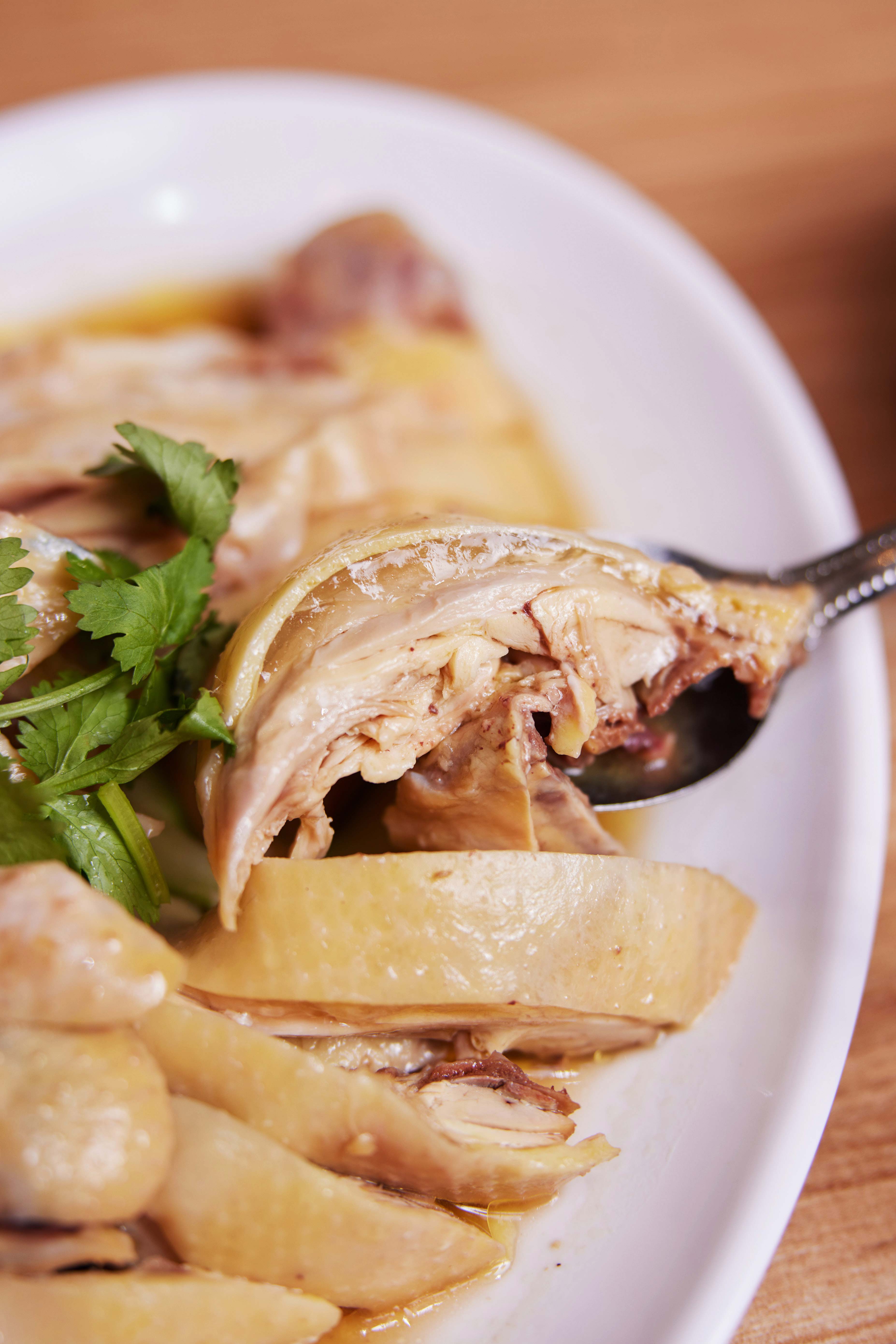 Steamed Chicken Rice, $4.50 single serving; $16.80 half chicken; $32.80 whole

(8 DAYS Pick!)
Look at that jelly. That's the mark of a cook who knows how to control his fire and plunges his chickens into an ice bath at the right time, to get them perfectly poached. Yes, this chook is poached despite the "steamed" in its name. Both the kampong chicken, which has a more yellow tinge to the skin, and the broiler chicken which our colleague tried on another visit, boast this jelly which is coveted among chicken rice purists. The kampong bird is succulent yet holds some bite the way we like it, and our colleague who sampled the broiler chicken found it plenty springy and slippery too. Very good "steamed" chicken, drizzled with a fragrant sauce made from chicken drippings and sesame oil. 
But the star here is indubitably the rice — perfectly cooked and textured pearlescent Thai Hom Mali grains that gleam gently with chicken fat, perfumed with the deeply flavourful chicken broth (see below) and lemongrass. The rice — disparate grains that don't clump together — has a wonderful firm-tender mouthfeel that's very addictive.
Meanwhile, the piquant chilli sauce, which includes stuff like chilli padi and lime leaves for zing, is decent enough and completes the plate nicely.
Awesome free chicken broth
Each chook spends 50 minutes in a broth packed with chicken bones, pandan leaves, ginger, lemongrass and Chinese herbs like dang gui. This soup is also used to cook their tasty rice and you get a free bowl of it with your order. All those aromatics pack a real punch — this is probably the best free chicken rice soup we've tasted in a while.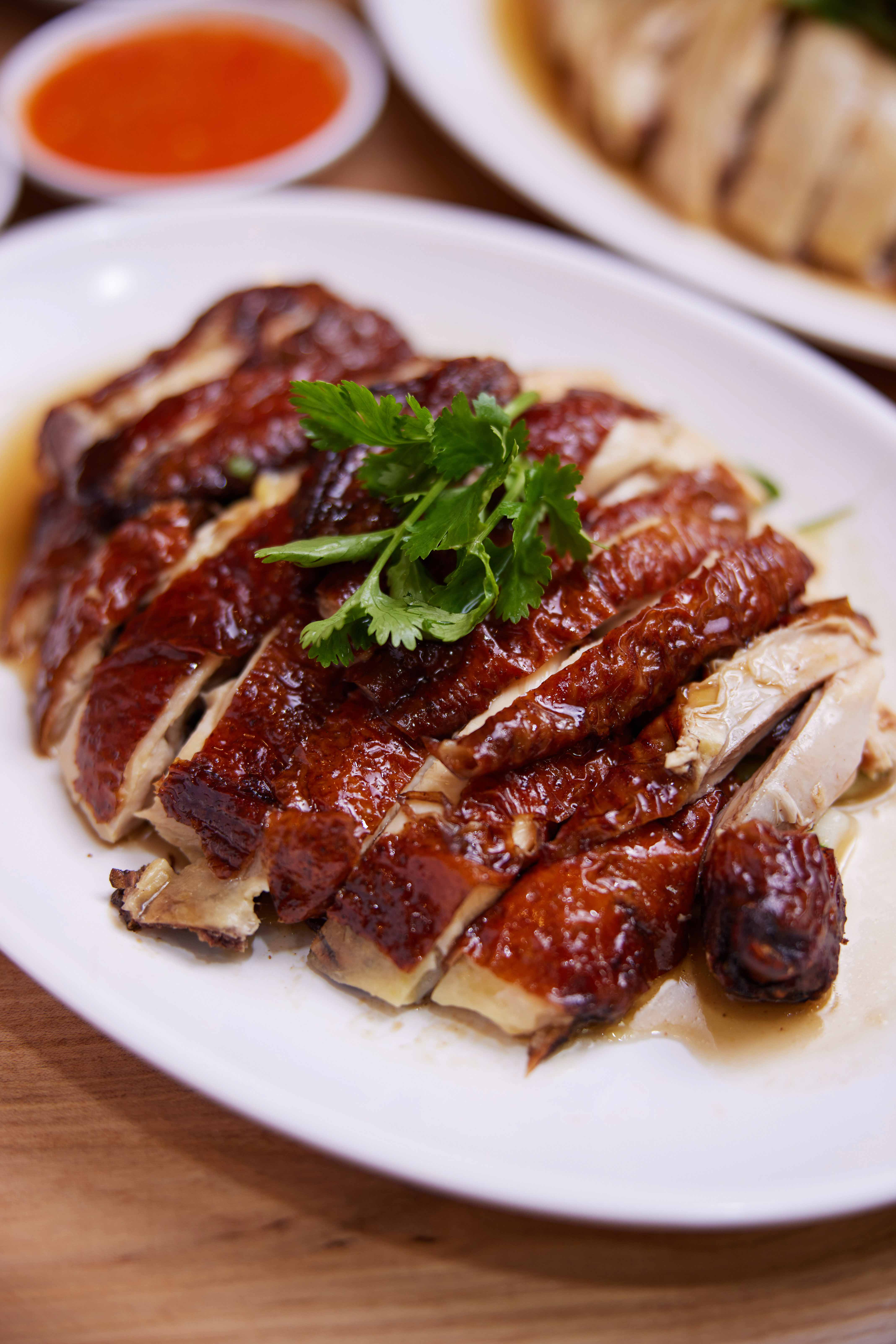 Roasted Chicken Rice, $4.50 single serving; $16.80 half chicken; $32.80 whole

(8 DAYS Pick!)
We enjoyed the dark brown chook fresh out of the fryer — it's deep-fried unlike its name suggests. The kampong bird we had was moist, well-marinated and tasty with the usual five spice powder, salt and a surprising ingredient: rojak flower. Yum. 
However, a colleague who popped by at 4pm on another visit found the roasted broiler version a little dry. So if you're there late in the day, the juicier steamed chook might be a safer bet.
20 zi char dishes on the menu
The zi char dishes here, including double-boiled soups, are cooked by another chef.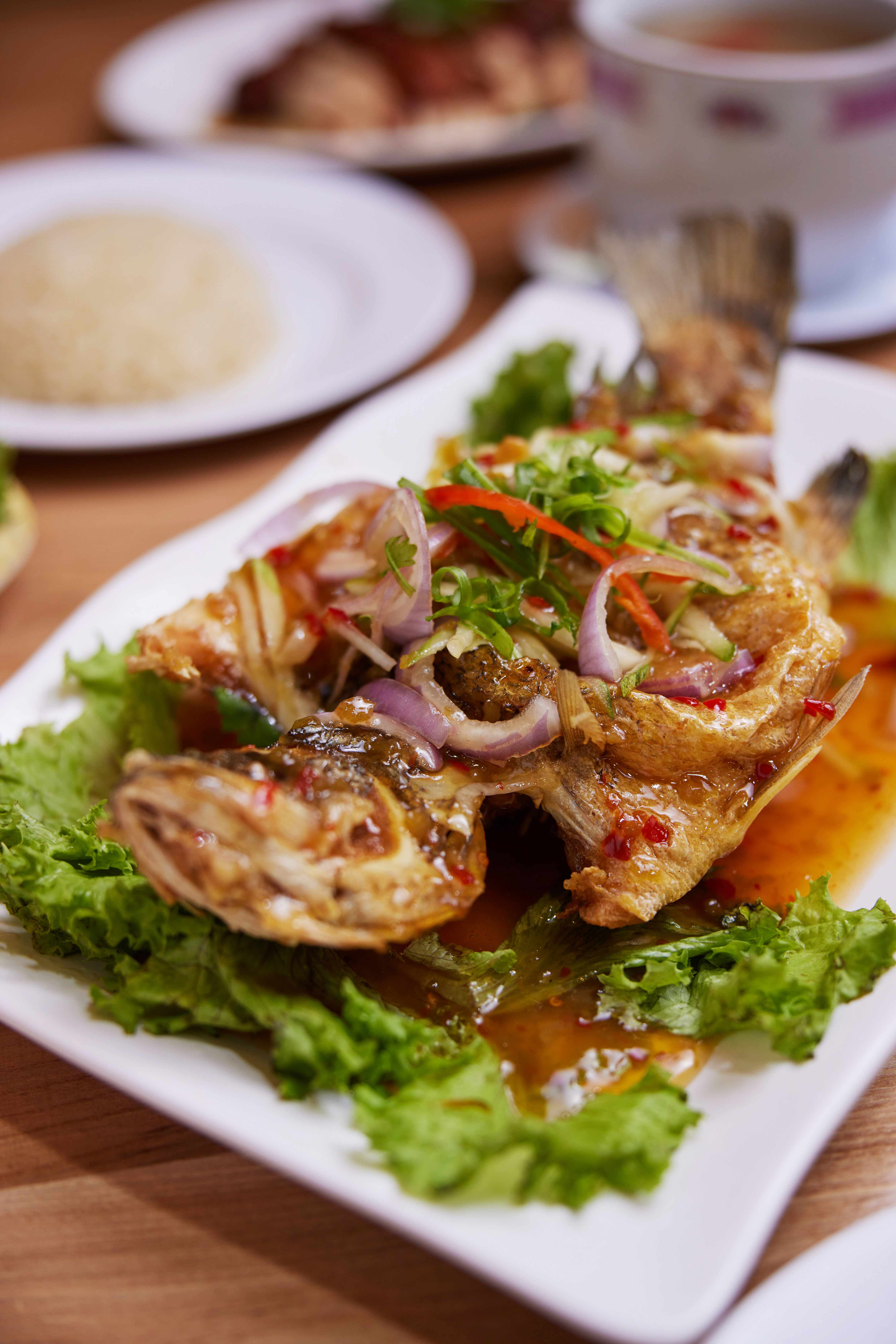 Thai Style Fish, $24.80
This is one photogenic fish dish. It's a decent price to pay for a nicely fried, fresh sea bass. However, the sauce was a tad too sweet. A more sour and spicy mix to go with the julienned cucumber, onions and coriander leaves, will make this dish truer to its name.
Fermented Pork, $10.80
The fermented beancurd used to season this deep-fried pork belly dish adds umami and is not too funky. Our portion that day was quite lean so it didn't taste too
jelak
. An enjoyable side dish.
House Specialty Prawns, $18.80
Nine conveniently deshelled deep-fried prawns tossed in a (too) sweet and sour sauce. Topped with chopped peanuts and served on an addictive nest of fried wonton skin noodles. We hear this dish is popular with kids, but we found it middling. We'll pass.
Steamed Beancurd, $10.80
Steaming hot beancurd slathered with a savoury meat sauce, served with still-crunchy-enough broccoli florets, and topped with more crispy wonton skin noodles. Simple and comforting. Now this, we like. The fried spinach with ikan bilis is worth a try, too.
Bottom line
Kelvin and Dynn offer a superior plate of chicken rice and we're happy we can now enjoy it in a more spacious, comfortable setting at their new digs. The rice and soup in particular, are impressive. We're fans of the roasted chicken, while our food editor prefers the more slippery steamed bird. If you must order some of the zi char dishes here, go for the yummy tofu and veg — some of the other offerings we tried were hit-or-miss.
The details
Sin Ming Road Chicken Rice is at #01-195 Blk 151, Bishan St 11, S570151. Open daily except Mon 10am – 8pm. More info via Facebook & Instagram.

Photos: Kelvin Chia
No part of this story or photos can be reproduced without permission from 8days.sg.