Shiok Curry Mee At Toa Payoh Hawker Stall By "Chinese Girl From An Indian Village"
The stall owner is in fact, from Myanmar. Confused yet?
Since relocating to Singapore over two decades ago, Myanmar-born F&B entrepreneur Melody Yen, 45, has worked at and opened various shops selling iconic local dishes like wanton mee and bak kut teh. 
Her one-year-old hawker stall at a Toa Payoh food centre – Melody Curry Chicken Noodle – marks Melody's first venture selling a dish from her hometown Lashio in northern Shan State, Myanmar. The dish, curry chicken noodle, is based on a curry recipe that she grew up eating. "I've always felt close ties to my roots in Myanmar and I wanted to introduce my hometown dish to customers in Singapore. Curry is already a popular food here, and our version has a unique taste that would be interesting for people here to try," shares the Singaporean PR in mandarin.                                                           
All photos cannot be reproduced without permission from 8days.sg
Burmese-Indian curry recipe
Melody, who is ethnically Chinese, tells us her grandparents fled to Lashio from China during the second World War. The town is known to have a largely Chinese population, as Shan State borders China's Yunnan province, though Melody grew up with Indian neighbours (during British rule from 1824 to 1937, the colony of Burma was a part of British India and there is still a small Indian community in Lashio today).
"We were very close to our Indian neighbours – we'd invite each other to New Year celebrations and share food from our cultures. We even learned their language. I can't speak Tamil fluently, but I can understand some of it," she says.
Her curry chicken is based on a Burmese-Indian recipe that she picked up from her neighbours. Melody maintains that the taste is as authentic as what you'll find in her hometown. "The only adaptation that I made was to add [local] noodles to the dish," she says. In Lashio, the curry is usually served with rice or Burmese noodles. Maybe this explains her rather confusing (and not 100% accurate) signboard slogan: "Made by a Chinese girl from an Indian village".
Unique spices and condiment
The earnest entrepreneur insists on using whole spices, which are then freshly ground, to make the curry paste. "The spices are what set our curry apart from local versions, so it's important to me to use quality ingredients."
Melody is tight-lipped about her recipe, only revealing that ten spices are required to make the curry paste. These include star anise, cinnamon and imported Burmese cloves, which she finds more fragrant than other varieties. 
The dish is garnished with chopped Thai coriander – a less common variety with long, lean leaves compared to the smaller, fan-shaped ones on local coriander – that lends a stronger, more verdant flavour to the dish.
On the side, the noodles are served with a Burmese dipping sauce made from green chilli, garlic, onion and lime. According to Melody, this is a classic condiment enjoyed by Lashio natives. "Every cook in my hometown must learn how to make this, we pair it with everything." Tangy and mildly spicy, the dipping sauce is a refreshing foil to the rich curry.
Helmed by two friendly aunties
Melody does not cook at the stall as she has her hands full as a co-owner of two F&B companies – one of which runs Chen Fu Ji Fried Rice restaurant at Jalan Besar. Instead, Melody Curry Chicken Noodle is operated by two joyful aunties: Alice Lum, 67, (left in pic) helms the kitchen while Clara Yap, 76, takes orders. "I make it a point to hire older employees as I value their experience. One of the aunties (Clara) has been working with me for over a decade!" adds Melody.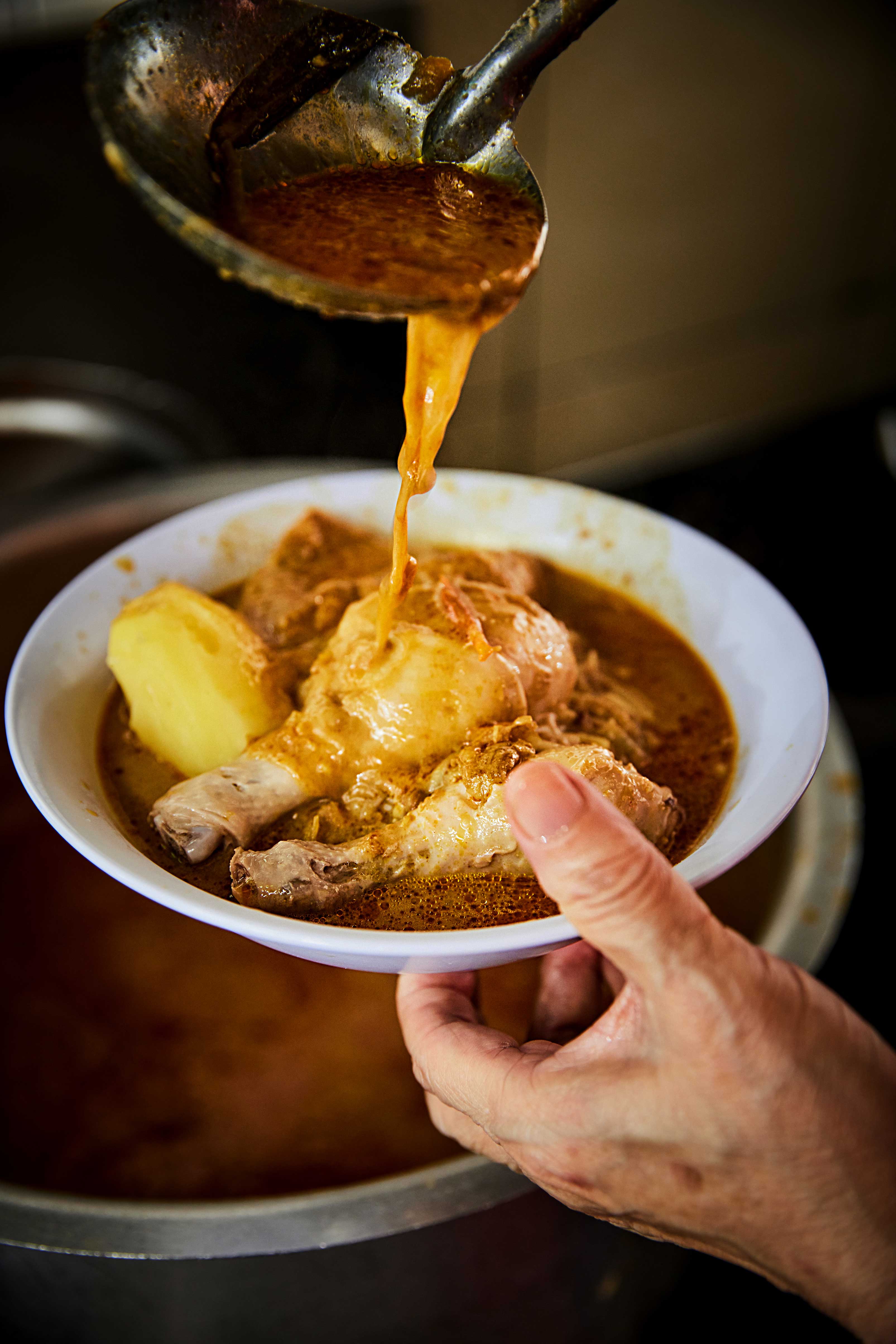 Hopeful despite slow start
Initially, the stall sold curry chicken with nasi kunyit (turmeric rice) when it first opened in March 2021. After a year of slow business that was further disrupted by Covid safety measures, Melody banked on the existing popularity of local curry mee and switched to noodles instead.
Though she declines to share how the biz is faring since the change, the stall owner affirms that orders have picked up since they changed the menu last month. "I believe in the potential of our curry noodles. We'll persevere and see where it'll take us."
Curry Chicken Noodle, $4.50 (8 DAYS Pick!)
A more full-bodied curry mee compared to Singaporean Chinese versions. The slightly chunky gravy boasts a fragrant spice blend very similar to local Indian curries – we like that it's not too fiery or savoury, which allows the warm, aromatic notes of the curry to truly shine. There's also a light touch of coconut milk and evaporated milk that makes the soup slurp-worthy without veering too jelak. Noodle options include yellow noodle, thin and thick bee hoon. We went for the classic combo of yellow mee and thin vermicelli, which provided a good vehicle for the yummy, thick curry to cling to.
The stall offers good value by only serving kampong chicken drumsticks (you get two pieces for the smaller order, and three for the large one) with its noodles. Perfectly poached, the meat is tender and juicy, and pairs well with the piquant chilli-lime dip. Standard toppings like chunky deep-fried tofu puffs, potato and bean sprouts complete the filling meal.
Bottom line
Don't let the exotic Burmese-Indian connection to this dish intimidate you — it's simply an honest-to-goodness bowl of comforting curry mee. We enjoy its robust (though not quite fiery enough) spice blend, which is richer and more aromatic than most of the Singaporean versions we've tried. The tender drumsticks and gravy-soaked tau pok topping the noodles are delish, too. 
The details
Melody Curry Chicken Noodle is at #01-35, Blk 93 Market & Hawker Centre, Toa Payoh Lor 4. S310093. Open daily except Thur, 8am-2pm. Facebook 
All photos cannot be reproduced without permission from 8days.sg
Photos: Aik Chen