Siblings whose parents own Soi 19 noodle chain open independent Thai wonton mee stall
The siblings decided to open their own stall called PhetchaBuri Thai Wanton Mee. They serve a hearty tom yum Mama noodle hotpot here too.
If you're a fan of Thai-style wonton mee, read on. PhetchaBuri Thai Wanton Mee opened on 26 April at M.Connect Food Court at Grantral Mall @ MacPherson. The stall is run by the folks behind Hei Bai Chao, located just beside it, and also bistro Daruma Tavern in Upper Thomson, both known for KL Dai Lok Mee and more. 
But what's even more interesting is the fact that the siblings who own the business used to work at their parents' popular Soi 19 Thai Wanton Mee chain of casual eateries. However, note that PhetchaBuri (named after a province in central Thailand where the dish originated says its owners) is completely unaffiliated with Soi 19.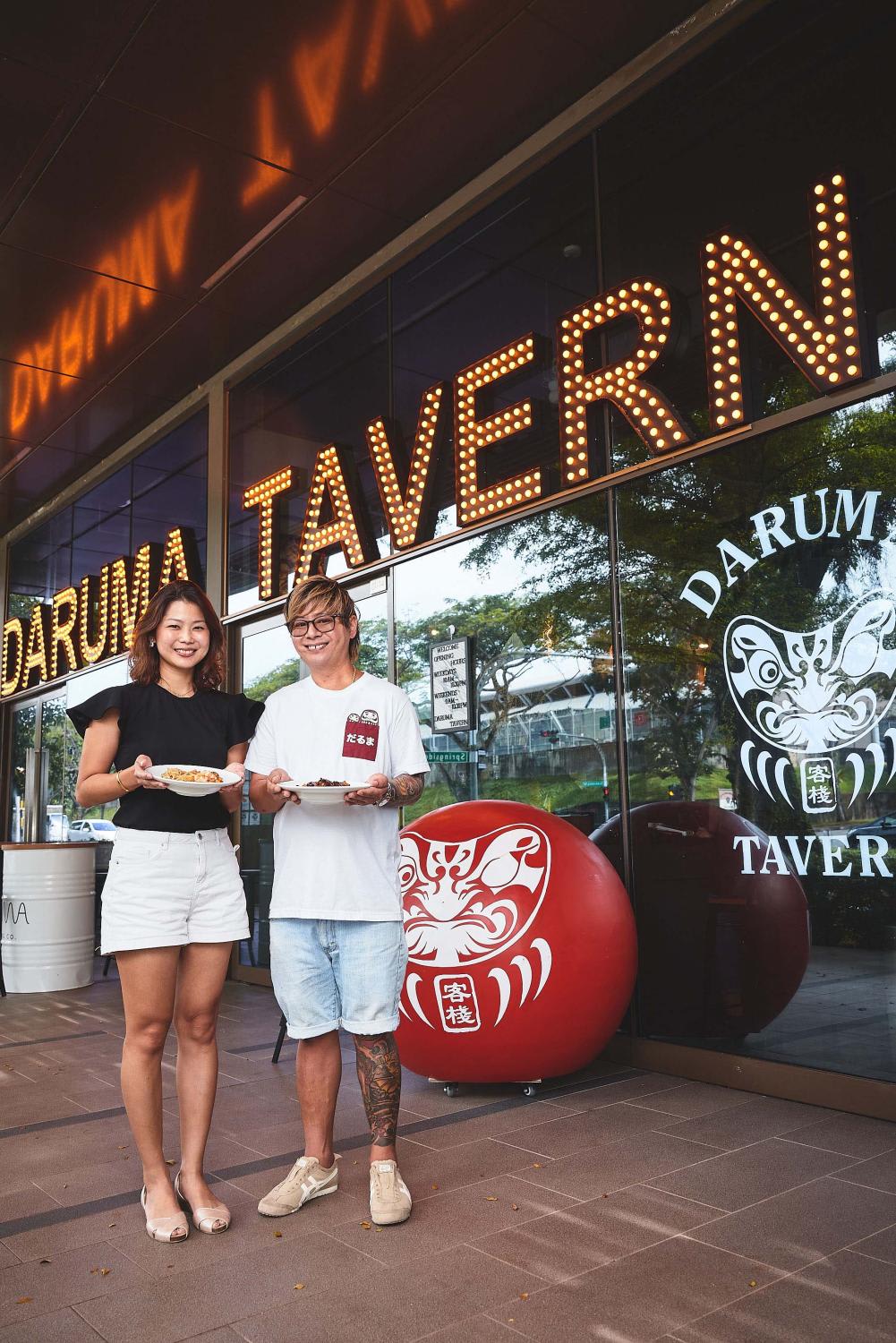 While this is the first time that Claire and Alex Ng (pictured) are bringing their Thai-style wonton noodles to a food court, it's also a pre-existing dish at Daruma Tavern.
When asked what their parents thought of their new wonton noodle stall, Claire declined to comment.
No part of this story or photos can be reproduced without permission from 8days.sg.
Didn't plan to open wonton mee stall initially
While some may say selling wonton mee is quite literally in their blood, the siblings weren't exactly planning to open this stall.
Claire tells 8days.sg that the "food court management wanted a Thai wonton mee stall to enter", and asked them to take up the empty unit next to Hei Bai Chao. And so they did. The two stalls at MacPherson are manned by Claire and her partner, Jeff Lim (who used to be a cook at Soi 19), while her brother remains in charge of Daruma Tavern.
Thai Wonton Mee, $7.80
While Thai wonton mee may look a little plain, it often packs a punch because it usually contains rich ingredients like crispy lard cubes and fish sauce. PhetchaBuri's version comes topped with fried and boiled wontons, Thai fish sausage, choy sum, fried lard and "premium" pork belly char siew.
Two brand new dishes
Besides wonton mee, PhetchaBuri Thai also offers tom yum noodles and basil pork rice.
Mama Tom Yum, $23.90; feeds 2 to 3 pax
This is served hotpot-style. Think tom yum soup pimped up with mussels, prawns, squid and fish cake, alongside a heap of the well-loved Thai Mama brand of instant noodles and two eggs.  
"This food court has a live band at night and a lot of customers come in groups," Claire explains, adding that this spicy hotpot noodle dish is great for sharing. FYI: catch live music performances at the rather fancy food court between 7pm to 10pm daily.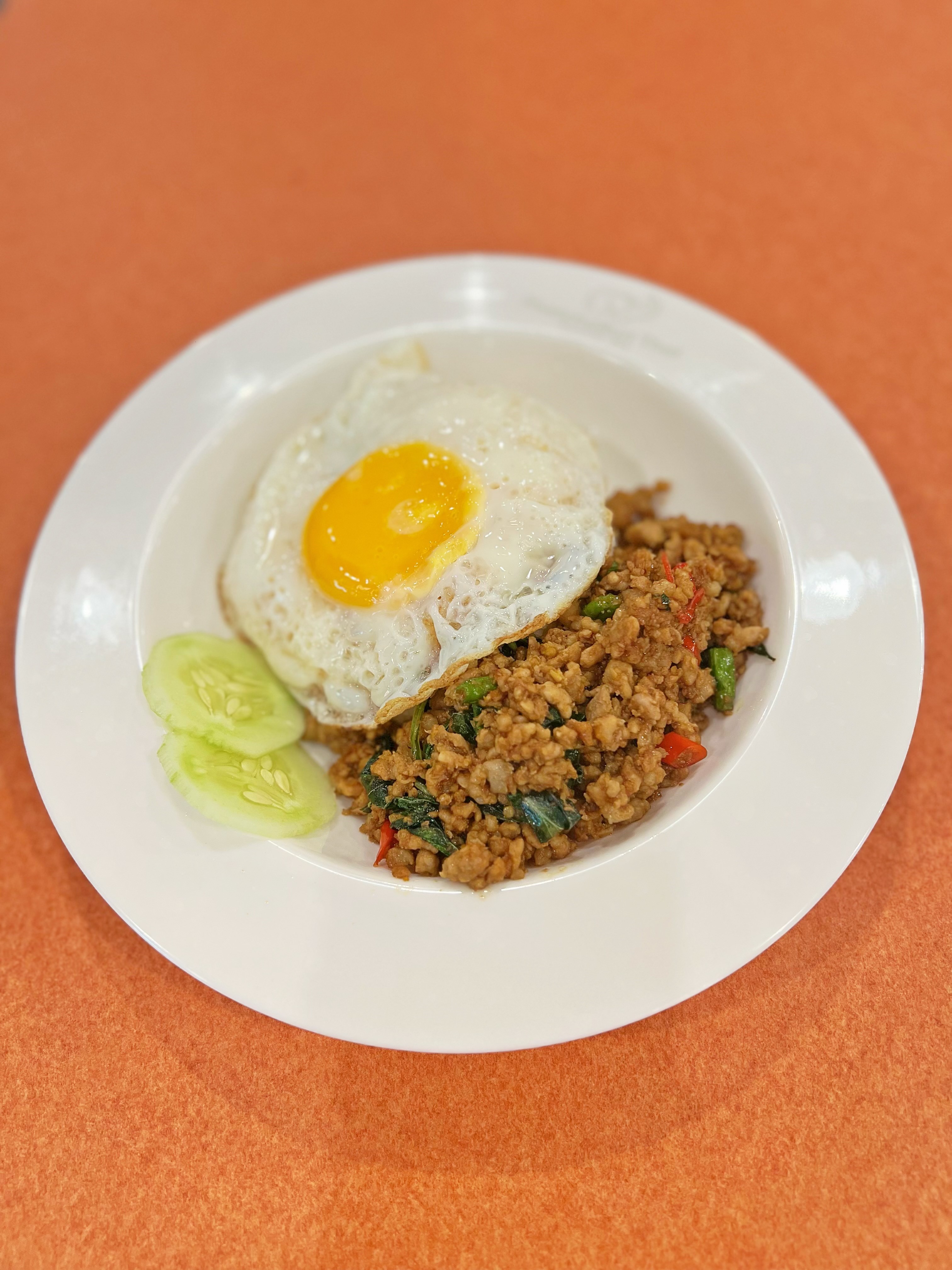 Basil Pork With Rice & Egg, $7.80
This classic Thai favourite features the usual minced pork, sunny side up egg and cucumber over rice.
Customers can also order fried wontons ($6.80 for seven pcs), Thai fish sausage ($8.90) and wonton soup ($7.80) to nibble on. 
PhetchaBuri Thai Wanton Mee is at  #01-31 M.Connect Food Court, 601 MacPherson Rd, S368242. Tel: 9734-3484. Open daily 10.30am - 9.30pm. 
Photos: PhetchaBuri Thai Wanton Mee
No part of this story or photos can be reproduced without permission from 8days.sg.
8days.sg is now on #tiktok! Follow us on www.tiktok.com/@8dayseat.