Star Awards 2022 Evergreen Artiste Winner Xiang Yun, 60, On Her Reaction When She Sees Signs Like 'Chicken Rice Is Free For Old People Over 60'
The star shares her renewed passion for acting and why hubby Edmund Chen will "definitely complain" about missing SA 2022.
It's Xiang Yun's third Evergreen Artiste win, but only the actress' son, Chen Xi, 31, was present at the Mediacorp Theatre to witness the 60-year-old's win this year.
In an interview with the media after her win, Xiang Yun lets on that there were actually tickets prepared for her husband, former actor Edmund Chen, 60, as well as their daughter, Chen Yixin, 21.
But she'd told them it was okay for them not to attend this year, 'cos she didn't think she'd win.
"My family wanted to come, Edmund asked me if I'd get an award, [he said]: 'If you get an award then I'll go.' I said I won't win, so he said: 'Okay, then I won't attend, all right? Sorry, wife'," she shared.
She'd thought Lin Meijiao would win, since My Star Bride was a "very strong contender". Meijiao went on to win Best Supporting Actress for her role in the drama.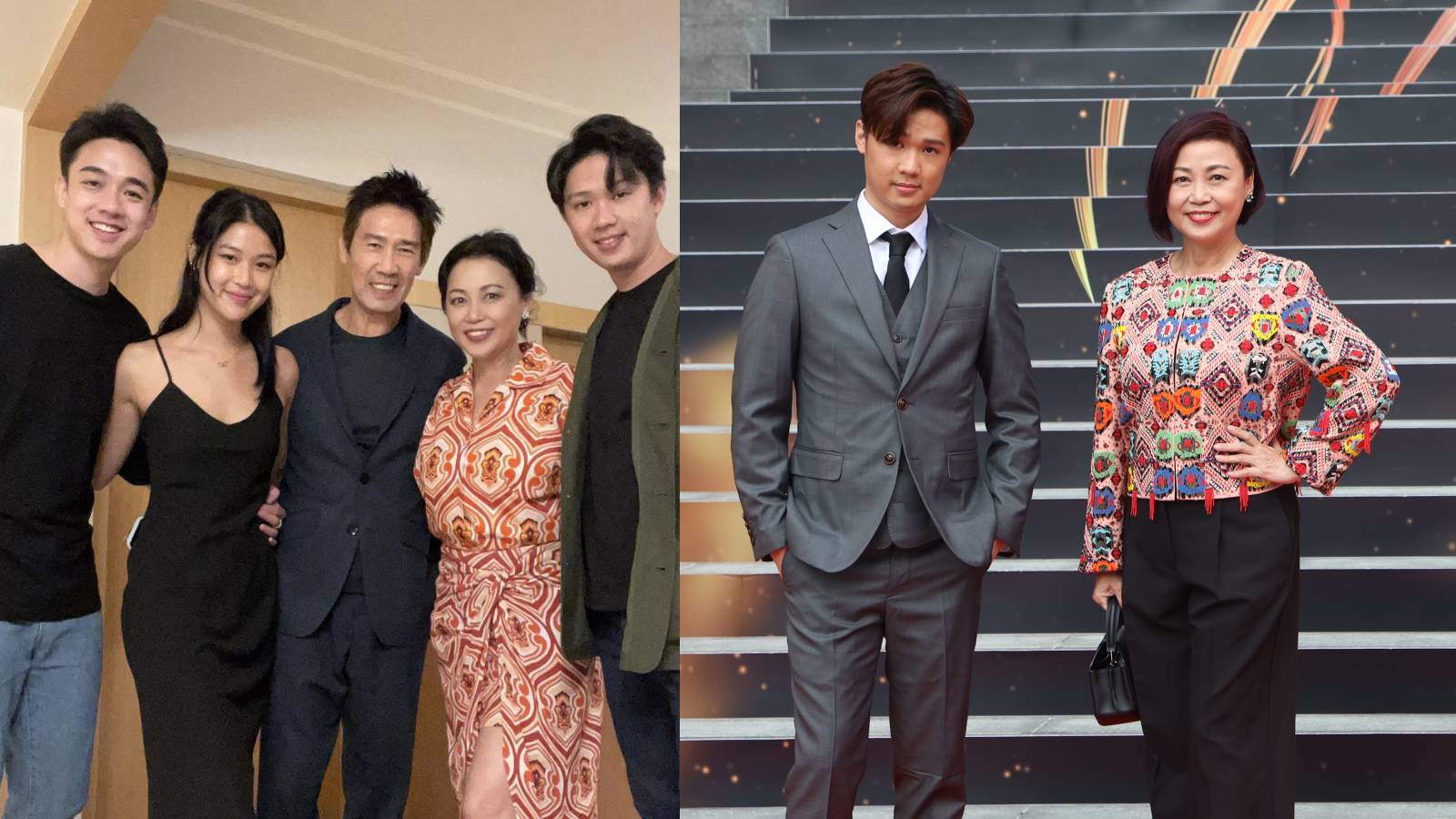 Chen Xi was the 'family representative' at Star Awards 2022
In a separate interview with 8days.sg after that, Xiang Yun revealed that she's sure Edmund would "definitely complain" to her after this.
"But I saw that my daughter was very tired... She had lots of work to do too, so I thought that Edmund should stay at home [with her] and I'd be fine with just Chen Xi with me," she said.
Of course, this doesn't mean that they let her leave the house without a hefty serving of encouragement and support.
Xiang Yun shared that everyone sent her messages of encouragement, including Yixin's boyfriend, Gavin Teo.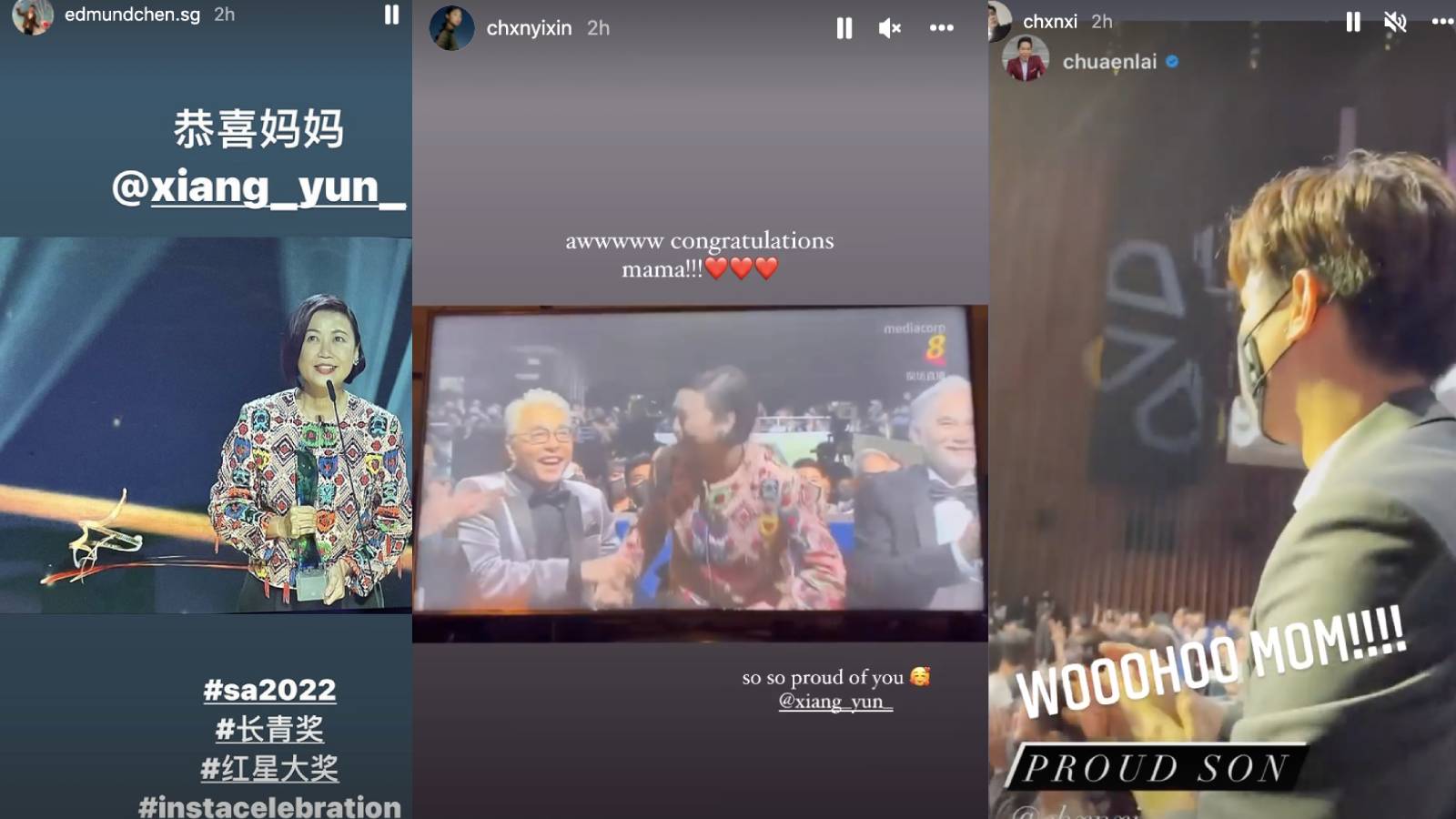 Edmund and Yixin showing their virtual support, while Chen Xi gives his mum a standing ovation
Zheng Geping, Hong Huifang and their kids walked the red carpet together this year. Would you want to walk the red carpet with your family next year as well?
I hope there'll be a chance like that… It'd be quite meaningful to walk the red carpet together.
This is your 40th year in showbiz. Do you feel like getting this award is a form of affirmation?
Yes, I'm very happy, 'cos after 40 years, it's another milestone. My friend has always said that life comes in parts and segments. And this is for the next segment of my life, 'cos my 40th year in showbiz coincides with my 60th birthday. 60 is really very old!
When I just signed my contract at 20, I'd wondered how I'd be when I was 60. And sometimes, when I film on location, and I see that it's written [at a food stall] over there -- 'Chicken rice is free for old people over 60', I'll think, 'Huh, how am I an old person?!' But I really am an old person (laughs).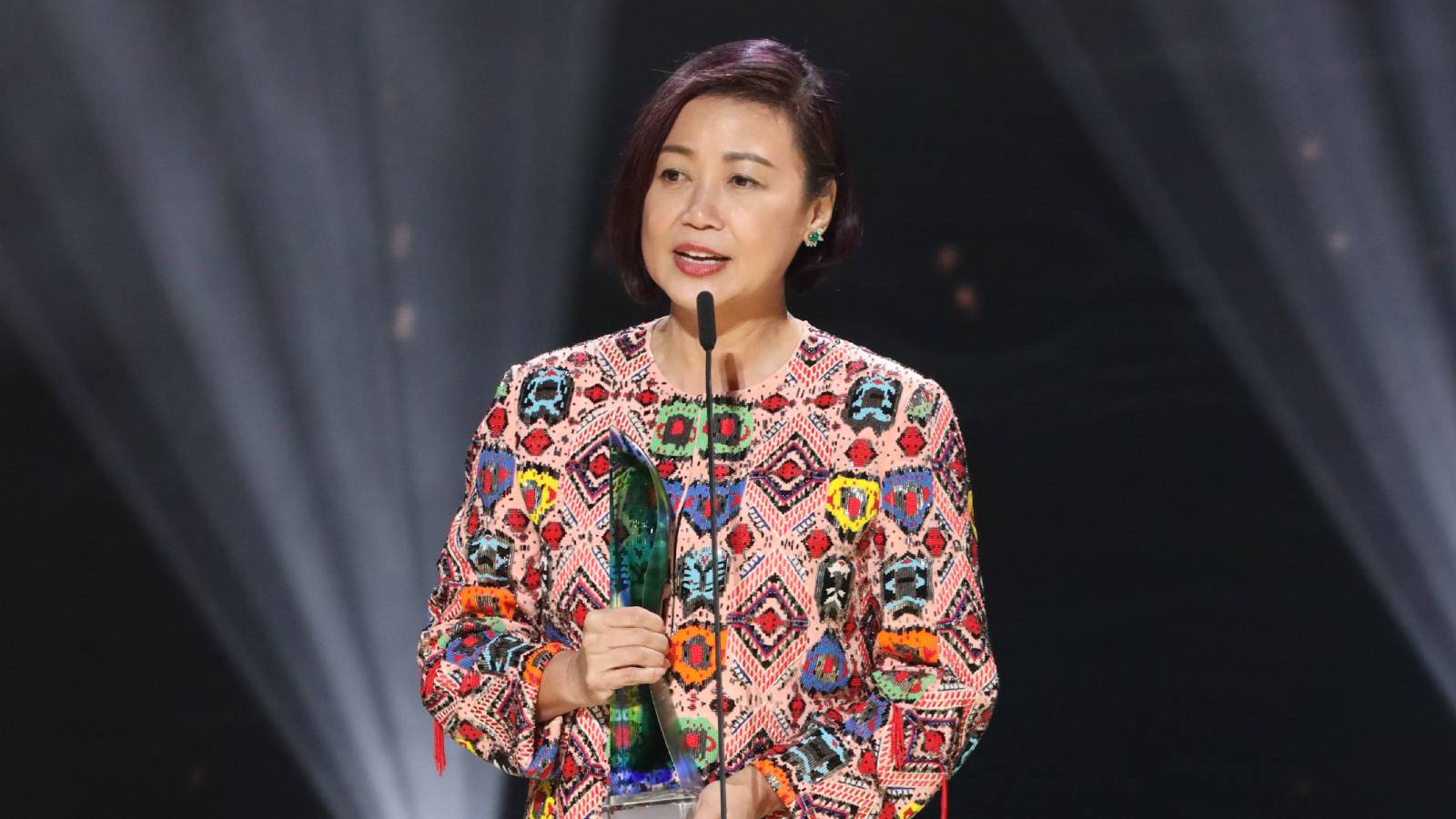 Falling in love with acting once more
You mentioned earlier that you were thinking of retiring from acting 'cos of your health issues, right?
Yes, I felt that I could not cope, 'cos of my hormonal problems.
Every morning when I woke up, my face would suddenly swell to become as big as my neck. And you know, as an actress, you have to rely on your face. So I really couldn't do anything, and I couldn't memorise my lines as well. I was not fit at all.
I had no confidence in myself at all. So, I thought that it might be a sign from God that it is time for me to stop, to change my direction in life. But I never thought that there'd actually be a turning point in my life like this.
I started to read up on a lot of stuff, a lot of psychology, and nutrition,It took me a year-and-a-half [to graduate]. Others take eight months.
After I slimmed down, I realised that everything went back to normal, and I rediscovered my passion for this job, 'cos my body and health did not hinder me [anymore].
So I felt very excited. Actually, even before I went on stage today, I was full of positive energy, I felt that I still have a lot of things to do, enjoy and play. I want to enjoy my life.
Since you mentioned that turning 60 is a new segment of your life, is there anything else that you wish to try?
I hope to film more shows that are centred on old people, like those who are 60 and above. 'Cos, right now, there are actually a lot seniors whose lives don't just revolve around taking care of family. They have their own joys and sorrows, and there are also a lot of unmarried and single friends in their 60s. They have their own problems too.
In the group chat among my fellow students and I, there are those who were talking about being retrenched, as well as other problems. When you have to face a different phase in life, you have to take on many changes, and it's hard to know if you'll be able to endure it all. This is a good story for my age. Not many people address these topics. I hope that there is a drama like this for me to take part in.
Photos: Mediacorp/Photo Unit, Xiang Yun/Instagram, Chen Xi/Instagram, Edmund Chen/Instagram, Chen Yixin/Instagram