Super Popular Private Dining Chef Opens Café In Orchard Serving Gourmet Ipoh Curry Mee & Yong Tau Foo
Sandra Sim of Ladyboss Dining Club is behind the menu at chic new cafe Small Tables, which also serves Ipoh hor fun and poached kampong chicken.
Chef and restaurateur Sandra Sim has worn many hats. Once co-founder of eateries like Cantonese tapas bar Sum Yi Tai and sushi joint Chi Kinjo (both closed amid the pandemic), the entrepreneur now operates a highly sought-after private dining experience at her flat, named Ladyboss Dining Club. At home, she dishes out modern Chinese plates omakase-style for those lucky enough to snag a seat – which includes high-powered foodies like Unlisted Collection CEO Loh Lik Peng and mod Sin chef Willin Low. If you were hoping to chope your spot, it's too late – the private dining club has been fully booked for the rest of this year.
But there's an easier way to try her food. The lady boss will soon be lending her culinary chops as executive chef at a newly opened casual eatery focusing on Ipoh specialties like curry mee, hor fun and white coffee — but with a slightly elevated twist. The 60-seater soft-launched on September 3 on the ground floor of Pacific Plaza shopping mall on Orchard Road.
Small Tables – the Chinese character 'yi' for Ipoh, when split apart, literally translates to 'small tables' – is a joint venture between Three Eats (comprising Sandra and her partners) with Minor Food Group, whose stable of brands includes Thai chicken rice specialists Go-Ang Pratunam Chicken Rice and local cha chaan teng-style chain Xin Wang Hong Kong Cafe. 
No part of this story or photos can be reproduced without permission from 8days.sg.
The collab was serendipitous
Headlining the menu is Sandra's Ipoh curry mee, which the Singaporean learnt to cook after spending time in Ipoh several years ago. She had become interested in the cuisine there as one of her business partners has family ties in the Malaysian city. Thereafter, she adapted the recipe after undergoing "months of research and development". She sold it at both Sum Yi Tai for a limited three-month run in 2020 and, more recently, her private dining outfit where it was a limited item for takeaway last November.
She also whipped up the noodles during a dinner gathering where Minor Food Group CEO Dellen Soh was in attendance. According to the press release, he tried it and knew "there and then [that] it was a winning dish", hence the collaboration for Small Tables.
Apart from conceptualising the menu, Sandra will be overseeing the kitchen for now, and the food will be cooked by an "experienced head chef". She will be at the eatery on occasion to cook and develop new offerings while still running her private diner, says the brand's PR rep.
The look
Small Tables goes for a sleek minimalist look dominated by dark hues and décor like antique mirrors, retro grill gates and pyramids of condensed milk tins.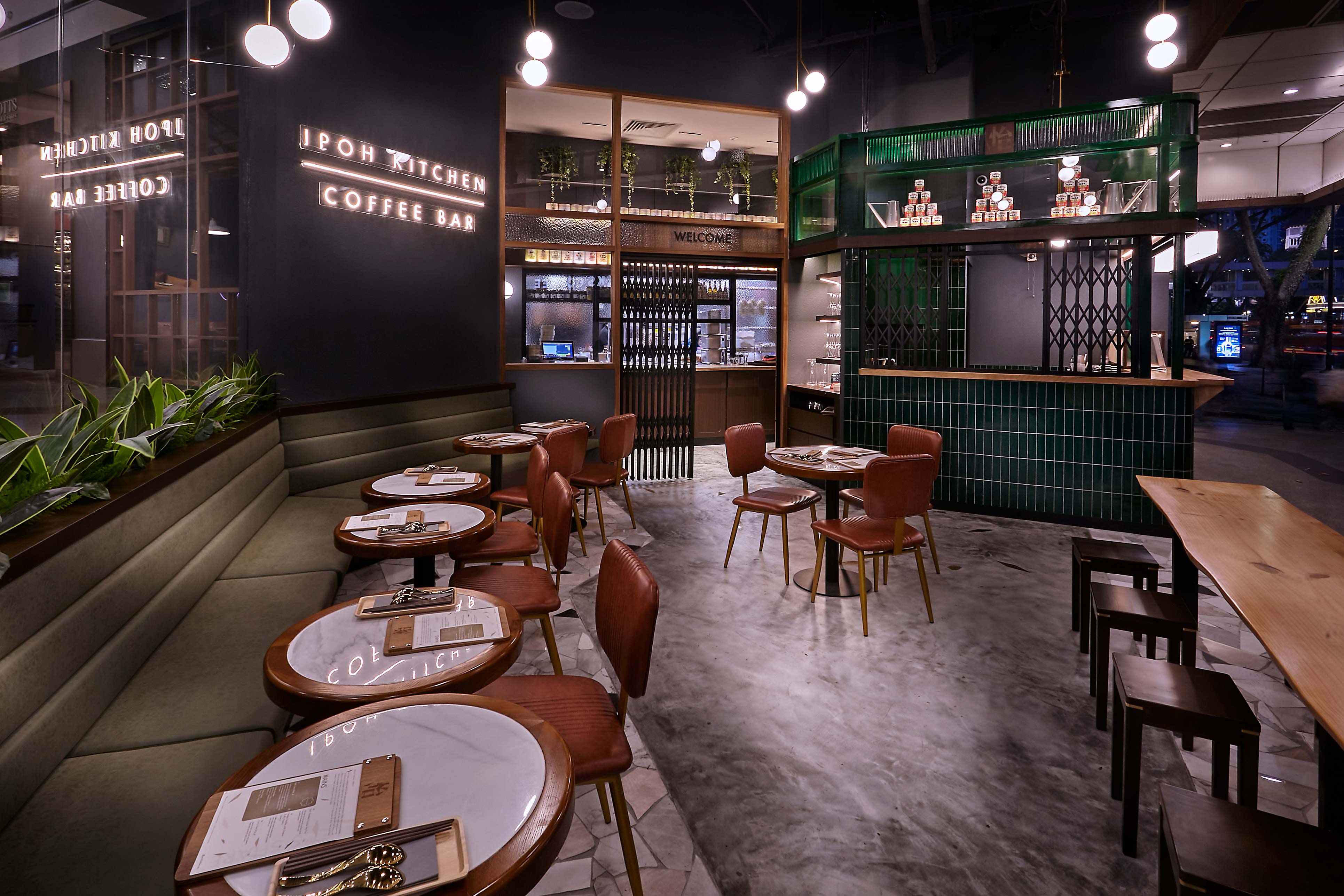 You get full service here at tables fit for smaller parties (but can be combined for larger gatherings).
The menu
The cafe is more full-fledged restaurant than casual dining, or at least its prices are – mains range from $18 to $24 each, while sides and sharing platters go from $12 to $36.
While 8days.sg hasn't popped by yet, expect a slew of popular dishes from Ipoh, including shredded chicken hor fun and curry chee cheong fun. Here are some of the highlights.
Ipoh Curry Mee, $20
Small Tables' signature version of Ipoh Curry Mee comes with poached chicken, braised pig ears, pig skin, prawns, char siew and roast pork (both house-roasted), swimming in a spicy curry base enriched with fresh prawn stock. A dry version is also available.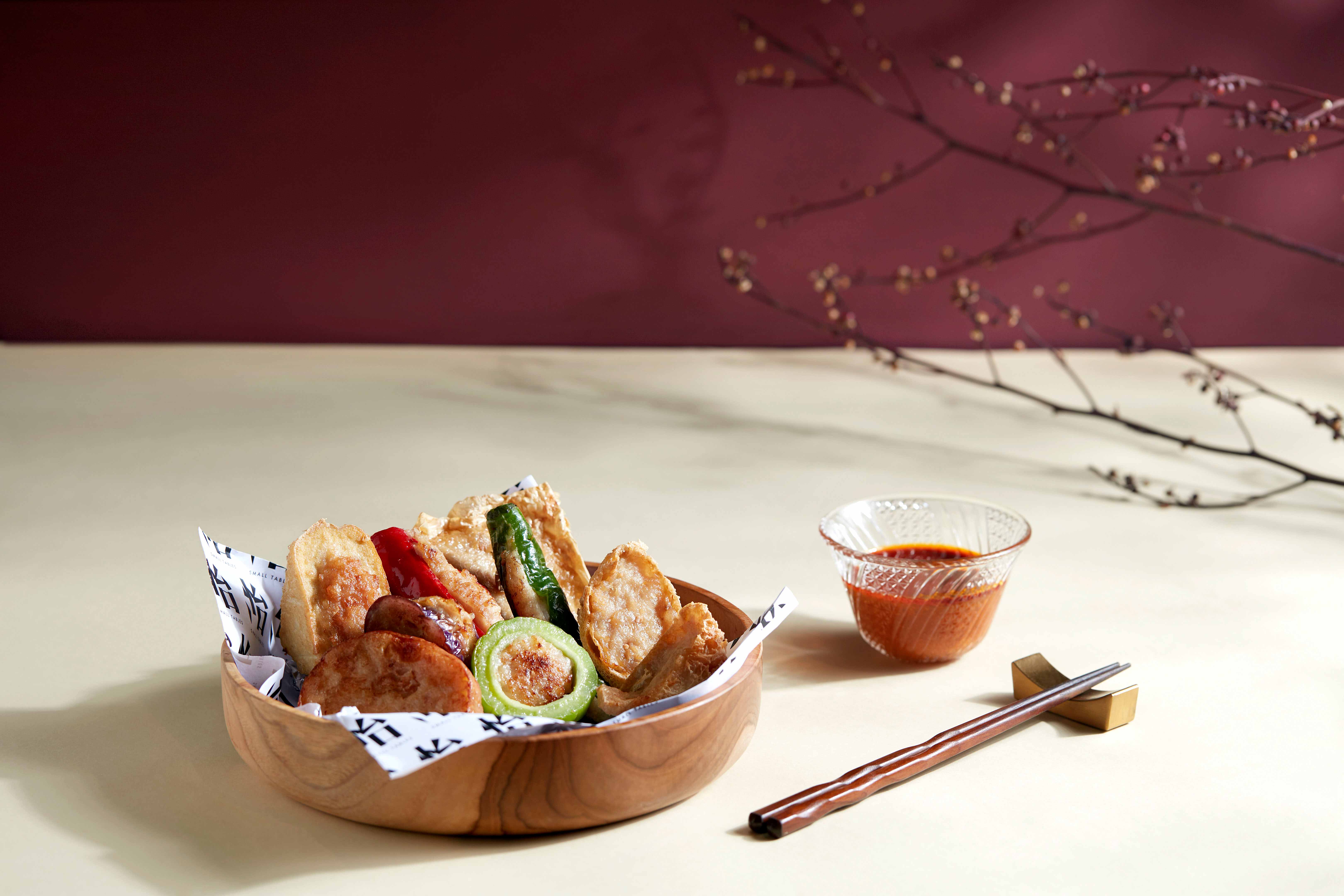 Hakka Yong Tau Foo, $16
Another
Ipoh hawker
favourite is Hakka Yong Tau Foo, which the menu here describes as "Ipoh Big Tree Style" – a reference to the well-known yong tau foo stall housed at the Dai Shu Geok (Cantonese for big tree foot) food court in Ipoh. It is served deep-fried with a savoury chilli dip.
Fancier sharing plates on offer
Sharing options include a rather elaborate-looking Whole Fish Otah ($28), where a whole deboned yellow croaker is stuffed with housemade otah and baked in banana leaf; as well as poached Kampong chicken, chopped and served with sand ginger ($20 half; $36 whole).
Both white coffee and white wine sold
Nurse your cup of Ipoh White Coffee with a cute mod Japanese-accented, kaya-filled taiyaki for $7.50. But if you want something a little stronger, Small Tables also sells beer (from $14.80) and wine (by the glass or bottle, from $16).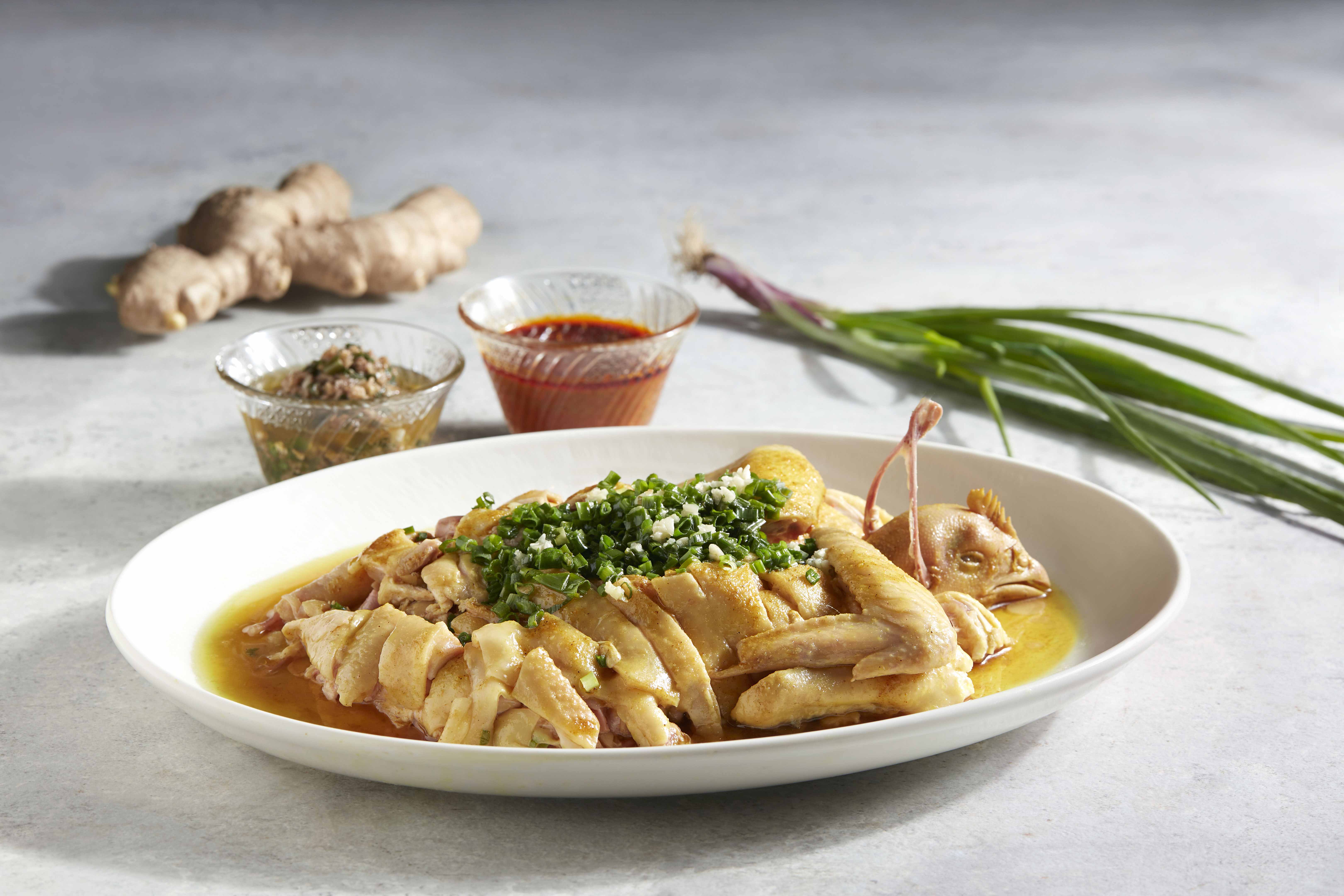 The details
Small Tables is at #01-09 – 12, Pacific Plaza, 9 Scotts Rd, S228210. Tel: 6452-9388. Open Mon – Thur 11.30am – 10pm; Fri & Sat 11.30am – 10pm; Sun 11am – 10pm. More info via Instagram.
Photos: Small Tables, Sandra Sim/Instagram
No part of this story or photos can be reproduced without permission from 8days.sg.