Sylvia Chan & Ryan Tan's Divorce Is Turning Into Singapore's Most Epic Influencer Saga
The reality show, or is it more like a car crash we can't avert our eyes from, continues to unfold.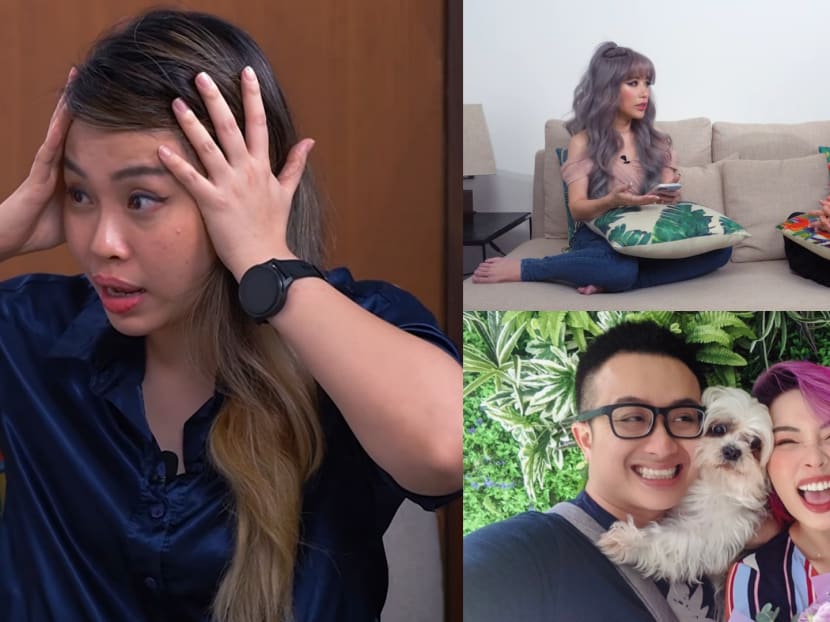 The Night Owl Cinematics (NOC) saga between co-founders Sylvia Chan and Ryan Tan, both 33, has created more grease on the internet than a plate of chicken rice (geddit?)
It's safe to say that Singaporeans are either following the scandal with rapt attention or just catching parts of the juicy bits so they can have something to gossip with their friends over on Telegram. (Hey, no WhatsApp screenshots, please.)
Either way it sounds as if it all boils down to the irrevocable breakdown of a marriage (between Singapore YouTube's "Golden Couple", according to Sylvia) and the custody battle for NOC's xiao mei mei influencers, most of whom have gotten rides home from Ryan (again, according to Sylvia).
Yesterday (Oct 24), Sylvia opened up about the slew of unsavoury allegations against her in an almost two-hour video interview with Singapore's OG blogging queen Xiaxue, telling her side of the story while dropping a number of bombshells of her own.

The video has garnered over 730,000 views at the time of writing since it was uploaded to YouTube last night.
Sylvia also took to Instagram at about 5pm today (Oct 25) to post another apology for her wrongdoings and confirmed that she is cooperating with the relevant workplace authorities regarding all her allegations.
After the initial accusations of Sylvia being an abusive boss made headlines, more damning misdeeds were documented in a blog called #EndTheSilence, which we'll get to later on.
While she isn't exactly sure who could be behind all the leaks (everything does seem meticulously organised), Sylvia said that it just so happens that she and NOC co-founder Ryan Tan, whom she divorced in March last year, are working out their separation of assets, so he "does have something to gain" from her downfall.
According to Sylvia, her ex-husband "wants an exit from NOC" and for her to "buy him out at a very high price". She declined to reveal the exact figure but confirmed that it's "in the millions".
"That's why we're fighting, and halfway through all our fighting about this, the drama happens," she said, adding that while Ryan has claimed to have resigned from NOC, he is still the sole director of the organisation.
Despite making the world believe that they were YouTube's "golden couple", Sylvia admitted that she and Ryan "never had a happy marriage" and that he had cheated on her with a waitress who worked at a restaurant that he started before the launch of NOC.
"I found this email account which they used to write love letters to each other," she said. "That was his first cheating incident, but I thought I should just forgive him and move on."
Sylvia then hinted at Ryan's inappropriate relationship with the girls at NOC, whom he would treat extremely well by doing things like sending them home late at night, picking them up from night clubs, and leaving whatever he was doing with Sylvia to help them when their car broke down.
"At the end of our marriage, I said he could come clean with me, and he did mention a few names that he had a crush on, and those were people that I had expected for a long time," Sylvia said.
Ryan even claimed that one of those girls "pushed herself onto him", although he rejected her advances. Sylvia shared that this woman was former NOC talent Michelle Tan, who has since "categorically [denied] the allegations of any intimate or inappropriate behaviour with Ryan" on her Instagram.
What about the rumours that Sylvia was also unfaithful to Ryan? "If there's one thing that I can be very proud of, it's that all throughout these 10 years, I've never cheated on him a single time."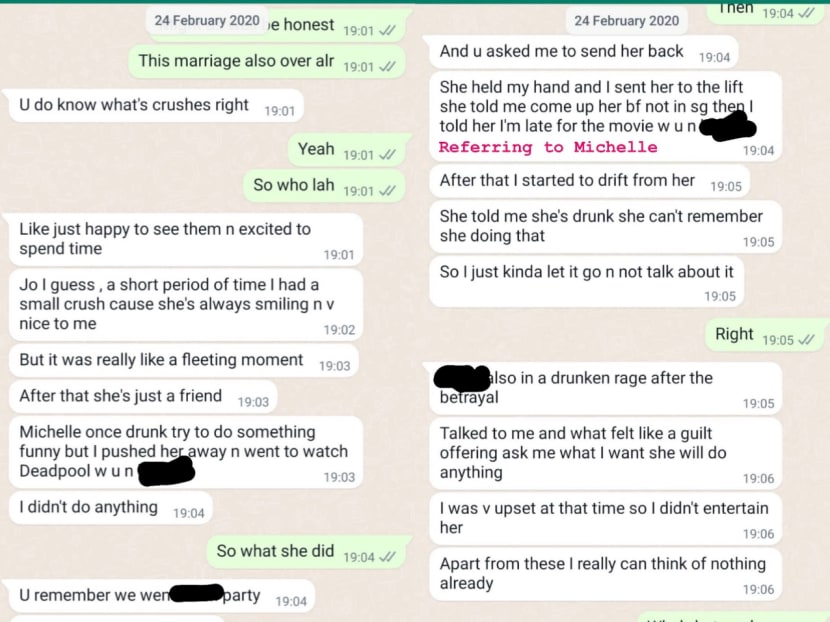 Even Sylvia's nasty behaviour towards her staff was indirectly attributed to Ryan. She claimed that he would "entrust [her] to do the scolding" and she would do it "very willingly" (aka the "good cop, bad cop" routine), but over time, she became "this very angry person against everyone".
"I may be crass and vulgar, but I have never been so angry and so hateful, and that was why I recently went for therapy to tell them that I've become a person that I don't want to be and I'm ashamed," she said. "I think throughout the years, I felt the need to become like that to protect Ryan."
Sylvia later touched on Ryan's multiple attempts to commit suicide. "When these kinds of things happen all the time, you will protect this person. Whatever he tells you to do, you will do it, 'cos you don't want him to die."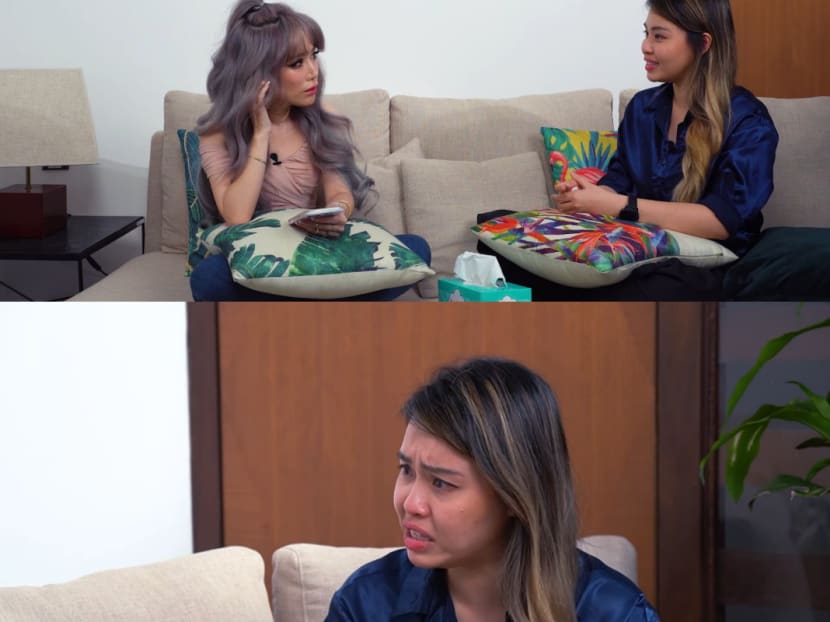 Xiaxue went on to grill Sylvia about the more serious and potentially illegal accusations against the latter as brought up on the #EndTheSilence blog, and here's a quick guide and summary on what she had to say:
Allegedly misappropriating NOC funds for her home rental
She justified her living situation by comparing it to foreign chefs who reside above the F&B establishments they work in, saying that when they rented the shophouse that she and her brother stay in, it was always intended as NOC's office and shooting location.
"If you see a lot of our shoots, they're even shot in my bedroom," Sylvia explained. "I'm a workaholic and this is a great arrangement for me."
Allegedly owing NOC a lot of money
"That is the list that [Ryan and I] got the accountant to come up with when we decided to divorce 'cos now we no longer have joint accounts, so I wanted me and Ryan, who had used this company account for private matters, to return the money at the end of the year so that things are 'clean' moving forwards," said Sylvia.
Supposedly looking disinterested during discussions of employee welfare
In a recorded Zoom meeting, Sylvia was seen reacting indifferently as Ryan and other NOC staff members brought up the taxing work culture in the company.
And this is what she had to say: "Ryan has a habit of illegally recording people and has threatened to release recordings of me so that I will keep myself in check. I'm not saying my behaviour is the best, but he knows me well enough to say things to make me very pissed off. Where are all the other team meeting recordings that show me giving feedback? They just picked the worst and angriest parts of the recording."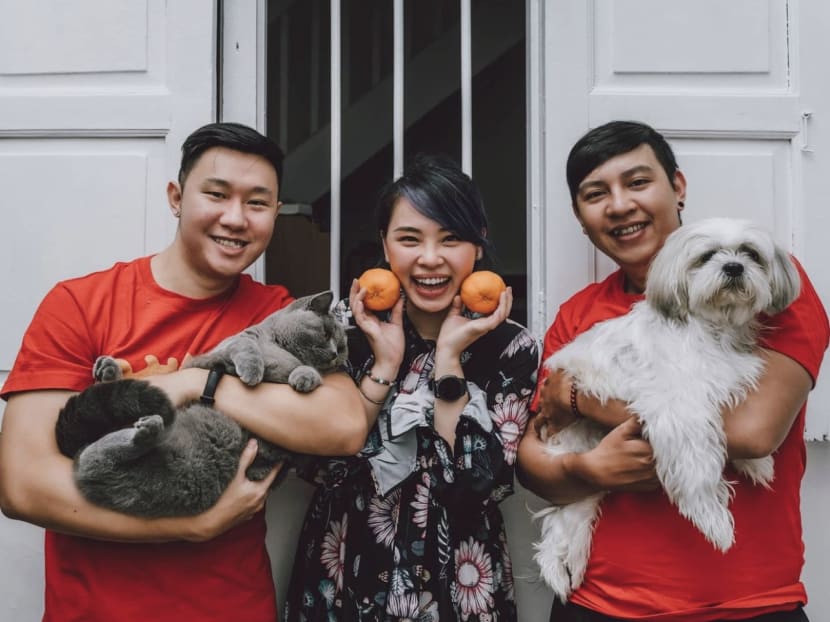 Allegedly paying her brother a fake salary to get him his PR
In one of the more serious allegations, Malaysian-born Sylvia, who got her Singapore citizenship in July, was said to have gotten NOC to pay her brother Sikeen a monthly salary even though he, as the blog states, is "not used in the company operations" so he could apply for PR.
"He has been a talent since day one, and for a period of time, he was also the props manager and runner," Sylvia clarified, explaining that the reason Sikeen may not have been seen doing any work was 'cos Ryan "has always hated" him and "openly calls him very rude names", so she asked her brother to report to a different office. "He's actually working so why are we not paying him?"
Allegedly prostituting NOC talents in exchange for free logistic services
Another grim accusation involves Sylvia supposedly arranging for NOC talents to sleep with the founder of a courier company in exchange for a logistics sponsorship for her chilli business.
Aside from the fact that the chilli biz didn't work out in the end (so there's nothing to deliver), Sylvia said that all she did was bring a couple of girlfriends to a party at a rich man's house that a logistics company boss had invited her to.
By the end of the night, she had no idea where everybody else was or what they were doing in that "humongous" place. "I didn't know bringing your friends to meet other friends was a crime and could even be accused as a sex trade."
Other miscellaneous allegations
Sylvia addressed a screengrab of a conversation where she supposedly tells a girl "not to be a slut", saying that it was actually someone thanking her for teaching her, and that only the parts where Sylvia was scolding her, and not the parts where the girl was being receptive to her feedback, were deliberately singled out.
That said, she acknowledged that she "could have talked in a better tone".
As for the sexually explicit video featuring a woman who looks and sounds a lot like Sylvia making its X-rated rounds online, Sylvia herself has watched it and questioned if it really was her (even though she knows she has never done such a thing).
"I showed people who were close to me and one of them was like, 'It's not you 'cos your boobs are the wrong size,'" she chuckled.
Finally, when asked why she agreed to do this tell-all, Sylvia said that her mother, who lives in a village in JB, has caught wind of the news via Ch 8 and is "very, very badly affected".
"And I think at this point, it's more cathartic than anything I wanna achieve," she mused. "If today is the last day of my career, then so be it, but at least I was given a chance to say something."

So will Ryan be responding to what Sylvia has said about him? If there's anything we know about influencers, we should be expecting a two-hour tell-all of his own.
If you're still feeling up to it and you have almost two hours to kill, you can watch Xiaxue's full interview with Sylvia below:
Photos: Sylvia Chan/Instagram, Xiaxue/YouTube, Night Owl Cinematics/YouTube