Taiwan Commentator Apologises For Wrongly Writing That One Million Star Judge Yuan Weiren "Has Gone", Says She Took Sleeping Pills And Was "Out Of It"
What an awful mistake to make about the Taiwanese singer-songwriter, who is in a vegetative state after hitting his head during a fall in 2020.
Veteran Taiwan commentator Sisy Chen has apologised after wrongly posting on Facebook that Taiwanese singer-songwriter and judge of singing competition One Million Star, Yuan Weiren, 54, "has gone".
In the early hours of yesterday (Sep 29) morning, Sisy, 63, went on a photo dump, posting more than 50 pics from her work and personal life.
Among them was a group photo with Weiren with the caption: "Press conference before hosting Sisy's Music Story. 55 years old. The little fatty beside me has gone," referring to Weiren, who is affectionately known as 'Xiao Pang Lao Shi' (or 'Little Fat Teacher' in English).
Weiren is reportedly in a "vegetative state" after hitting his head during a fall in his Taitung home in 2020.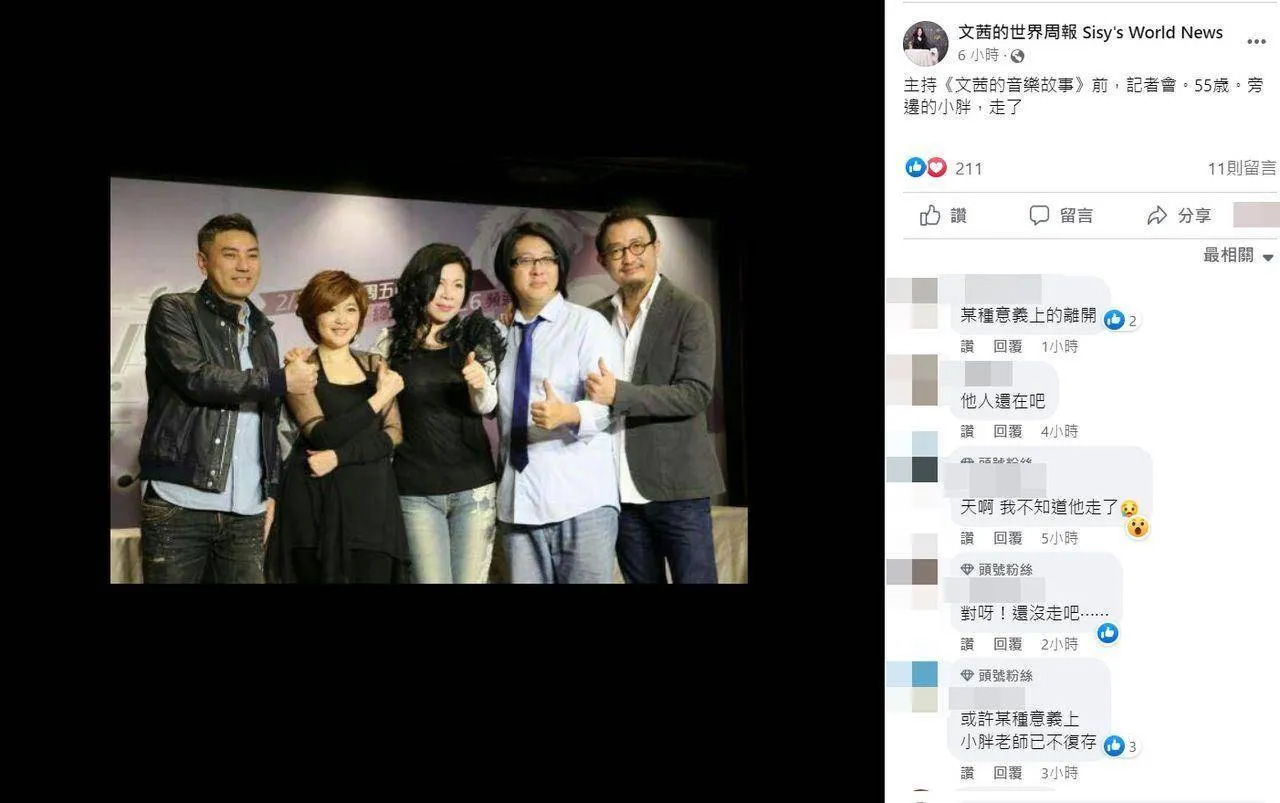 Netizens were shocked to say the least
The post shocked netizens who took to the comments to express their surprise and disbelief.
"He is still around, right?" and "Yuan Weiren isn't gone. Is it okay to write like this?" were some of the comments.
Sisy later replied, saying that she had made a mistake and "remembered wrongly".
"I took sleeping pills in the middle of the night and was out of it. Remembered wrongly, I was too careless. I am very sorry," she wrote, adding that he "is still around".
She has since changed her caption to read: "The little fatty is now ill. Praying deeply for him."
When contacted by the media, Sisy said she felt very bad about the boo-boo and asked reporters to apologise to Weiren and his family on her behalf.
Weiren's ex-wife, Taiwanese actress Lu Yuanchi, told ETtoday that she, too, was shocked by the news and that his family and friends have confirmed that he is fine and that it was just a false alarm.
"He is recuperating and that his family is taking care of him," she said.
Weiren is fine
Weiren has suffered a few health setbacks in recent years.
In October 2018, he was in a coma for 62 days in a Shanghai hospital following surgery for a brain haemorrhage.
After being discharged from the hospital, he flew back to Taitung to recuperate at home. 
In 2020, just when his condition was taking a turn for the better, he suffered a fall at his home and slipped into a coma. He is reportedly in a "vegetative state".
Photos: Sisy Chen/Facebook, Sinchew