Taiwan Paparazzo Reveals Pics Of Barbie Hsu's Ex-Husband Cheating On Her With Different Women When They Were Still Married
Veteran paparazzo Ge Siqi said he did it because Wang Xiaofei had accused the Taiwanese paparazzi of making up rumours that he was unfaithful to Barbie.
A veteran Taiwanese paparazzo has exposed Barbie Hsu's former husband, Chinese businessman Wang Xiaofei's cheating ways after he threatened to sue the paparazzi for spreading untruths about him.
It all started on Monday (May 30) when paparazzo Ge Siqi posted two pics of a drunk Xiaofei, 40, lying on 26-year-old Chinese actress Zhang Yingying, whom he is reportedly dating, and claimed the pics were taken when he was still married.
Siqi also said Xiaofei had multiple affairs before his divorce last November.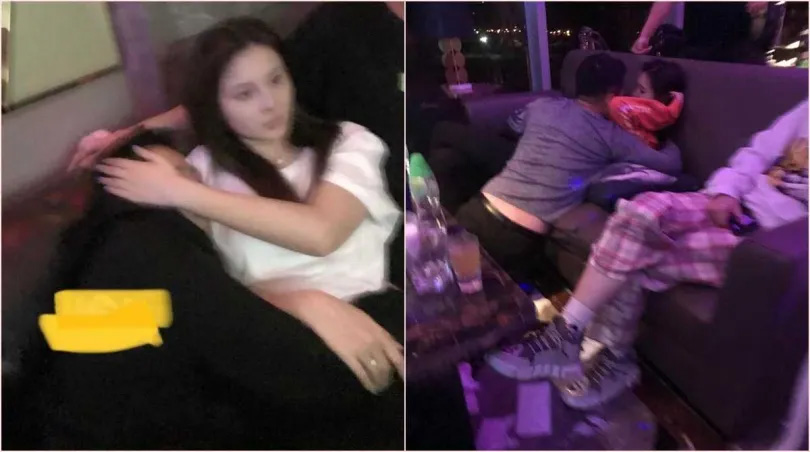 Siqi says these pics of Xiaofei and Yingying were taken when he was still married
Xiaofei responded in a Weibo post, saying that the pics were taken in last February, when he and Barbie were in talks about a separation. He claimed he had tried to salvage his marriage but Barbie insisted on a divorce.
In his post, he also alleged that Barbie, who was battling mental health issues, took illegal drugs for a long time.
He said she obtained drugs through other people's prescriptions and that he had to fork out NT$1mil (S$47K) for them each month. He has since deleted the post.
Barbie's team has also denied the allegation, saying she a) "did not commit any illegal acts", and b) "did not force anyone around her to commit illegal acts". 
The paparazzi fight back
Last night (May 31), Siqi went on live stream to share evidence of Xiaofei's affairs, revealing three pics of him behaving intimately with different women.
In one of the pics, Xiaofei was at a bar and appeared to be sitting on a woman's lap, kissing her. The woman, said Siqi, is not Yingying.
In another pic, Xiaofei had his arm around a woman and was kissing her, while the third showed him leaning on another woman's shoulder. Xiaofei's driver could be seen lying on a sofa beside them.
Siqi said the last two photos (left and middle in pic below) were taken at Xiaofei and Barbie's marital home in Taipei.
"I promised [his source] that I will only reveal these three photos. There must be more going on, how can there not be?" said Siqi.
"Wang Xiaofei, don't say this isn't you, and don't say these are fake. Though you have removed the post where you spoke untruths about me yesterday, I will still expose what needs to be exposed. [The source] even shared details of his conversation with Wang Xiaofei, this proves that they spoke."
On why he was doing this expose, Siqi said: "Wang Xiaofei didn't offend me, but he offended the Taiwan paparazzi. He said we are making things up… I think carefully through I say carefully and I would not say it if I didn't have evidence."
Siqi added that Xiaofei had reached out to him earlier in the day and apologised. Xiaofei also tried to convince him not to go ahead with the expose, but he refused.
"How can I account to everyone? The only thing [Xiaofei] can do is to apologise to Barbie and her mum. She didn't speak ill of you when you divorced, but yet you posted [about her alleged drug use] on social media. Do you know how much hurt you caused Barbie? I can't bear to see it, so I decided to help her clarify the truth. People can be immature, but they must admit their mistakes," Siqi said.
He also played the recording of their conversation where he told Xiaofei that he had not been in contact with Barbie and that she was not the one who instigated the expose, to which Xiaofei replied: "I know, she is not that kind of person."
Siqi said that he has other videos of Xiaofei which he may reveal in the future.
Xiaofei and Yingying
During the live stream, Siqi also shared that the paparazzi found out that Xiaofei was seeing Yingying in September last year.
They were photographed hiking with Xiaofei's mother, and at the time Xiaofei and Barbie were not divorced yet.
Siqi also revealed that Xiaofei had persuaded Yingying to get an abortion and gifted her a luxury car and apartment for doing so.
"I believe my sources and info will not be wrong. Why would Zhang Yingying trade the life of a person for a car? At that time, she wanted a house and a car," he said.
Photos: Apple Daily, Wang Xiaofei/Weibo