'Thai Hot Guys' Returning To S'pore To Host Live Stream With Wang Lei & Perform At Restaurant
The lingerie-clad hunks from Bangkok will be back in town merely three weeks after their first "overwhelmingly" successful visit.
Four ripped, catcalling dudes clad in tiny women's clothes collectively known as the Thai Hot Guys caused a sensation when they visited Singapore late August. For three days, the street outside Thai barbecue joint Mr Mookata, where they gyrated around customers, teasing them with air-humping and more, was clogged with crowds clamoring for a glimpse of the minor celebs from viral Bangkok restaurant Staneemeehoi. 
If you didn't manage to catch them in action, fret not. The studs will be back in Singapore to perform at Mr Mookata from 22 to 24 September. They will also be back 1 to 7 October to co-host Facebook live stream shows for 888 Live Mall (an online shopping platform from Malaysia) with live-streaming sensation, Wang Lei.
No part of this story or photos can be reproduced without permission from 8days.sg.
Per, Dee, Wow and Top (from left to right) with a huge crowd of fans at Mr Mookata.
Three-day performance for Mr Mookata's 3rd year anniversary
Though it's only been a short time since their stint at Mr Mookata, the restaurant's manager tells
8days.sg
that "due to the overwhelming response" from their last visit, they've invited the hot guys back to "celebrate Mr Mookata's third year anniversary".
During the weekend the hunks visited, he says their business "doubled".
8days.sg
witnessed the massive crowds outside the eatery that weekend and it was as if pop idols were in session.
The same quartet - Wow, Dee, Top and Per - will be performing again. Dee, hunky co-owner of  Bangkok restaurant Staneemeehoi tells
8days.sg
shares that they were surprised by the large crowd, saying they'd been initially "scared to go to Singapore because the laws are so strict", "so when many people came [to see us], [we] were so thankful".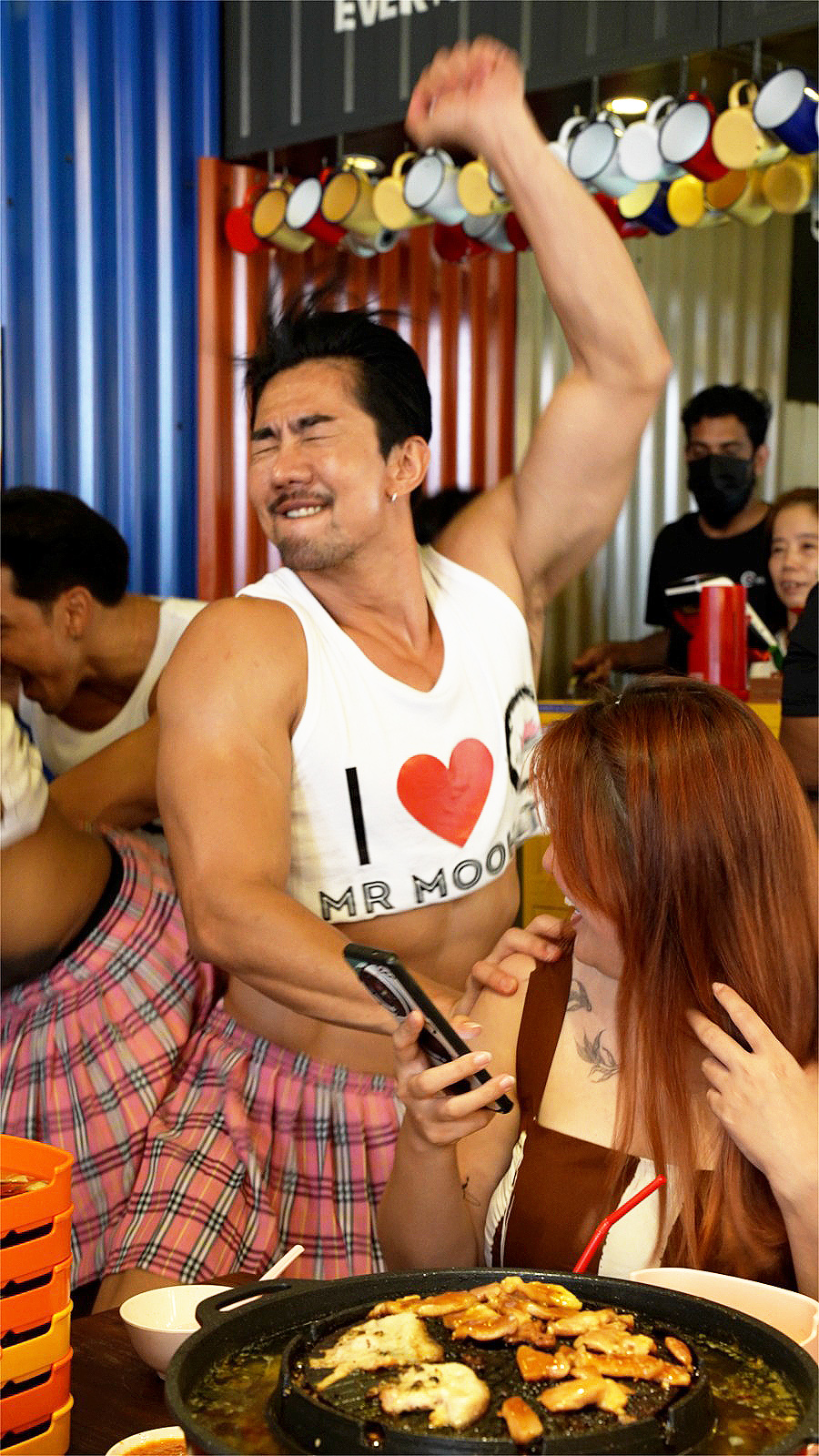 The mookata buffet will start at $35.90, up from $29.90
To catch the Thai Hot Guys in action, customers will have to order the mookata buffet, which now costs $35.90 (including free-flow non-alcoholic drinks like Thai iced tea) instead of the previous $29.90. You can top up $10 for free-flow alcohol, like beer.
They'll be doing FB live streams with getai singer Wang Lei
Two of the main hot guys, Staneemeehoi restaurant co-owners Wow and Dee, will also be in town next month for something non-food related. From 1 to 7 October, the duo will partner 888 Live Mall, an online shopping platform from Malaysia that sells an assortment of skincare and lifestyle products. They'll be co-hosting Facebook live streams on their page alongside Singaporean getai singer Wang Lei, better known online as 'Fish Selling Bro' as he is a live streaming guru. The trio will be testing out and selling products.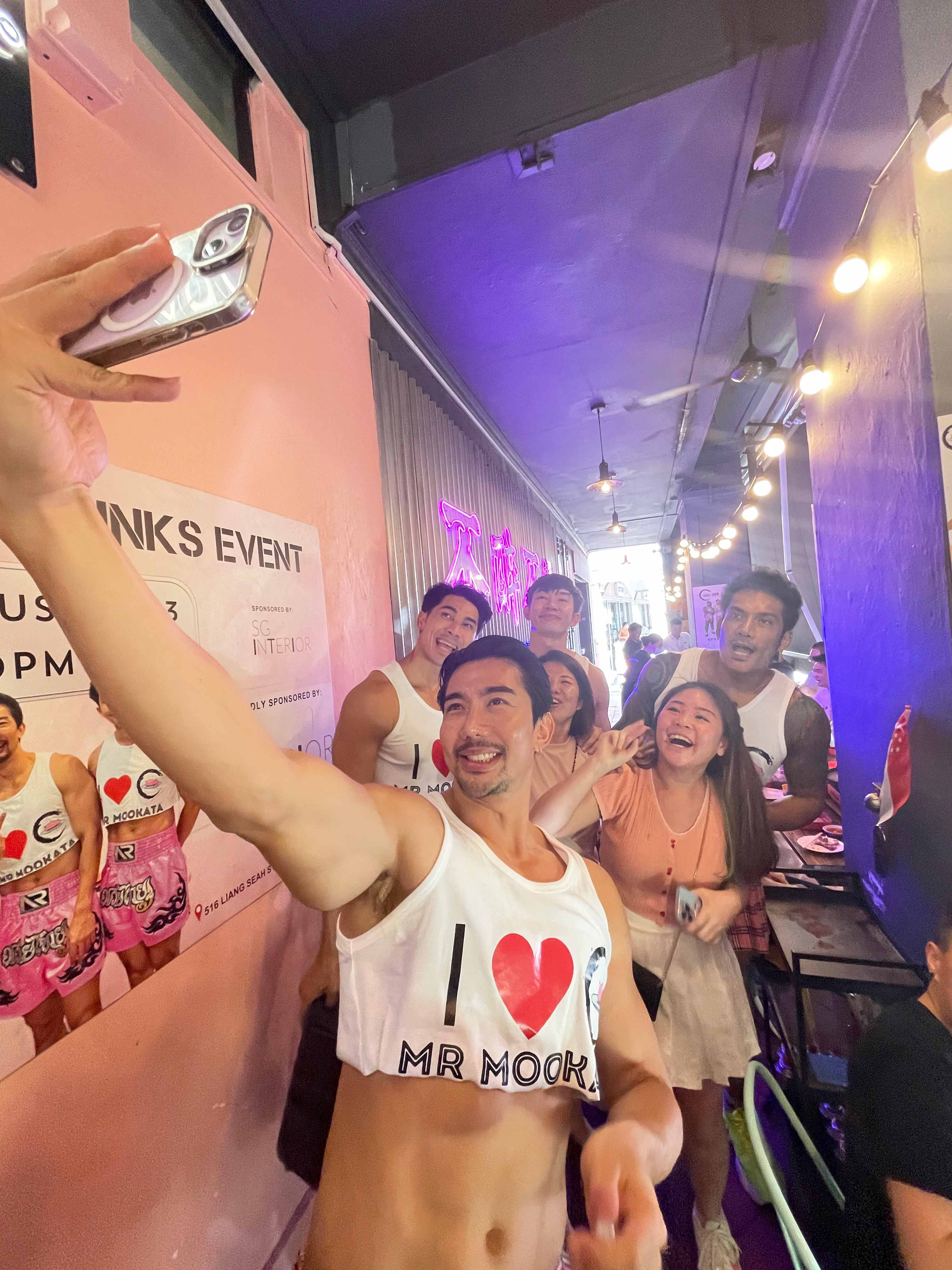 Unfortunately for fans, the Thai Hot Guys' manager, Moses, says that "this won't be a public event", though Wow and Dee will be out and about in Singapore hosting the FB live streams. While not much information is available about the contents of their upcoming live streams, Moses shares that "Dee and Wow will be heading over to an event at a facial spa" for one of the streams. At least you'll be able to catch their madcap antics online - perhaps also in revealing ladies' outfits.
The Thai Hot Guys will perform at Mr Mookata from 22 to 24 Sept, and host Facebook live streams on 888 Live Mall's Facebook page from 1 to 7 Oct. Mr Mookata is located at 516 Liang Seah St, S188740. Open daily noon-6am. Tel: 8825 7550. More info via Facebook. 
Photos: Mr Mookata/Facebook, Chua Wei Hang, Gwyn Lim
No part of this story or photos can be reproduced without permission from 8days.sg.
8days.sg is now on #tiktok! Follow us on www.tiktok.com/@8dayseat