Three-gen family makes S$2 pastries and fancy agar agar cakes, Mark Lee and Carole Lin are customers
This very underrated bakery sells pretty bakes and agar agar treats, like a unique mooncake, at very wallet-friendly prices and all made in-house.
Most people who drop by Coronation Plaza usually head straight for Peranakan eatery My Cosy Cafe on the second floor, which is very popular for its
mee siam
, popiah and kueh pie tee. But just a few doors down, at a stretch with noticeably less foot traffic, is a tiny takeaway bakery called
Food Mapping
.
Its decidedly untrendy name is a direct translation of its Chinese moniker Fu Min Pin (福民品), which means 'fortune people products'. The shop has been operating at Coronation Plaza for five years. Before that, it was a hawker stall at
Beauty World Food Centre
for 12 years.
No part of this story or photos can be reproduced without permission from
8days.sg
.
Shop run by three-generation family
Food Mapping was opened by Alice Teo (lower left in pic), 65, a self-taught baker and agar agar cake-making trainer who started her business from home. She later roped in her sister Jessica Low, 67, and her son Gabriel Chan, 33, to help her at their brick-and-mortar shop.

"When I was young, my mum sold ang ku kuehs, durian puffs and agar agar cakes from home. She would chill agar agar in my bedroom, where she put a fridge, 'cos there was no space!" laughs Gabriel.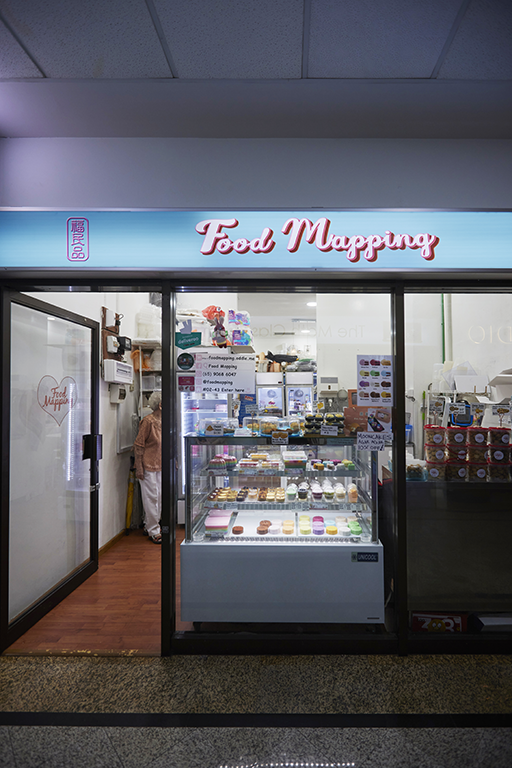 Alice and Jessica's 92-year-old mother, Chang Kon Ying, now drops by the bakery frequently to pass time there. "Sometimes I play mahjong if my friends ask me to, or I come here," she tells us happily.
According to Gabriel, Kon Ying had the nickname of 'Queen of Beauty World' when they were based there, due to her outgoing personality.

The lively grandma treats customers like her own grandkids, plying this
8days.sg
writer with lots of free cake samples and big hugs (we later see more passers-by stopping for a slice of her grandmotherly attention.) "My mum is the best saleswoman. She cuts samples for everyone," Alice shares smilingly.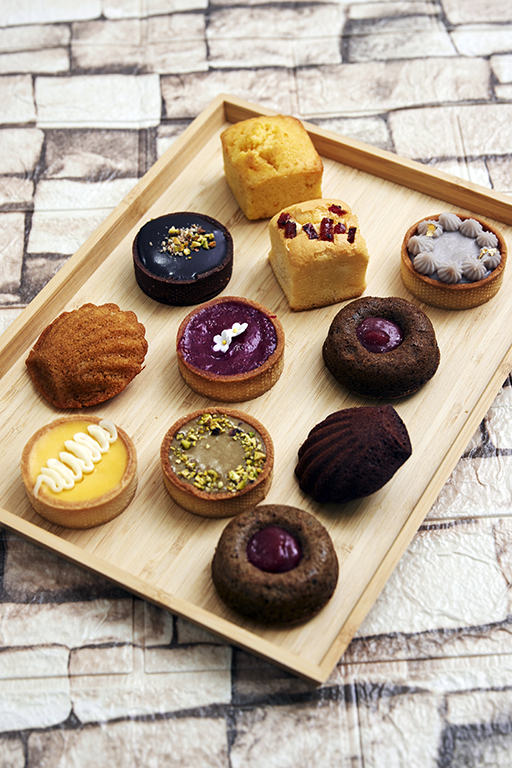 $2 pastries and cakes
At her cramped Coronation Plaza shop, Alice sells a surprisingly large repertoire of sweet treats, all baked in-house in their small kitchen.

Like dainty bite-sized pastries displayed on trays, similar to what you'd find in a hip Korean cafe (or popular hawker stall Cat in the Hat). This includes mini tarts, madeleines, sponge squares and tiny financiers.

Some come with a local twist, like a sponge cake studded with bits of bak kwa (there's a tart version with cheese filling and bak kwa.) And prices are very reasonable. "Each tart is $3.50, and the cakes are $2 each. Chin chai lah (Hokkien for 'anything')," chirps Alice.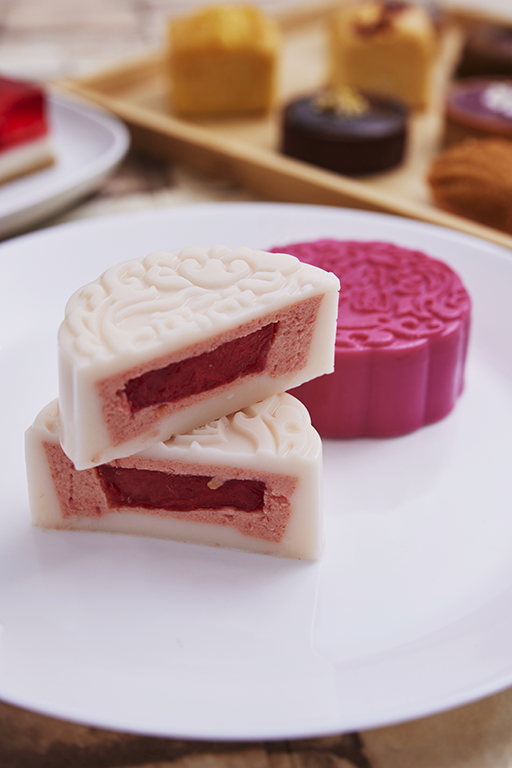 Agar agar mooncakes
She also makes agar agar mooncakes with 12 different flavours like Tau Sar, Osmanthus & Wolfberry, Chocolate, Lotus Paste, Durian and Watermelon.

We find this a very refreshing alternative for the typical calorie-heavy Mid-Autumn Festival offerings; the bouncy-firm, coconutty agar agar is loaded with fillings like fruit mousse and fresh fruits (a sliver of watermelon, for instance.)

The plain designs go for $9 a pop, but there are also fancier options with agar agar fish, flowers and rabbits ($11 each).
Fancy agar agar cakes
But her specialty is very elaborate agar agar cakes, which is all created from scratch by Gabriel, a former bartender and sales rep. Unlike traditional flour-and-butter cakes, agar agar cakes are confections made out of coconut milk-infused jelly.

Gabriel mainly takes customised orders from customers, who go to him for occasions ranging from birthdays and company events to even celebrations for National Day and the Million Dollar Round Table.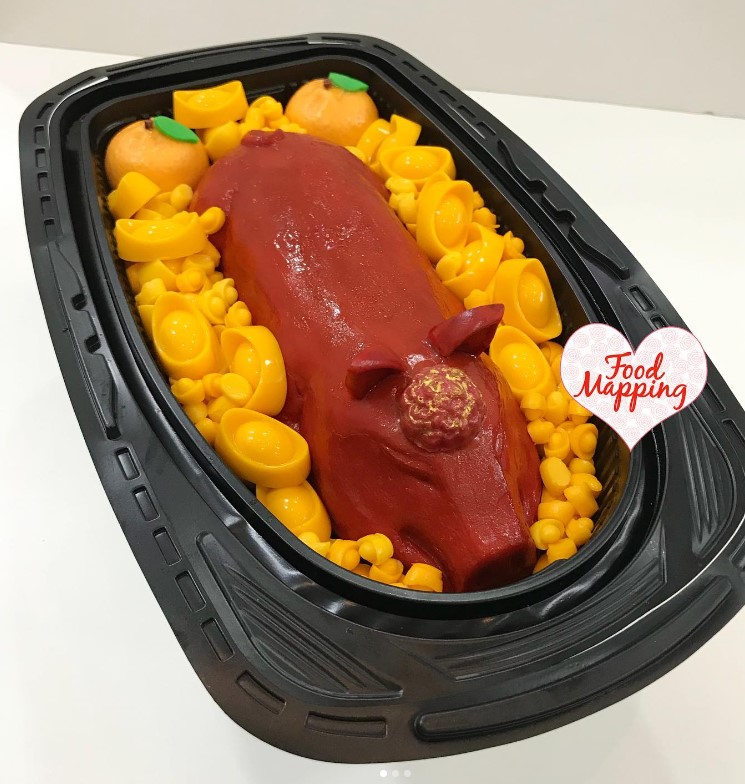 Roast pig agar agar, anyone? Gabriel has also made a customised 4D betting slip cake for a customer. "He later struck the lottery," he says. (Photo: Food Mapping)
He recounts: "Customers would come and ask, 'Can you convert this cake design to agar agar?'" And Gabriel would have to figure out how to make their desired designs come to life using a combination of 'tattooing' designs into agar agar with a syringe, or using moulds.
"If there is no mould for a design, I have to think of how to cut it from agar agar myself, and there are no ready measurements," he says, showing us a photo of a customised truck ordered by a construction company. It takes him around half an hour to make a basic floral cake, and up to a week to construct very elaborate orders.
Prices start from $60 for the smallest six-inch standard design agar agar cake, and from $90 for customised orders. Gabriel says: "The price depends on the difficulty of the design and cake size."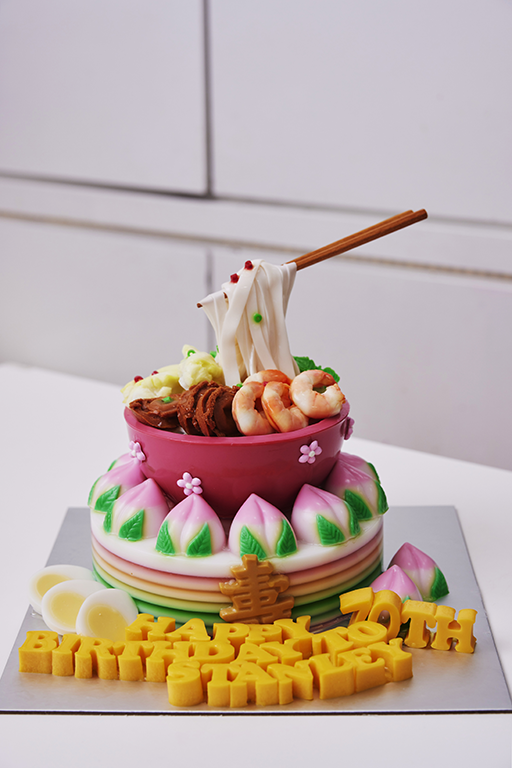 Self-taught agar agar-making
Other than learning from his mum how to use an agar agar mould, Gabriel is entirely self-taught. "I taught myself drawing and hand-cutting, and watched people making chocolate, like [famed pastry chef] Amaury Guichon. The process of [sculpting] chocolate and agar agar is very similar, 'cos both are liquid when hot," he explains.

He also has celeb customers like Carole Lin. "She ordered an aquatic-themed cake for her daughter's birthday celebration in school. And Mark Lee came by to buy a few of our agar agar cups too," he says.

During 8days.sg's visit, a dramatic-looking longevity cake for a 70-year-old's birthday party was chilling in the fridge. "The customer said they wanted a bowl of longevity noodles, so I thought of this anti-gravity effect," Gabriel shares.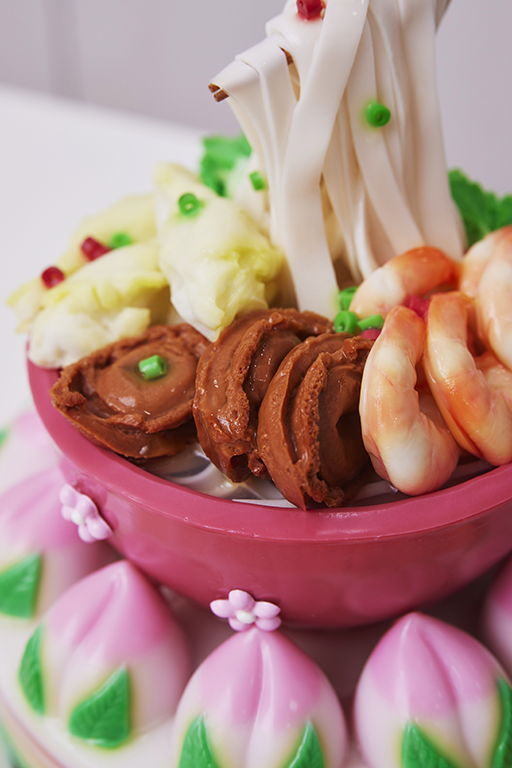 The 'bowl' contains realistic-looking agar agar abalones and prawns made with a mould, and hand-painted by Gabriel with food colouring. There's even chopped 'spring onions'. "There is really 'noodle soup' inside too, all made with agar agar. I guess that's what customers like, that we are very detail-oriented," he notes.
His family used to make all this from their Beauty World hawker stall space, but eventually moved out for a more comfortable working environment. "There is air-con and more space here, and this is a pick-up-friendly place. It was quite weird for our customers to pick up their birthday cakes in a hawker centre," Gabriel laughs.
Bak Kwa Sponge Cake, $2 each (8 Days Pick!)
Our favourite from the pastry selection is this puffy little sponge cake — the sponge texture is ethereally light, punctuated with a mildly savoury burst of flavour from juicy bak kwa bits. We could easily scarf down five cakes at one go.

Sadly, the family only makes around eight to 10 pieces a day per pastry/cake for now. Despite offering good bakes, their ultra ulu location just doesn't attract a lot of customers. "The walk-ins are not a lot. And our delivery platforms are quite stagnant," Gabriel shares. So if you want to secure your loot, it's best to call ahead to pre-order.
Financier, $2 each (8 Days Pick!)
This cute little French teacake (extreme right) comes in two flavours, Hojicha and Earl grey. Both are very good. The dense, crumbly cake is delicately perfumed with tea, and the tart strawberry coulis in the middle adds a punchiness. Skip the madeleines, though. We find it pretty dry.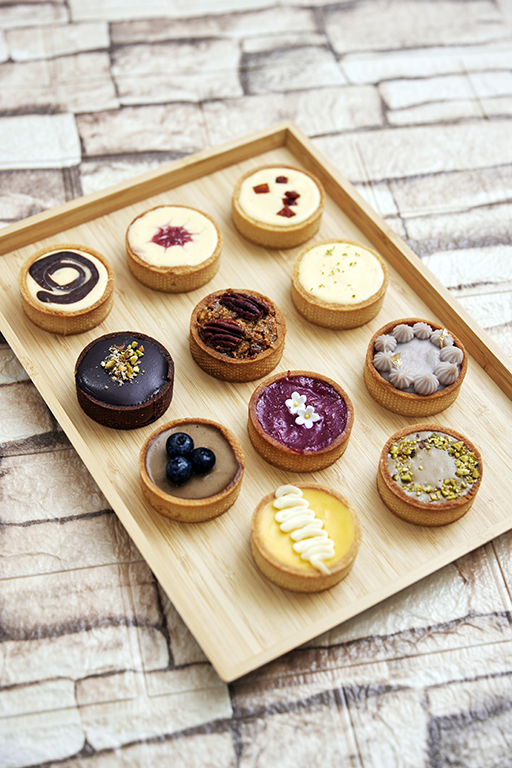 Mini Tarts, $3.50 each
The tarts here are simply priced at $3.50 per tart (slightly more expensive than trendy hawker stall Cat in the Hat's.) Still, this shop is one underrated gem that has value-for-money fancy desserts at very reasonable prices.

The 11 flavours offered here are mostly winners — we particularly like the elegant Pistachio, sweet, earthy Orh Nee topped with gold leaf, the crumbly, fragrant Pecan, and the sultry, rich Dark Chocolate.

We were excited about the Bak Kwa flavour as its sponge cake counterpart was excellent, but the tart version did not quite hit the spot.
Marshmellow Cake, $3.50 each (minimum two pcs)
Food Mapping also has this uncommon layered dessert, which consists of a graham cracker base stacked with marshmallow and fresh fruit-studded jelly. Customers can choose from two flavours, Strawberry or Peach. While it's very chio and competently-made, we find this way too sweet even for our sweet tooth. The kiddos will gobble it up, though.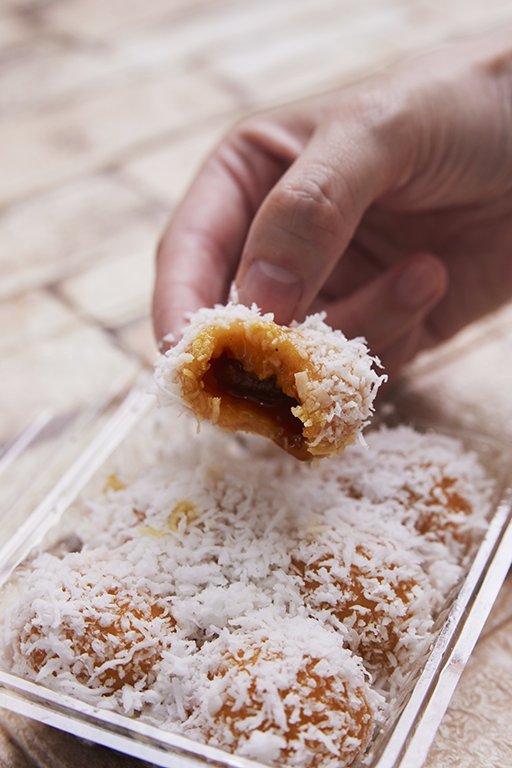 Ondeh Ondeh, $2.50 (8 Days Pick!)
Despite offering a menu of mostly Western-style bakes, Alice also makes some ondeh ondeh for sale. At six for $2.50, we are pleased to find sweet potato ondeh ondeh at this price point in the heart of Bukit Timah (could this be the most affordable ondeh ondeh in Singapore?). And it's delish too. The soft, chewy balls, rolled in grated coconut, explode to the bite and flood our mouth with smooth gula melaka. Shiok.

#02-43 Coronation Shopping Plaza, 587 Bukit Timah Rd, S269707. Open daily 10am-7.30pm. www.instagram.com/foodmapping

Photos: Kelvin Chia

No part of this story or photos can be reproduced without permission from 8days.sg.

8days.sg is now on #tiktok! Follow us on www.tiktok.com/@8dayseat