Tian Tian Chicken Rice To Stop Selling Signature Poached Chicken Temporarily With Malaysia's Export Ban
Meanwhile, the towkay of rival hawker stall Ah Tai Hainanese Chicken Rice at Maxwell Food Centre may still offer the dish using frozen meat.
When the Malaysian government announced it would temporarily halt chicken exports to Singapore (starting June 1) to combat its domestic shortage and soaring prices, our first thought was: can still eat chicken rice or not? And when we think of chicken rice, two of our island's most famous stalls come to mind: Tian Tian Hainanese Chicken Rice and its rival Ah Tai Hainanese Chicken Rice in Maxwell Food Centre. Ah Tai was opened by the former cook of Tian Tian and is located just a few units away from the latter's HQ stall (Tian Tian also has two other outlets in Bedok and Clementi). The beauty of chicken rice lies in the simplicity of a skilfully poached bird, drizzled lightly with a simple sauce. Using fresh birds is key to the success of the dish. Prior to this impending export ban, it was unfathomable that a chicken rice hawker would use frozen chicken as the texture and flavour of the meat would inevitably be affected. But now, everything is up in the air — what are the towkays of Tian Tian and Ah Tai going to do, since both use fresh Malaysian chickens (about 34 percent of Singapore's total chicken imports come from Malaysia, most of which are brought in live, then slaughtered and chilled locally)?
No part of this story can be reproduced without permission from 8days.sg
All photos cannot be reproduced without permission from 8days.sg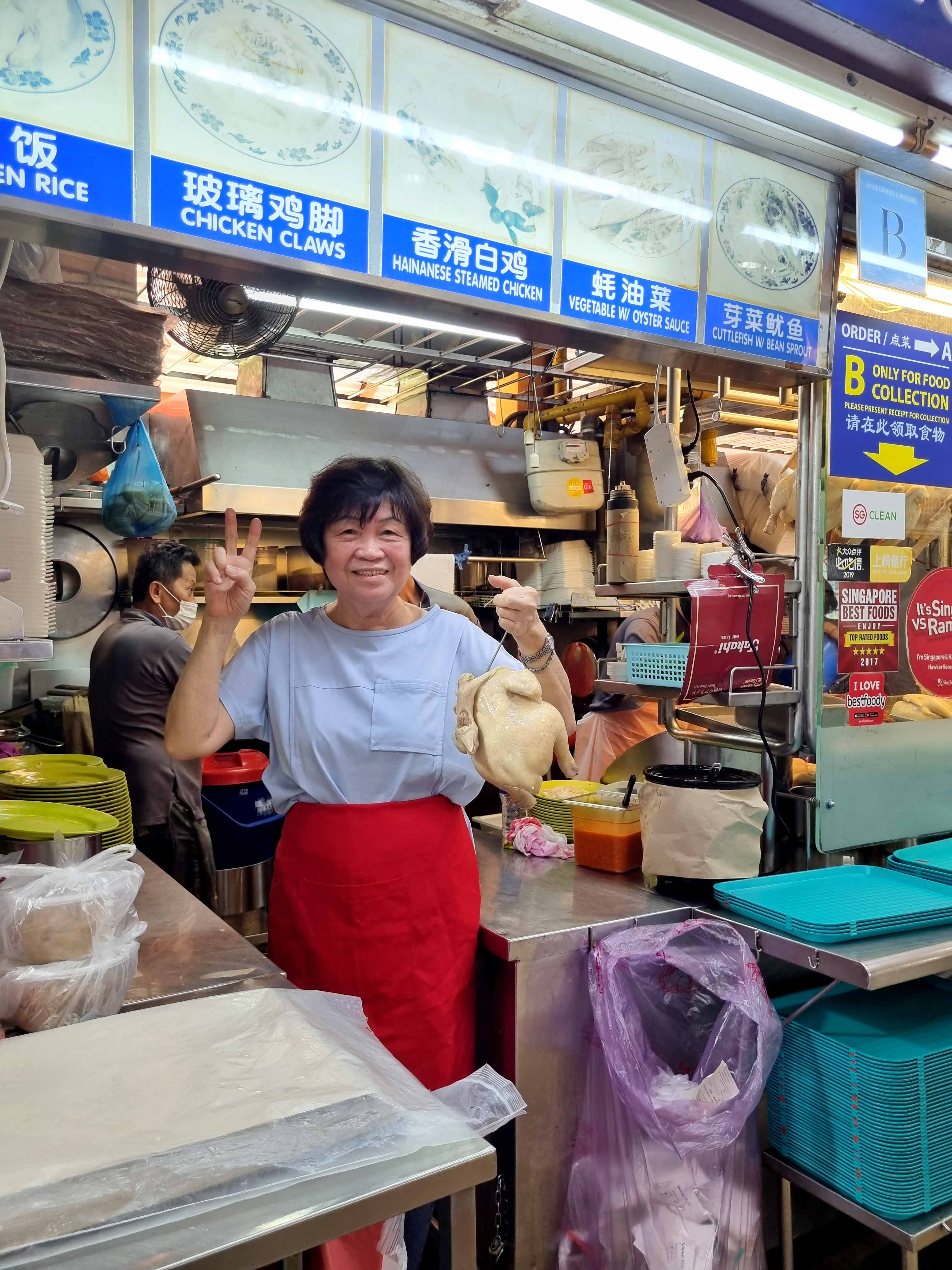 Tian Tian Hainanese Chicken Rice's semi-ret

ired founder says no to frozen chook
When 8days.sg drops by Tian Tian Hainanese Chicken Rice's Maxwell stall at 11.30am today (May 26), we find founder Foo Kui Lian, 73, donning her apron as she preps for the lunch rush. 
The chatty lady tells us that while she's technically retired after handing the business over to her daughter, Loi Mui Yin, in 2009, she comes down to the HQ outlet at Maxwell – which has been around since 1986 – "almost every day" to help out as she's "too bored" staying at home. "I watch TV until I'm tired, then I go to sleep, and the day passes. Cannot lah," she chirps in mandarin. Here, she packs orders and passes customers their plates of food. "I can't chop chicken now though — no more strength!" she shares.
At press time, we haven't been able to reach the second-generation boss. Explains Kui Lian: "Too many [journalists] have been calling to ask her what she's going to do [about the chicken situation]. So she doesn't want to give out her personal number." But Kui Lian says she can share this on behalf of her daughter: "We'll definitely stop selling poached chicken [when fresh chicken stocks run out]. Because frozen chicken completely doesn't work for poached chicken [in chicken rice]."
Tian Tian's star dish features juicy poached white chicken, with a small number of roast birds also on offer daily. Adds the matriarch hawker: "There's no way you can use frozen chicken for poaching, the texture will be very bad and the rosy parts will appear black instead. Maybe if you roast frozen chicken, it'll still be okay — but definitely not for cooking poached chicken. We're thinking of how to sell other dishes [during the export ban], but we're still in discussions now". The hawker refuses to comment if roasted frozen chicken will be on Tian Tian's menu in June. However, she shares: "We can't close shop [during this period] as we have to pay our staff and rent." 
Healthy queue spotted at Tian Tian 
While supermarket shelves and wet market stalls have been swept clean of fresh chicken in the days following the Malaysian chicken ban announcement, Kui Lian shares that there has been no such current surge in customers at Tian Tian. "[We don't get] one-hour queues [anymore]. That was from a few years ago," she shares candidly, estimating that their peak mealtime queues usually last around 20 minutes. However, when we left at 12.30pm today, the line was about 20-people deep, snaking out to the walkway behind the hawker centre.
Ah Tai Hainanese Chicken Rice's towkay may consider using frozen chicken 
Ah Tai's stall was inexplicably closed during our visit today. However, we managed to speak to hawker Wong Liang Tai, 63, over the phone earlier. The former Tian Tian cook set up a rival stall after falling out with its second-generation owner Mui Yin in 2012. He tells 8days.sg: "We're just a small stall. Our chicken supplier will tell us more when they can. Now that they can't bring in Malaysian chicken, they're probably scrambling too. It's a big problem for them." 
We ask him if he would ever turn to serving frozen chicken if fresh ones aren't available. He replies gruffly: "I'll find the best [alternative] for my customers. But I'll need to see what the suppliers can give me. We have to accept whatever they can get us. I've never used frozen chicken before. But [if I have to] I'll give it a try and see how it goes. As chicken rice hawkers, your ingredients must be good for your food to taste good. But if you can't get good quality chicken, you have no choice. You have to rely on your own skills to make it taste good — there's surely a way.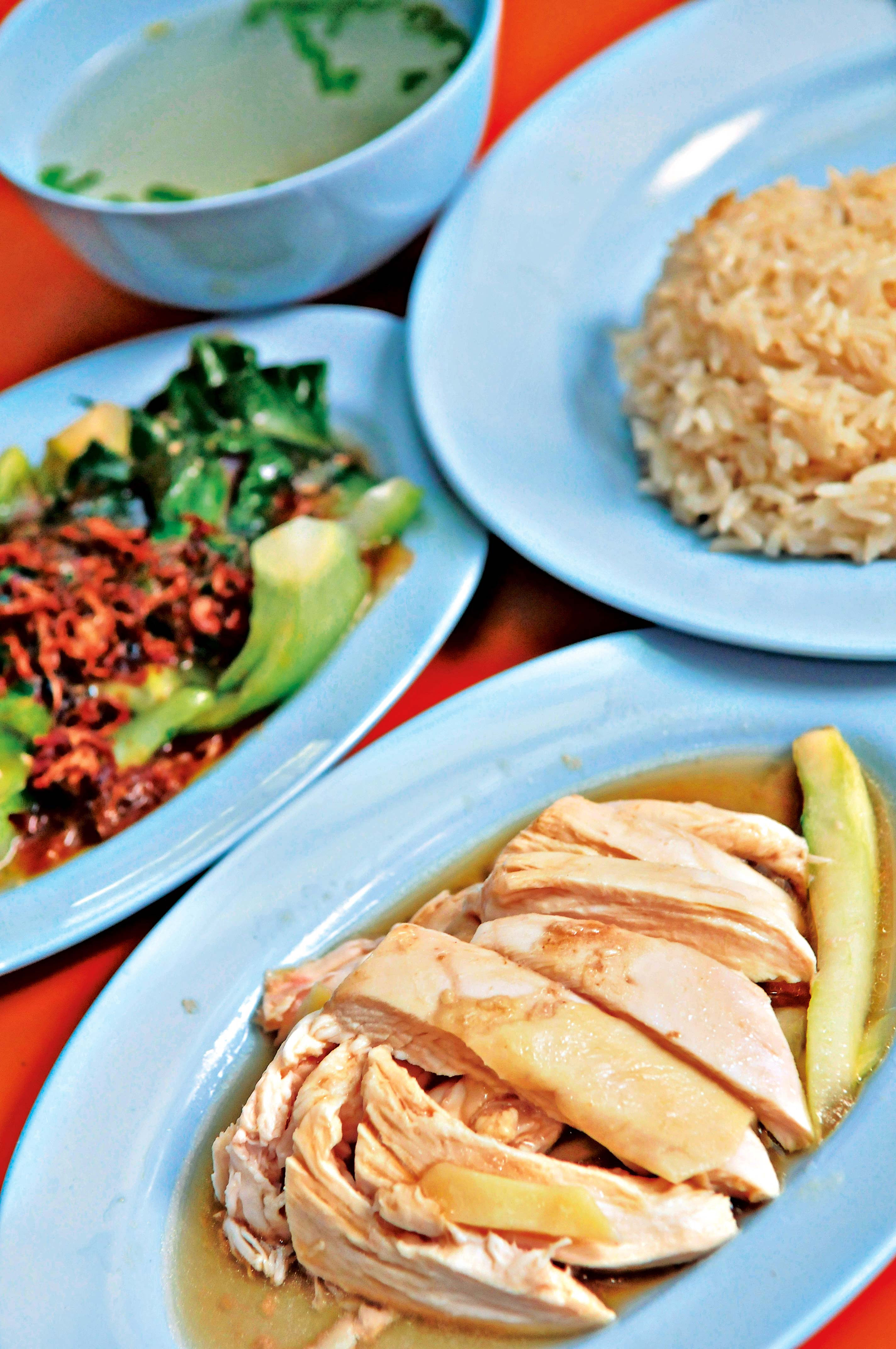 He won't take a break during Malaysian chicken ban
Unlike some other chicken-centric businesses that have chosen to temporarily close shop amid the ban, Liang Tai says shutting his stall for the affected period is not an option. "It's not just us that are affected, but all of Singapore. It can't be that all chicken rice stalls across Singapore close — that's impossible right? [The ban] might last one or two months — how can we know how long it will last?" he reasons.
And as for whether the hawker expects raw chicken prices to rise, forcing him to raise his own prices, he replies: "It's hard to say. Everything is very expensive now, especially cooking oil — one can is $50. If we have to raise prices, it'll be because our costs are very high. We raise prices because we can't go on if we don't."
We ask if his decision to not take a break is due to finances. He demurs: "I've been doing this for over 30 years. I'll keep going until I really can't work anymore. Once you're used to [the hawker life], it's very difficult if you suddenly stop — you have to slowly let go. Business is not bad, and I've got a lot of regular customers who will be disappointed if I stop". He adds: "My family is very simple – one wife, one daughter [who is already working], and we live very simply."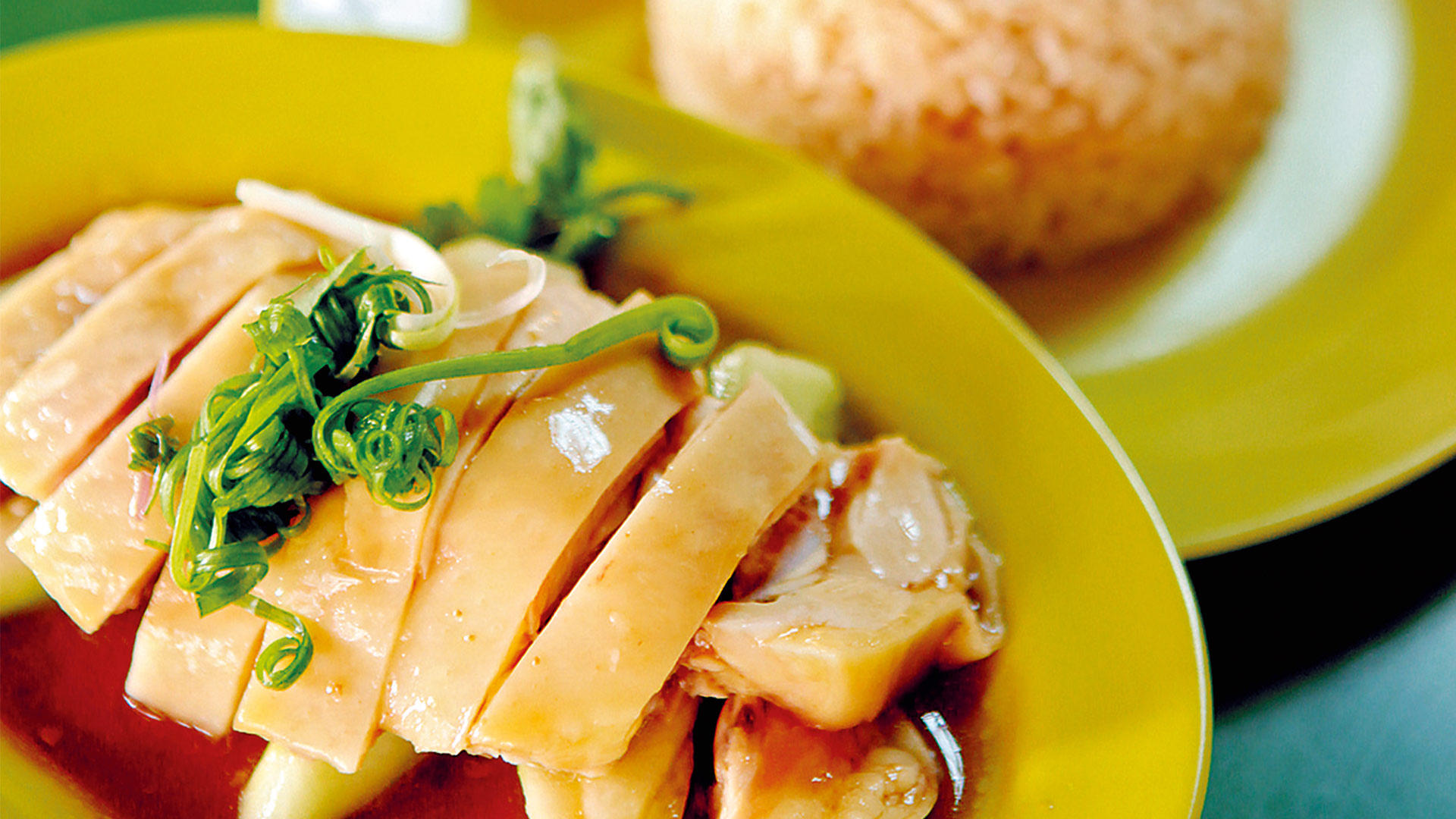 The details
Ah Tai Hainanese Chicken Rice is at #01-07 Maxwell Food Centre, 1 Kadayanallur St, S069184. Tel: 8137-6559. Open daily except Tues, 11am - 7.30pm. More info via Facebook.
Tian Tian Hainanese Chicken Rice is at #01-10/11 Maxwell Food Centre, 1 Kadayanallur St, S069184. Tel: 9691-4852. Open daily except Mon, 10am - 7.30pm. More info via Facebook.
Photos: Willie Yeo, Alvin Lim
No part of this story can be reproduced without permission from 8days.sg
All photos cannot be reproduced without permission from 8days.sg