TikTok-Viral Circular Croissant Takes S'pore By Storm, Local Patisseries Sell Out In Hours
Queues have started forming at shops selling these round cream-filled croissants, which recently became famous on social media.
Now that the
craze for Mister Donut's pop-up
is over, a new food trend is taking Singapore by storm: circular croissants, which are disc-shaped as they are made with laminated dough baked in a round mould (the typical croissant is rolled up by hand using a triangular strip of dough).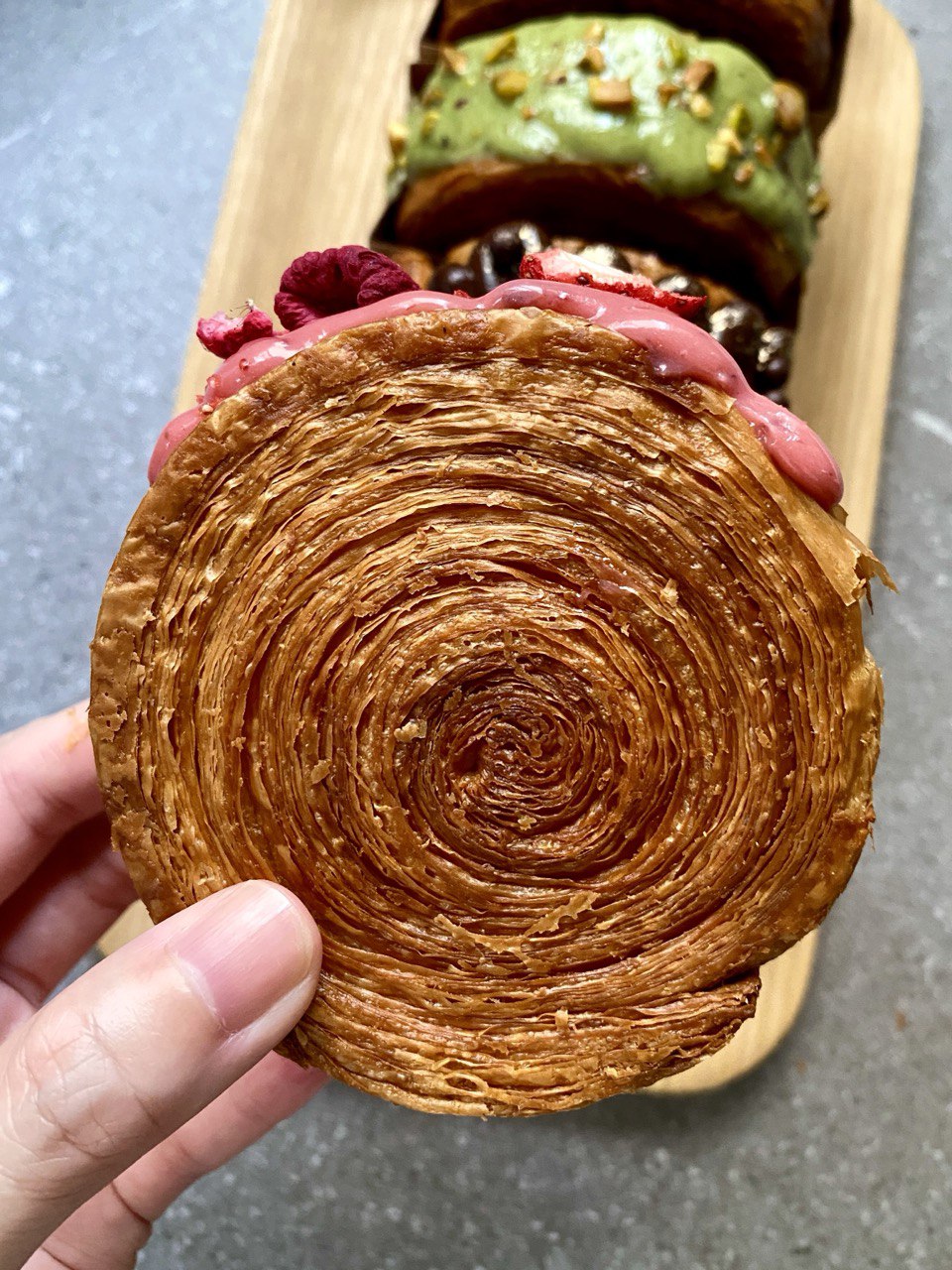 Photo: Yip Jieying
This currently-trending croissant does not have a catchy name (yet), unlike the muffin-shaped croissant called cruffin that went viral in 2014. But it's similar to the cruffin in that it is also piped with a variety of tasty fillings like cream and ganache.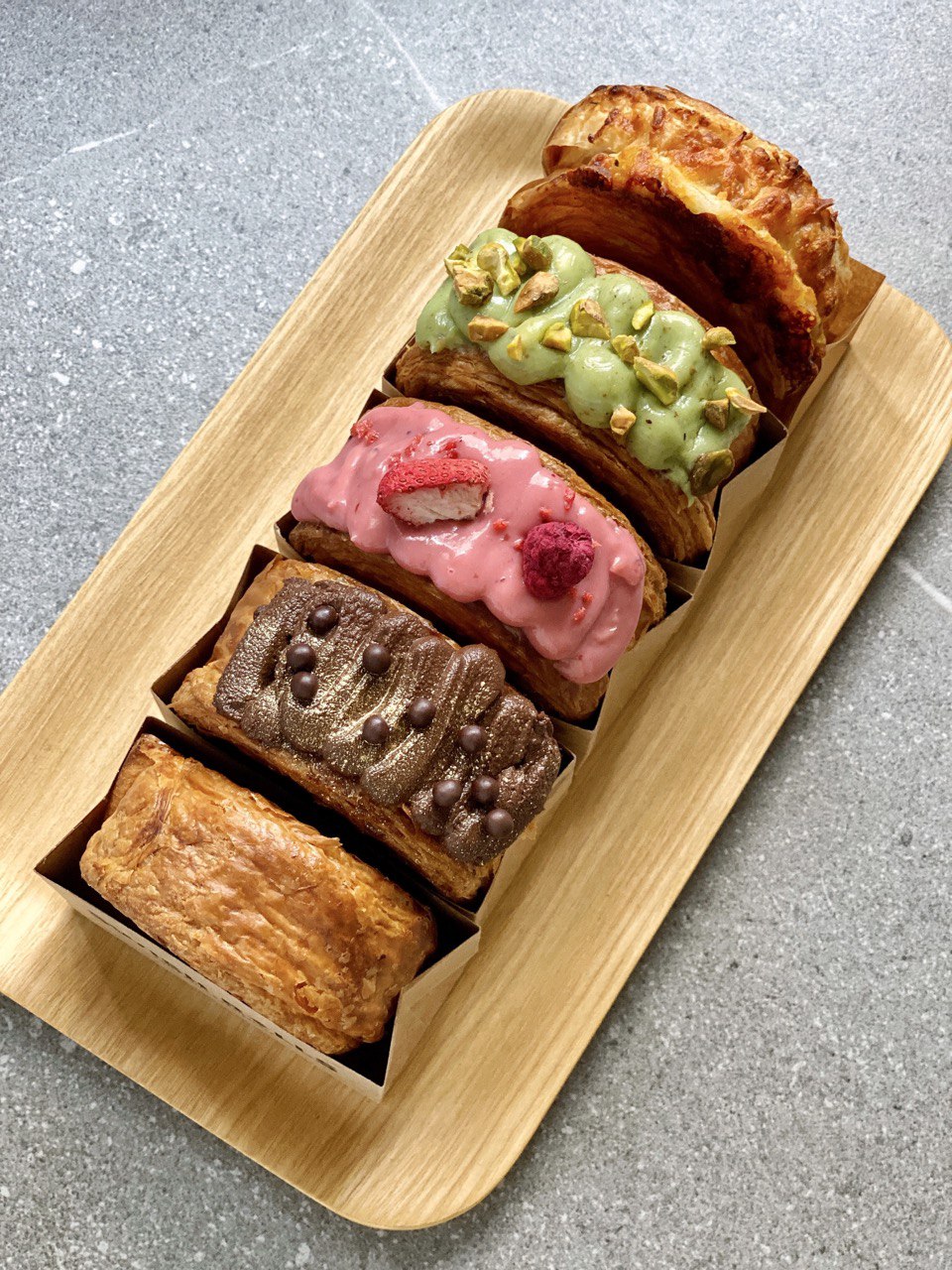 Photo: Yip Jieying
Don't call this circular croissant a kouign-amann 
This circular croissant is also not quite like the cronut, a doughnut-croissant hybrid that was created by famed French pastry chef Dominique Ansel in 2015. The cronut is deep-fried instead of baked, and has a puffier texture and a hole in the middle.
We reckon that people will confuse the circular croissant with the French pastry
kouign-amann
(pronounced "queen ah-mahn"). They look almost identical, except that the
kouign-amann
has a shiny, caramelly coating as it's baked with sugar in between its pastry layers, and typically doesn't come with fancy fillings or toppings.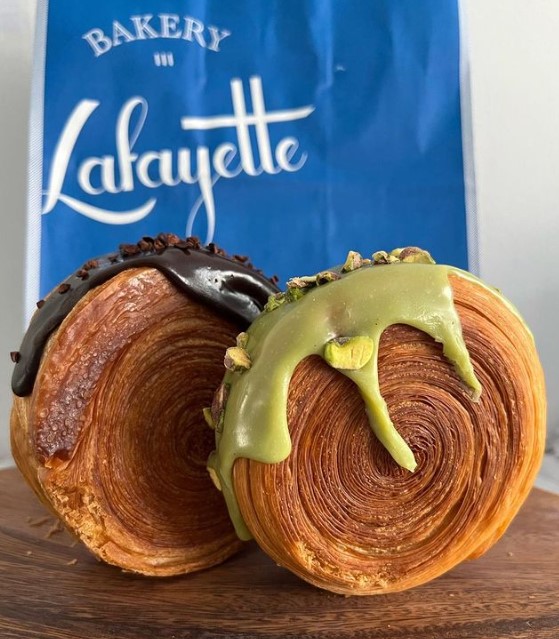 Photo: Instagram/ @lafayette380
TikTok viral fame
The circular croissant was popularised by New York City bakery Lafayette Grand Cafe & Bakery, which launched the croissant in April this year. Named the Suprême, the croissant is offered in a variety of flavours like Corn Berry Crunch and Peaches N' Crème, and costs US$8 (S$11.25) each.

Despite the high price, the Suprêmes became so in demand that the bakery limits each customer to one croissant. TikTokers and Instagrammers also posted many videos of themselves tearing into the fancily-decorated pastry.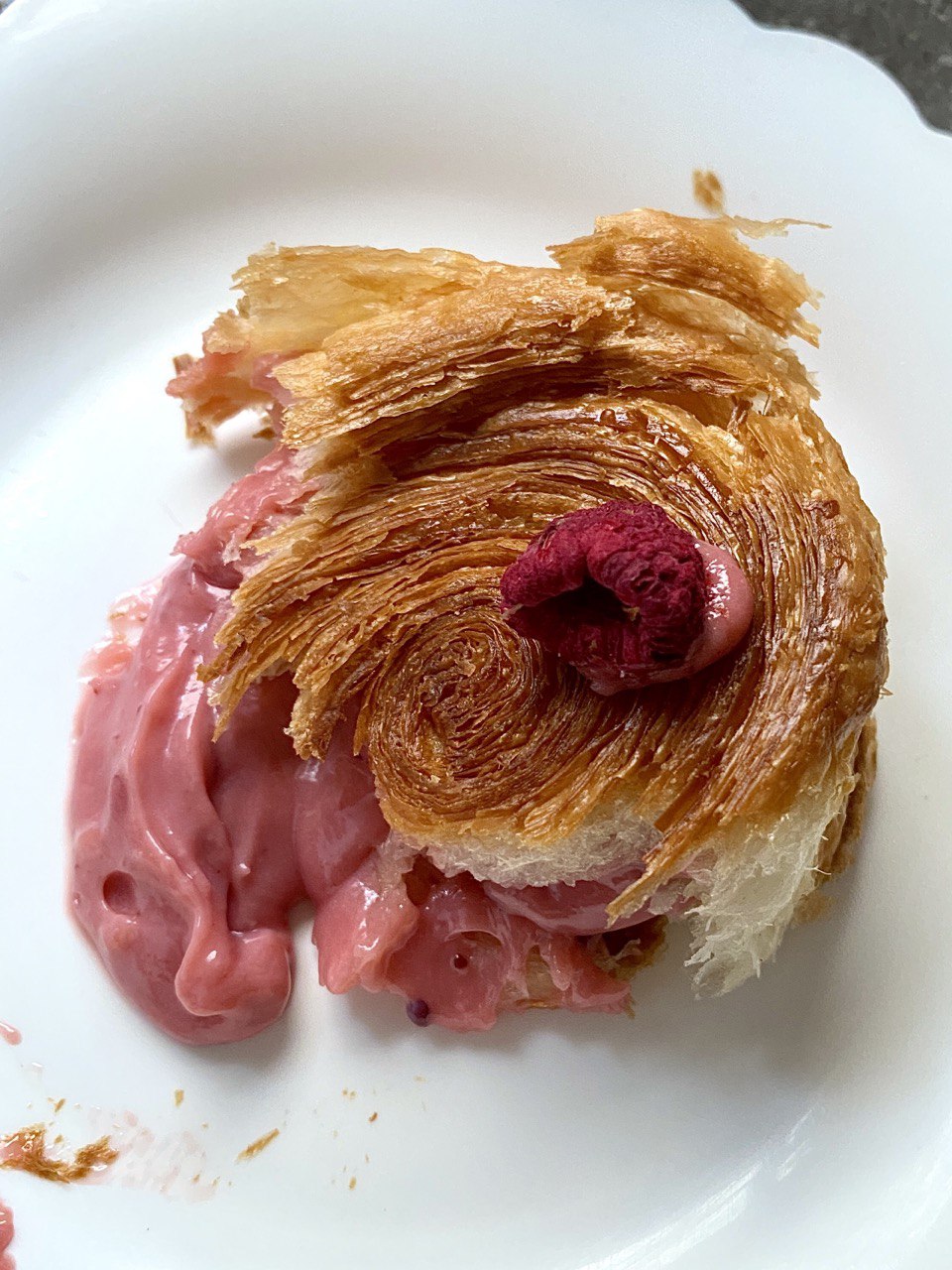 Photo: Yip Jieying
Trending in Singapore
Unsurprisingly, these delectable-looking croissants have made their way to Singapore, with local patisseries like Swish Rolls, La Levain and cafe-bar Yeast Side rolling out their versions over the past week. Preorders are recommended if you don't want to jostle with the crowds (we will get to that in a bit).

From what we have tried so far (we tasted the ones from Swish Rolls), this circular croissant is like a denser version of its crescent-shaped counterpart, with more layers in the pastry.

But it's just as crispy and buttery, made ever more yummy and decadent by its smooth cream filling and toppings like bits of pistachio nuts, freeze-dried raspberries and chocolate balls. There's also a savoury ham-and-cheese flavour.
Photo: Instagram/ @keongsaikbakery
Homegrown
Keong Saik Bakery
teased the upcoming launch of their circular croissant called Croll on Instagram.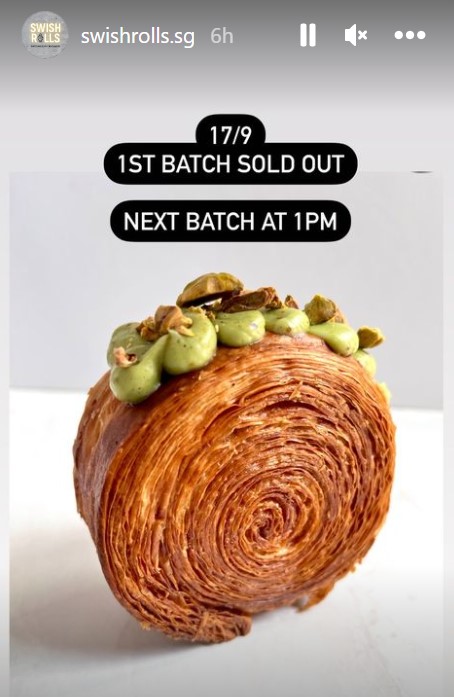 Photo: Instagram/ @swishrolls.sg
Sold out within hours
Within hours of opening today (Sept 17), these brands announced on social media that they had sold out of their baked goods.
Photo: Instagram/ @swishrolls.sg
There was a queue
According to Swish Rolls' Instagram story, there was a queue for its "croons" this morning. The shop sells the croissants in two batches a day.
Photo: Instagram/ @lalevainsg
Croissant 'bombs'
La Levain also sold out of all its "croissant bombs", which are available at a limited quantity of eight pieces per flavour.
Photo: Instagram/ @yeastside.sg
More swirls incoming
Meanwhile, Yeast Side promised to have "more tomorrow" after selling out its Swirl croissants today. The Swirls are available exclusively at its Farrer Park outlet.

Yeast Side, #01-06 Lyf @ Farrer, 2 Perumal Rd, S218773. Open Wed-Sun 9am-11pm. Instagram

La Levain, 23 Hamilton Road, S209193. Tel: 9822-3924. Open daily except Mon, 8am-6pm. Instagram

Swish Rolls, #01-02B Cluny Court, 501 Bukit Timah Rd, S259760. Tel: 6612-6581. Open daily 9.30am-6pm. Instagram

Keong Saik Bakery, two outlets including 33 Keong Saik Rd, S089140. Tel: 9021-9626. Open daily, Mon 8am-6.30pm, Tues-Sun 8am-8.30pm. Instagram