Tyler Ten, who just treated his fans to lunch at Swensen's, says he gets star-struck when he sees Li Nanxing
8days.sg spoke to the 27-year-old actor about why he doesn't see his fans as fans and who he looks up to in showbiz.
Mediacorp actor Tyler Ten, 27, treated his fans to lunch at Swensen's last Saturday (May 6) to thank them for their support.
When 8days.sg hopped onto a call with Tyler on Tuesday (May 9), the actor told us the reason behind the special lunch date.
"I think it's worth it to fork out some money for my fans 'cos they've been supporting me since Star Search [in 2019]. They also put in so much time to vote for me during the Star Awards, so I think it's only right for me to give back," he said.
While Tyler missed out on winning Most Popular Rising Star at the recent Star Awards and went home empty handed that night, the support he received from his fans more than makes up for that. 
According to Tyler, he and his fans talked about his upcoming projects as well as his role in new Mediacorp drama Family Ties during the lunch.
"They said my acting has improved, which is a good thing to hear," said Tyler. "They also told me I should focus more on Muay Thai 'cos they want to see action dramas and hope that I can part of it."

Thankfully for his fans, he's been a fan of the genre since he was a kid. In fact, it's what spurred him to pick up martial arts.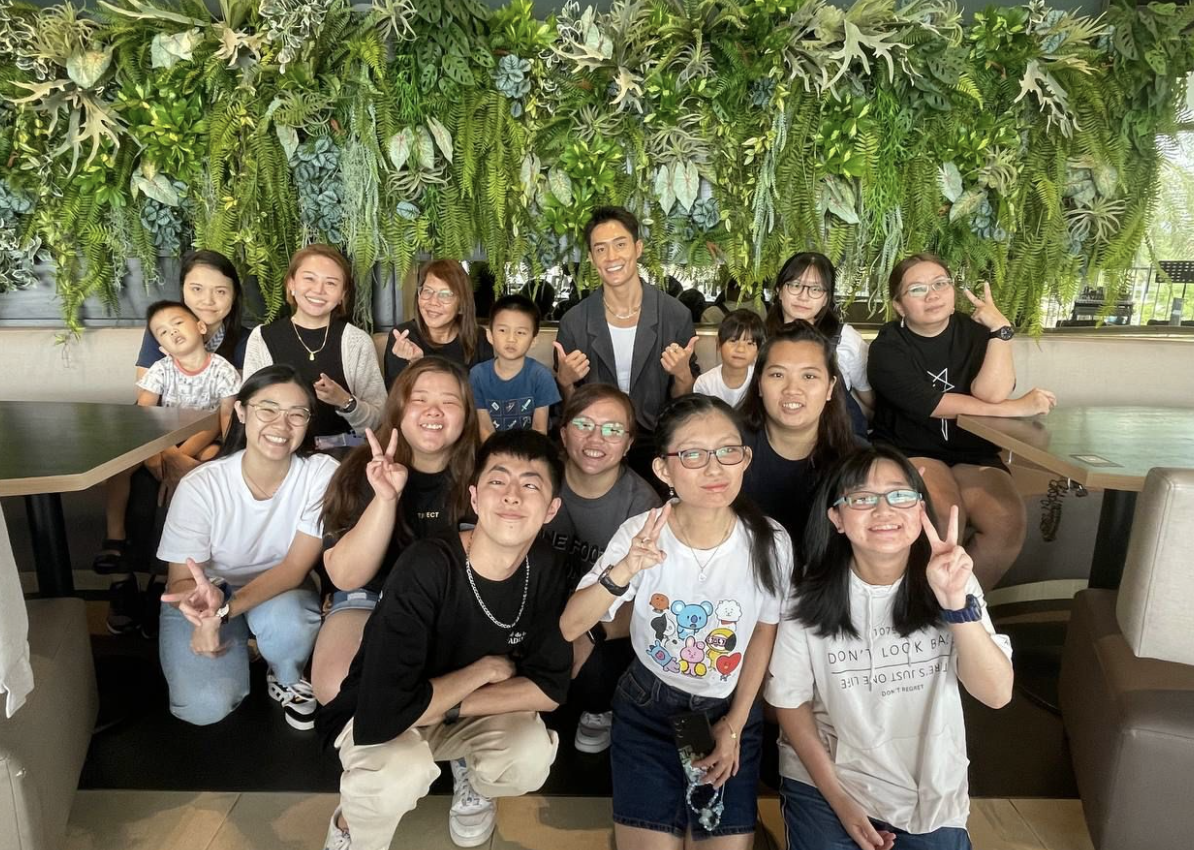 Tyler with his fans
Does he remember the moment he realised he had fans? 

"I wouldn't call them fans lah, I would say they are my supporters," Tyler said humbly. "They've been supporting me so much in whatever I do and they're always so encouraging."

Semantics aside, Tyler concedes he had his first test of what it was like to have fans when he was competing in Star Search.

"I was quite shocked to find out that there was a fan page created for me. I was like 'Wow, I'm just a contestant in a competition and people already dedicated a fan page to me'," he laughed, adding that his friends had teased him about it. 
These days, Tyler receives plenty of hand-crafted presents from his fans, sorry supporters, who know that he "loves handmade stuff".
"A recent gift I received was a portrait of me in uniform [Ed: Tyler played an army officer in When Duty Calls 2 as well as a fireman in In Safe Hands]. They made it using clay. They also included the names of my dramas in the portrait so it's really sweet," he said.
So who is Tyler a fan of? 
"I've never 'chased' any stars but I'm a fan of classic dramas. I'm a big fan of Li Nanxing da ge and whenever I see him in real life, I would be like 'Wow, so this is how a real life celeb is like'. I'm also a fan of Mingshun (Christopher Lee) da ge. Actually a lot lah, many of the veteran actors are my idols in terms of their acting and the way they portray themselves," revealed Tyler.
Tyler looks up to Li Nanxing and Christopher Lee, who starred in classic dramas like 
The Unbeatables
and
The Legend of Madam White Snake 
respectively
In Family Ties, Tyler plays Lin Jianan, a young man who is all about giving back to the community.
Like his character, Tyler is also involved with charity work. In March, he and his fan club handed out care packages to old folks living in Ang Mo Kio.

So is there is a particular cause he holds close to his heart?
"The elderly will always get me lah 'cos they [look] so fragile," he said. "They're also very lonely, especially those who stay alone. It's good to keep them company and by helping them with daily necessities."
He declined to go into detail when we asked about his relationship with his grandparents, though he revealed that he shares a close relationship with his grandmother, who "sort of brought [him] up".
"I have a lot to learn from my character 'cos he's very kind-hearted and patient. I think it's one of the few roles I did that's so heartwarming and lighthearted. In my previous roles, I always portrayed 'cool' people who don't smile, so this was a very different experience for me. I hope the audience will like it."
Safe to say that the actor spent a really fulfilling day with his fans
Catch Tyler in Family Ties on meWATCH, or watch the first episode below.
Photos: Tyler Ten/ Instagram, Mediacorp, meWATCH