Use Leftover Pineapple Tarts & Bak Kwa To Make Fusion Mini Burnt Cheesecakes
A fun way to repurpose surplus Chinese New Year snacks.
Now that the Chinese New Year festivities are over, some of us still have half-eaten boxes of bak kwa and pineapple tarts lurking in the pantry, sad and neglected. Instead of leaving them to fester and finally guiltily throwing them out when they expire, why not give them a new lease of life by "upcycling" them into a brand new treat?
The folks at #JustSwipeLah have concocted a fun fusion mini cheesecake recipe using surplus pineapple tarts and bak kwa.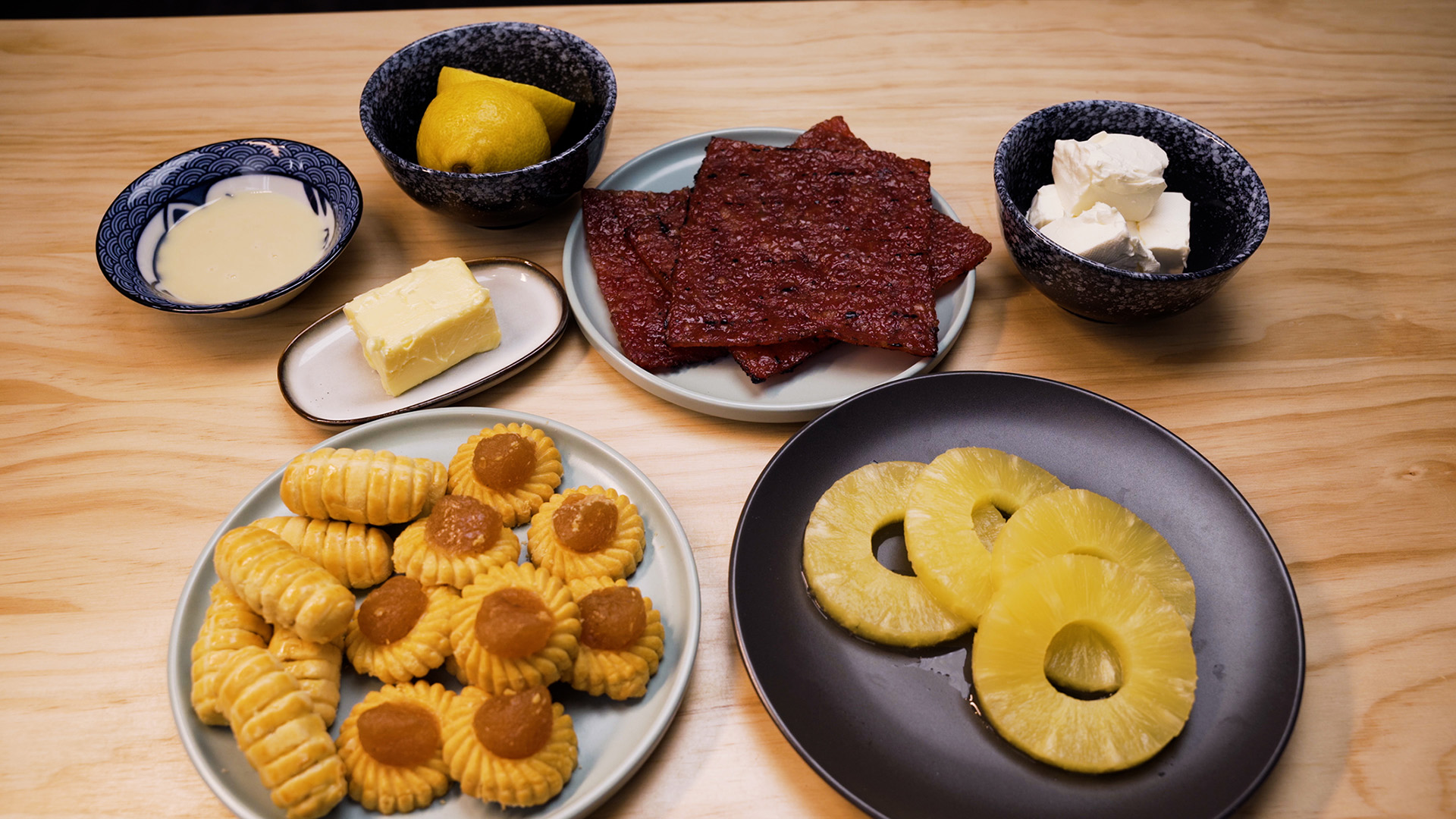 Fuss-free recipe with just seven ingredients
Think of this creation as a hybrid of American and Basque burnt cheesecakes. Instead of a cookie crust-free cake and gooey centre, which is characteristic of burnt cheesecakes, this version is denser and firmer like its American counterpart. It also has a buttery pineapple jam-infused crust made from crushed pineapple tarts.
And while burnt cheesecake recipes typically call for whipping cream, eggs and sugar on top of the cream cheese, these have been substituted with the more budget-friendly pantry staple of sweetened condensed milk. The addition of bak kwa also cuts the sweetness of the cake and adds umami, like in our bak kwa and cheese castella cake recipe.
The cream cheese filling is studded with canned pineapple cubes, so each bite has some juicy, refreshing fruit. If you wish to use up more pineapple tarts, you can substitute the fruit with dollops of pineapple jam from the tops of your tarts. Prefer your cheesecake with more tang? Use fresh pineapples instead.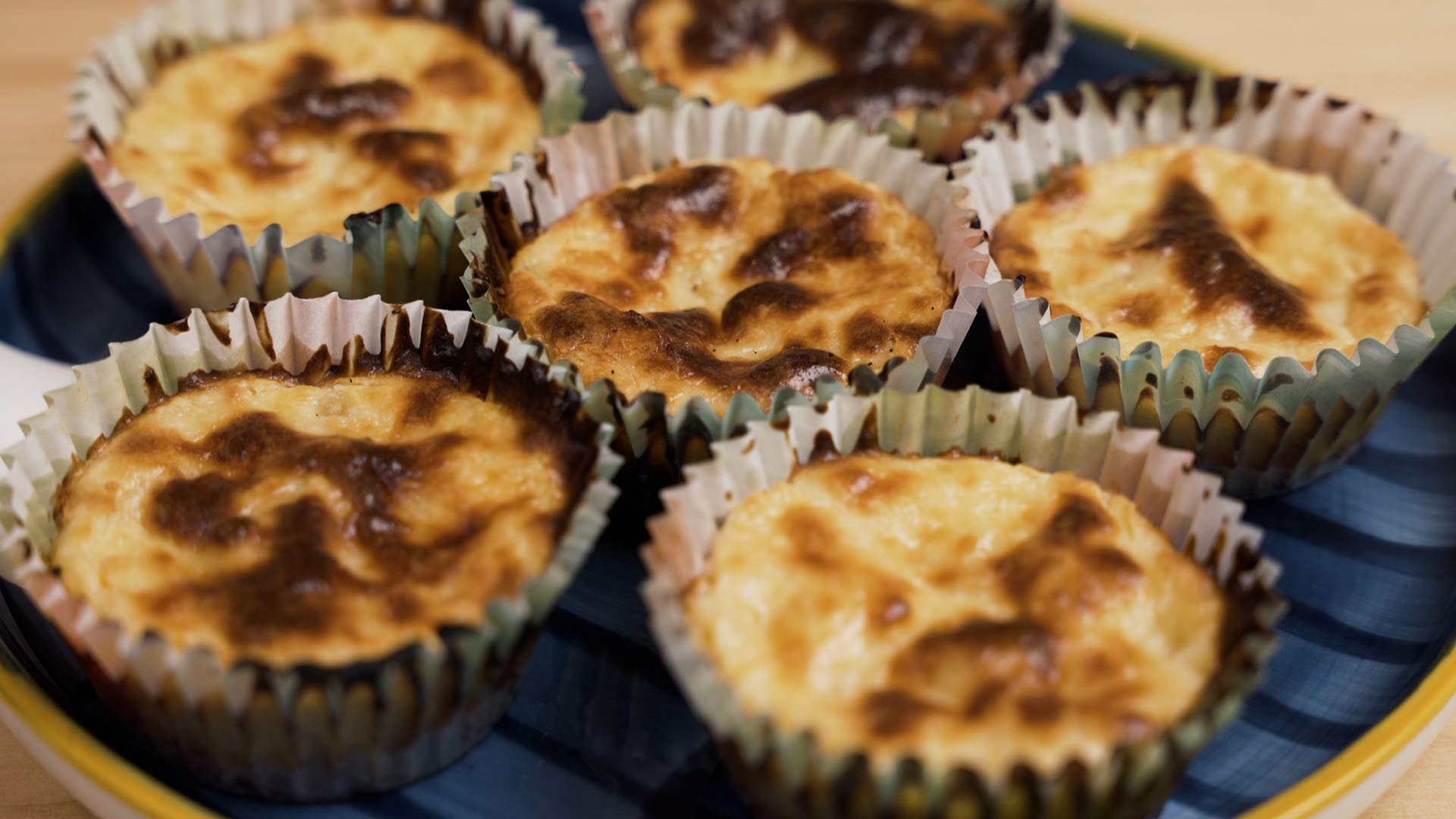 Pineapple tart & bak kwa fusion burnt cheesecake recipe
Makes about 6 standard muffin-sized cakes
Ingredients:
For the cheesecake base:
90g whole pineapple tarts (preferably open-faced), around 4 pieces
20g unsalted butter, melted
1/4 slice of bak kwa (preferably minced), cut into 6 squares

For the filling:
100g cream cheese, softened at room temp
50g sweetened condensed milk
13g lemon juice (around 1/4 lemon)
50g canned pineapple, diced into 2cm cubes
Method:
1. Line each muffin cup with cupcake liners. The liners should be taller than the muffin moulds so that they peek above the tins.
2. Preheat oven to 180°C.
3. Pulse pineapple tarts in a food processor to make fine crumbs or cut tarts into small pieces and smash them using a fork.
4. Combine pineapple tart crumbs and melted butter in a bowl until it forms a cookie dough consistency.
5. To make the crust, scoop 1 tablespoon of tart mixture and press it down evenly into the muffin liners, around 1/3 of the height of each mould. Place a small square of bak kwa on the crust.
6. Bake cheesecake crust for 8 mins.
7. When the crust is done, remove pan from oven and cool on a rack for 10 mins.
8. Preheat oven to 250°C.
9. Place cream cheese, condensed milk, lemon juice in the bowl of a standing mixer. Beat using paddle attachment on medium speed until smooth, about 3 mins.
10. Add diced pineapple and mix briefly to combine.
11. Evenly divide batter among the six tart bases.
12. Bake for 13 mins, or until the tops of cakes are deep brown and almost charred.