Wang Leehom Refutes Lee Jinglei's Claim That He Tried To Barge Into Their Home With 3 Men; Says She Has An "Overactive Imagination"
He added that she could have called the cops if she felt threatened as the police station is right next to their apartment.
Just when we thought the Wang Leehom divorce saga couldn't get any messier....
Lee Jinglei shared an open letter to her ex-husband on late last night (Jan 11), in which she accused him of trying to barge into their family home with three men, and that he tried to make use of their three children — daughters Jiali, seven, Jiana, five, and son Jiayao, three — to salvage his tattered reputation.
Taiwan Apple Daily has since published a statement from Leehom refuting her claims.

"The Da'an District police station is right next to our apartment. She has an overactive imagination; she should have called the police if what she claims transpired really happened (...) Two of the men who were at the house were personal assistants who have been with the couple for 12 and 11 years respectively. The last one is a bodyguard," read the statement.
In her open letter, Jinglei wrote, "I thought that apologising would be a good start, and that the person who did wrong would be willing to seek forgiveness and change. I was wrong. Today, it's the victims that are bullied. Using your power and connections, along with using money to hire paid commenters will not only allow you to get off scot free, but also smear the victim's reputation."
"I've faced this entire saga on my own and I only have my experiences, my computer and my fingers on my side. I don't know what others would do if they were pitted against a powerful public figure with a team that's working for money and other benefits, but I won't choose the same underhand methods to deal with it."
"After maintaining three weeks of silence, I have to worry about weird news being published every day. On top of that, what I really need to deal with is the safety of my children and I, along with the mental abuse that we are facing. It turns out that the apology wasn't sincere, and it was only for the sake of quietening things and to make me stop [exposing you]."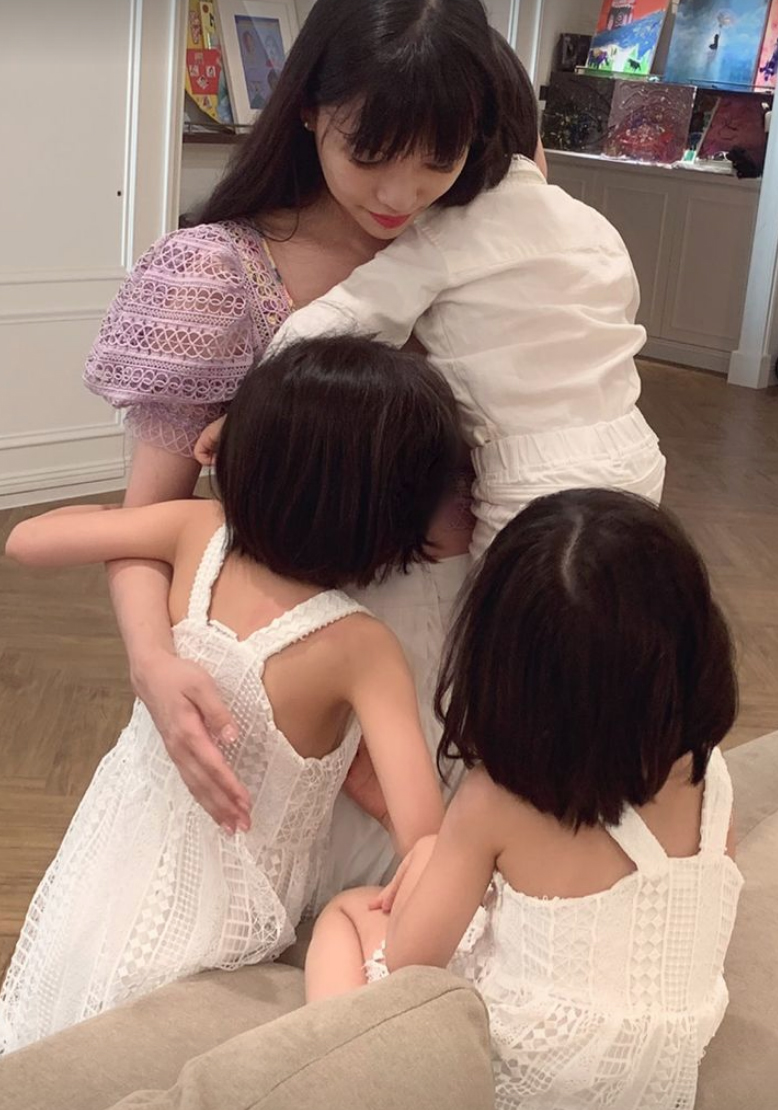 Jinglei with her children
She continued, "Our children were living peacefully without knowing what happened between us. I've experienced the pain of growing up without a father so I always hoped that our kids would grow up in an environment where they were loved by both parents. I did my best to maintain your relationship with our kids and make them feel that daddy was with us in spirit and loved us even though he wasn't physically around. The best proof of that is their attitude and love towards their dad even though you were never around."
"During this period, we were counting down the days till daddy could finally come home and discussed the things that we could do with him once he did. The kids were excited to see their dad once they woke up. After they went to bed, I asked you what time you'd be home, but you asked me to ask our mediator in the US. I asked you if you could just tell me since it was late, and I wanted to go to bed. I explained that there's a time difference between [Taipei and] the US, the kids were expecting to see you once they woke up and I didn't want to disappoint them. I asked that you please come home and wanted to know what time it would be."
"On the day that you were supposed to visit, I finally received the mediator's response at 12.30am. He forwarded a message to me saying that you would bring two staff that the kids are familiar with back home for your visit. I clearly expressed that I felt that this wouldn't be the best arrangement for the children, and that I welcomed you home without the presence of anyone else. The reality is that the kids aren't familiar with any of your staff, and we've never interacted with your employees on a personal level. The children have only heard their names from you but have never played or interacted with them, and they're therefore strangers to our kids. I felt that the kids should be able to interact with you in a space that is private and comfortable, and that they didn't need anyone else observing them at home."
"I waited until morning but didn't receive a response. I tossed and turned all night because I didn't know what would happen in the morning. When I woke up, I sent another message saying that the kids are really looking forward to seeing you, and that it was only the kids and I at home. I asked that you not bring anyone else on your visit, and the agreement that we signed had clearly stated that both of us had to agree to others being present during your trips back home to see the kids."
"You responded, saying that you'd bring two male employees with you, and I clearly rejected the idea, telling you that it was just our three kids and me, a woman, at home. Bringing two men along would make me feel that our safety was at risk, and I hoped that we could put down our personal feelings and prioritise our kids. I wanted us to interact with our kids just as their parents, but you ignored me and rang our doorbell with two men in tow."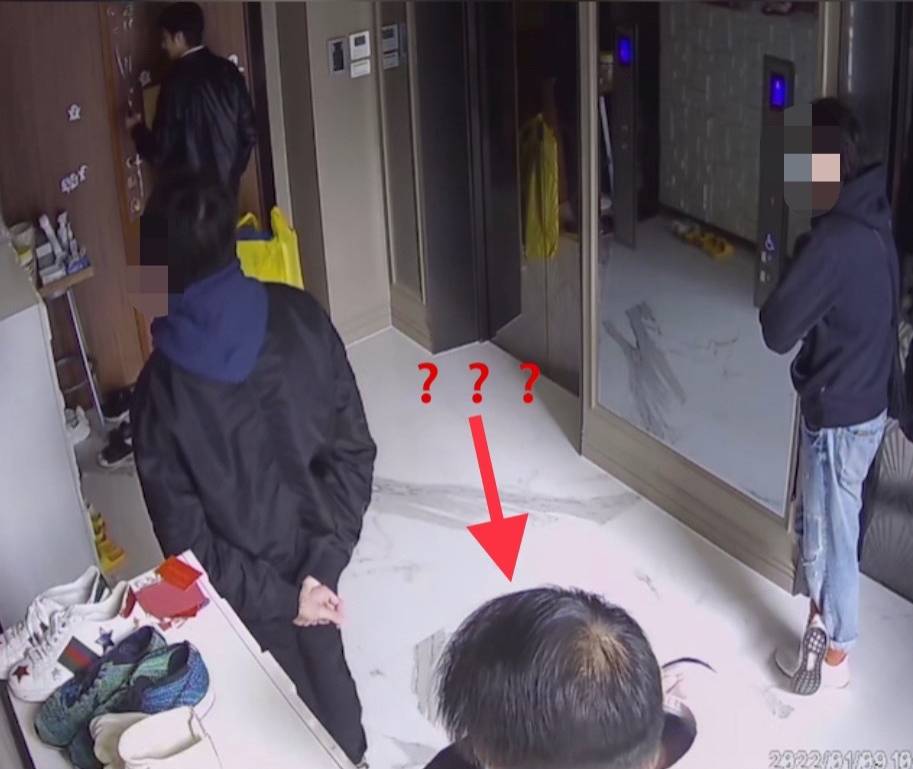 Jinglei posted this screenshot taken outside her home when Leehom visited
Jinglei shared, "The kids were elated to welcome their dad home, and I pleaded with you with the door between us to ask the two men to wait downstairs. You firmly disagreed and threatened me, saying that you wouldn't come in if I didn't allow you to bring them with you. At this point, you brought up another request: for me to disable the CCTV cameras at home that were supposed to watch the kids before you stepped in."
"I asked you not to go because the kids would be devastated if you did. They had been waiting for you to come home for so long, so I begged you to come in and see them no matter what. I asked again for the two men to leave and for you to come in and see our kids, but you assured me that it was just the two men that you were familiar with that were outside. You asked me not to worry, they chimed in to say that it was just them, and you once again asked me to turn off the cameras."
"I explained that I'd never interacted with either of them outside of the workplace, and that the situation as making me feel very uncomfortable. I asked why we had to turn the cameras off, and that the recordings would protect your safety if you were worried about something happening. I felt that it was odd and started to feel afraid, telling you that it was just our three kids, a helper and myself at home, and that your actions were scaring me immensely."
"You insisted that the two men wouldn't leave, so I looked at the CCTV monitor and realised that there was another man that I've never met hiding behind the two staff members you told me about. Your staff even told him to step back, and this made my hair stand on end."
"You wanted to barge into the house with your keys and kept shaking the door with force, but thankfully I locked the door. Otherwise, I don't know what you would have done. The kids burst into tears after witnessing this and my hands kept trembling until nighttime. You knew that doing this would cause us to have a conflict in front of the kids, so why did you do it? What were you trying to do? I don't dare to imagine what it was because it's too scary."
A screenshot from the CCTV recording appears to back up Jinglei's claims as it showed three men standing behind Leehom, who looked like he was trying to talk to someone through the door.
The date stamp on the video suggests that the incident happened on Jan 9, which is the day Leehom was photographed visiting the Wujiang condominium that Jinglei and their kids live in.
We hope the kids are kept out of this very messy divorce
Jinglei added, "You've previously told me that your closest employee in recent years is someone with prior convictions in Taiwan, has ties to the mafia, and that he's back in Taipei. He tried to ask me out yesterday."
"Your staff has talked about you holding back because you didn't want me to commit suicide. At this point, I'd like to solemnly clarify that I'm physically and mentally healthy. I have three young kids and have many plans to contribute to society, so it's impossible that I have any suicidal tendencies. If something untoward happens to me, it definitely wasn't a suicide."
"I've suffered huge mental pressure because of your behaviour during this period. Apart from caring for the kids, I feel like a goalkeeper that must use all of her strength to block your attempts to slander and harass me on a daily basis."
"You haven't given up on pretending to be the victim in front of our family and friends, trying to invoke sympathy from them and asking them to share fake news for your benefit. For example: I've arranged for you to have video calls with the kids every day and the people around me have seen it. But you've told the people around you that you miss the kids because I don't let you see them, and that I point the camera at the floor when you call."
"I've been forced to spend my time gathering evidence that I've been framed by you. Why do you keep telling lies that can be shot down so easily? Your purpose is to confuse and mentally torture them. There's bound to be people who will believe you, but I've become mentally and physically exhausted by your actions."
"In one video, you knew that there were reporters waiting downstairs, but you tried to convince the kids to go down with you. You said that the media was filming but that was okay that they were photographed since daddy wasn't afraid. You ignored your children's safety for the sake of your reputation."
"Are you willing to do anything to save yourself? Without the kids nor my approval, you shared a private 17-minute video of your conversation with them with someone unrelated. I asked you why you did it, but you couldn't tell me the reason. You've exposed what our kids look like and infringed on their privacy. Our children's faces have never been exposed, and this is the reason they've been able to live peacefully without being bullied or bothered."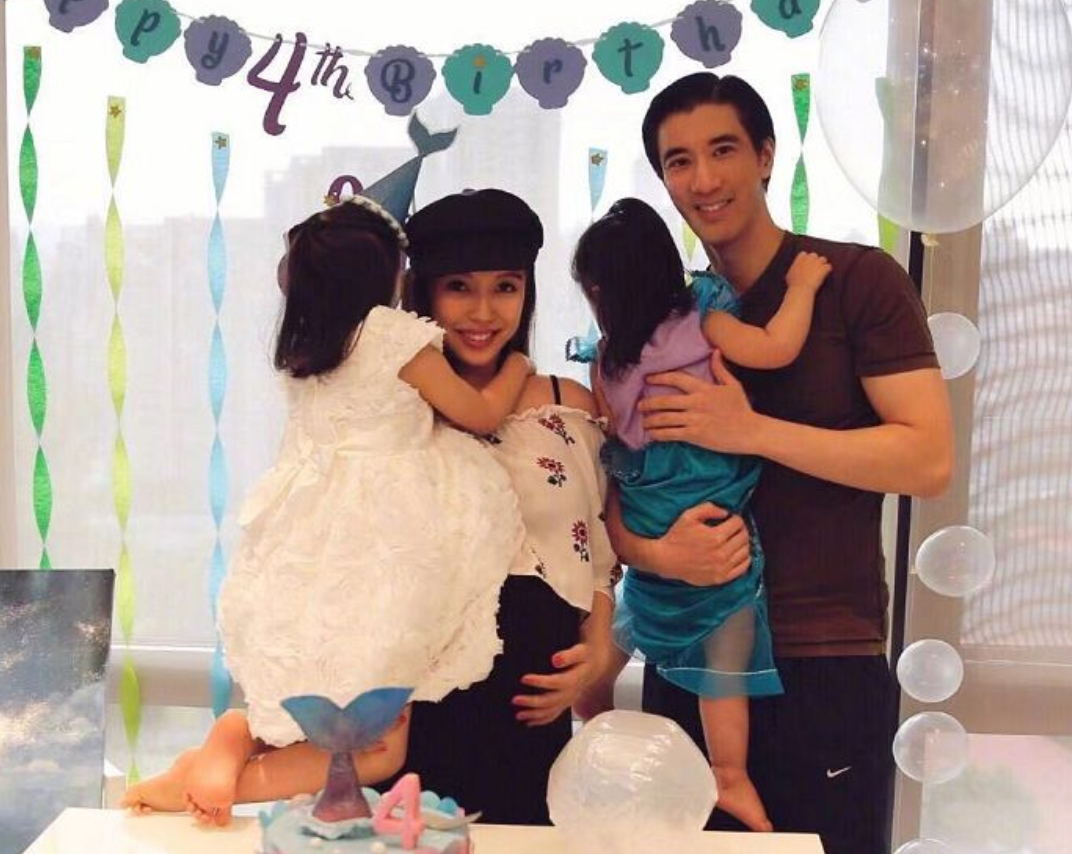 When will this saga end?
"You told the media that your kids are the most important to you at this point. Once again, I heard what you said but I haven't seen you express it through your actions. What I've seen you do is to put yourself, and only yourself, first. No mother is willing to say this, but I've now realised that having a father who isn't mentally and physically healthy is scarier than not having a father around. I truly hope that you will wake up and not keep making mistakes."
"Your behaviour isn't something that someone healthy would do. For the sake of the kids, I hope that you're willing to face up to your problems and seek professional help. I feel helpless to know that our kids have ended up being swept up by this storm, which is the last thing I wanted to happen. I hope that our children can return to the quiet lives that they used to live and not be disturbed any longer."
Towards the end of her open letter, Jinglei requested that the media and netizens to refrain from taking photos of her kids if they bump into them in the future as she hopes that they will be able to lead "private and safe lives".
She added that she has gotten evidence to prove the allegations that she only exposed Leehom's philandering ways for his money are false, and that contrary to BY2's claims, she has not received any messages from the group.

"I will do my best to cooperate with investigations and provide the evidence [of your affair] to the police," Jinglei wrote. "I hope that you and your 'close friend' have had enough of posting all sorts of things in the past three weeks and that you stop now. It's also worth considering if public figures should be limited to those who can positively influence, or at least not negatively influence, society."
Photos: PBE Media, Lee Jinglei/Weibo