Xin Sheng Ngoh Hiang Prawn Cracker's 3rd-gen hawker worked 20 hours a day to learn how to run family's store
A former national tennis player, Matthew Liu left his job in a bank to become the third-gen owner of Xin Sheng Ngoh Hiong Prawn Cracker. "Hawkers generally don't advise their children to enter the line. But this is heritage — if no one takes over that's the end," said the young lad, who now makes great 'wu xiang'.
While getting dinner on a random weekday evening, we walked past the popular Xin Sheng Ngoh Hiong Prawn Cracker at Taman Jurong Food Centre. The tantalising wu xiang spread caught our attention, and we paused for a moment to consider our options.

Noticing our hesitation, the hawker in the stall gave us an encouraging nod. It was the subtle push we needed to try this stall. We grabbed a pair of tongs and started piling our plate. As with most ngoh hiang-and-prawn cracker stalls in Singapore (the two are typically offered together), you can choose your own items and have 'em cut into bite-sized pieces.
Transparent pricing 
What struck us about this stall was its transparent pricing. A large signboard neatly displayed a little photo of each item, its name, and the corresponding price. It's like Shazam for a wu xiang platter — in case you can't name some mystery crispy things.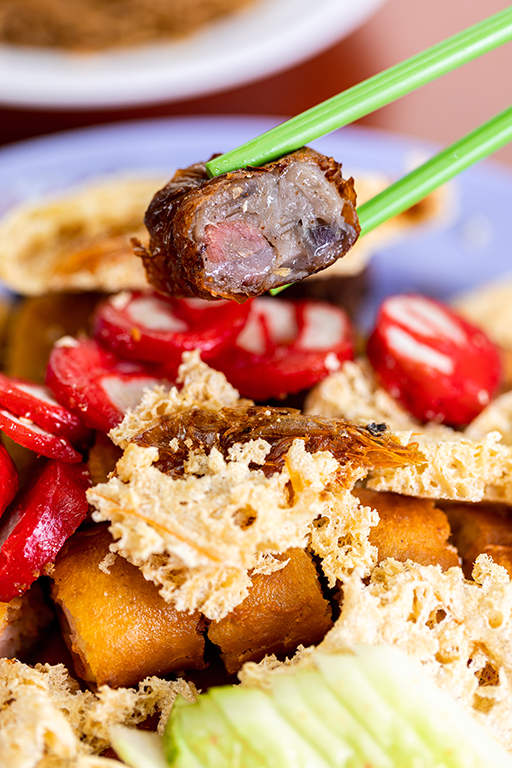 But most of the items here are great. Like the eponymous Crispy Prawn Cracker ($1.80), a delicate lattice that has to be rested for at least a day so it becomes crackly after frying. It is studded with small whole prawns that have an aromatic, almost fermented funk. We prefer it over the other Prawn Cracker ($1.50), which is puffier but not as crispy.

The Ngoh Hiong ($1.50) here is a slim roll stuffed with juicy pork, and we can't get enough of it dipped in a house-made sweet chilli sauce.
Also worth ordering is the old-school Homemade Sausage called guan chang ($2.50), bright red pork links in an intestine casing. It is usually not our favourite as it can be dry and rubbery, but Xin Sheng's version is tender and toothsome with a mouthful of comforting home-style fried bee hoon.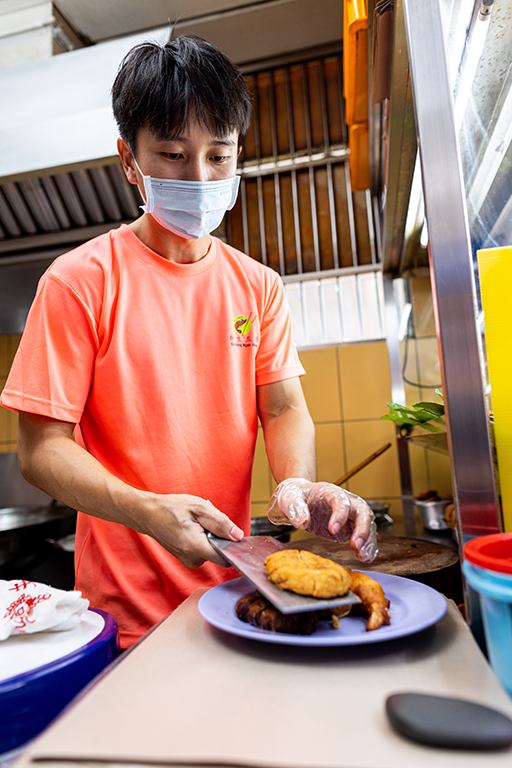 Even more unusual was the hawker making all these fabulous morsels. Instead of a veteran uncle or auntie, a young lad was running the stall. We later found out that Matthew Liu, 33, had recently taken over his family's prawn cracker stall two weeks ago as its third-gen owner.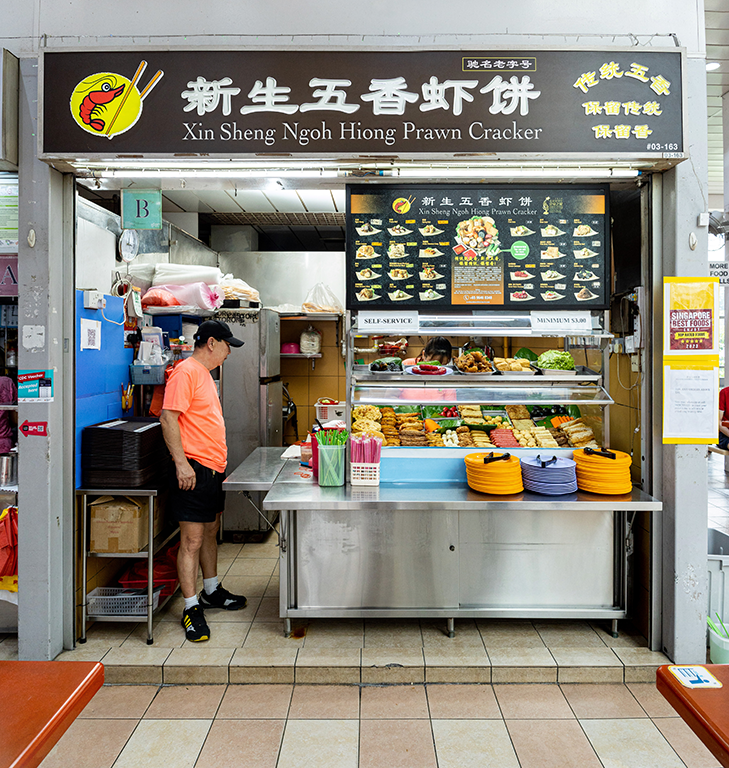 Generations of hawkers
Xin Sheng has two longtime outlets at Taman Jurong and Boon Lay Place. The latter is run by Matthew's paternal uncle, Anthony Low, a veteran hawker who is also the chairman of the Boon Lay Hawkers' Association.
Most of Matthew's 11 uncles and aunts are involved in the family business, which was started over 70 years ago as a pushcart by his grandparents. At one point, they had a chain of food court outlets at malls like Ion Orchard and VivoCity. "That was when I was very young. My uncles and aunts were getting older, so they decided to close a few stalls and focus only on two," he shared.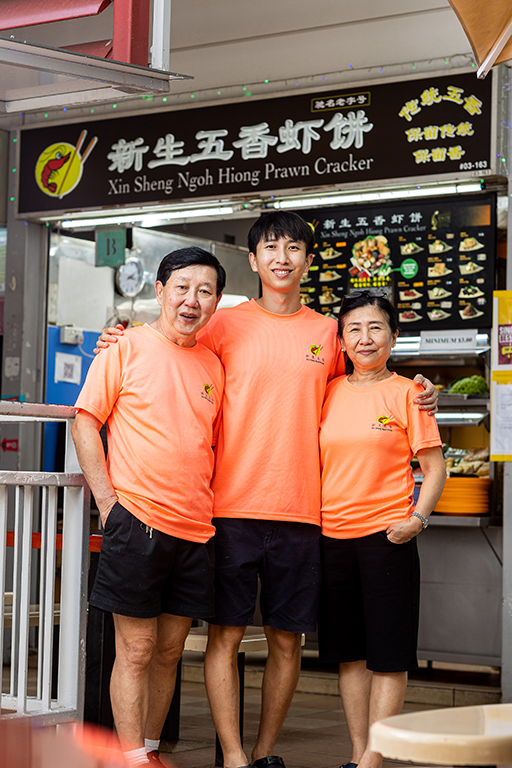 Heritage stall succession
For a while, it appeared that the senior Lows were the last in the family to keep their heritage biz going. Their own children including Matthew's sister helped out, but found that they preferred working in other jobs.

Most of Xin Sheng's offerings are made from scratch by hand, which is a very labour-intensive process. Matthew reckoned: "This life is not for everyone. Nobody expected my generation to work as hawkers. First-gen hawkers generally don't advise their children to enter the line 'cos they have experienced the long hours and how taxing it is."
But his own parents had a different mindset. His father Thomas Lau, 65, is a retired pastor while his mum, Cindy Lim, 59, works part-time at a clinic dispensing prescriptions.
"My parents were the least dissuasive among my uncles and aunts about me joining the hawker trade, because they were not hawkers," Matthew laughed. "They did ask, are you sure about it? But they didn't stop me. They have been very supportive."
From working in a bank to a hawker stall
Before the Covid-19 pandemic, the NUS business graduate was working as a relationship manager at a bank. But around three years ago, it became clear to Matthew that his family's stall needed manpower. "This is heritage — if no one takes over that's the end. I thought, why not volunteer myself?" he said. "I wasn't 100 per cent sure but I wanted to try something new. I like cooking, and I have always wanted to do something food-related."

So he resigned from his job and plunged into the hawker life. "I started from the bottom learning how the stall system works. My uncle had a hired head cook, and I was the one standing at the side being the cashier," he said.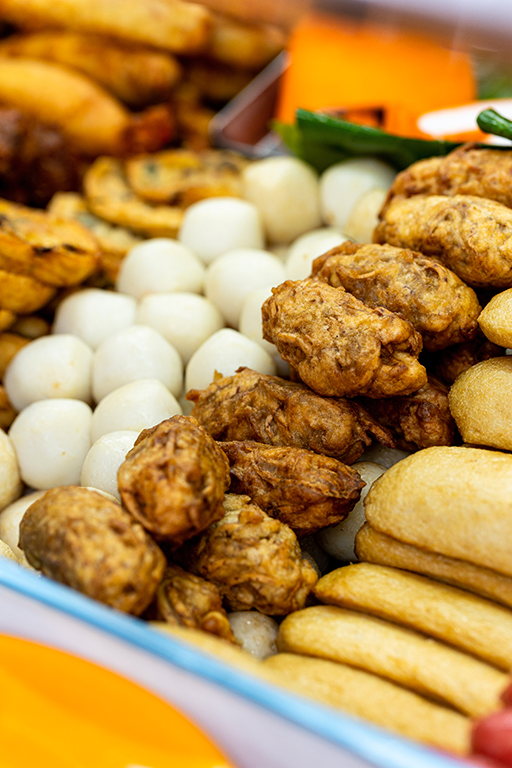 Worked from 2am to 10pm
After two years of familiarising himself with the stall operations, he requested that his uncle teach him how to make their family's wu xiang menu. "When I came here I wanted to learn everything, because I knew my uncles and aunts wanted to retire," he said.
Twice a week, he worked at Xin Sheng's central kitchen space in Jurong West to master how to make everything from prawn crackers to ngoh hiang. "They start in the wee hours at 2am, so I would also start at 2am and end at 10pm," he recalled. "That is what sets us apart from other
wu xiang
stalls. A lot of things are handmade."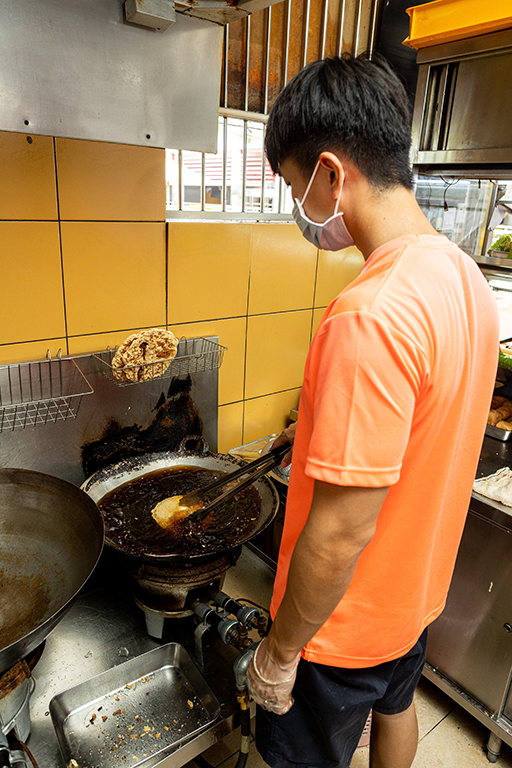 From "not knowing how to hold a knife", Matthew soon became proficient at speed-chopping, frying Xin Sheng's signature bee hoon and making all kinds of side dishes by hand including
guan chang
. The traditional Chinese sausage is made by stuffing a pig's intestine casing with minced pork that has been dyed a lurid red.
Thomas proudly told us that his son learned how to make the
guan chang
in a week. "It's very hard to make. If [the casing] breaks, you cannot sell it. If the cooking temperature is too hot, the sausage bursts," he explained.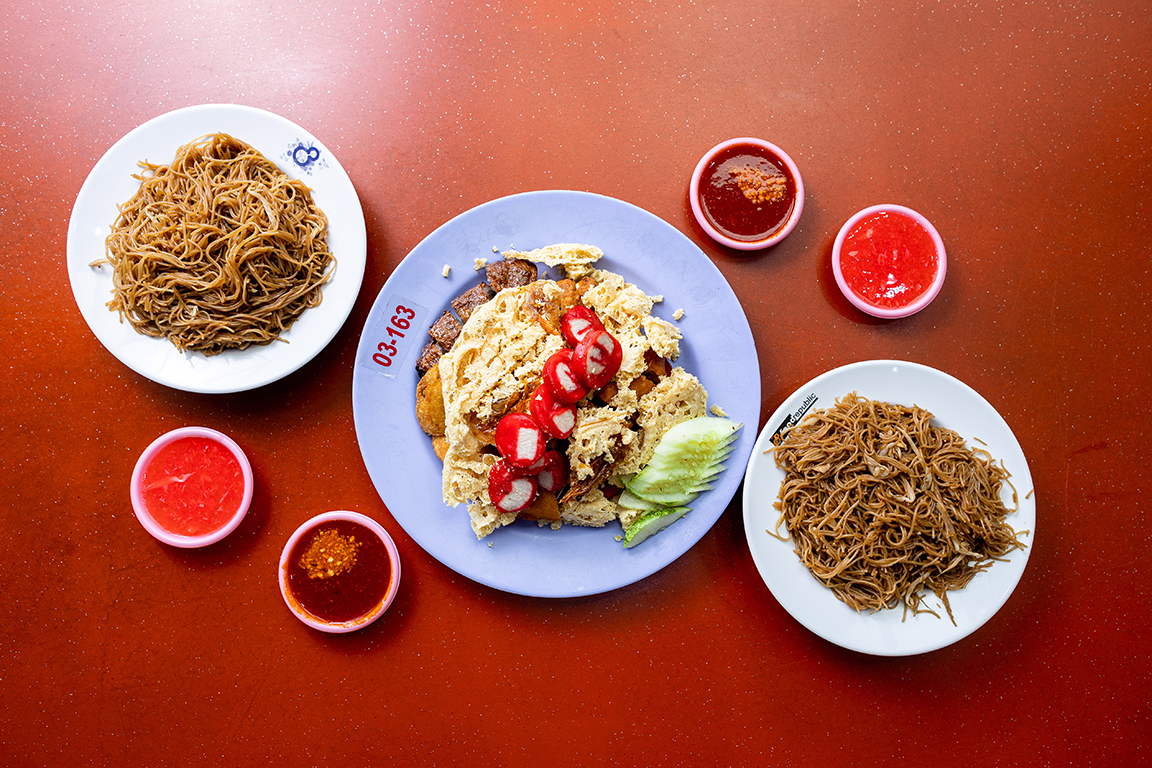 "You have to sacrifice your own time lah"
Initially Matthew had a day off every week. But now that he has fully taken over the Taman Jurong stall's operations and food production, he is working every day from 7am to 11pm. "You have to sacrifice your own time lah. 先苦后甜 (Chinese for 'reaping the rewards of hard work later')," he said. "I want to help my family business grow and continue. That's my main focus."
After he closes his stall at 8pm, Matthew has to continue prepping food like wrapping spring rolls by hand. "Those things that need to be wrapped are the more time-consuming ones," he shared.
Former national athlete
It helped that he was a former national tennis player who represented Singapore as a teen in overseas competitions. These days, he has switched to playing golf for leisure. "I'm quite high energy, but everyone is high energy when it comes to doing something they like," he laughed. "Although the hours are long, I prefer this to a corporate job. It's my own business. It sounds cheesy, but there is a sense of achievement."
His plan for his family's business is to "make it bigger". He shared: "It's doing quite well, but how to scale up is something else." When we asked Matthew if he saw himself being a career hawker in the long run, he nodded his head emphatically. "When I first joined this stall, my uncle talked to me about it. When you tell people you are a restaurant owner, it's different from saying you are a hawker. But I don't really care about these things, as long as I can make a living out of it."
Xin Sheng Ngoh Hiong Prawn Cracker, two outlets including #03-163 Taman Jurong Market & Food Centre, 3 Yung Sheng Rd, S618499. Open daily 11am-8pm. Instagram
Photos: Roy Yap