Yummy Din Tai Fung-Style Pork Chop Fried Rice & Prawn Cakes At New Bedok Hawker Stall
The stall is helmed by a chef who worked at Din Tai Fung for 13 years and an ex-DTF restaurant manager.
The stall is helmed by a chef who worked at Din Tai Fung for 13 years and an ex-DTF restaurant manager.
Din Tai Fung-style fried rice joints have been popping up all over the island, and this month-old hawker stall in Bedok South is the latest to join the fray. Lew Chong Sin, 32, the chef at Ding Gua Gua, was a chef at Din Tai Fung for 13 years, and at his time with the chain oversaw the kitchen at several outlets around the island. He's joined by Randy Chua, 40, who was a restaurant manager with the chain for 19 years. The third partner is friend Staphy Sim, 34, who most recently was a business analyst with Club Med, and now handles the back end of the business. "Ding Gua Gua" is a cutesy Chinese expression that means "first rate," though it also harkens to the pedigree in the kitchen here.

Together, the two Din Tai Fung alums have brought their know-how from the famous chain to this humble hawker set-up, which specialises in fried rice done in the familiar Din Tai Fung style, working with a small kitchen team to trot out a relatively modest menu of fried rice and some side dishes. They left the chain to strike out on their own so that they could be their own bosses, and were motivated to offer the same style and quality of fried rice from their restaurant days at a lower price point. According to them, the Din Tai Fung folks do know about their new business, but they're quick to add that while they've definitely drawn inspiration from the chain, the style of fried rice here is, according to Randy, "same same, but different".

All photos cannot be reproduced without permission from 8days.sg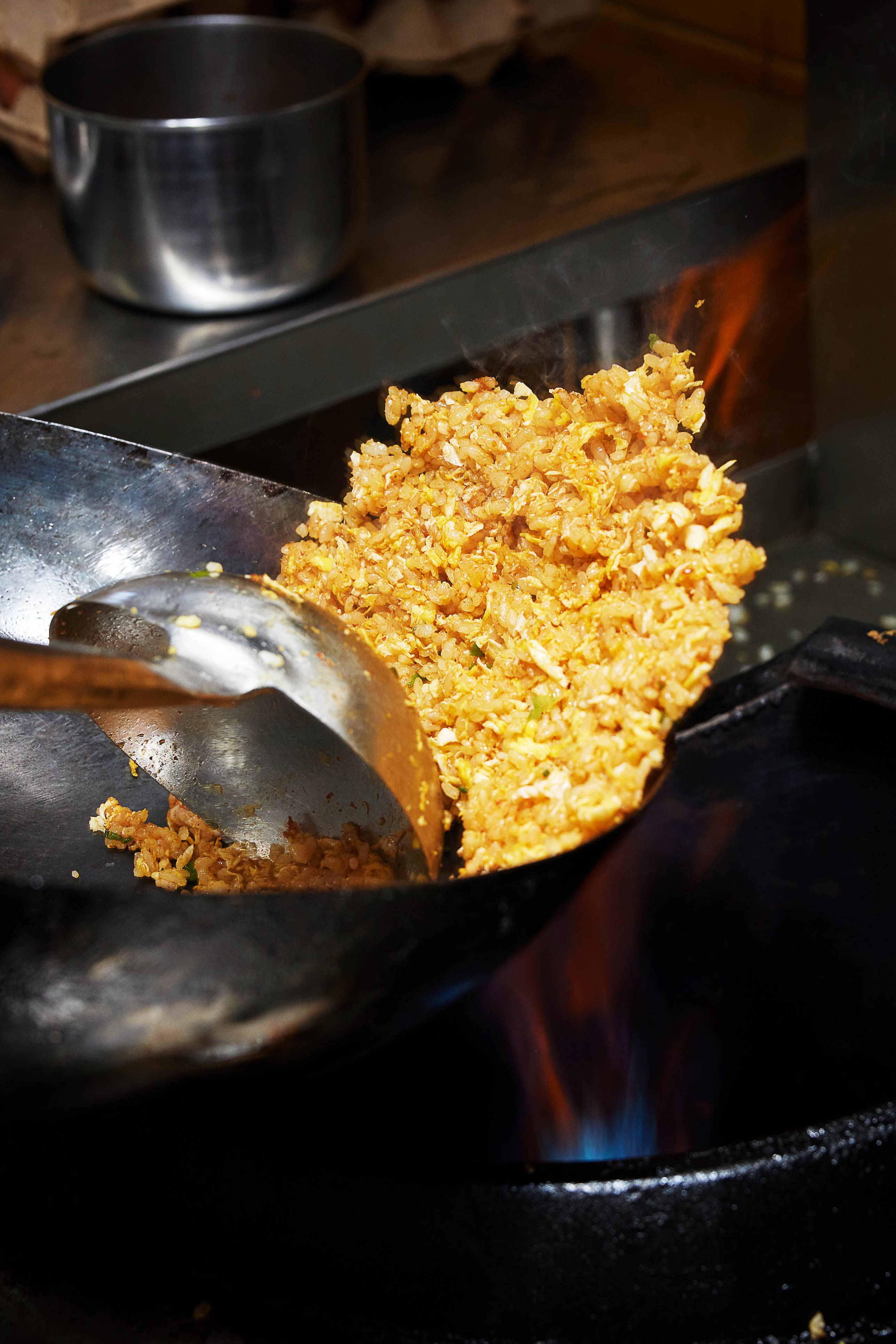 The menu
Basically, they've got four styles of fried rice that you can choose from with your choice of shrimp, Taiwanese sausage, luncheon meat or, if you're really going for the Din Tai Fung feeling, a fried pork chop. Their menu features their signature egg fried rice topped with said cutlet, and it's a dead-ringer for the Din Tai Fung original. According to chef Lew, the "same same, but different" treatment comes in the way the pork here is marinated, which involves a long soak in a marinade of spices, soy-sauce, ginger, and garlic. They've also got their own unique offerings, like a Sambal Fried Rice and their house-style "Ding Gua Gua Fried Rice", which is a dark-coloured soy-sauce based fried rice. Besides fried rice, there's also a small selection of side dishes, including Crunchy Cucumber in Spicy Sauce, Spicy and Sour Soup, and Handmade Crispy Prawn Cake, a nod to the snacks selection from Din Tai Fung.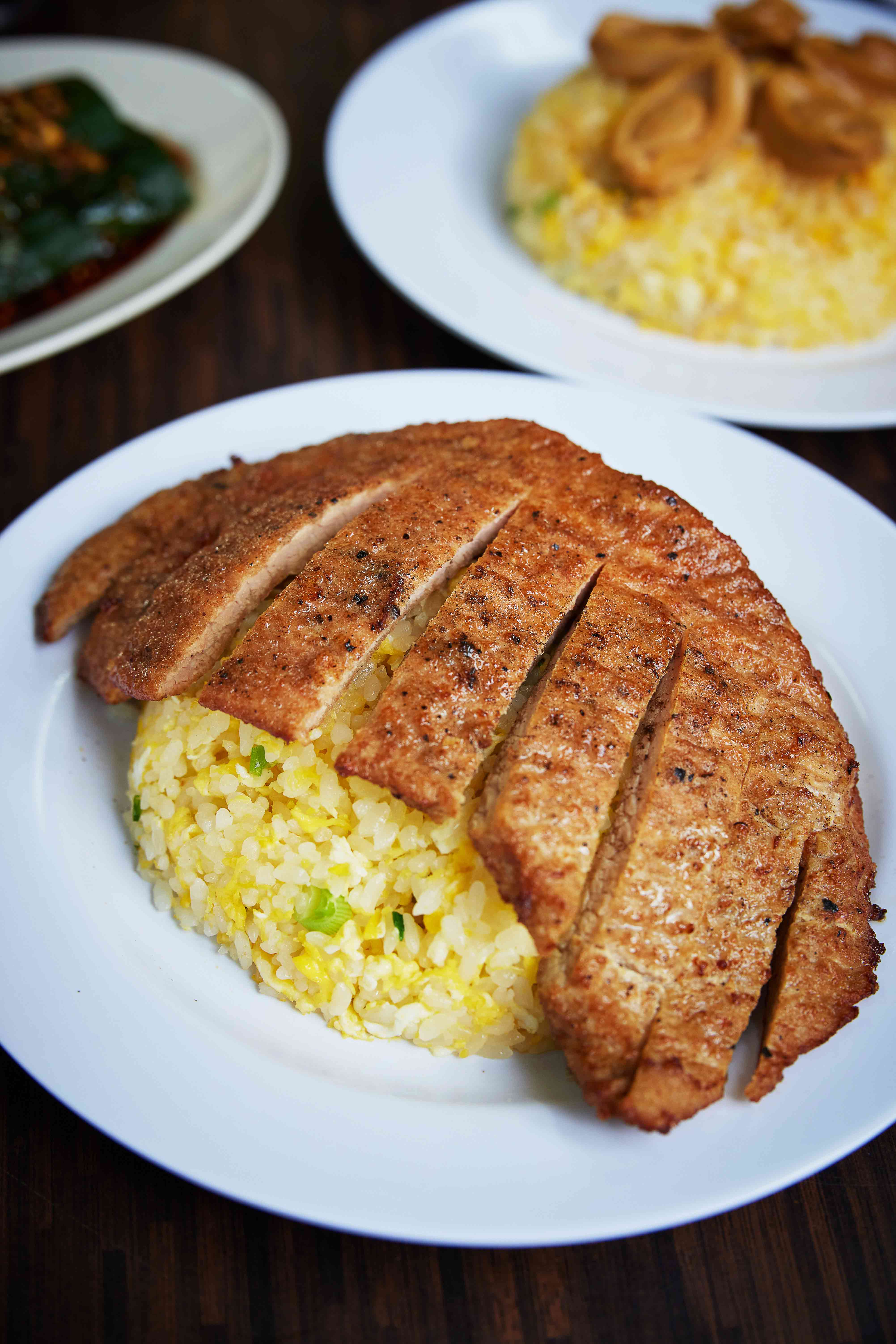 The Signature Egg Fried Rice, from $4 (8 DAYS Pick!)
It's very good, and very close to the Din Tai Fung original. The fried rice is wonderfully light and fluffy, with subtle wok hei, and nicely separated grains. This signature style also boasts tender bits of egg curd. For an extra $2.50, you can get a pork chop draped over the rice. We really like it: it's savoury and toothsome, and we detect a subtle hint of five spice powder. It also boasts a nice crusty exterior, though the inside is a little uneven: nice and juicy in some parts, dry in others.
They have two kinds of chilli condiments here, which come with each dish. The first is a standard dried chili oil, which is smoky and pleasantly spicy. This gives the fried rice a lovely breath of lightly smoky heat. The other, which they say goes especially well with the rice, has lashings of vinegar in it. It's sweeter and more gingery, and we find the vinegar tartness a bit distracting– we'd prefer this with dumplings.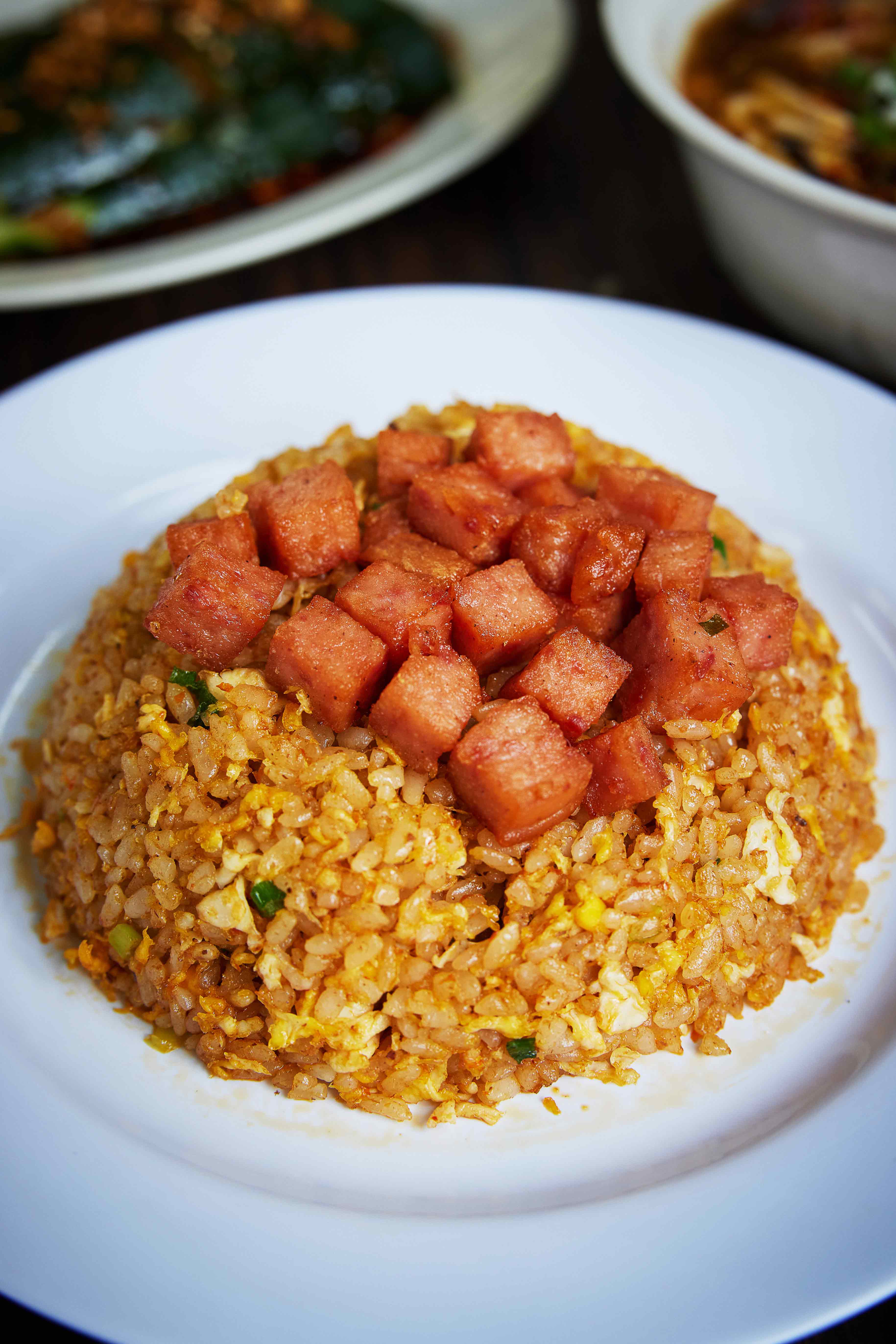 The Sambal Fried Rice, from $4.50 (8 DAYS Pick!)
We were very keen to try this because we love sambal fried rice. This one doesn't disappoint. It's got a nice funky chilli kick, and isn't as greasy as your usual kopitiam offerings. This too comes flecked with little bits of egg for extra texture, and we have ours topped with tiny cubes of flash-fried Luncheon Meat ($5.50), which are pleasant enough if a little blah. We find this spicy enough on its own without extra lashings of chilli oil.
The Ding Gua Gua Egg Fried Rice, from $4.30
This is their in-house invention, fried rice that's tossed with dark soy sauce for a lovely dark caramel colour, and a subtle sweetness. This comes topped with little slices of Taiwanese Sausage ($5.80), whose sweet flavour complements this very well.
The Garlic Fried Rice, from $4
We were expecting a much more intense garlic flavour from this, but it's pretty mild and so rather nondescript, though we did enjoy the Shrimp ($7) on this, which were bouncy and slightly crunchy. For Chinese New Year, they're offering abalone as a special topping for a total of $12.80. These are straight out of the can but quite luxe, tender and sweet.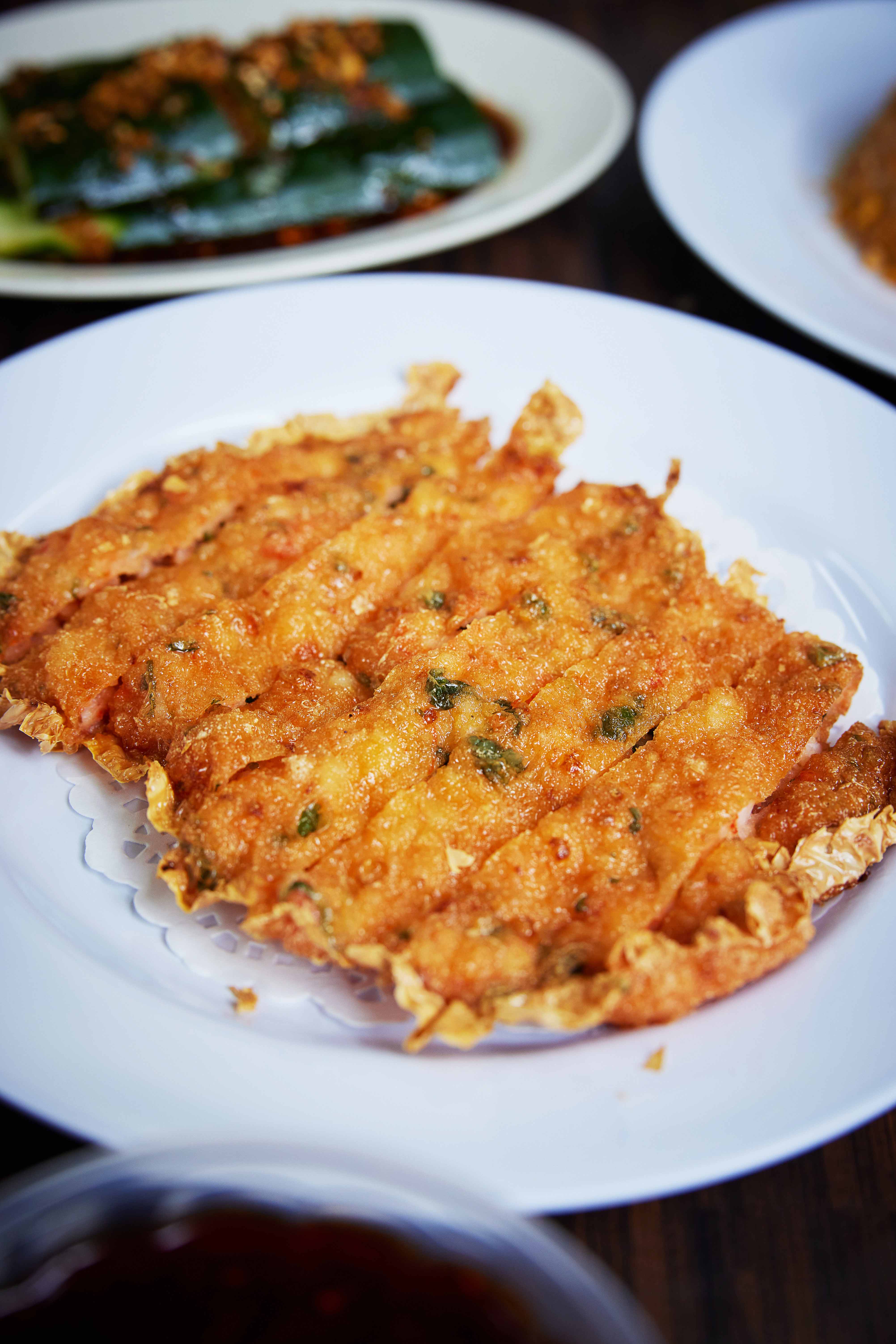 The Handmade Crispy Prawn Cake, $8 (8 DAYS Pick!)
Limited portions of this are available daily because they're made from scratch. These are thin cakes of prawn paste wrapped in beancurd skin that are deep-fried until crispy. The prawn paste has a lovely umami sweetness, and the skin is shatteringly crisp, especially around the edges. Delish — and tastes much like the ones at Din Tai Fung.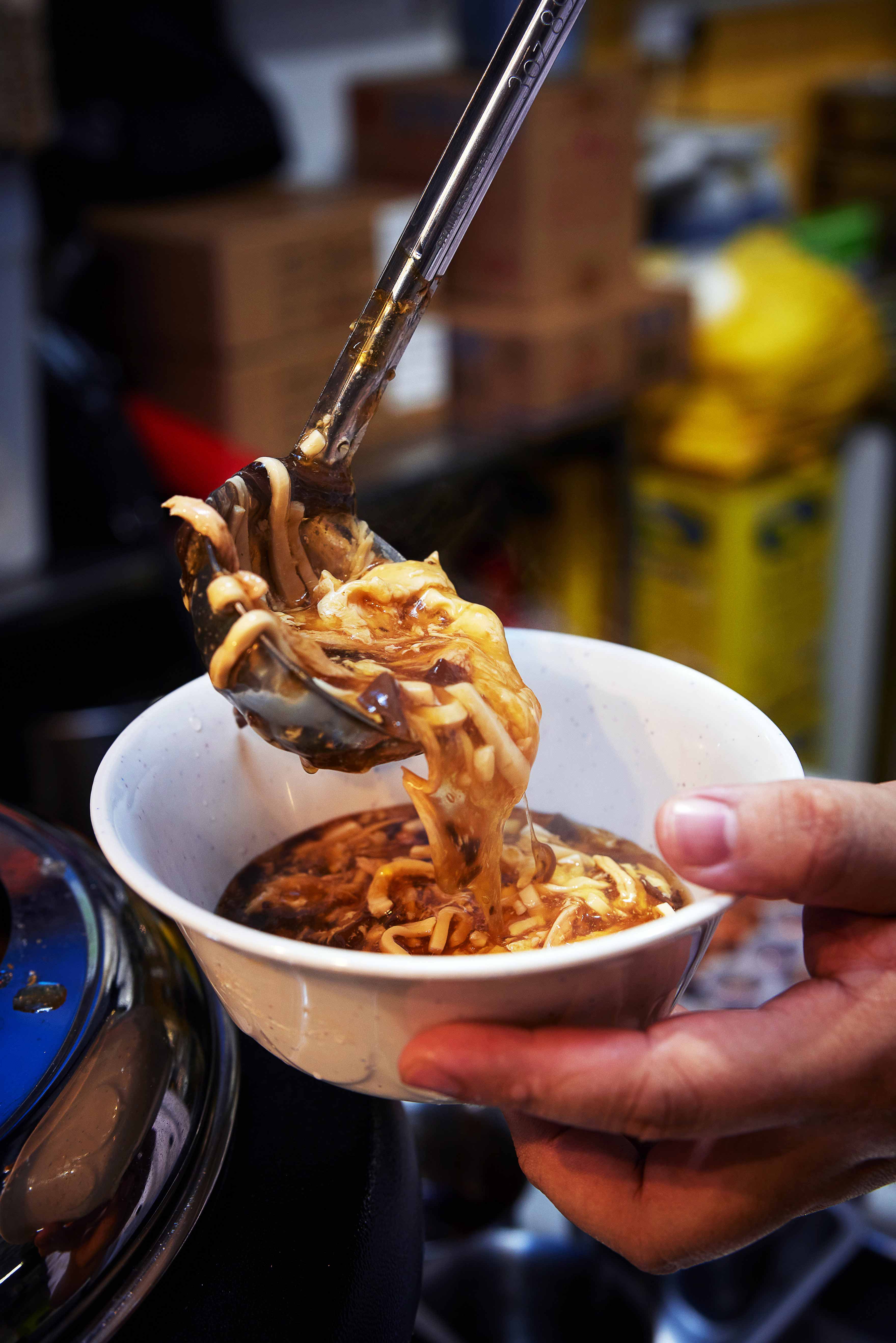 The Spicy & Sour Soup ($5)
This thickened soup, topped with lashings of chilli oil and brightened with vinegar, is filled with strips of tofu, strands of egg, mushrooms and vegetables, and is satisfying and belly-warming. A nice hearty portion, too, for $5.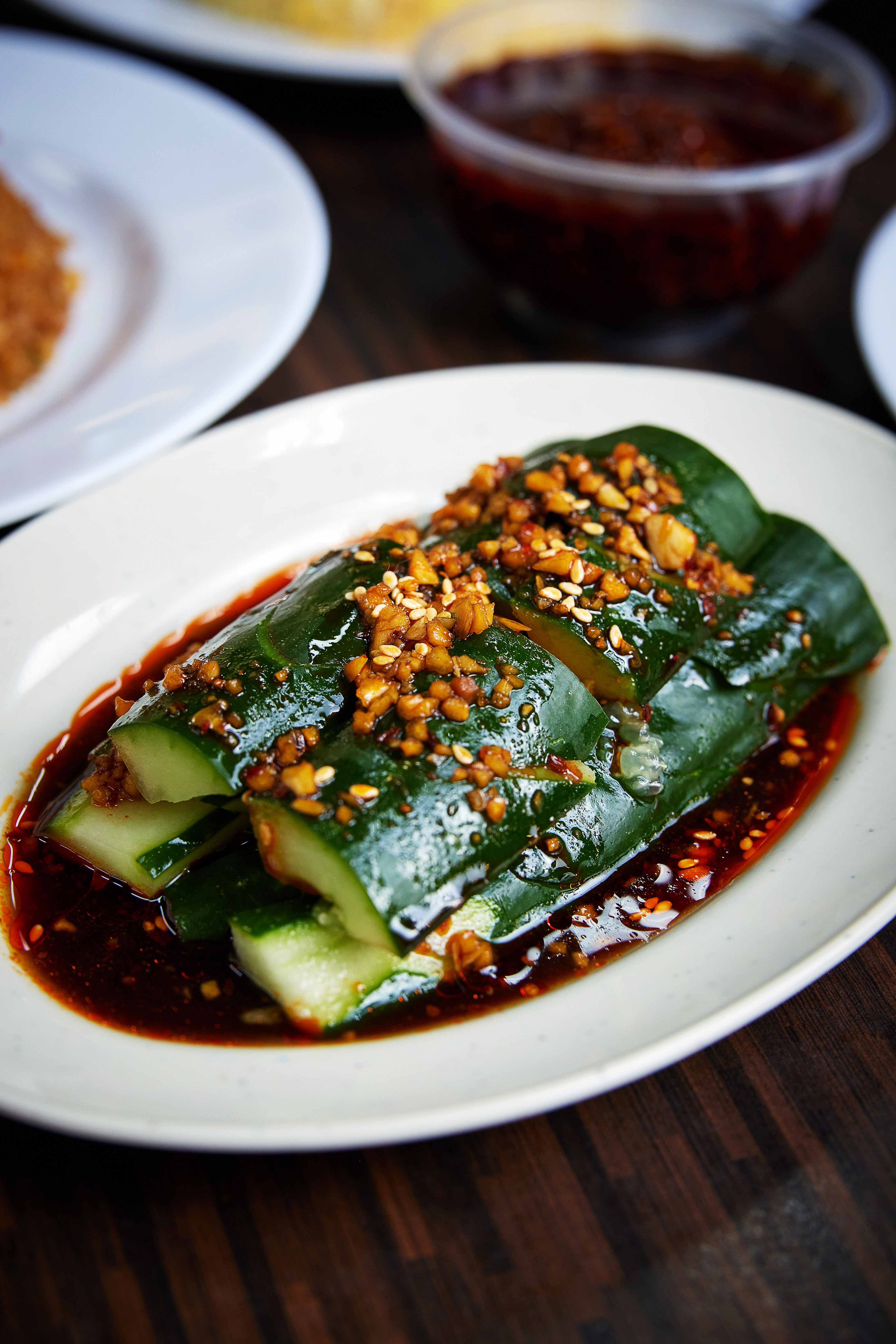 The Crunchy Cucumber In Spicy Sauce, $3.80
We also tried the Crunchy Cucumber in Spicy Sauce which was piquant and refreshing, and helped round off the tart, spicy flavours of the meal.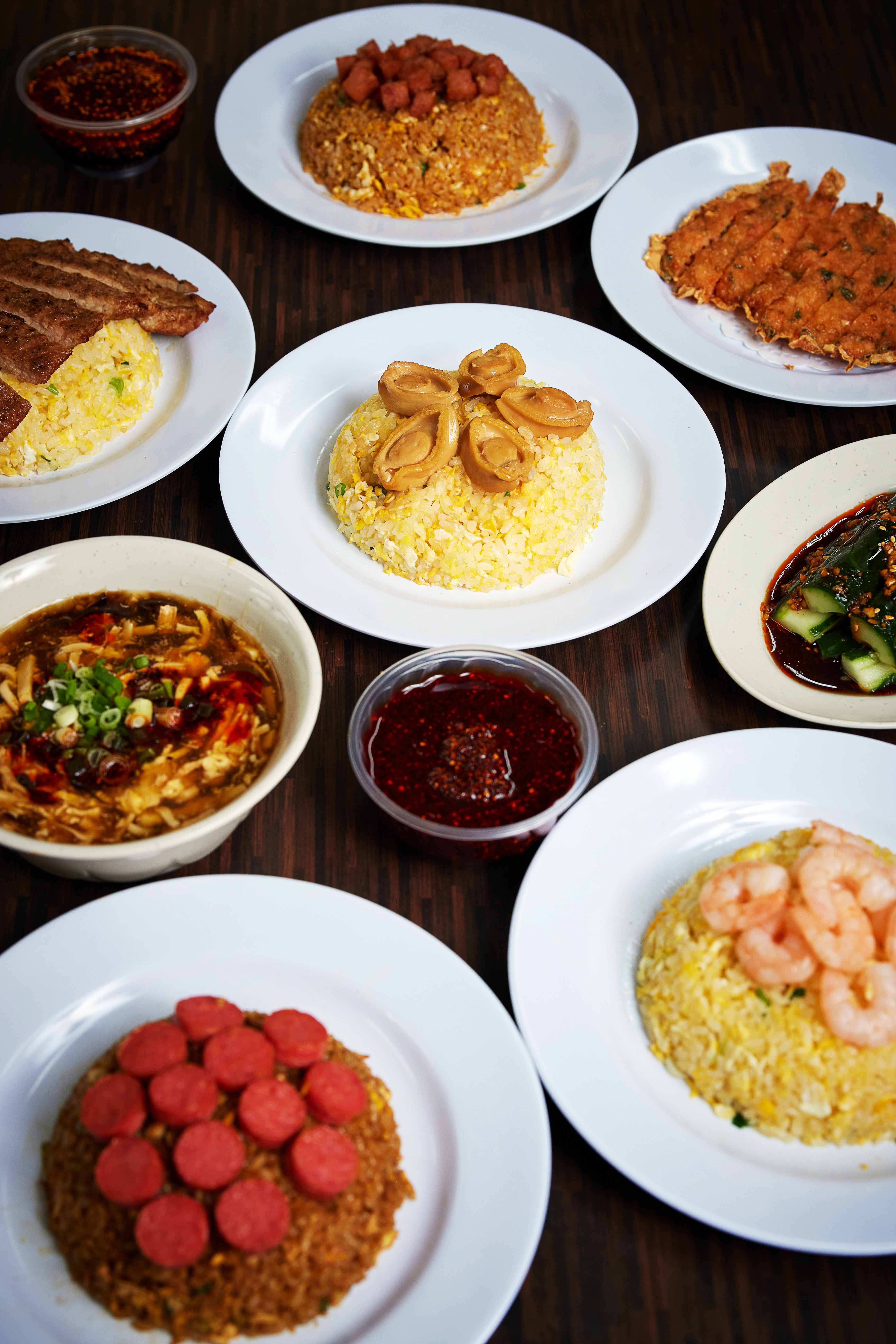 Bottom line
Tasty, affordable fried rice offerings and snacks which, despite the hawkers' PR angle, look a lot like a photocopy of Din Tai Fung's menu — luckily it delivers taste-wise. That being said, we also enjoyed the non-DTF-style Sambal Fried Rice too. Best enjoyed while dining in, as the rice becomes less fluffy and fragrant after sitting out for a bit.
The details
Ding Gua Gua is at #01-498 Blk 69 Bedok South Ave 3, S460069. Open daily 10:30am to 8:30pm. Closed 31 Jan - 2 Feb for CNY. Tel: 8040-1168. Facebook
All photos cannot be reproduced without permission from 8days.sg
Photos: Kelvin Chia