Zhang Zetong's Parents Say They Could Have Bought A Ferrari In Msia With The Money They Spent On He & His Sisters' Education In Singapore
The Star Search 2019 champ opened up about the sacrifices his parents — they were just joking about the Ferrari — made for him and his two sisters in this week's episode of Hear U Out.
Way before he won Star Search in 2019, Zhang Zetong and his two sisters spent 10 years commuting from JB to Singapore daily for school.

The 28-year-old Malaysian, who studied in Marsiling Primary School, Bukit Panjang Govt High and Anglo-Chinese Junior College, eventually graduated with a business degree from NUS before going on to work as a customer relationship manager at online marketplace Carousell for three years.
That was until fame came knocking on his door, or rather he knocked on fame's door by taking part in Star Search.

On this week's episode of Mediacorp talk show Hear U Out, Zetong got really emotional talking up about the sacrifices his parents made so he and his siblings could study here.
When asked about his school days, Zetong said: "We used to get up at 4am to catch the bus and would spend about three hours on it before we arrived at school (…) I remember wondering why the other students could take part in other activities but I had to go straight home after school to do my homework."
"My parents aren't well-educated but they know the importance of education. They wanted to give us the best education and [they] felt that working harder was worth it. As you know, the exchange rate [between the Malaysian Ringgit and Singapore Dollar] isn't great but my parents were set on giving all three of us [a good] education [even though it's] expensive," Zetong continued.
The actor's parents would often joke that he and his sisters were "walking Ferraris" — apparently, the amount of money his folks had spent on their kids' education in Singapore could have bought them the luxury sportscar in Malaysia.

A quick check online shows that a Ferrari in Malaysia cost upwards of RM1mil (S$323.8K).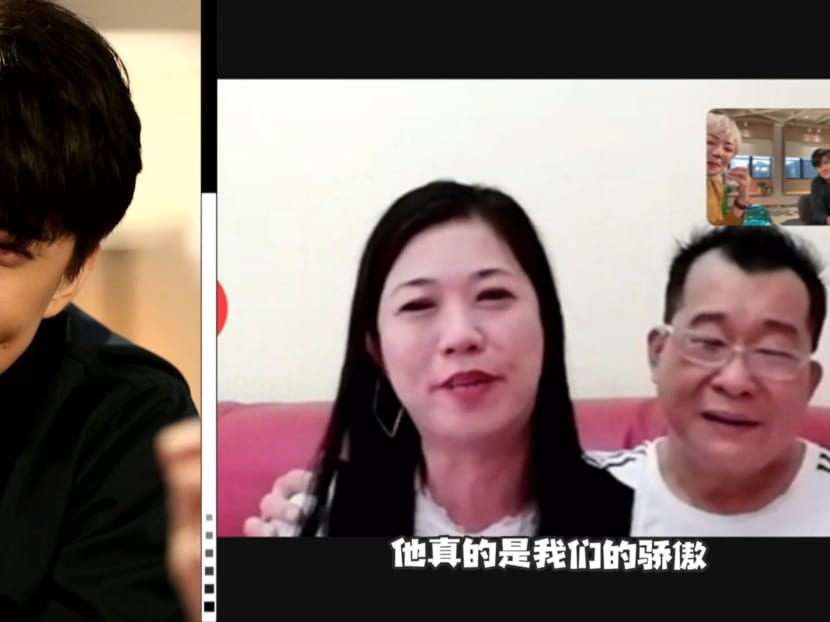 "When I compared myself to the Singaporean students back then, I felt that my spot was especially hard-earned," said Zetong, before breaking down in tears.
After taking some time to compose himself, he explained his reason for getting so emotional.
"My parents had a pretty hard time back then," he said. At that time, my parents worked really long hours and they didn't have enough sleep because they had to send us off to school too. But they held on for 10 years and I think it took a toll on their health. I was aware of this when I was much younger but there wasn't anything I could do. That's why I'm determined to do well [in my career] so that I can give them a better life."
Click here to watch Zetong's interview on Hear U Out.

Photos: Zhang Zetong's Instagram, Mediacorp