Zhang Ziyi said to have reported netizen for mocking her after she did not publicly congratulate Michelle Yeoh on Oscar win
There's also speculation online that the actresses, who starred in two movies together, are on less-than-friendly terms.
Are Michelle Yeoh and Zhang Ziyi not on the best of terms?
Netizens seem to think so after the latter didn't publicly congratulate the Malaysian actress on her historic Best Actress win at the Oscars.
Like many, Taiwanese director Ang Lee, who worked with Michelle on Crouching Tiger, Hidden Dragon, which won Best Foreign Language Film at the 2001 Oscars, sent his well wishes to the star.
However, netizens noticed that Ziyi, who not only starred alongside Michelle in Crouching Tiger, Hidden Dragon, but also 2005's Memoirs Of A Geisha, did not mention the win online.
They found it unusual for the actress, who is pretty active on Weibo, eventually sparking talk that things are frosty between the actresses.
Zhang Ziyi, Michelle Yeoh and Gong Li in
Memoirs Of A Geisha
Some netizens speculated that Ziyi, who was the leading lady in Memoirs Of A Geisha, is bitter that Michelle's career has overtaken hers.
Weibo user lustlustrous, who was one of the many who mocked the actress online, also shared that Ziyi had made a complaint against her and that it resulted in her post getting deleted.
"LOL. Why is Zhang Ziyi so petty," wrote lustlustrous. "She was probably very angry that I teased her on Weibo, saying that she didn't congratulate Michelle Yeoh on winning her award, and she went to complain about me on Weibo. It's hilarious. Looks like she is really angry. I'm no longer a fan of hers. What's more, previously when I asked for her autograph, she was curt about it and just left her assistant to deal with it."

Lustlustrous also added a screenshot of the notification that her post had been removed.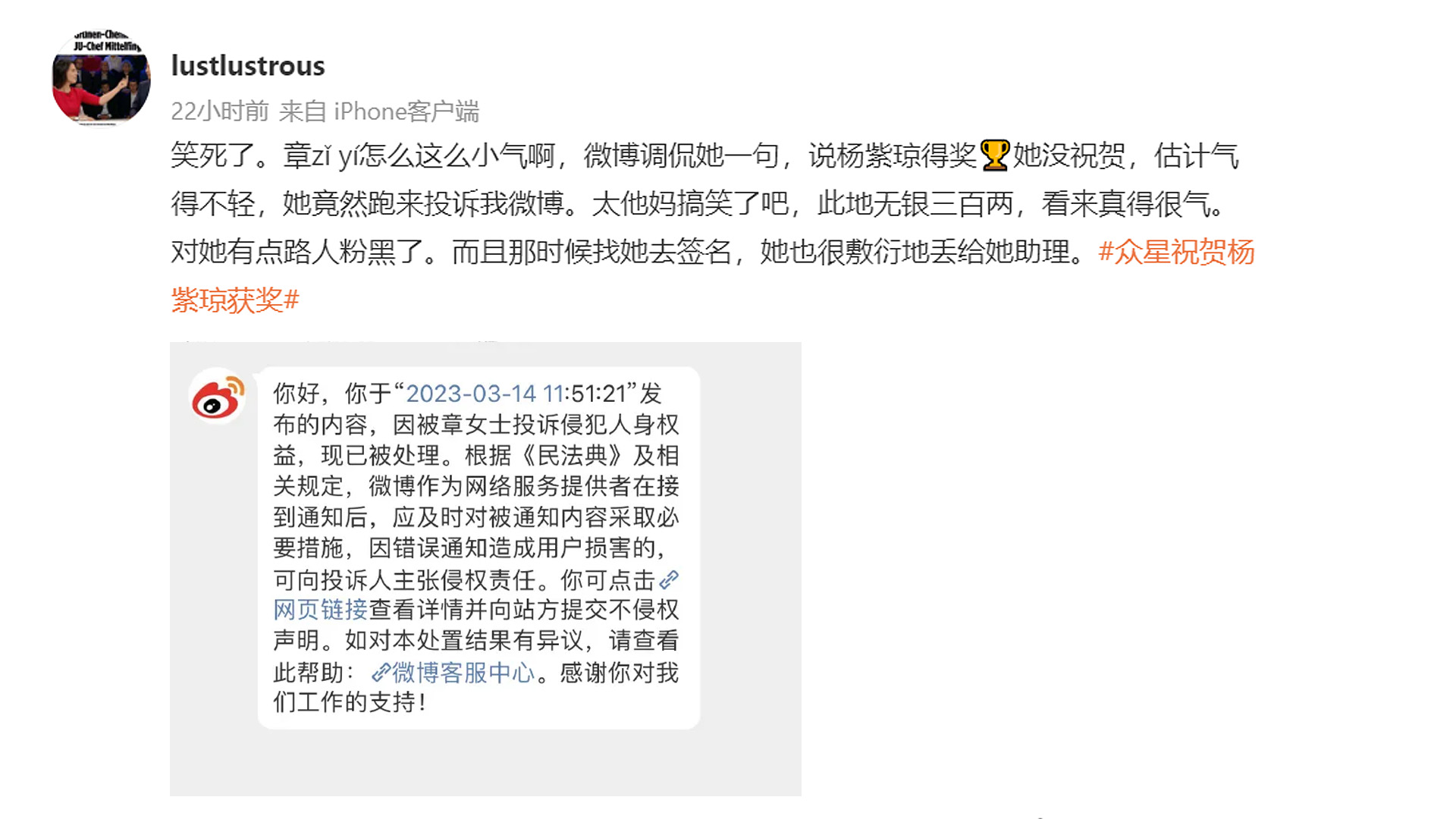 There were also netizens who defended Ziyi, saying that she could have congratulated Michelle privately. Furthermore, someone of her stature doesn't need to resort to such petty moves.
This is not the first time Ziyi has taken action against netizens for posting unsavoury comments.
She allegedly got a fan blacklisted from her official fanclub group chat for calling her auntie.
Photos: Michelle Yeoh/Instagram, Zhang Ziyi/Weibo